Kepri Coral Resort
Kepri Island, Riau Indonesia
Island paradises are lovely places to go to for a holiday. Indonesia has 17,508 islands and is the largest island country in the world. With so many islands, Indonesia must have plenty of islands to explore and holiday at. Amongst these 17,508 islands is an Island called Kepri Island. Kepri is short for Kepulauan Riau or Riau Islands in English.
Kepri Coral Resort on Kepri Island or rather, on one of the Kepri Islands is an island paradise with clear seas, lovely beaches, fresh air, and plenty of fun activities for all to enjoy. I was recently invited by the Batam Tourism Board for a visit to Kepri Coral Resort in support of an event called 'Wonderful Sail To Abang Islands', a boating event where yachts from USA, Australia, United Kingdom, etc. sail all the way here to the Kepri Islands before sailing off to Singapore.
Click Here to read a feature article on "Wonderful Sail To Abang Islands"
Participating yachts moored near the beach of Kepri Coral Resort.  
Fun On The Island
Kepri Coral Resort is a one stop holiday island destination where guests can go to and spend a few days there enjoying the facilities and activities without the need to leave the island. The island caters to everyone from kids to adults. Activities available here are:
Swimming Pool
The swimming pool here is big. It is a "feature pool" or a pool that is neither rectangle, round, or square. The shape of the pool here is what I would call "soybean" shape. It looks like a soybean from above white silhouettes of whales and dolphins on its floor. Being right beside the beach guests can choose to either swim in the sea or in the swimming pool.
The swimming pool is a popular spot for guests.
Kayaking
Being an island that is surrounded by clear seawaters; visitors or guests will certainly be drawn to activities that involves the sea. One of them is kayaking. One gets to exercise one's arms and back rowing about in a kayak, atop clear seawaters looking down into the sea ever so often trying to spot fishes swimming about.  
A couple kayaking at the beach of Kepri Coral Resort.
Bicycle Paddle Boat (Water Bikes)
But if one prefers to exercise one's legs instead of arms, there is the option of using a "water bike" that looks like a bicycle with two hulls. With these "water bikes" one gets to cycle on water instead of rowing in a kayak. The one big difference other then the exercising of different body parts is the centre of gravity. The "Water Bikes" have a higher centre of gravity and will take some getting used to for most people.
A water bike; higher centre of gravity and take some getting used to.
Banana Boat Or Shark Boat
Well, maybe one finds kayaing and "Water Bikes" to be a little too slow, and prefer speed; going on a banana boat (or Shark Boat ride as they have banana boats with shark designs on them) ride may provide some exhilaration and fun. Speeding and bouncing on the surface of the sea certainly gives one an adrenaline rush. The down side is that one is not in control of the banana boat; but still it is loads of fun.
A banana boat with shark designs.
Jetski
The ultimate top water speedster here that allows you to be in control of are jetskis. The word "jet" should hint at speed. These jet propelled watercrafts are fast and exhilarating. Visitors and guests can rent them here at the resort and have fun zipping about the sea. Always keep safety in mind when handling these machines as accidents can happen with dire consequences.  
There even is a hovercraft ride available here at the resort but I did not see it anywhere during my visit and found out about it too late. Should you be interested you can enquire at the resort.
Jetskis; super fun on the water.
Snorkelling And SCUBA Diving
Should one prefers to be underwater instead of on the surface; one can go snorkelling or SCUBA diving. Kepri Coral has a huge floating platform that is located atop a coral reef not far from land. Visitors and guests can rent snorkelling gear and SCUBA diving gear here, and dive beneath the surface of the sea observing and playing with fishes, and other sea-life here. 
Snorkeling gear are available for rent..
Entrance to the sea under the floating platform of Kepri Coral Resort.
Glass Bottom (Aquarium Type)
But should one prefer not to get into the water at all yet still want to experience what it is like underwater (somewhat), the floating platform has a glass bottom section that allows visitors and guests to see fishes and other sea-life at the bottom within the confines of one of the hulls, beneath the floating platform.
Imagine an aquarium. We normally look into an aquarium from the outside observing the fishes inside. This here is the other way round. This time we are inside the aquarium and this aquarium is underwater. We look out of it at the fishes, sea life, and the underwater environment. Pretty neat and is good for those who want to observe the bottom of the sea but does not want to get wet or into the sea.
Left: The glass bottom section (chamber). Right: View from the glass window at the chamber.
Land Based Activities
Apart from sea activities there are land based activities here too at Kepri Coral Resort. Being an island, there are places to explore on land. This is great as it provides visitors and guests with some sense of adventure.
Bicycle Rides
Bicycles can be rented here at the resort and one can go about exploring the area. Apart from the main beach (where the activities are), there are other areas that one can go to such as the mangrove area. Also, some of the domes (dome shaped chalets) are a good distance away from the main area of the resort; a faster way to commute within these two areas is with a bicycle. They do have buggies but they do not have a set time table. It is better to walk or cycle instead of waiting for a buggy to come pick you up.
Cycling is one way to explore the island.
All Terrain Vehicle (ATV) And Utility Terrain Vehicles (UTV)
Back to land based activities… one of the more exhilarating land based activities is All Terrain Vehicle (ATV) and Utility Terrain Vehicle (UTV)rides. These machines can be rented at the resort and taken on the rough and sandy terrain of the island. Again do practise caution when operating these vehicles. Do note too that there will be people walking about the place and one must be careful not to knock anyone down.
ATV (All Terrain Vehicle) are available for rent.  
Relaxing Activities
Sometimes it is nice to just sit back and do nothing. There are a few places that one can relax at. The beach is certainly a good place to relax. But should one prefer a little bit more privacy, one can climb up to "Tarzan's House" of which is a tree house and relax there.
A tree house called Tarzan's House is one of the places to relax at.
Mangrove Walk
For even more privacy, the Mangrove Walk that is located away from the main area has a few huts along the wooden walkway. One can sit in one of these huts and relax and be at peace with nature. I certainly did enjoy some quiet time here away from the noise and activities at the main area. Since the area is secluded, you may want to bring a friend along for company.
Night shot of the huts at the mangrove area.
Karaoke
"Song birds" and wannabe rock stars (or singers) can practise one's vocals at the main event area also called the "Club House". There is an "open mic" karaoke system here that proved popular amongst the fellow members of my group as well as the other guests in the resort. There are songs in English, Malay, Indonesian Malay, and Chinese.
A karaoke session going on at the "Club House".
Unique Accommodation
What I found to be truly enjoyable is the accommodation. The accommodation here is unique. We stayed in fibreglass dome chalets that looks like colourful igloos. These domes are air-conditioned and they come with a built in toilet cum shower. Kepri Coral Resort belongs to a ship builder and the toilet and shower area looks like one you will find in some ships. The dome chalet I stayed at had two comfortable spring mattresses, each with a pillow, and blanket. Right outside the dome is a water proof box to store one's shoes keeping them safe from the elements.
Dome shaped chalets at the Dome Village (Kampung Dome) are unique and they do look cute.  
What I love about these domes are that they keep the sun, rain, falling leaves, insects, etc. out but the acoustics are soothing. During my stay we had a rainy night. I for one find the sound of rain soothing. In the city we get rain but the concrete walls and roofs muffles the sound of rain. Here the rain drops directly onto the fibreglass dome and that sound is music to my ears; a lullaby played by mother nature. That night I slept like a log. 
This was my dome during my stay. Loved the experience.
Other Room Types
Other than the domes, there are rooms in a ship that gives guests the experience of staying on a ship. The owner placed a ship on the island (grounded) for those who would like to experience staying on a ship. The other rooms are the Kelong Rooms (floating fish farm rooms) and Floating Rooms.
The "ship" (ferry type boat) offers rooms and a different form of experience.
One of the rooms in the "Ship."
Getting To Kepri Coral Resort
For now, getting to Kepri Coral Resort requires one to take a one to one and a half hours ride by road from Batam Island (main island) along a route that crosses over all six bridges in Barelang (one of them is an iconic bridge) to KPC Kepri Island Ferry Terminal. From here one takes a ferry to the Kepri Island where Kepri Coral Resort is located. The journey take about thirty to forty minutes.
There are future plans for ferry services directly from Johor (Puteri Harbour) in Malaysia, and Singapore to Kepri Island and Kepri Coral Resort.
Location And Contact Details
For further information do contact Kepri Coral Resort:
Office : Komplek Nagoya Permai Blok A No. 7 Windsor, Nagoya. Batam – Prov. Kepri Indonesia
Email : kepricoral01@yahoo.com
Website: http://kepricoral.com/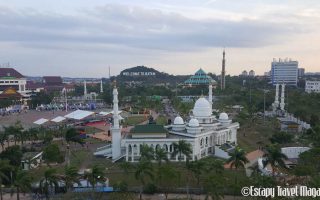 Bored of the usual run-of-the-mill type holidays? About 2 hours by ferry from Johor Bahru in Malaysia & a mere 45 minutes ferry ride from Singapore lies Batam Island.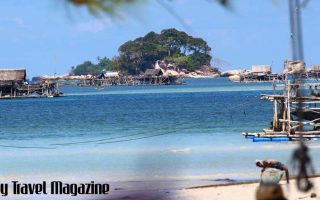 Madu Tiga Beach is a nice beach with a stretch of rather long sandy beach and inviting clear sea water.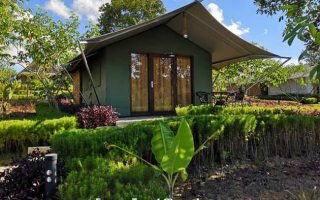 D'Bamboo Kamp is certainly a delightful place to go to for a relaxing yet fun escape from the city with friends or with family to enjoy a bit of glamping and camping.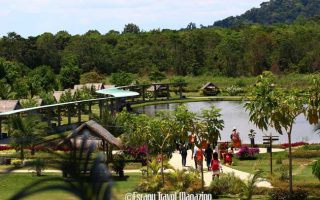 Poyotomo Fishing Pond is designed for relaxation. Located around the grounds are a few gazebos that visitors can rent to relax at, places to eat, and a pond to fish at.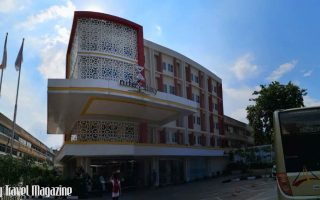 Nite And Day Hotel is located in a pretty "unique place" where the night brings forth a different sort of life in the area; Jodoh Square.
Do Not Miss Another Issue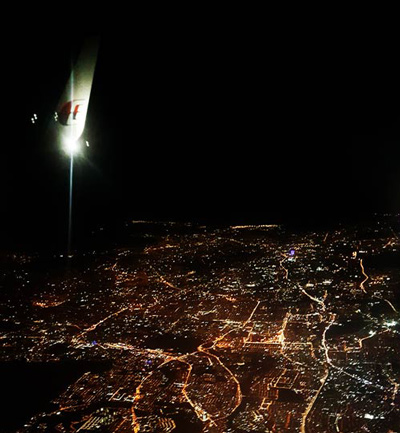 Should you have any enquiries do contact us please...