Adventures In The Riau By Escapy Travel Magazine
Camping? Camping is so "those days," I heard a teen tell her father. "People go glamping these days," she continued. While I do not necessarily agree fully with her thoughts, I do agree that glamping is the new camping. I used to do a lot of camping at a younger age slogging it out in the wild while enjoying nature. These days I prefer something more relaxing and I most certainly gravitate towards comfort; not torture. I guess, I too will choose glamping over camping. While on Bintan Island one can go glamping at D'Bamboo Kamp.
Not your average tent. After all this here is glamping.
Nice "Tents"
The tents here at D'Bamboo Kamp are unlike any other usual outdoor tents the likes of those sold by Coleman, Big Agnes, or Kelty. These here are a lot more heavy duty, made of tougher materials that can handle heat and rain. These tents are huge and they look like those that are usually used in Safaris in Africa. They have to be tough or they'll disintegrate in the searing heat and punishing weather especially here on Bintan.
These tents are a luxury when compared to the tents that most outdoorsy folks are used to. These tents come with proper comfortable beds, proper pillows, and comforters to pamper those who decide to rest within them. They have proper ensuite bathrooms with rain shower and flush toilets that are nicely done up providing more of a luxury instead of a need to just fulfil one's call of the wild. These tents are air-conditioned to keep the tent and everything as well as everyone within it cool and comfy. All these provide luxurious amounts of comfort that normal tents do not provide.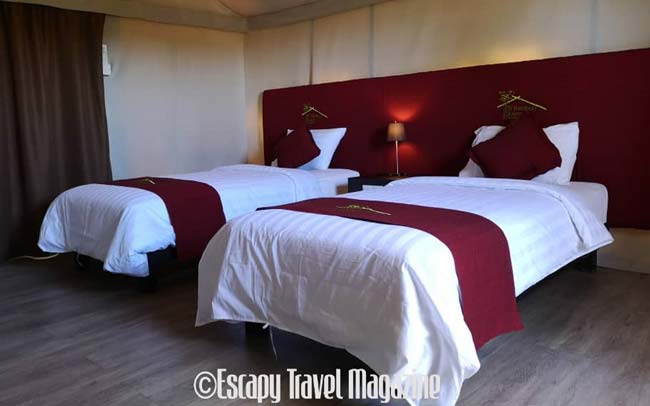 Comfortable beds in the tent.
Those who go camping in "real" tents will probably be wishing that they have all of these comforts when they are "having fun" battling the searing heat, or bitter cold, and mind torturing bugs whilst taking a break from the daily grind by grinding out in a forest or wilderness somewhere. Well, if you disagree with me on this, worry not. Such torture styled holidays can be had here too. Yes, there are two types of tents available here at D'Bamboo Kamp. They have the Premium Tents (the glamping type), and they have the Camping Tents (the non luxurious, much less comfortable, torture type).
Camping Tents
For those who prefer the original camping style type of tents, they can be rented with pillow, mattresses, blankets, and fans. Still a lot more comfortable than sleeping in a sleeping bag on a mat. Camping here comes with access to WiFi, something most folks cannot go without for long in this day and age. There are facilities such as toilets but they are shared with other campers.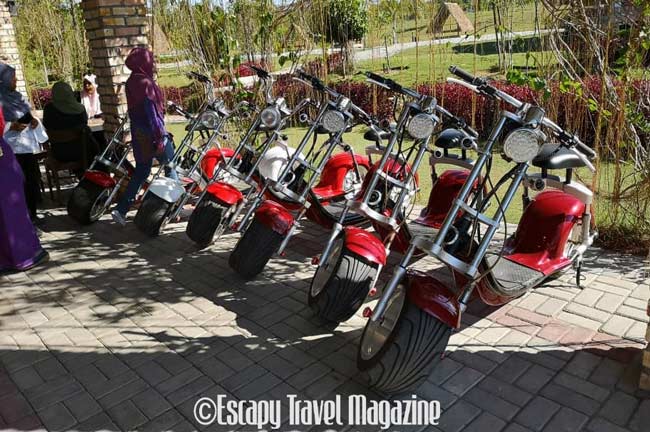 Electric scooters for rent.
Activities
One will certainly not get bored here at D'Bamboo Kamp as there are lots of activities available here to kill boredom and to fill up one's time. Activities available here include fishing, bicycle rentals, paddle boat rentals, kayak rentals, archery, horse riding, village tours, rabbit feeding, rental of electric bikes, and swimming in the swimming pool.
If one still feels bored despite having the option to participate in the above mentioned activities, D'Bamboo Kamp has more to offer. They also organize activities outside the resort. These activities include a visit to Crystal Lake, golfing, trekking, and beach tours. But should one prefer to relax and unwind, there is a spa here that offers relaxing massages, scrubs, etc. to rejuvenate the body, calm the mind, and refresh the soul.
There are bicycles for rent here.
When it comes to satisfying the desires of one's taste buds and tummy,  D'Bamboo Kamp has a restaurant called Waroeng Bambo that serves local and international food as well as drinks. A cooling delicious coconut on a hot sunny day will certainly be a delight especially when it is served with ice.   
Drinks and food are available here.
Nice Place
D'Bamboo Kamp is certainly a delightful place to go to for a relaxing yet fun escape from the city with friends or with family. Whether or not you choose to go "suffer" it out in an original style Camping Tent or enjoy the comforts of a glamping Premium Tent, D'Bamboo Kamp is certainly a good place to consider when planning your next escape.
Address: D'Bamboo Kamp
Ekang Anculai, Teluk Sebong, Bintan Regency, Riau Islands 29151
Website: https://www.dbambookamp.com/
Google Maps to D'Bamboo Kamp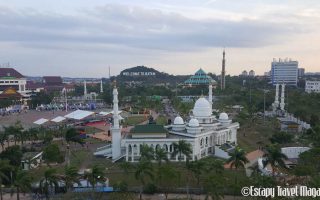 Bored of the usual run-of-the-mill type holidays? About 2 hours by ferry from Johor Bahru in Malaysia & a mere 45 minutes ferry ride from Singapore lies Batam Island.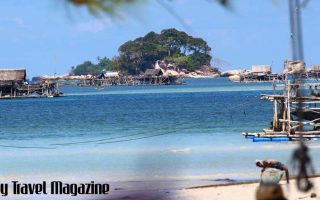 Madu Tiga Beach is a nice beach with a stretch of rather long sandy beach and inviting clear sea water.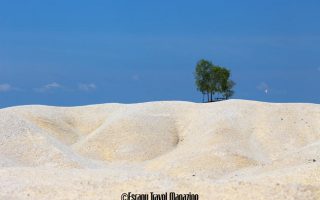 This "desert" in Bintan called Pasir Busung Desert, certainly has potential to attract visitors. Bintan's "desert" is unique.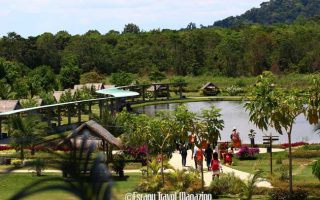 Poyotomo Fishing Pond is designed for relaxation. Located around the grounds are a few gazebos that visitors can rent to relax at, places to eat, and a pond to fish at.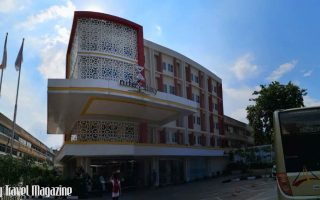 Nite And Day Hotel is located in a pretty "unique place" where the night brings forth a different sort of life in the area; Jodoh Square.
Do Not Miss Another Issue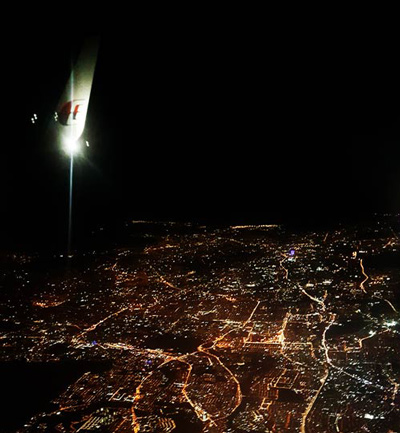 Should you have any enquiries do contact us please...