Adventures In The Riau; By Escapy Travel Magazine
Sun, sand, and sea; beaches are nice places to go to to have fun or to just sit back and relax. Bintan Island is blessed with some nice beaches. During my trip to Bintan Island I visited one of these beaches at a place called Tanjung Pinang. This here is the Madu Tiga Beach. Madu Tiga simply translates to 'three honeys' in English. I have no idea what it means. Could perhaps mean a place to enjoy one's third honeymoon, or maybe even a threesome. Whatever it may mean; Madu Tiga Beach is a nice beach with a stretch of rather long sandy beach and inviting clear sea water.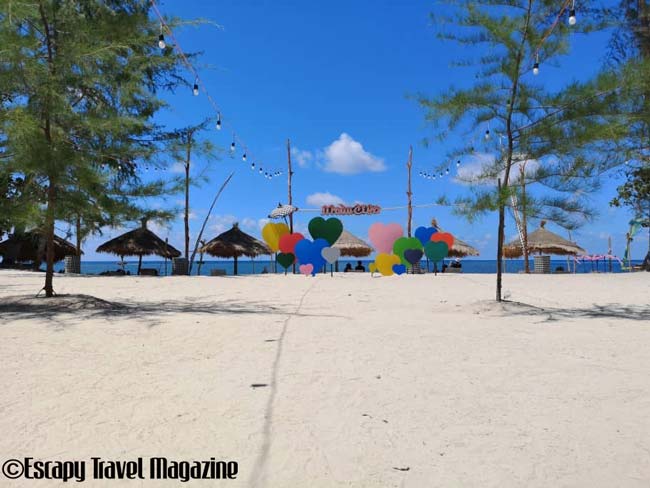 Relaxing Place
The beach here is really quite nice and relaxing. Perhaps one can call this place a sandy rejuvenation area.  Dotted with a few cabanas and deckchairs (also known as beach chairs), the beach here is really inviting. Who wouldn't enjoy splashing about in a sea of clear water (clear but not crystal clear) on a windy sunny day? That perhaps is the main reason to go to the beach. 
Madu Tiga Beach is not just about having fun in the sea and building sandcastles (or combing the beach for shells). It is a good place to sit back and relax as the sounds of the waves play a hypnotic tune carrying your mind to another place where you forget where you are, the race that you run daily, and perhaps even your name. Well, if all of a sudden you find that you cannot remember your name it could also mean something else and my recommendation is to quickly go see a doctor.
A few cabanas and deckchairs provide for a relaxing time here at Madu Tiga Beach.
Just off the beach are what look like houses built on stilts. I am not sure if they are houses. Perhaps a better term to use for these structures would be huts. It certainly will be nice to be able to visit one of these huts especially to learn what they really are. They could be fishing huts where local fishermen head to to catch their daily meal, or they could be chalets on water that visitors could rent. Being an angler I can only imagine the fun that I could have fishing from one of them. Perhaps I will find out on my next visit.
Houses or huts on stilts.
Wouldn't it be nice to be able to spend a few days relaxing here at the Madu Tiga Beach? Madu Tiga Beach And Resort has chalets that one can rent to enjoy a few days on this piece of paradise. These chalets are made of bamboo and wood; a perfect blend to such a lovely place. They are air-conditioned too, a much needed appliance especially on hot and humid days.
Chalets are available should one decide to spend a few days here.
Being on the beach does not only mean relaxation, sea, sun, and sand. Madu Tiga Beach And Resort has a restaurant and bar to "chill-out" at and to savour some of the delicious local delights. Should one suddenly feel the urge to work or to reconnect to cyberspace, WiFi is provided for free at the lobby. The resort also provides airport shuttle services at a fee. 
The clear waters of Madu Tiga Beach.
Thinking of where to go to for your next holiday? If the call of the sea draws your mind towards a sandy relaxing place, Madu Tiga Beach is certainly an option. Madu Tiga Beach And Resort offers a relaxing holiday on a lovely beach without making much damage to one's pocket. Fun, relaxation, sun, sea, sand, and wind; the ingredients for a rejuvenating holiday.
Some of the activities available here at Madu Tiga Beach And Resort.
Activities Available
Jet ski
Water-skiing
Banana boat rides
kayaking / canoeing
Snorkelling
Diving
Island drop
Island tours
Fishing
Address: Madu Tiga Beach And Resort
Pantai Trikora No.Desa, Malang Rapat, Gn. Kijang, Kabupaten Bintan, Kepulauan Riau, Indonesia
Google Maps to Madu Tiga Beach And Resort
Bored of the usual run-of-the-mill type holidays? About 2 hours by ferry from Johor Bahru in Malaysia & a mere 45 minutes ferry ride from Singapore lies Batam Island.
This "desert" in Bintan called Pasir Busung Desert, certainly has potential to attract visitors. Bintan's "desert" is unique.
D'Bamboo Kamp is certainly a delightful place to go to for a relaxing yet fun escape from the city with friends or with family to enjoy a bit of glamping and camping.
Poyotomo Fishing Pond is designed for relaxation. Located around the grounds are a few gazebos that visitors can rent to relax at, places to eat, and a pond to fish at.
Nite And Day Hotel is located in a pretty "unique place" where the night brings forth a different sort of life in the area; Jodoh Square.
Do Not Miss Another Issue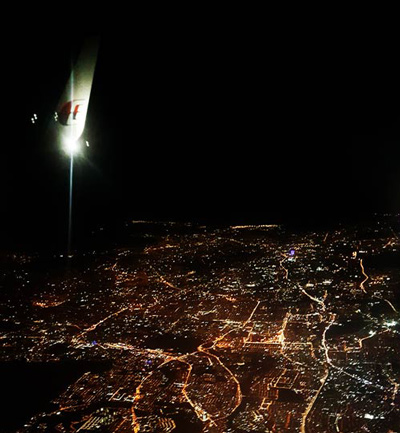 Should you have any enquiries do contact us please...