Klana Resort Seremban
(Galeri Diraja Tuanku Ja'afar)
Should you be visiting Seremban, the capital of the state of Negeri Sembilan in Malaysia, and are looking for a place to stay at; Klana Resort Seremban is one of the places to consider. Klana Resort Seremban is one of the more established resorts here in Seremban. Built sometime back in 1993, Klana Resort Seremban was then known as Allson Klana Resort. It was the finest resort in Seremban then.
In 2008, Allson Klana Resort became known at Klana Resort when the state government took over the resort. Yes, that was many years ago. Klana Resort Seremban has recently gone through a series of refurbishments giving the resort a fresh look.
Large comfortable beds in the room.
The Klana Resort Seremban sits on 24 acres of land with 236 rooms comprising of 4 categories of hotel rooms and 2 types of suites. I recently stayed in one of the rooms and found it looking like new thanks to the refurbishments. The room is big and feels modern. The bed is clean and comfortable of which provided me with a good night's sleep.  
Rooms come with free broadband Wi-Fi, smart TV with Netflix and screen mirroring capabilities for Android phone users only, a place to do some work at, coffee and tea facilities, hairdryer, etc. The rooms are really good after the refurbishment exercise.  
Room near the swimming pool. The room looks nice after the upgrading exercise. 
Food And Beverage
The Klana Resort Seremban has four food outlets. They are The Bakers, Yuri Japanese Restaurant, Selera Coffee House, and the CASCADES Lobby Lounge. During my stay at had buffet breakfast at the Selera Coffee House. The food is pretty decent. I enjoyed my fill of curry chicken and bread, something that I have always enjoyed since young.
Left: The CASCADES Lobby Lounge at the Klana Resort Seremban. Right: some of the shops at the lobby. 
Activities For The Family
Years ago Klana Resort Seremban was well known for having the largest swimming pool in Seremban. Till this day, guests continue to have splashing fun swimming about in its big swimming pool (lagoon shaped pool). There is also a children's pool with various slides and water fountains that will have children burning lots of energy there.
The swimming pool and pool with children's play area.
Other activities available here at the resort are gymnasium, bicycles for rent, table tennis, darts, carrom, snooker, gymnasium, congkak (bantumi), children's playgrounds, etc. One other activity that is available here at Klana Resort Seremban is the rope course of which includes zip lining (flying fox), high ropes, low ropes, and rappeling.
Left: A metal stairs that brings participants to the platform on the top where the zip line (fire fox) is. Center and Right: rope course at the resort. 
View of the pool, rooms, and water feature.
Location And Contact Details
Address PT 4388, Jalan Penghulu Cantik, Taman Tasik Seremban, 70100 Seremban, Negeri Sembilan Darul Khusus, Malaysia.
Email: info@klana-resort.com.my
Google Maps to Klana Resort Seremban, Negeri Sembilan.
Articles Related To Negeri Sembilan
Click articles below to read more articles on Negeri Sembilan, Malaysia.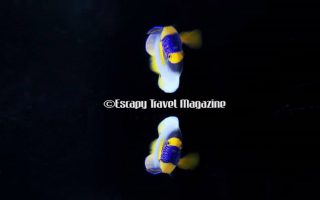 The Port Dickson Ornamental Fish Centre is a superb place to go to to learn about the many fishes, corals, and sea life that call our seas home.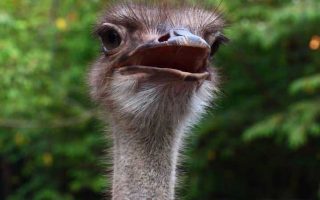 The PD Ostrich Show Farm gives visitors an opportunity to interact with these humongous birds. Visitors can hug ostriches, feed them, etc. with the help of a guide.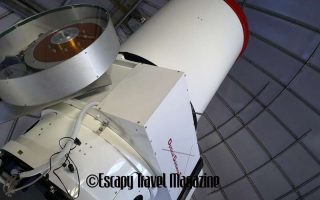 Those with an interest in outer space, the Baitul Hilal Observatory is the place to go to see the stars, moons, planets, and even the sun without having to break the bank.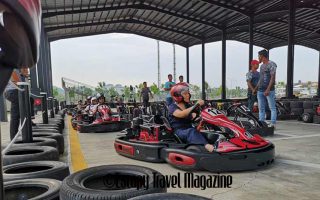 X Park Sendayan is the place to go to for some outdoor, extreme, adrenaline pumping, action; as well as some more less exhilarating but still fun activities.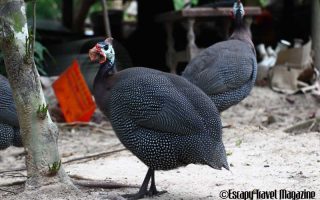 Kampung JKIN Resort is located on a slope at a forest and is rich with various trees, flowers, plants, birds, and many other wildlife; great for nature enthusiasts.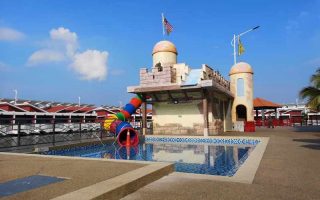 Tasik Villa International Resort is all about luxury with luxury chalets on a lake, luxury apartments, and bungalows, etc. to pamper guests with a delightful stay.
Negeri Sembilan Magazine Issue
For more articles on Negeri Sembilan, click on the Negeri Sembilan magazine issue tab below. For more issues of Escapy Travel Magazine please click on the Magazine Issues tab.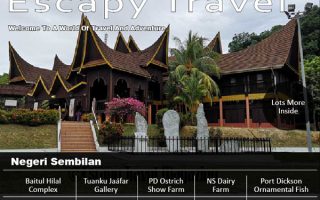 Click here to read more articles in this issue of Escapy Travel Magazine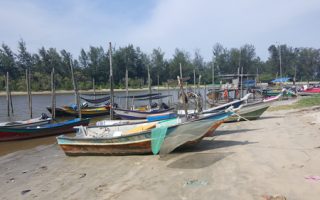 Return to the main page of Escapy Travel Magazine
Do Not Miss Another Issue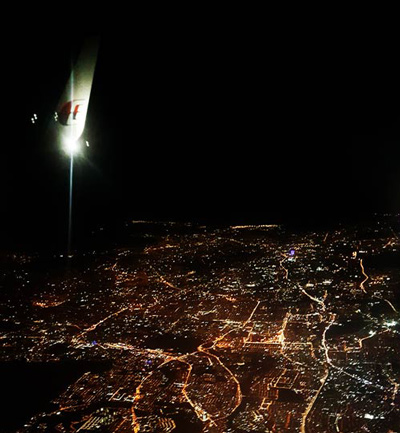 Should you have any enquiries do contact us please...