Dorsett Grand Subang
Subang Jaya, Selangor, Malaysia.
Hotels, the places we humans go to, to recharge the "batteries" of our body, mind, and soul. Of course whether one gets to recharge one's "batteries" depends on the hotel that one stays in as well. A few factors come into play when it comes to pampering, or at least providing a good experience for guests that stays at the hotel. How good a hotel and its team are, is reflected on the guests experiences during their stay. Also, the better the experiences, the better our (as guests) "batteries" are charged.
This brings me to my recent experience at the Dorsett Grand Subang in Subang Jaya, Selangor. Subang Jaya is this busy suburban mini metropolitan with commercial centres, shopping malls, restaurants, and a fair bit of hotels within its 70.41 km2 land space. Few would think of Subang Jaya as a tourist spot (there are interesting places here in Subang Jaya). Most hotels here cater to business professionals, and transiting tourists. Sultan Abdul Aziz Shah airport, fondly known as Subang Airport is about 15 minutes drive from Subang Jaya.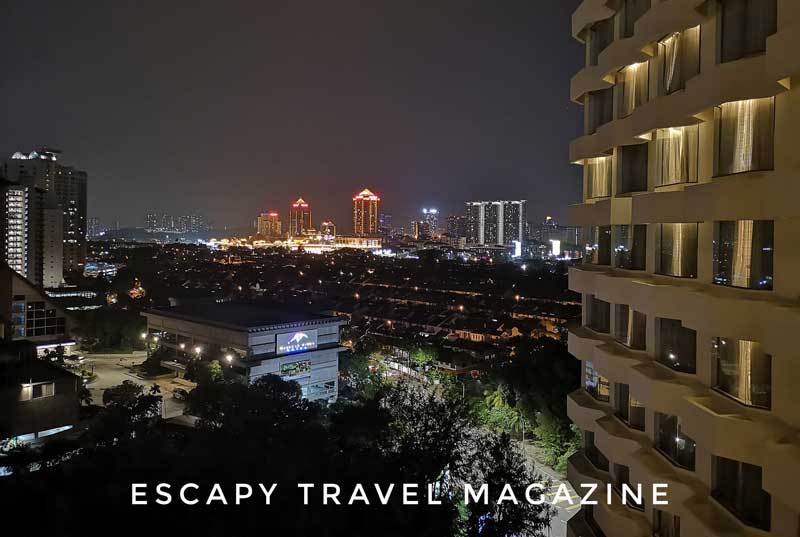 The night view from my room at the Dorsett Grand Subang. The brightly lit area is Sunway Pyramid, a large shopping mall.
Dorsett Grand Subang  is a 4.5 Star city hotel that caters more to business professionals and transiting tourists. I was neither. I stayed at the hotel just for the experience and to write about it. I arrived at the hotel at night. I was exhausted and tired from a day of running about visiting various places, and my mind was racing about like a race horse on steroids. I knew that I will be having trouble sleeping (from experience) when I am in such a condition. Home is one of the very few places that can calm me down enough to drift away on a wooden boat to the stars with Wynken, Blynken, and Nod.
Nevertheless, I got my room key card and went straight to my room (Deluxe Room) for the night. I placed my bag on the baggage stand and took some time to take in the environment. The room is modern, nicely decorated, and cosy. The carpets are thick and a delight to lay one's feet on. I walked over to the window to see what I could see. It was night, the lights of Sunway Pyramid (the biggest mall in Bandar Sunway; 5 minutes drive from the hotel during normal traffic) lit up the dark sky making for a nice night shot.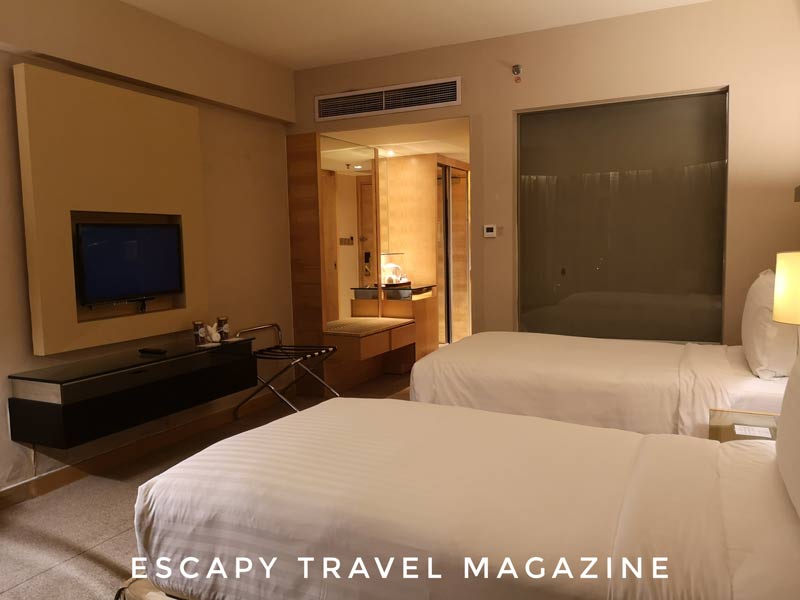 A lovely room with comfortable beds.
I then took a warm bath at the delightful shower before taking out my laptop to work at the glass work table (a very nice one). I transferred some of my "racing" thoughts into my laptop as I worked on an urgent work and decided to take a short break by lying on the bed, to answer a Whatsapp message. This was where things took a turn; a rather drastic turn.  
As urgent as the work I had to do was, my body just did not want to get off the bed. Have you ever slept on a cloud? The bed here at the Dorsett Grand Subang is perhaps the softest beds I have ever slept on. I have stayed in many hotels and resorts; I was a hotelier too, and I have not slept on beds this soft. I felt like I was sleeping on a cloud.

Of course I have not slept on a cloud before but if I had, I imagine that it would feel something like this bed here. It was so comfortable I just did not want to get up. I imagined myself getting back to the table but consoled myself to just lie down and float away into the night. Still, I finally got up to turn off some of the lights that could not be turned off from the bed.
A very special mooncake; the Musang King Durian Mooncake.
The next day I woke up well rested and I felt recharged and energized. I completed my work and headed down for breakfast at the buffet. I had some dim sum, eggs, and some local dishes from the buffet. I also had the opportunity to taste this mini mooncake that was being promoted. Durian lovers will love this mooncake, the crystal skin Musang King durian mooncakes. These mooncakes have got real Musang King durian flesh in them. Read more about them in another article at the Escapy Happenings section by clicking the tab below.
Chefs doing their magic during breakfast.
After a hearty breakfast I took a walk around the hotel checking out the other restaurants and the Piano Bar and Lounge, the gymnasium, swimming pool, the spa and sauna area, and gift shops. Being more of a business hotel there wasn't much activities to do. So I headed back up to my room to spend more time lazing about on the delightful "cloud" till it was time to check out.
Scenes at the Piano Bar Lounge.
Overall I enjoyed my stay at the Dorsett Grand Subang. The staffs were friendly, my room was good, food was good, and location wise; the Dorsett Grand Subang is located quite strategically with food places, a hospital, and shopping malls nearby (30 minutes walk, or 5 minutes by car). These malls are Subang Parade, Empire Subang, and Sunway Pyramid. A smaller shopping mall called Aeon Big is also nearby.     
Delicious durian fried ice cream is available till 31st October 2019.
More Information
There are 478 air-conditioned rooms at the Dorsett Grand Subang. These rooms feature LCD televisions with satellite TV, complimentary wireless Internet access (Wifi), bathrooms have deep soaking bathtubs (not sure if its available in all room types) and complimentary toiletries, safes to keep your belongings safe, and a work desk to get some work done.
Dorsett Grand Subang is currently offering an afternoon tea special for durian lovers called the 'All Things Durian' Afternoon Tea Set, till 31st October 2019. Click tab below to find out more.
Delicious charcoal grilled bread.
Google Maps to Dorsett Grand Subang
Articles Related To Urban Food And Fun Adventures In Selangor Issue.
Click articles below to read more articles on Urban Food And Fun Adventures in Selangor, Malaysia.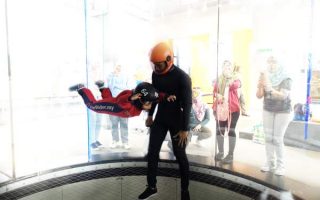 1 Utama a huge and successful mall in Bandar Utama, Selangor (Malaysia) where visitors can go there to experience activities such as skydiving, surfing, rock climbing, etc.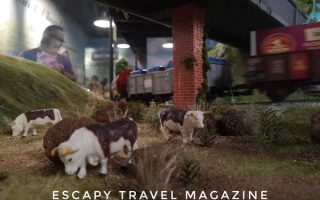 A fun place to learn about the history of chocolates and some of the brands; the Chocolate Museum Kota Damansara is a delightful place to visit especially for chocolate lovers.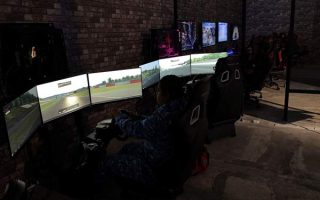 The Pantheon is a gamers hangout that offers everything gamers need and want including high spec gaming computers, VR stations, driving simulators, game consoles, and even a gaming arena.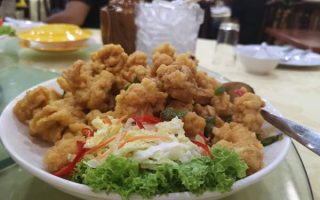 Summit Bamboo Garden Chinese & Thai Restaurant offers authentic and delicious Thai and Chinese cuisine that will have your taste buds screaming for more.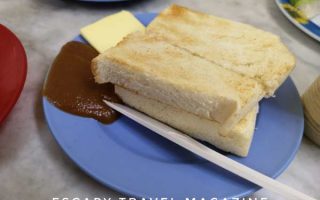 Chong Kok Kopitiam; born in 1940, and is a old coffee shop in Klang, Selangor, where the locals go to to have their fill of their favourite nasi lemak, toast, and well known coffee.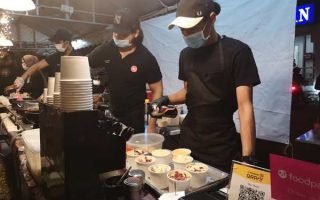 Boomtown, an outdoor dining place with a good variety of stalls to choose from and is one of the food places that pulls a crowd every night; located in USJ 11, Subang Jaya.
Urban Food And Fun Adventures In Selangor Magazine Issue
For more articles on Urban Food And Fun Adventures In Selangor, click on the issue tab below. For more issues of Escapy Travel Magazine please click on the Magazine Issues tab.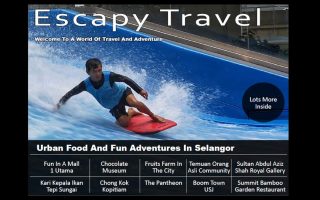 Click here to read more articles in this issue of Escapy Travel Magazine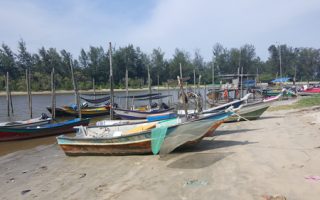 Return to the main page of Escapy Travel Magazine
Do Not Miss Another Issue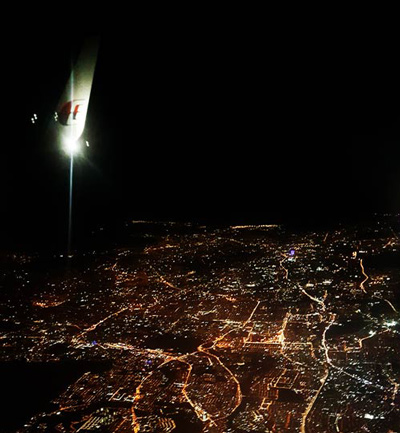 Should you have any enquiries do contact us please...