During my trip in Terengganu I heard the locals talk about ICT quite a bit. What came to mind then was how much they have embraced IT, but that thought of mine was soon proven wrong. They were not talking about IT at all. They were in fact talking about a local delicacy that we just had to try at least once on this trip of ours. ICT is actually short for "Ikan Celup Tepung" or fish dipped in flour. It will certainly be weird to eat fish with a flour dip. So, let me clear this up. Ikan celup tepung or fish dipped in flour is a local term coined here in Terengganu. It is essentially fish and other seafood (prawns and squid) dipped in a batter (flour mix with some other spices) and fried to perfection.
Super tasty fried seafood.
There are quite a few ICT restaurants in Terengganu offering different types of promotions, yet none could command as much customers as Warung Pok Nong could, and this was achieved without the need to give the types of promotions that other restaurants were giving. This certainly speaks volumes on the quality and taste of the food offered here.
Warung Pok Nong is not a fancy place. It is a shed by a beach but the crowd can rivals most fancy restaurants.
So, how good is the food here? Personally I do not enjoy eating prawns. I love fish and squid but not prawns. Here at Warung Pok Nong I ate my entire year's worth of prawns on one sitting. I ate a little fish and squid, but the prawns were addictive. They are fresh and they tasted sweet. They have the crunchy texture that only fresh prawns have. The batter they were coated in was simply delicious and added to the taste of the prawns. This does not mean that the fish and the squid were not as good. They are really good but for some reason I got hooked onto the prawns. That is how good the food here is.
Super tasty prawns dipped in batter and fried to perfection.
Warung Pok Nong is located by the side of beach in Kampung Kolam Mengabang Telipot; some 15 to 20 minutes drive form the Sultan Mahmud Airport in Kuala Terengganu. The beach is scenic but can get busy especially in the evenings when the local folks bring their family out to relax by the South China Sea (beach) and savour some of the local food available there.
Families relaxing and having fun by the beach right opposite Warung Pon Nong.
More Information
Warung Pok Nong
Jalan Pantai A1693, Kampung Kolam Mengabang Telipot
Tel : +609-6127655 / +60133517262
(Do call to confirm if they are open before making your way there)
Operation Hours : 3.30pm onwards.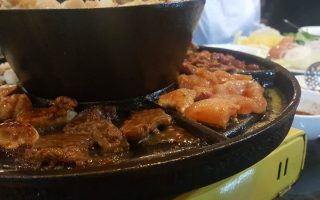 Looking for a lovely dining experience by the river? Checkout Hotel Seri Malaysia's Steamboat Grill.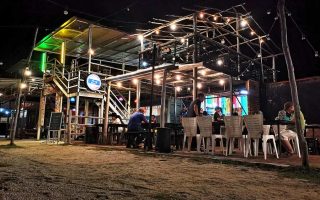 A hip and lovely place to hangout by the beach, have a meal, and relax as the sea breeze blow.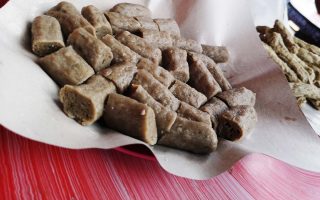 For authentic keropok lekor (a famous local snack) visit Keropok Lekor Selekoh Sungai Rengas.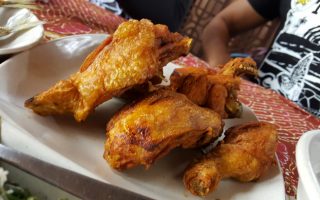 Selera Warisan at Warisan Pahlawan Resort serves on of the best home cooked local cuisines not to be missed.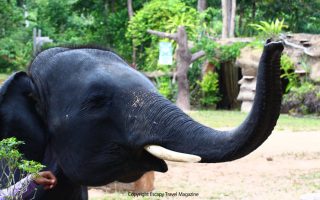 Click here to read more articles in this issue of Escapy Travel Magazine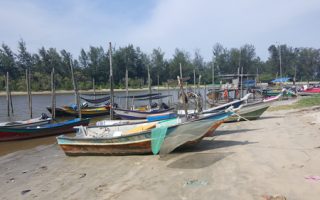 Return to the main page of Escapy Travel Magazine
Do Not Miss Another Issue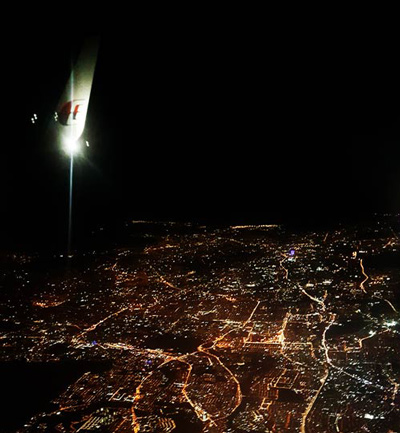 Should you have any enquiries do contact us please...