Steamboat used to be a type of meal where all the meat, vegetables, and spices are thrown into a pot of boiling soup. Family and friends will then pick out whatever is cooked in that pot and eat them. More fresh meat and vegetables are continuously added into the pot to cook. This goes on until no one else can eat, or all food is gone.
Fresh meat and vegetables for our steamboat grill at the Hotel Seri Malaysia, Kuala Terengganu.
However, things change and we get a steamboat pot sitting on a hot plate. If not mistaken, this style is called Korea barbeque steamboat (steamboat grill). This came to Malaysia and became a hit back in the 80s with restaurants offering Korean barbeque steamboat buffets to those who can eat and eat and eat some more. I am not sure if the Korean barbeque steamboat actually started in Korea but here in Malaysia it was a craze.
Our steamboat grill dinner waiting for us by the river at Hotel Seri Malaysia, Kuala Terengganu.
Hotel Seri Malaysia in Kuala Terengganu, Terengganu, offers Steamboat Grill (not buffet) by the river, a good experience should you want something different. There are lots of meat and vegetables to cook and enjoy. To me, this way of dining is lots of fun as it allows for one to get creative with the cooking; especially on the grilling hot plate. 
Fresh meat on the grill. Fun to cook and delicious to eat.
There is more. One also get to enjoy the sea breeze as the Hotel Seri Malaysia is located near the river mouth of the Terengganu River. Look over the railing of the restaurant and you may see fishes swimming about. Off and on you'll see boats cruising past either heading up river, or out to sea. This here is something not many restaurants can offer you here in Kuala Terengganu town.
Fishes swimming in the river just off the restaurant's outdoor dining area.
Additional Attractions
The Hotel Seri Malaysia is located right at one end (the exit) of Chinatown, Kuala Terengganu; a place with old shop lots and more hidden tasty gems. Another attraction in Chinatown are murals that tells various stories; but first they have to be located. Asking the locals around Chinatown will be a good way to locate these murals.
The river behind Hotel Seri Malaysia where the restaurant is at.
Chinatown in Kuala Terengganu is right off the entrance to Hotel Seri Malaysia.
At the other end is Pasar Besar Kedai Payang or Pasar Payang (Payang Market) as it is more commonly known. Pasar Payang is a well known market with frequent visitors and locals. Pasar Payang sells all sorts of things from groceries to souvenirs to clothes. The locals frequent the grown floor where they buy vegetables, fruits, meats, etc. Upstairs on the 1st floor is where one will find all sorts of things like batik, clothes, souvenirs, etc. About 100 metres from Pasar Payang is the Shahbandar jetty where sun and sea lovers take ferries to Redang island, an island paradise.
Posing on a Vespa (moped) at Chinatown, Kuala Terengganu on an earlier trip. 
One of the murals at Chinatown, Kuala Terengganu.
Additional Information
Address:
Hotel Seri Malaysia
Lot 1640, Jalan Hiliran, (Balik bukit), 20100 Kuala Terengganu, Terengganu, Malaysia
Tel: +609-623 6454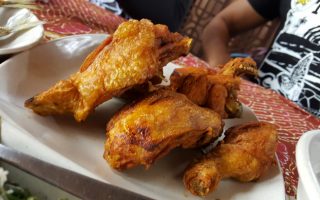 Selera Warisan at Warisan Pahlawan Resort serves on of the best home cooked local cuisines not to be missed.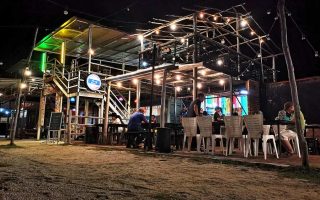 A hip and lovely place to hangout by the beach, have a meal, and relax as the sea breeze blow.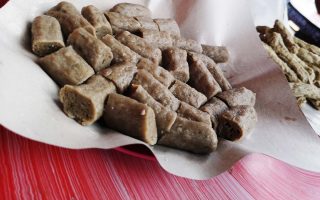 For authentic keropok lekor (a famous local snack) visit Keropok Lekor Selekoh Sungai Rengas.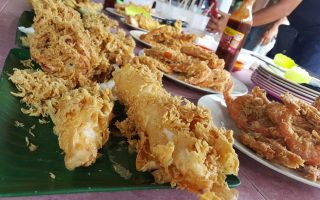 This is a delicious local delicacy not to be missed when you visit Terengganu.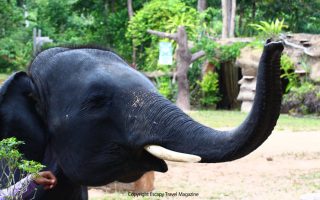 Click here to read more articles in this issue of Escapy Travel Magazine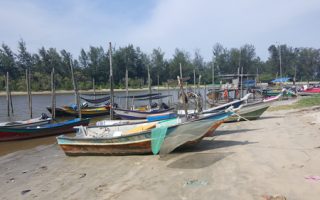 Return to the main page of Escapy Travel Magazine
Do Not Miss Another Issue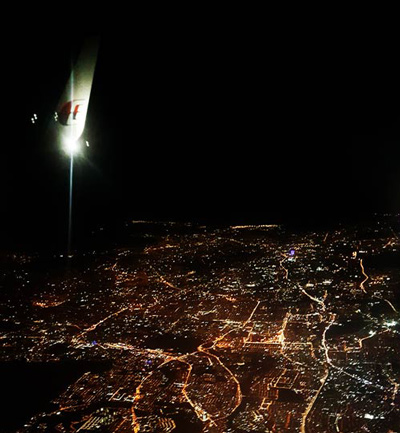 Should you have any enquiries do contact us please...