A tranquil oasis tucked in the centre of the bustling city of Chengdu, The Temple House offers convenient access to an exploration of the vibrant surrounding attractions, complemented by a soothing spa and range of nutritious healthy food and beverages. To celebrate the start of 2019, the hotel has unveiled a new 3-night Check-in to Chengdu experience to give guests the opportunity to actively explore the city by foot or bike, before unwinding in the award-winning spa and refueling with healthful dishes, such as vegan Sichuan hotpot and specially selected green teas.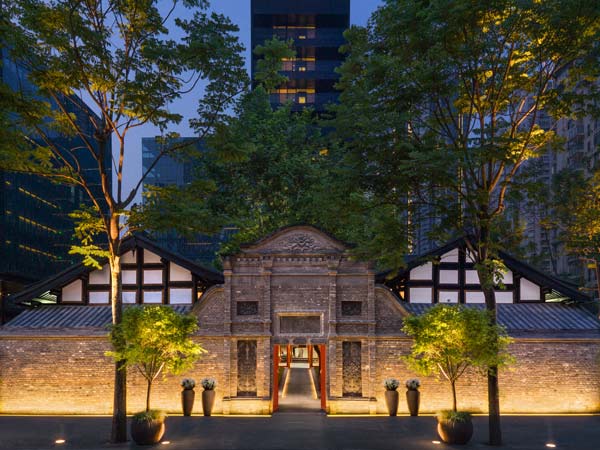 Chengdu is world-famous for its Giant Panda population, and The Temple House is located just half an hour from the Chengdu Research Base. A popular experience among guests, the hotel team offer guided tours of the vast base, as guests explore and spend valuable face time with China's national icon. Having increased their pedometer count visiting the Panda's, guests can then make use of The Temple House's Bamboo Bicycles, for a sustainable way to explore the city. Visitors can opt to cycle their own path, or take part in a guided tour, ticking off nearby attractions including Lang Bridge, Jiuyan Bridge, Wangjiang Park, and Sichuan University. Guests can also opt to start the new year right by taking part in a traditional Buddhist ceremony at the nearby Chengdu Daci Temple Cultural and Commercial Complex with a focus on reflection, gratitude, and wellness.
After an active morning exploring Chengdu, The Temple House's MI XUN SPA offers a calming respite from the city with knowledgeable therapists and results-driven treatments. The spa combines the best of traditional Chinese treatments with modern wellness innovations, with carefully selected high performance treatments from renowned international spa brands such as Meseostic and the innovative THÉMAÉ range, which harnesses the natural benefits of tea using its four-teas extract (Complexe des 4 Thés®). Spanning 900 square metres, MI XUN SPA features eleven treatment rooms, including two VIP experience suites, as well as a tea house and retail store. The House Discovery Experience includes the spa's popular Signature Bamboo Massage for two, which uses a combination of the traditional bamboo canes and hand strokes to ease out the nodules and muscle tension, with a choice of four oil blends; relaxing, MIXUN bespoke, energizing or stretching.
Following their treatment, guests may unwind in the adjoining Teahouse and enjoy freshly-brewed premium teas, selected for their natural medicinal benefits according to the principles of Traditional Chinese Medicine (TCM), to complement and boost the effects of their spa treatment. The refined vegan menu at MI XUN Teahouse is in turn inspired by the healthful dishes once served at Daci Temple, and guests can enjoy a Teahouse Hotpot Set Dinner for 2 as part of their stay.
Combining adventure with relaxation, The Temple House is committed to offering a unique holistic experience, showcasing the rich culture of Chengdu, combined with the luxury and personalized service synonymous with The House Collective. The 3-night experience starts from USD930 and includes:
– 3 nights accommodation for 2
– Daily breakfast
– A guided cycling tour of the city for 2
– 1-hour Signature Bamboo Massage for 2
– A Teahouse Hotpot Set Dinner for 2
– A guided tour of the Chengdu Research Base can be arranged for an additional price.
Terms and conditions apply. For more information and bookings, please click tab below.
Check-in to Chengdu is the first of what will become a House Discovery series, which will be rolled out across all properties in The House Collective throughout 2019. More news on the new experiences in the series will be unveiled in due course. 
-Escapy Travel News