If you have ever wondered what the inside of a submarine is like in reality; there is a place you can go to in Malacca (Melaka in the local Malay language) when you visit this historical city (a state in Malaysia). The French Agosta 70 class submarine which was named SMD Ouessant (pronounced way-songth) was decommissioned by the French Navy in 2001 and used by the Royal Malaysian Navy to train their men from year 2005 to 2009; is on display as a submarine museum in Kelebang, Malacca.
Above: the SMD Ouessant that is now on display in Kelebang, Malacca.
Visitors get to see what the inside of an old submarine really looks like. 
Built in 1979 in France, the SMD Ouessant certainly looks aged and showcases what a submarine of that era looks like on the outside as well as in the inside. Being placed out in Kelebang it looks like a colossal craft in the middle of a sandy "desert" being some 11.7m tall, 67.5m in length, and 6.5m wide. The SMD Ouessant was repainted and refurbished back in December 2011 and officiated on 4th March 2012.
A mannequin at the control room of the SMD Ouessant. 
Visitors are allowed to go inside the submarine to see what the interior of a submarine from that era looks like. It certainly is no luxury vessel. The interior is really quite cramp with a narrow passage from the back to the front of the ship, and hatches that lead up into other areas that is closed to visitors.
There are torpedo bays with a lingering odour of diesel where torpedoes once sat in wait its turn to be launched at enemy vessels. There are various stations with all sorts of meters and switches; perhaps for communications, scanning the area around the submarine, and various controls. There are also sleeping quarters for the crew and a better room for the captain.
The torpedo holding section of the submarine. Unfortunately there are no torpedoes on display.
Along the walkway one will also see a rest area; perhaps a place where the crew sit down to take a break from their daily duties. There are of course toilets and a kitchen with heavy duty cooking equipment. Wires and hoses run all over the place; along the walls going into certain equipment, meters, switches, etc.
A place for the crew to relax and bunks where they sleep.
I cannot imagine how living inside this underwater going vessel must be like for the crew. It certainly is tough to live in such conditions. It must have been rather warm too. I believe those who have been on duty and served on the SMD Ouessant and any other submarine certainly become a very closed knit unit. You must visit the Submarine Museum in Malacca see for yourself what I mean. A visit may also perhaps give one a better appreciation for those that work in submarines.
Working and living in cramp spaces is what life is like inside a submarine.
Things To Note
The Submarine Museum Melaka is in Kelebang which is about 20 minutes to half an hour from Malacca city (depending on traffic). Because it is in a place without trees, the area get really hot on a hot day. A cap is recommended. Wear comfortable clothing and shoes. Bring along a portable battery fan too if you have one. A bottle of water will certainly be good. Also, you will need a car to get there. Do check with your hotel if they can arrange transportation for you.
The back or stern of the SMD Ouessant.
More Information
Contact: +606-2826526 (PERZIM) or  +606-2830926 (Samudera Maritime Museum)
Operating Hours
Monday to Thursday: 8.30am to 5pm
Friday to Sunday: 8.30am to 6pm
There is an entrance fee to visit the Submarine Museum. Call the numbers above for price.
Google Maps to Submarine Museum Melaka
There were also two fighter jets on display during our visit to the Submarine Museum Melaka.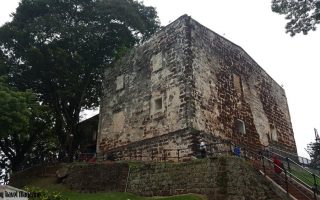 Malacca is a state rich in history. Having been ruled by various countries that have left behind famous landmarks, Malacca is blessed with historical sites, buildings, etc.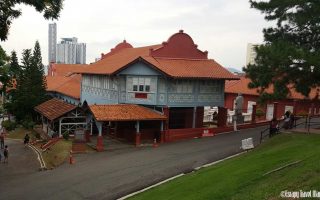 The Historical and Ethnography Museum displays a brief history of Malacca showcasing Malacca under different rules.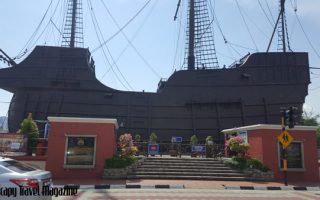 The Malacca Maritime Museum tells of the illustrious past of Malacca and how the sea helped her flourish as well as put her through war.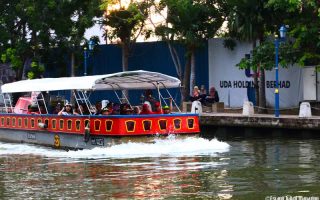 A cruise on the Melaka River is a relaxing experience. Melaka River snakes through a part of Malacca's historical city making it a relaxing way to enjoy the sights.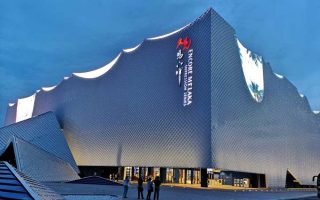 Directed by Wang Chaoge, the more well known for the opening ceremony of the 2008 Olympic Games in Beijing (co-director); Encore Melaka tells a story about Malacca and its history as well as a story of its people.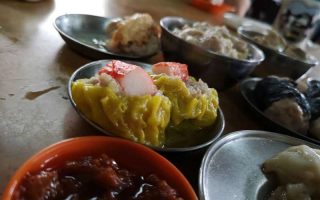 Restaurants are plenty but hidden gems are a rarity. Here is one of them; Tong Lang Sing Restaurant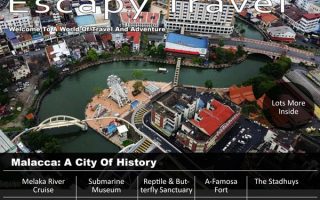 Click here to read more articles in this issue of Escapy Travel Magazine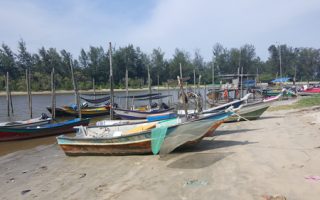 Return to the main page of Escapy Travel Magazine
Do Not Miss Another Issue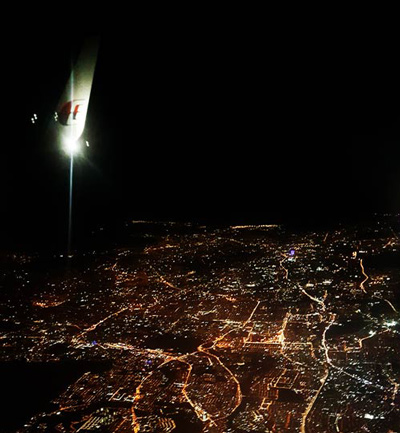 Should you have any enquiries do contact us please...