The Settlement Hotel Melaka
This is where the old meets the new and brings about a splendid nostalgic feeling with the addition of modern day comforts.
Being an avid traveller, I lay my head down at night in many a hotel and hotels are very important to me. It certainly is as it is where I recharge for the next day's adventure and thus I have become critical of them. Cleanliness, service, comfort, and friendliness of staffs are some of the things that largely influence my experience of a hotel.
The garden path at the spa that heads towards the Villas at The Settlement Hotel Melaka.
A Little Diamond
Granted that no hotel is perfect, one of the boutique hotels that ranked well to me personally in the historical city of Malacca is The Settlement Hotel. This boutique hotel seemed to have had a less than illustrious beginning but has since made it through the "fire" turning into a little diamond.
The Settlement Hotel, Melaka offered some of the friendliest service from the friendly front office staffs to the waiters and waitresses who are always smiling, and one that I have to mention is the very polite and friendly chef that prepared my omelette and personally brought it to me on the table. He did the same for my friends and other diners too.
Enjoying the cool rainy weather under the glass shade of The Settlement Hotel Melaka.
It has been said that everything begins at the top and this saying has certainly been proven here. During an earlier stay I had the good fortune of meeting Ms Laura Tan, the General Manager (now ex-General Manager) who turned the hotel around driving its standards up, and during our chat I saw the reason why I have been enjoying my experience here. She is a no nonsense leader who is helpful and polite, paying close attention to service and guests. This certainly is leadership by example.
The hotel is currently under the leadership of Ms Pauline Chua (current General Manager) and recently been awarded the 20th Malaysia Tourism Award for the Best Hotel Services under the 4 star category for 2016 and 2017 (28th February 2018).
The 350 years old Sultan Bed is one of the antiques on display at the hotel's foyer.
A Mixture Of Old And New
The Settlement Hotel, Malacca, used to be a government building back in the 60s but has since been restored into what it is today, a delightful boutique hotel that personifies a mixture of a modern hotel with olden days architecture including century old tiles from a Palembang mosque in Sumatra, Indonesia.
Antiques from various countries of which are part of the owner's collection are placed at certain places around the hotel. To the owner these antiques should be exhibited and shared instead of being kept locked up in a personal gallery. Antiques such as a 350 years old Sultan Bed sits at the front porch for all to see an appreciate.
Comfortable modern bed mixed with antique looking furniture. 
The mixture of old and new continues into the bedrooms with  antique looking furniture such as the writing table, side table, etc. and a modern and very comfortable bed, modern bathroom amenities, etc. The bedrooms are well furnished without being too heavily decorated. It even has a lovely English tea set should one want to enjoy tea the English way.
The beds are very comfortable featherbeds with feather duvets, and down pillows. Being very particular with beds , pillows, and everything that I go to sleep with I must say that I slept really well and the comfort levels are amongst the top of hotel beds. Another very important point is that they are clean.
Bath tub designed to keep the water warm for longer periods.
The bathroom comes with a bathtub that can keep the water warm for a much longer period as compared to the usual hotel bathtubs. This is superb especially for distressing and relaxing in a tub of bubbles floating on water that remains warm for a long period of time.
Luxury Villas that are part of the owner's collection.
Luxury Villas
The luxury villas are a must to check out. They look like traditional village houses. Inside is a king size  comfortable antique looking bed, antique looking wardrobe, table, chairs, etc. Even the bathroom comes with tiles that brings one back to a "once upon a time" period.
A room a couple's massage at the Spa Village.
Traditional Spa Village
The Settlement Hotel has a Traditional Spa Village offering traditional massages, body wraps and scrubs, facial therapies, nail care services, etc. to help one relax and rejuvenate. After a relaxing treatment one can go relax by the pool or if the temptation is too strong; to jump in and wade about.
Black and white masterpiece depicting Kuala Lumpur city's iconic Twin Towers.
Art Gallery
Antiques are not the only things that make The Settlement Hotel, Melaka, special. There is also an art gallery in the hotel, the Yeak Ping Lian Gallery. Yeak Ping Lian was born on 18th November 1993 and has a condition called the savant syndrome (autistic). Although suffering with savant syndrome he is blessed with a remarkable ability to create art.
One of his masterpieces called the "Ubudiah Mosque I" was sold for RM100,000.00 to an anonymus bidder at the Grand Auction of the RDA Charity Ball in Malaysia back in 20th November 2004. Although he now resides in Sydney, Australia, his work is exhibited daily at the Yeak Ping Lian Gallery, The Settlement Hotel, Melaka
Artwork by Yeak Ping Lian in the Gallery.
This piece is called Sunflower. It was painted by Yeak Ping Lian at age 11.
The Roof Top
The roof top of The Settlement Hotel is an open air dining area with views of the surrounding area. It is also a good place to shoot the sunset. At night it becomes a relaxing place to sit back with friends and relax.
The roof top is a great place for events. 
Night view from the top (roof).
Convenient Place To Stay At
The Settlement Hotel is located near the famous Portuguese Settlement where there is a Portuguese Settlement Heritage Museum, seafood outlets, pubs, etc.  Just outside the hotel are food outlets that offers local food.   
More Information
Address:
The Settlement Hotel Melaka , No. 63, Jalan Ujong Pasir, World UNESCO Heritage City Melaka, 75050 Malacca, Malaysia.
Tel: +60 6 292 1133 (General Line)
Fax: +60 6 292 4700
email: enquiry@thesettlementhotel.com
Website: https://thesettlementhotel.com/home
Google Maps to The Settlement Hotel Melaka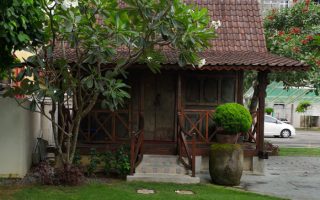 The Settlement Hotel Melaka offers you the opportunity to stay in an antique collection. Click to find out more…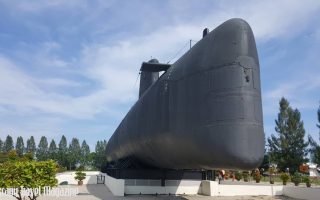 Malacca used to be a very important maritime hub and thus maritime museums are a must visit. The Submarine Museum in Malacca gives one the opportunity to see what the inside of an old submarine looks and feels like.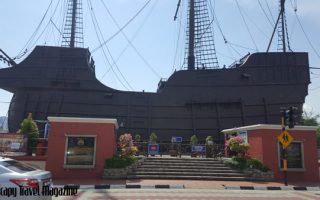 The Malacca Maritime Museum tells of the illustrious past of Malacca and how the sea helped her flourish as well as put her through war.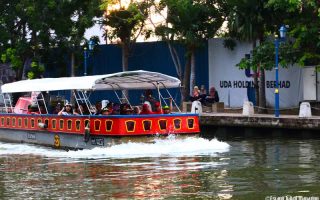 A cruise on the Melaka River is a relaxing experience. Melaka River snakes through a part of Malacca's historical city making it a relaxing way to enjoy the sights.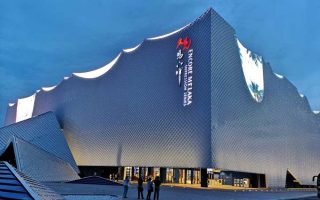 Directed by Wang Chaoge, the more well known for the opening ceremony of the 2008 Olympic Games in Beijing (co-director); Encore Melaka tells a story about Malacca and its history as well as a story of its people.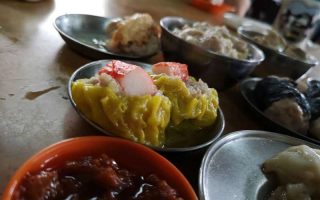 Restaurants are plenty but hidden gems are a rarity. Here is one of them; Tong Lang Sing Restaurant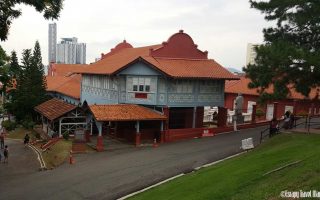 The Historical and Ethnography Museum displays a brief history of Malacca showcasing Malacca under different rules.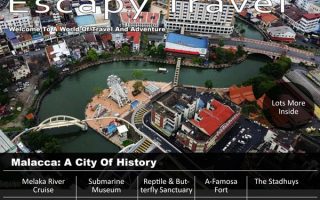 Click here to read more articles in this issue of Escapy Travel Magazine
Do Not Miss Another Issue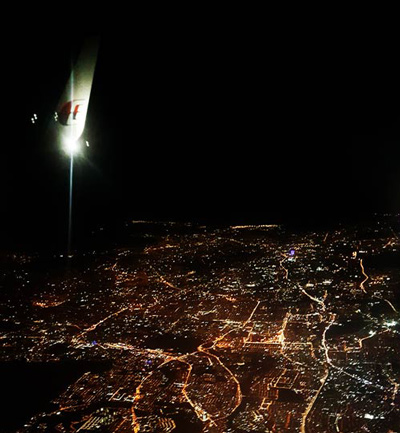 Should you have any enquiries do contact us please...
Should you have any enquiries do contact us please...