Petaling Street Heritage House
Petaling Street in Kuala Lumpur has for a long time been a tourist puller. It is after all the location of Chinatown Kuala Lumpur. Chinatown Kuala Lumpur is a heritage rich area. However, as time passes by more and more of its rich heritage fades away. There are three generations of Chinese people from seven dialects (communities) living here but many of them have either passed on or have moved away to other places.
The Petaling Street Heritage House.
As the folks of Chinatown Kuala Lumpur move out to live in other places, many old items were discarded. Many of these items are items are from days of old; now called antiques that have heritage value, holding on to memories from a time passed. To save the rich heritage of Petaling Street; the Petaling Street Community Art Project was started back in 2010.
The front facade of the Petaling Street Heritage House in yellow.
A lot of these discarded items were collected, cleaned, and restored as best as possible. Many of the old items were also donated by the local folks who are from the area. A gallery was then started to exhibit these items and to share the heritage of Petaling Street for everyone interested. Unfortunately, the gallery ran out of funds and had to be closed down in 2014.
An old gong (percussion instrument) that was once used in the Chinese opera on display at the gallery. 
In April 2018, the Petaling Street Heritage House (gallery) reopened its doors to the public thanks to the financial support from the ASEAN Arts and Cultural Foundation. Its main objective is to preserve the heritage of Petaling Street and to share it with everyone. This time it is more than just a gallery. The Petaling Street Heritage House has a restaurant that serves traditional Chinese food from the seven Chinese dialects (or clans) of Petaling Street. This not only gives visitors a taste of the different food from these dialects but also helps to fund the gallery.
The restaurant on the ground floor of the Petaling Street Heritage House.
The gallery showcases the history of Petaling Street. There are various topics or themes that are displayed at different times. As at the time of my visit, the theme was "Chinese Opera." On display are items from the Chinese Opera that was once a big thing here in Petaling Street. Unfortunately, the Chinese Opera of Petaling Street has long gone extinct leaving behind only items such old records, old lyrics, scripts, travel dressing cabinets, costumes, etc.  
Old black and white (or vintage) photographs of the Chinese Opera that used to operate here in Petaling Street.
There are some 1,500 pieces of old vinyl records or LPs that was donated by Yan Kee Records And Recording, a music store and recording studio that started operating back in the 1950s (could be earlier). There are also records sung in different Chinese dialects. We even got to listen to one of the old vinyl records on the record player.
Old vinyl records or LPs from the days of the Chinese Opera that used to be a big thing here in Petaling Street.
Apart from these vinyl records there are also very old lyric books and various publications (probably magazines) that were published by the opera singers and actors themselves. One of these publications or magazines is called EAST – Presents The East To The World.
An issue (issue 307) of an old magazine called EAST.
Other interesting collections are those from the old theatre and cinema. There used to be an old cinema here called the Madras Theatre (Chung Hua Cinema Hall in Chinese). In 1930s the Meihua Song and Dance Troupe from Shanghai performed here for a week. The performance was said to be a roaring success with people coming from various states to watch. While the opera has for a long time stopped performing, one interesting relic of its past remains; an old Cantonese Opera Outline Script from the 1940s that has been painstakingly restored.
The old script from the Cantonese Opera that once performed here.
The Madras Theatre was formally known as the Pu Changchun Troupe a Cantonese Opera troupe that performed there long ago and was later renamed to Madras Theatre (according to Madam Yu whose mother used to work with the Pu Chuangchun Troupe). It was a famous theatre that pulled lots of crowd. The Madras Theatre burnt down in 1978 and never got rebuilt. Today, the place continues life as a parking area.
Old lyric books and song books from the Cantonese Opera Troupe.
The Petaling Street Community Art Project has also organized various events such as lantern festival, Malaysia day festivals, etc. According to the Founder, Mr Chong Keat Aun, they will be producing 30 videos about the history of Petaling Street. All these are done to preserve the heritage of Petaling Street of which is also the Chinatown of Kuala Lumpur.
A mock up of the Chinese Opera Theatre. 
Google Maps to Petaling Street Heritage House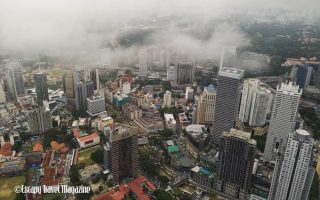 Enjoy a meal up above the clouds at Atmosphere 360. This unique restaurant is located some 400 metres above ground offering some spectacular views of the city below.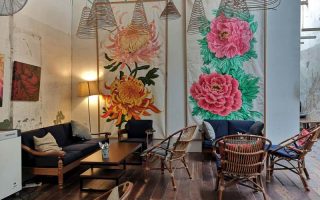 A fabulous place to enjoy a fabulous meal when one is in Kuala Lumpur. Merchants Lane is a restaurant with a very special menu. The place itself houses some tantalizing tales.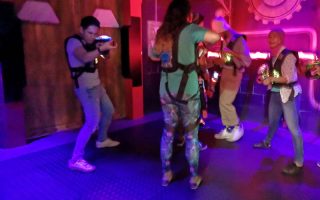 This here is fun game where teams or friends battle each other in a futuristic warzone. Laser Battle is located in Berjaya Time Square Kuala Lumpur.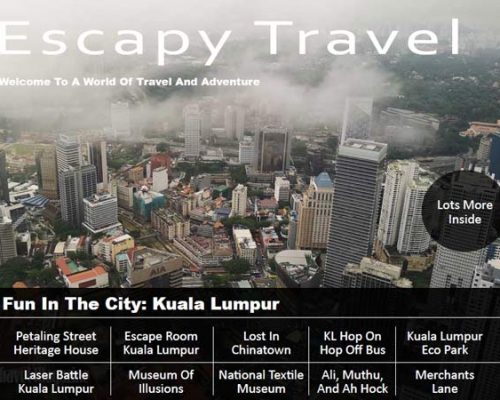 Click here to read more articles in this issue of Escapy Travel Magazine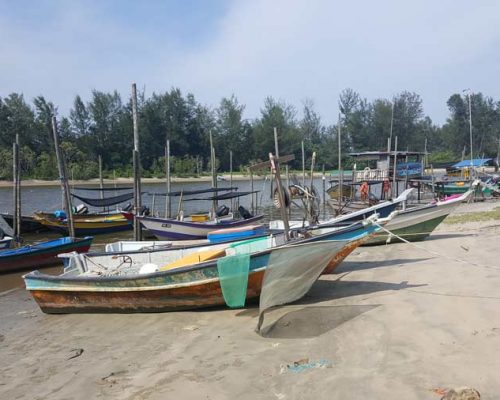 Return to the main page of Escapy Travel Magazine
Do Not Miss Another Issue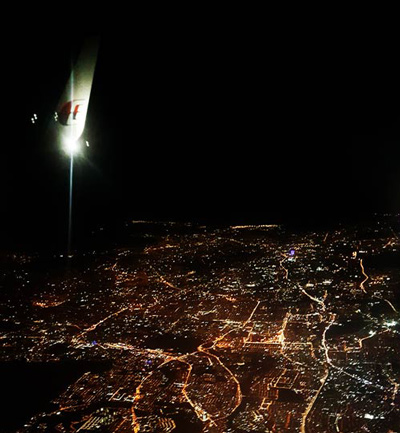 Should you have any enquiries do contact us please...