One of the best ways to explore the city of Kuala Lumpur is to take the Kuala Lumpur Hop On Hop Off bus. The Kuala Lumpur Hop On Hop Off Bus also known as "HOHO" goes on a route that is more tourist focus allowing visitors to "hop off" and visit certain spots, and "hop on" again to the next spot.
Services of such are not new. They are available in many other countries such as the free tramp in Melbourne city and the London City Tour Hop On Hop Off bus. The City of Kuala Lumpur has replicated this service and it has proven to be a hit with both locals and visitors.
Starting point; Malaysia Tourism Centre (MaTIC)
The Start (MaTIC)
Should you decide to embark on a journey around Kuala Lumpur city via the HOHO bus, the first stop or the starting point is the Malaysian Tourism Centre. It is situated at 109, Jalan Ampang (Ampang Road); behind the Concord Hotel and Hard Rock Cafe Kuala Lumpur.
MaTIC itself has some interesting things to see. First off, it is a tourism centre, thus you will be able to get lots of information about your holiday in Malaysia. The friendly staffs are ready to assist you and there are booklets and brochures that you can take to help plan your stay.
MaTIC has a craft shop, cafes and bistros such as the Saloma Bistro, a chocolate boutique, etc.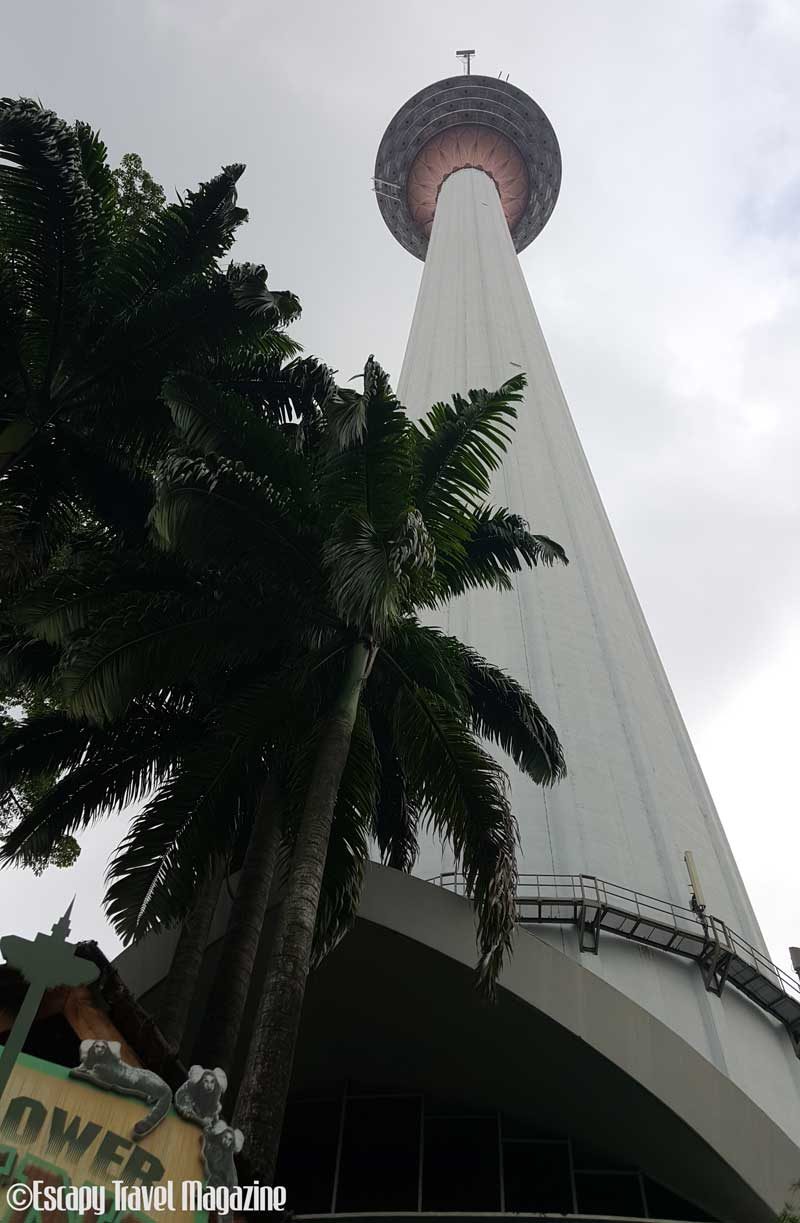 Stop 2: KL Tower
KL Tower is an one of the world's top 10 tallest towers, actually 7th or 8th tallest. It is a communications tower with a revolving restaurant called Atmosphere 360, a sky deck offering a 360 degrees view of Kuala Lumpur City, a Skybox, and aquarium called The Blue Coral, a Mini Zoo, and a Forest.
Bukit Nanas Forest Reserve
Bukit Nanas or Pineapple Hill is a forest reserve also known as the KL Eco Park. Here you can do some jungle tracking and learn about some of the flora and fauna that lives within the park. The tracks are well marked and there is also a canopy walk. Do bring drinking water and insect repellent though as there are a lot of mosquitoes there.
The Bukit Nanas Forest Reserve is also known as the KL ECO Park.
Stop 3: P. Ramlee
Ramlee Road (Jalan P. Ramlee) is named after one of Malaysia's most famous TV Stars, director, singer, song writer, etc.; the late Tan Sri Datuk Amar Dr. Teuku Zakaria Teuku Nyak Putih or more commonly known as P. Ramlee. P. Ramlee Road is famed for its pubs, clubs, and restaurants. It is one of the partying hotspots of Kuala Lumpur.
Stop 4: KLCC / Aquaria
KLCC is one of the major shopping malls in Kuala Lumpur. Inside KLCC is the Aquaria KLCC a world class aquarium that showcases 5000 aquatic and land creatures, from large species such as sharks to smaller species the like the clown fish, as well as rays, and turtles.
Outside the KLCC mall of which is Suria KLCC is a park with fountains, a huge water feature, and a garden. This Park is the KLCC Park. It is a nice place to hangout. It is also a good spot to take photographs of the Iconic Petronas Twin Towers.
Aquaria KLCC is a place to observe and learn about fishes.
Stop 5: Karyaneka
Karyaneka is an arts and craft centre situated in the heart of Kuala Lumpur city. It is a good place to see handicrafts as well as to experience doing some. Amongst the craft on display are Batik, Songket, Pewter, weaving and plaiting, metal works, wood carvings, and ceramic and crystal works.
Other things to see are "Rumah Penghulu Abu Seman" or the House of local headsman, Abu Seman. The  "Rumah Penghulu Abu Seman" is a house of which can only described as a piece of art.
Stop 6: Bukit Bintang
Bukit Bintang is a shopping area with a few malls within walking distances, such as Pavillion, Starhill, Lot 10, Berjaya Times Square, Sungei Wang Plaza, and Low Yat Plaza. Apart from shopping malls there are lots of restaurants, cafes, etc. within the area.
An old house called the "Rumah Penghulu Abu Seman."
Stop 7: Tengkat Tong Shin
Tucked behind the main shopping areas Tengkat Tong Shin is one place where one will find budget hotels and boutique hotels of which are within walking distance to the malls. It is also a good place to try out local food.
Stop 8: Chinatown
Chinatown is one of the places with a mix of things from street vendors selling all sorts of things such as clothing, watches, bags, etc. Gucci, Louis Vuitton, Nike shoes, Rolex, IWC, Patek Philippe, etc. are some of the common brands found here at very low prices. However, do note that they are not originals. Food on the other hand is good and reasonably priced.
Lots to see and do here at Chinatown Kuala Lumpur (Petaling Street).
Stop 9: Central Market
Central Market is one of the places to go to should you be interested in buying souvenirs, arts and crafts, and clothing. There are some cafes and food outlets inside. Just beside the Central Market is Kasturi Walk that houses an open air flea market.
Stop 10: Little India
This is a haven for Indian cuisine, Jewellery from India, and lots of other products from India. You will hear Indian music as you walk by the shops. The fragrance of curry hits you as you walk towards some of the Indian restaurants. Certainly is a good place to go to for Indian food.
The colourful fountain at Little India.
Stop 11: KL Sentral
Just off Little India is KL Sentral. This is the largest rail transport and transit hub of Malaysia. With different trains going on various  routes to many places including the Kuala Lumpur International Airport, KL Sentral is certainly the place to go to should one decide to venture out of the city.
Stop 12: National Museum
For a bit of history and to view some of the relics and treasures found around Malaysia, the National Museum is one of the places worth visiting. There are a few galleries to view as well as special exhibits depending on the time of visit.
An old train engine at the National Museum, Kuala Lumpur.
Stop 13: National Palace
The National Palace is the official residence of the Yang di-Pertuan Agong, the monarch of Malaysia.  The palace was completed in September 2011 nestled on 97.65 hectares of land. It replaces an older palace of which is now open to the public. Visitors are not allowed into the palace grounds (new) but they can take pictures from the outside.
Stop 14: Lake Gardens
Lake Gardens, officially known as Perdana Botanical Gardens is a large garden with a land size measuring 91.6 hectares. In it are ornamental trees that are neatly sculptured, a lake, theatre, ASEAN Sculpture Garden, National Monument, Butterfly Park, children's playground, etc.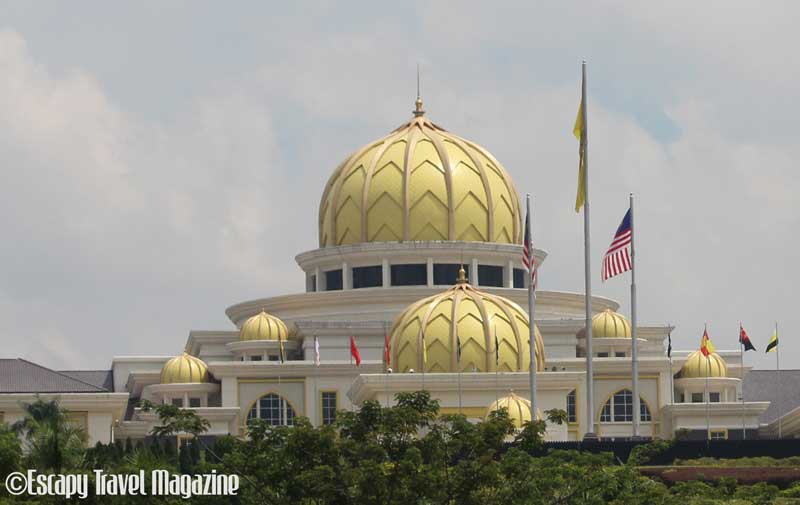 Stop 15: KL Bird Park
Still within the Lake Gardens area is the KL Bird Park a place where visitors get to mingle with birds. Just opposite the KL Bird Park is the KL Orchid Garden, and National Planetarium. Further down the road brings us to the Tun Abdul Razak (2nd Prime Minister of Malaysia) Memorial.
Stop 16: National Mosque
Near the Tun Razak Memorial is the National Mosque. One can actually walk all the way from the KL Bird Park all the way to the National Mosque should one choose too. Around the area of the National Mosque are the Islamic Arts Museum, and the old Kuala Lumpur Railway Station of which is one of the historical buildings around the city.
A peacock at the KL Bird Park.
Stop 17: Merdeka Square (Independence Square)
This stop takes you to one of the more important areas of Kuala Lumpur. Merdeka Square is surrounded by history. The Sultan Abdul Samad building designed by A.C. Norman and built in 1894-1897. There is the Music Museum, National Textile Museum, Kuala Lumpur City Gallery, and the Bandaraya Theatre that is currently playing MUD The Musical, a must see.
On the Merdeka Square itself stands the tallest flag pole in Malaysia with the largest flag also in Malaysia. Behind the Merdeka Square sits the Royal Selangor Club founded in 1884 by the British who ruled Malaya then. The club has hosted the Rugby Union and cricket games.
Stop 18: Medan MARA
Medan MARA stop bring us yet again to another shopping and dining area with a few shopping malls nearby and plenty of shops to checkout along Tungku Abdul Rahman Road. There are also some famous food outlets one of them being the Coliseum that has been around since 1921.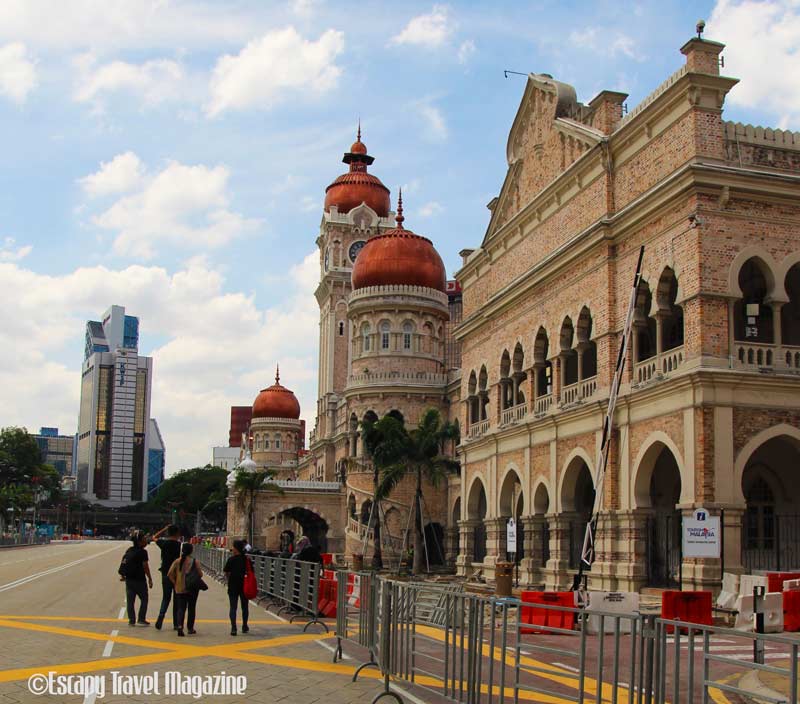 The Sultan Abdul Samad Building opposite Merdeka Square.
Stop 19: Putra World Trade Centre
Putra World Trade Centre is where certain exhibitions are held such as the MATTA Fair of which is Malaysia's largest travel fair, Car shows, etc. Opposite it is the Sunway Putra Mall, a mall that has been refurbished. Walk further down and you come to Chow Kit Road, an older area of Kuala Lumpur.
Stop 20: Titiwangsa
This stop brings us to yet another transportation terminal. This time it is a bus terminal called the Pekeliling Bus Terminal of which is the transportation hub to the east coast of Peninsular Malaysia. There is an LRT (Light Rail Transit) train service there as well.
Stop 21: Palace Of Culture
The Palace Of Culture stop has a few places to see nearby. They are the National Theatre a venue for many types of plays including music such as the opera, National Visual Arts Gallery, National Library, and Titiwangsa Lake Gardens.
The Putra World Trade Centre.
Stop 22: Citibank
Although this stop is called Citibank, what's more interesting about the place is the Ampang Park Mall, one of the places that one can do some shopping. Around the area are some food outlets.
Stop 23: KLCC
This stop brings us back to KLCC or Kuala Lumpur City Centre. This time in front of the iconic Petronas Twin Towers, perhaps the most photographed towers in Kuala Lumpur. From here the bus returns to MATIC.
The Petronas Twin Towers at KLCC.
Worth A Go
There you have it, a list of all the stops that the KL HOHO Bus stops at. Some of them are more significant with lots to see while some are just stops at shopping areas. All said, it certainly is worth a go.
Where To Sit
Should you decide to sit on top in the open deck area, the weather is one thing that you will have to put up with. It can get really hot or it could get really wet (rain). Still it is the best place to sit at should your objective be to photograph the sites. If you're sitting indoors, in the air-conditioned area, you have nothing to worry about except for the reflections in your photos.
Do bring along:
A hat, a bottle of drinking water, sunglasses, and a fan if you prefer to sit at the open deck area. Wear thinner comfortable clothing. Do not open your umbrella as it will become a disturbance to those sitting around you.
The National Mosque; one of the stops.
For More Information
Address:
ELANG WAH SDN BHD [640812-T]
No. 17-1, Jalan 1/76, Desa Pandan, 55100 Kuala Lumpur, MALAYSIA.
Hot-Line : 1800-88-5546
Google Maps to MaTIC (Malaysia Tourism Centre).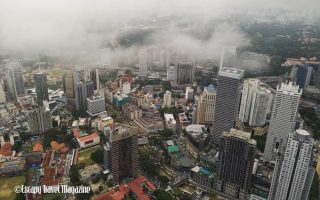 Enjoy a meal up above the clouds at Atmosphere 360. This unique restaurant is located some 400 metres above ground offering some spectacular views of the city below.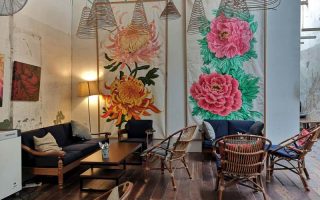 A fabulous place to enjoy a fabulous meal when one is in Kuala Lumpur. Merchants Lane is a restaurant with a very special menu. The place itself houses some tantalizing tales.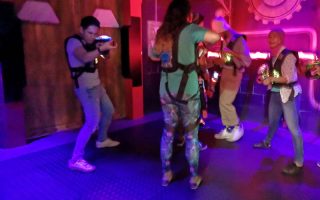 This here is fun game where teams or friends battle each other in a futuristic warzone. Laser Battle is located in Berjaya Time Square Kuala Lumpur.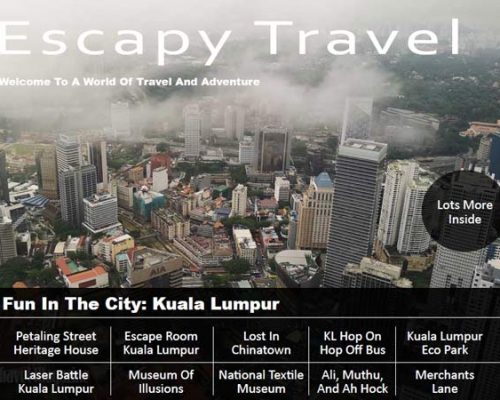 Click here to read more articles in this issue of Escapy Travel Magazine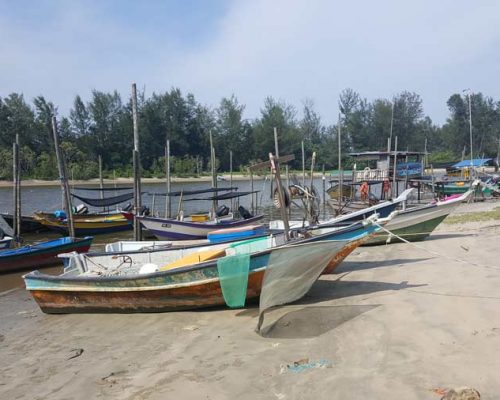 Return to the main page of Escapy Travel Magazine
Do Not Miss Another Issue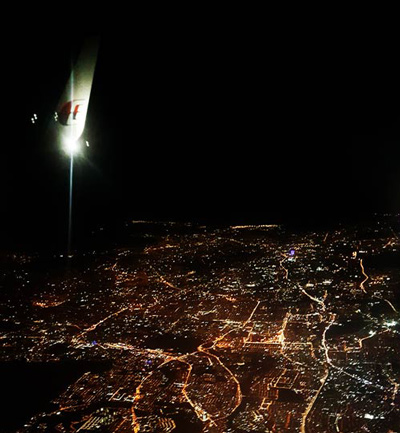 Should you have any enquiries do contact us please...