I have known Kuala Lumpur to be a bustling metropolitan, a concrete jungle with lots of buildings including some of the world's famous landmarks such as the Petronas Twin Towers and the KL Tower. Hence when someone invites me to a jungle trekking trip in Kuala Lumpur, my mind automatically thinks shopping.
Imagine the surprise I got when our guide at KL Tower told us that we would be going jungle trekking and that we will be learning about some local trees, also that there will be some mosquitoes. Seriously! Jungle trekking in this city?
There are a few trails at the KL ECO Park. These signage show the direction to the trails.
Time For A Workout
Turns out that he was serious. We walked towards a gate with an arch and on it hangs a sign that reads "Taman Eko Rimba KL" and below it "Hutan Simpan Bukit Nanas." Taman Eko Rimba KL" means "KL Eco Park," and "Hutan Simpan Bukit Nanas" means "Bukit Nanas forest reserve."
Walking pass the gates brought us to the KL Eco Park and we were on a journey to one of the most important places in Kuala Lumpur City, its green lung. The trail took us through some trees before arriving at a herb garden.
The huge Dipterocarpus boudii tree.
Herb Garden
According to our guide, there are about 30 species of herbs at the herb garden in the form of plants and trees. One of them is the well known Tongkat Ali tree, of which is proven to help improve the vigour of males. Another herb here called "hempedu bumi" which loosely translates to "bile of the earth" is said to cure cancer. I am not sure how true this is.
A signage at the entrance to the Herb Garden.
Huge Trees
As we continued our journey we came upon some huge trees of which to me is something to be happy about as trees of such sizes and dimensions are hardly seen in the city. Trees such as the Surian Wangi tree (Toona sureni), Jelutong tree (Dyera costulata), and the giant bamboo make up part of the flora here.
Parasites
Every forest will have nutrient providers and parasites. The KL Eco Park is no different. As we walked the trail I spotted some mushrooms feeding on a fallen tree trunk. What's more interesting is the sighting of a land planarian (flat worm) that feeds on earthworms. This is bad news especially since earth worms are important as they help to keep the soil healthy.
A land planarian is a type of snail without a shell. It feeds on earthworms. 
Canopy Walk
Part of the trail we took brought us to the KL Eco Park's canopy walk. The canopy walk is about 200 metres long with a few observation towers along the way. The canopy walk is nice giving us a different perspective of the forest. It brings us closer to the top of the trees while we look down at the grounds below.
Canopy walk; walking from tower to tower on hanging bridges, along the trees.
Return To KL Tower
Our trail took about 1.5 hours and before long we ended up somewhere at the side of KL Tower. It was a good walk and mosquitoes were a plenty. Not so much at the trails but at areas such as the herb garden and an area with a gazebo and what looked like abandoned shops. Hence mosquito repellent is a must.
Mushrooms growing on fallen trees.
Trails In Bukit Nanas Forest Reserve
Jelutong Trail
Suboh Trail
Merawan Trail
Penarahan Trail
Arboretum Trail
Looking out from within a tree trunk.
Things To Bring
Hiking shoes
Mosquito repellent
Drinking water
Cap
Camera
Battery fan (should you need one)
Address & Information
Free public access. No Permits required. Open daily between 8.00 am and 5.00 pm
Address: Lot 240, Jalan Raja Chulan, Kuala Lumpur, 50250 Kuala Lumpur, Malaysia.
Google Maps to KL ECO Park.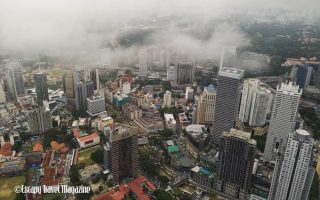 Enjoy a meal up above the clouds at Atmosphere 360. This unique restaurant is located some 400 metres above ground offering some spectacular views of the city below.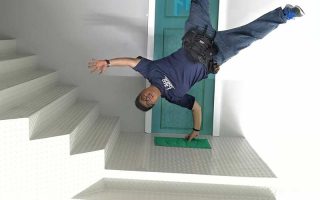 Museum of Illusions Kuala Lumpur is a place that tricks the mind with fun an amazing exhibits such as the Ames Room, Anti-Gravity Room, etc.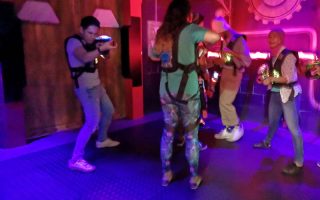 This here is fun game where teams or friends battle each other in a futuristic warzone. Laser Battle is located in Berjaya Time Square Kuala Lumpur.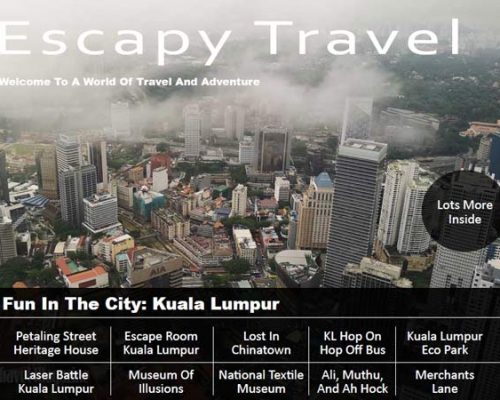 Click here to read more articles in this issue of Escapy Travel Magazine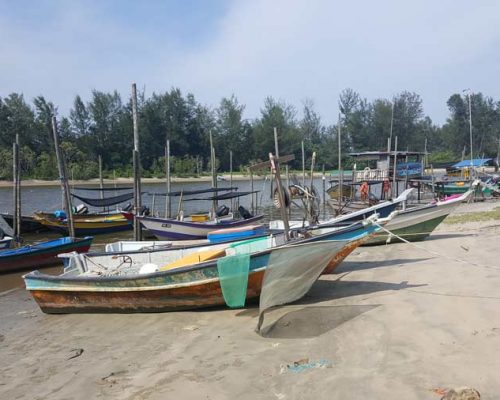 Return to the main page of Escapy Travel Magazine
Do Not Miss Another Issue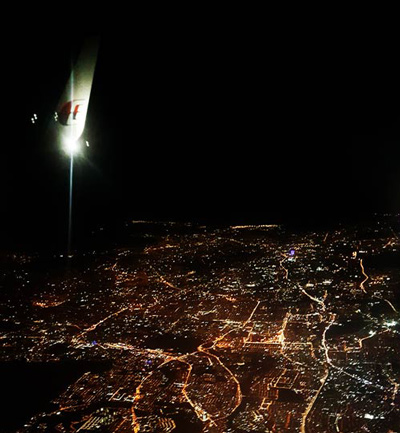 Should you have any enquiries do contact us please...