Resorts World Genting Welcomes Chinese New Year 2019 With Style And Panache
 Eight distinctive areas to celebrate the New Year packed with a gala of beautiful decorations, Lion Dances, special performances and Pokémon characters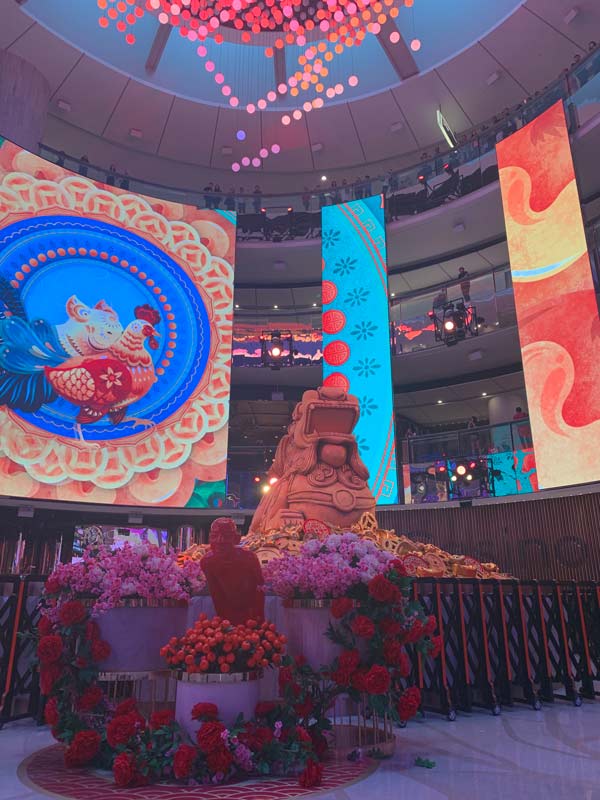 It's beginning to look a lot like Chinese New Year at Resorts World Genting. As the Year of the Earth Dog comes to a close and the Year of the Earth Boar approaches on the horizon, Malaysia's premier entertainment resort is embracing the festive season in bright colours and bold decorations, setting the stage for an unforgettable Chinese New Year experience that is distinctive, delightful and delicious all at once.
From 18 January to 19 February 2019, experience a lavish pavilion erected at the lofty SkyAtrium in SkyAvenue mall – the starting point to explore the bounty of the season that Resorts World Genting has prepared. Multi-coloured bamboo poles form a network of walkways and stores, filled with traditional elements rich with symbolism. From bright red-and-gold lanterns representing wishes for a brighter future and giant Chinese peonies symbolising longevity planted in blue-and-white Ming vases to a miniature rock garden with bamboo and sculpted juniper trees expressing tranquillity, the entire resort will be a hub of prosperous bustle this Chinese New Year.
This stretch also constitutes the first part of the resort's Chinese New Year walk route, a festive trail marked by the presence of the 'Red Man' – a contemporary art statue set in a diorama that demarcates spots of festive interest. From SkyAtrium, the Red Man walk route takes guests to the Arena of Stars then to the Food Truck Park to Allie the Elephant's Courtyard  followed by SkySymphony, to Gohtong Jaya Baru walk way at indoor theme park, to the Village Market.
Sky Atrium
From this centre of buzz and activity, guests can then explore the Hilltop Walkway, where a Chinese New Year Bazaar has been set up. Featuring goodies from Resorts World Genting and its retail partners, the bazaar occupies the long corridor that stretches from SkyAtrium to the fabled Arena of Stars. In addition to delicious cookies and generous hampers, the bazaar also features stores drawing on the rich heritage of Chinese culture – including oil paintings, stone carvings, cooper vases, Chinese art, Chinese calligraphy, jade objects and Feng Shui Master offering consultations for a prosperous year ahead.
Arena of Stars
From the 1st day of Chinese New Year to the 6th Day (5th to 10th February), gather at Arena of Stars for spectacular shows from 10 am all the way to evening.  A Shanghai Night theme will set the ambience to usher in the new year. There will be a percussion & LED drums performances, Lion Dance stunts, 'Fairies' merry making and also Pikachu performance.
Food Truck Park
The Lakeside area will also be the scene of a massive firecracker on Chinese New Year Eve, 4 February to usher in the Year of the Boar. This area is opened to public from 5th to 19th February where the Red Man trail takes guest through a route of brilliant decorations and tempting stores. (Firecrackers will be shown on CNY Eve, 11.59pm: Day 1 to Day 6 of CNY, 1pm: Day 8 of CNY, 11.59pm and Day 15 of CNY, 8pm)
Here, a procession of forty food trucks will set up stall from 5th to 19 February 2019, bookended by dramatic archways festooned with banners and cherry blossoms. Meant as a rest area between exploring the Red Man trail, guests can tuck into some of Malaysia's best food truck fare – including The Kopiboy, MKR Pizza, Malacca Fried Chicken, Ice Nami, Azry Kebab, The Good Mixer Truck and Summer Big Cup – in the cool mountain weather 6,000 feet above sea level.
Allie the Elephant's Courtyard
Next stop after Lakeside, Red Man usher you to the Allie the Elephant's Courtyard concourse.  This vast space has been decorated in hues of red and gold, installed with quirky modern art pieces – amorphous statues in frozen poses painted with Chinese New Year motifs, good luck charms to cherry blossoms and traditional poetic couplets. In this highly imaginative – and highly Instagram-mable – space, guests will be able to browse for design curios, fashionable collectibles and appetising nibbles.
SkySymphony
From Allie the Elephant's Courtyard concourse, the Red Man trail then enters SkySymphony, with its dynamic 360° screens and the largest permanent winch installation in Asia. Here, guests are invited to bask in the sights and sounds of Chinese New Year. A special Chinese New Year themed SkySymphony show featuring the animal of the year will be screened this season, playing at regular intervals to transform the space into a visual and aural wonderland worthy of the season. A spectacular display of Pixiu, a Chinese mystical creature, or referred to in the West by the Greek word "chimera", a powerful protector that resembles a strong, winged lion takes centre stage at SkySymphony.
Gohtong Jaya Baru
The Red Man walk then leads to Gohtong Jaya Baru at the Skytropolis Amusement indoor theme park – designed to emulate a lively al fresco Chinese village setting named after the township in Genting Highlands built by Tan Sri Lim Goh Tong, the founder of the Genting Group located at the foot of the hill. Modern art pieces are displayed, basking under the warm hues of hundreds of bright red lanterns.
Imaginatrix
This leads to Imaginatrix, another retail cluster decorated to be a burst of Chinese New Year blossoms and symbols of wealth and health, and to the Village Market, where a special Chinese Village has been built that offers will pleasantly surprise visitors with mascots – adorable boy and girl Piggy family statues that stand proud in the middle of the Village, representing the Year of the Boar. While here, why not do some shopping at TANG, SODA, ToyWorld, Yubiso and Taste of Asia. There will be special offers and something red to take home.
Pavilion
At the Pavilion, The Chinese Village decoration is at its best here where many picture opportunity can be done with Piggy and Family as well.  Here, more shopping can be done at TANGs, Voir and Austin Reed.
While shopping, Mr Choy San Yeh and 'Fairies' will be greeting and entertaining guests.  There will also be Ang Pau giveaways here. Visitors can reach for the lion's share of RM1,888,888 in our biggest Ang Pow Giveaway. Swing by The Village Market and stand a chance to take home cash prizes, theme park passes, dining vouchers, concert tickets and more.
Pokemon Fever Continues
After a very Poké Christmas, the Resorts World Genting Pokémon Festival continues into 2019 decked in a grand red-and-gold theme through 28 February 2019, bringing the colourful characters from Nintendo's best-selling videogame series to captivate guests with their amazing powers and adorable natures.
Pikachu will also be headlining a Chinese New Year Pikachu Parade – a carnival procession featuring lion dances, fairies and plenty of Pokémon decked in red-and-gold festive garb. The Pokémon will also be getting an entire stage to themselves in the Pikachu Dance show at SkyAvenue's Times Square stage – featuring 8 adorable singing-and-dancing Pikachu. And just for Chinese New Year, Pikachu will be joined onstage with fellow iconic Pokémon Eevee – a duo that is a dream come true for all Pokémon fans. The Pikachu Parade and Pikachu Dance shows will be held on selected dates in January and daily from February 2 to 19.
32 life-sized Pokémon figurines have been carefully placed across Level 3 of SkyAvenue Mall and Level 2 of First World Plaza, just waiting to be discovered. Fans will also have the opportunity to step into the shoes of Pokémon protagonists like Ash the Resorts World Genting Pokémon Trainer programme, tasked with various Chinese New Year-themed missions and quests from solving puzzles to seeking out hidden Pokémon, and recording them in their trainer book. Pikachu Land at the Skytropolis Funland features a giant inflatable 6-metre-high Pikachu, surrounded by 50 smaller Pikachu plushies, in an irresistible playground where fans young and old can pose, hug and snap photographs with the star of the billion-dollar franchise.
Through 28 February, the courtyard of the Arena of Stars will be transformed into a bouncy wonderland. The Pokémon Inflatable Challenge is a massive obstacle course of jumps, slides and barricades, providing crazy fun and an invigorating challenge that is sure to be a hit with all children. And after all that activity, why not head to the Genting International Showroom, where the 21st Pokémon movie – Pokémon The Movie: The Power of Us – will be have its exclusive English screening in Malaysia daily at 8pm from February 2 to 24 (4.30pm matinee showings on selected dates). And finally, adhering to one of the main traditions of Chinese New Year, guests of Resorts World Genting will be able to receive special Pokémon Ang Pow packets. Redeemable with a minimum spend of RM128 at SkyAvenue, First World Plaza, Awana SkyCentral and other selected Resorts World Genting and 3rd party Retail/F&B outlets.
Lion Dance Performances
Lion Dance will showcase its stunts and actions at the Arena of Stars on Day 1 to Day 6 of CNY at the Arena of Stars 10am, 12pm, 3pm, 6pm. There will be no 6pm show on Day 5. Day 8 will see a resort-wide parade.
Watch a concert or two with your favourite artistes
On 1 February, eight Malaysian singers Eddie Eu, Henry Tang, Kenny Chin, Yao Yi, Sharon Au, Vivy Wan, Look Wen Ching and Yvonne will present to you a concert with variety of songs at Chinese New Year Concert with The Stars for an early celebration.
On 4 February, The 3 Asian Divas, consisting of veteran icons Frances Yip, Elisa Chan and Maria Cordero, return to the Arena of Stars for their annual concert. Chinese New Year Eve will also see a special Shanghai-themed dinner held at the Genting International Convention Centre (GICC) with Malaysian-born Hong Kong actress and singer Chu Mimi with firecrackers at the Genting Grand Flag Pole and the outdoor theme park Lake Side.
The Arena of Stars will hold a very special concert on 9 February featuring Nick Chung and Stella Chung, the Sarawakian siblings whose festive songs have been the soundtrack to Malaysian Chinese New Year over the past decade.
With all this, and more, Resorts World Genting will be a wonderful celebration of all that is traditional and all that is prosperous this Chinese New Year. From spectacular performances and vivid decorations to delicious dishes and wonderful items, a journey up to the peak of Gunung Ulu Kali is a must this festive season.
For more information, please call + 603 6101 1118 visit www.rwgenting.com
-Escapy Travel News