The Springtime Egg-ventures is about to hatch at Resorts World Genting!
Egg-themed activities will be taking over the new Skytropolis Funland with Genting Dream Cruise Packages worth up to RM12,000 to be won
Genting Highlands, 13th March 2019 – Spring time is the season of new beginnings, fresh starts and Easter. In line with the school holiday season in Malaysia and Singapore, Resorts World Genting is getting into the spirit of Spring and Easter with the very special Springtime Egg-ventures taking place at the Skytropolis Funland from 15 March-21 April 2019.
A harvest of multi-coloured eggs will blanket Skytropolis Funland over the duration of the Springtime Egg-ventures activities. Large and small, dotted and striped, multi-coloured and patterned, the eggs will be scattered within Skytropolis Funland and other attractions, encouraging guests to strike inventive poses and snap photos to be shared on social media in the spirit of Spring. But the eggs aren't just decorations; they are also the key to an exclusive travel package on the Genting Dream cruise ship.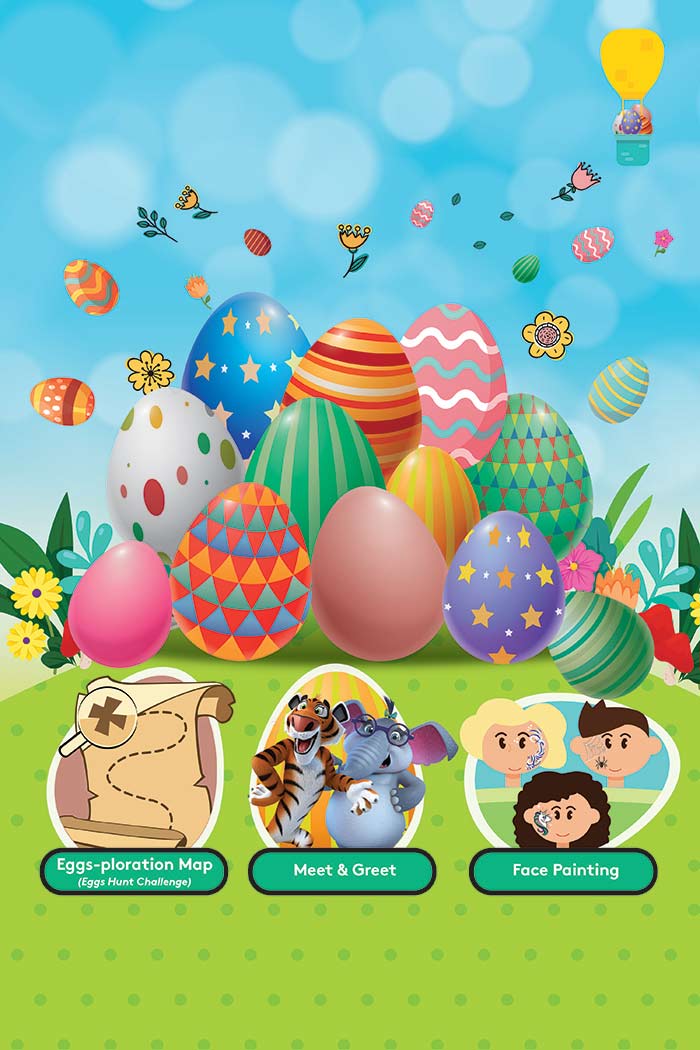 As part of the Eggs-ploration Map challenges, guests will have to explore every nook and cranny of the intricate carnival-like interior of Skytropolis Funland in search of special eggs. These eggs are themed after the Funland's six Genting's Highland Heroes – Joe the Orangutan, Tabby the Tiger, Allie the Elephant, Geno the Dinosaur, Bennie the Entertainer and Callie the Dragon – which have been specially hidden across the huge expanse of Skytropolis Funland and other attractions. Locating these special eggs yields a sticker, which can be placed in the corresponding space on the Eggs-ploration Map (available at an additional RM10 with a valid Skytropolis Preview Pass). Complete the Eggs-ploration Map and return it to The Egg-cademy Stage to get rewarded with a "chocolatey, chewy, crunchy" surprise! Remember to post a photo of it with inventive captions and hash tag #SkytropolisFunland  #SpringtimeEggventure #PlayUp on Resorts World Genting Facebook Event Page to stand a chance to win a Genting Dream Cruise Package for four worth up to RM12,000 departing from Singapore to Penang and Langkawi or to Phuket.
The friendly Genting's Highland Heroes will also be a key part of the Springtime Egg-venture. Flags featuring the six Genting's Highland Heroes will be flying high and proud across Skytropolis Funland, as well as at the special event stage housing the Egg-cademy (the starting point for the Eggs-ploration Map challenge).
Two of the Genting's Highland Heroes – Tabby the Tiger and Allie the Elephant – will be making live appearances in meet-and-greet sessions. Come and join the brave Tabby and the wise Allie by shaking their paws and taking their pictures on March 15-17, 22-24 and 29-31, and April 6-7, 13-14 and 20-21 at 11am, 2pm, 4pm and 6pm. More than just meeting these heroes, children visiting Skytropolis Funland will also get the chance to transform into a beautiful butterfly or cute little bunny at our Face Painting booth, available from March 24-31 and April 6-7, 13-14 and 20-21.
The Springtime Egg-ventures takes place at the Skytropolis Funland at Resorts World Genting from 15 March-21 April 2019. Entry into Skytropolis Funland is complimentary, with rides and Springtime Egg-ventures chargeable. Operation hours will be extended from 23rd – 31st March from 10a.m. to 12a.m. Pay per ride passes are at RM16, the Skytropolis Funland Preview Pass is priced at RM64.
Enjoy unbelievable great deals with up to 24% off on Combo packages.