Best Western Hotel I-city
Shah Alam, Selangor
City hotels, the sort of hotels that attract men and women in business suits, and a bag with files, a laptop, a mouse, cables to charge their daily electronic needs, and shoes made to walk on thick carpets instead of tar covered road, or concrete culverts. Yes, those are the people that city hotels normally attract. Families with kids go to hotels or resorts with things like a swimming pool, playground, kids club, kiddie games room, etc. Then why on earth are there so many families with kids staying at the Best Western Hotel I-City; a city hotel in Shah Alam, Selangor?
I have been to Best Western Hotel I-City twice; once as an invited guests by some company (nothing to do with the hotel) to a boring membership talk where crafty sales folks try to lighten one's bank account and dump one into a "quicksand of debt," and another (more recently) as a hotel guest. Both times I see more families with kids instead of business type folks at the hotel (both times were on a weekend).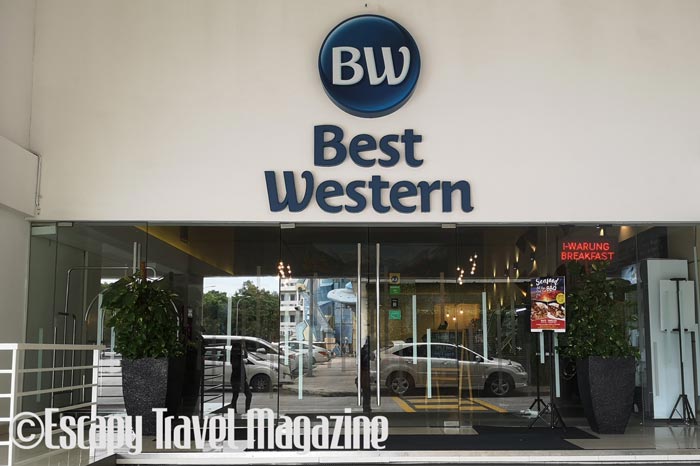 The main entrance of the Best Western Hotel I-City.  
Here is the peculiar thing about the Best Western Hotel I-City. They do not have a swimming pool, no playground, no games room, no kids club, nothing that attracts children except for the jars of betta fishes that guests can adopt. Even the cannibalistic witch in Hansel and Gretel had a house made of candy to attract children. The Best Western Hotel I-City has nothing much to offer families with children. So, what's attracting them? I'll let you know later.
A Warmth Feeling…
From a distance the Best Western Hotel I-City does not fascinate. It looks like any other building in the area. In fact, one would probably not know that a hotel is located in the area until one sees some signs. The Best Western Hotel I-City is perfectly camouflaged within its surroundings of which are blocks of service apartments. It is when one walks into the lobby that one starts to feel this feeling of warmth start to radiate from one's heart; and with that, I don't mean a heart attack.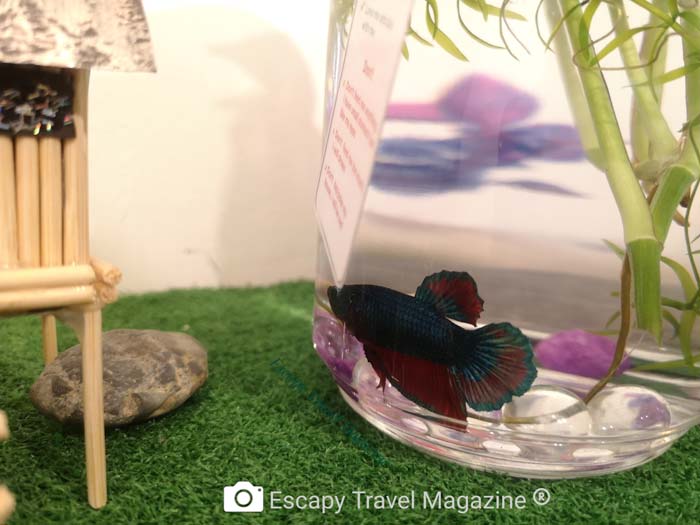 Fancy a fish for company? Adopt a fish at the front desk.
The lobby is not large like those of fancier hotels. It is of a decent size and it is artsy. Little things like the biscuit counter placed beside the front desk; offering free biscuits to guests, is a lovely gesture. The feeling of warmth comes when one takes a bite off these biscuits and gets transported back to a time when life is all about playing and having fun with friends. Instead of mobile games we shot each other with cherry guns. We caught fishes in drains, brought them home happily only to get a good scolding for using one's school uniform as a net to catch said fishes. Those were the good ol' days.
The lobby. Decent size and rather artsy.
The friendly counter staffs too made the "welcome" warmer. My check in was a breeze. I signed a piece of a paper and was handed the key-card to my room; all done professionally and with a smile. It is always good to not keep guests away from the jars of childhood infused biscuits for too long. I grabbed a few more pieces of the delightful biscuit and headed for my room.
Taking a walk down memory lane with biscuits from my childhood days.
A Familiar Feeling…
Having just returned from a business trip I was looking forward to resting my tired body, mind, and soul. I opened the room door, placed my bag on the luggage counter, and started to take in the environment. The room looks familiar. It has that familiar feeling, the same feeling that I get at some of the other hotel rooms that I have stayed in (being a travel writer I stay in many hotels).
The room is certainly setup for the person that is formally dressed, carries a briefcase, and just cannot wait to turn on his or her laptop to get going on with work that has since piled. There is a chair and a simple table for the busy executive to work at. A full length mirror on the wall allows one to look at oneself to ensure that one still looks pretty or handsome while one is hard at work.
A place to sit down and get some work done.
The room has a wall counter and a flat screen TV; a good tool to deter unwanted guests (I don't mean those made of ectoplasm) by creating an illusion that someone is in the room when one has to leave the room unoccupied. The TV works fine and the channels are clear; fantastic when one needs to take a break from one's computer screen too.
More importantly, I enjoyed the bed. I stayed here at the Best Western Hotel I-City for two nights and I had two nights of comfortable sleep. The pillows were just nice (my personal preference). The comforter is large and thick, keeping me in a cosy cocoon as I slept. Another delightful thing is the shower. The water pressure is good providing me with delightful warm showers as I stood inside the glass enclosure (bath area) with my eyes closed freeing my thoughts as I float into a realm of nothingness.
Tip for the busy executive: If you need to relax after a stressful day, take a shower with your eyes closed. Shut the world off. Allow your mind to just float about into nothingness.    
The Best Western Hotel I-City has 214 rooms in three categories; Superior Room, Deluxe Room, and the i-Suite. There is one room that is designed for the less abled (physically challenged). The room I stayed in is the Deluxe Room.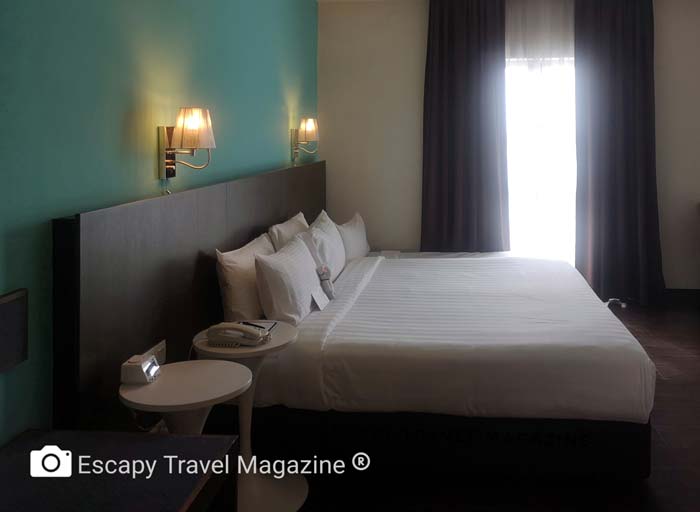 A comfortable bed for a comfortable good night's sleep.
When Hunger Strikes…
Guests here will certainly not go hungry (unless he or she decides to) as the hotel provides 24 hours room service. One can access a menu and place orders from one's mobile phone by simply scanning a QR Code in the room. Other than satisfying one's taste buds in one's room, there are two food outlets at the hotel that provides delicious meals. There is The View Cafe on level 5 and the i-Coffee at the lobby.
Delicious burger – room service.
The View Cafe is a place where one can dine indoors and focus more on food, or opt to dine alfresco and enjoy one's meal while looking out at the cityscape. I prefer alfresco dining. Well, should one drive a convertible, one will want to drive with the roof down sometimes to take in the fresh air, and to feel the breeze as well as the essence openness. Alfresco dining is such where one is more connected to the environment as one dines.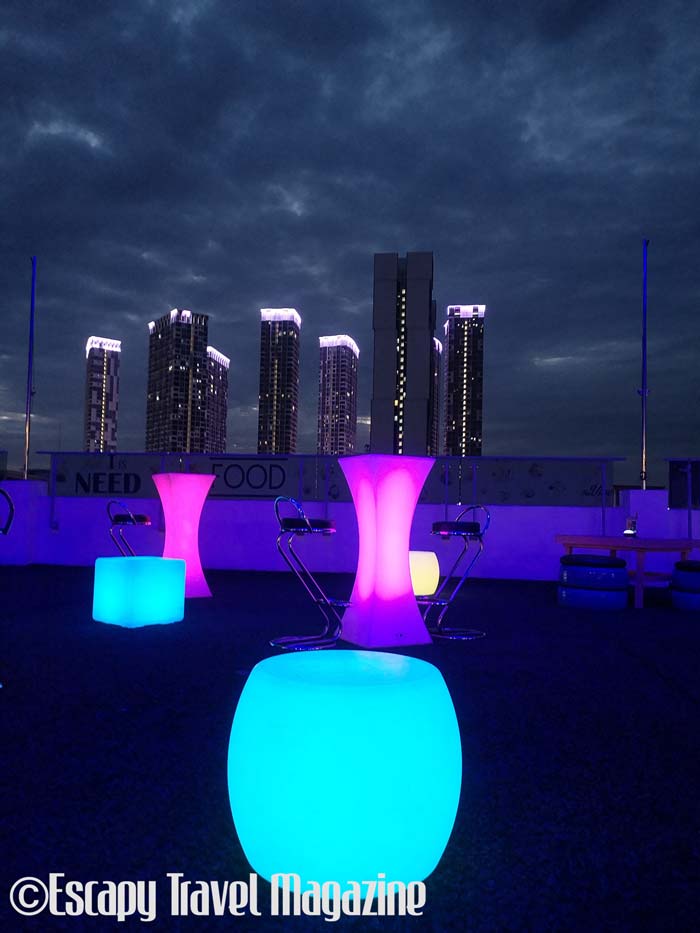 On Fridays The View Cafe offers a delightful "all you can eat" seafood barbecue buffet dinner. No lobsters, abalone, geoduck clams, snow crabs, or anything fancy that would burn a hole in one's wallet. What's available are fresh prawns, mussels, fresh scallops, fresh fish, and plenty of other tasty food. One can eat to one's heart's content without damaging one's wallet. I had my fair share of prawns, scallops, mussels, fish, as well as some of the non-seafood items from the buffet line. 
Should one be an "Instagrammer" or a person addicted to selfie taking; The View Cafe is a good place to take photos especially during the "blue hour." The more clouds in the sky, the more dramatic a photo one can take.   
Fresh seafood on the Seafood Barbecue Buffet.
Oh! What Fun…
As mentioned earlier on in the article; the Best Western Hotel I-City not only attracts the business traveller but also families. Although the hotel does not have much fun family activities to offer, it does have a gymnasium that would make most fitness buffs happy. Ok, that too does not attract kids. What attracts families and their kids are the attractions around the hotel.
Just outside the hotel are things like Space Mission, Trick Museum, House Of Horror, and Red Carpet. These fun attractions are just a few steps away from the Hotel. The bigger attractions are the Snowalk, Water World (i-City Water Park), and Fun World that are walking distance from the hotel (approximately 8 to 10 minutes walk).
The gymnasium; good enough for the average gym buff.
Of all the attractions here, the one that attracts me most is the Snowalk. The reason is because I prefer the cold. The Snowalk is all about cold. It is basically a humongous chiller with slides made of ice, igloos, and other fun cold stuffs. Should you intend to spend some time in this icy place, do note that a polar bear will feel comfortable here, which means that you most likely will need to keep yourself warm. Although they do provide winter jackets and gloves; my recommendation is that you bring your own winter coat or jacket, gloves, etc. to keep yourself warm.
Guests at the hotel currently enjoys free unlimited entry passes for two (2) to the Water World (i-City Water Park). All one needs to do is to bring along the room key card and the docket that it came in with, and the IC (Identification Card) of all those who are going to the water park. Do note that outside food and drinks are not allowed. Also do bring along your towels, appropriate swim attires (not too revealing), and dry clothing. Guests at the hotel are entitled to discounts too. Do check with the front desk upon check in.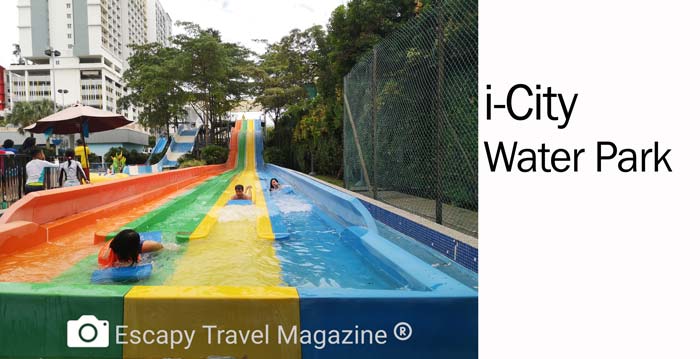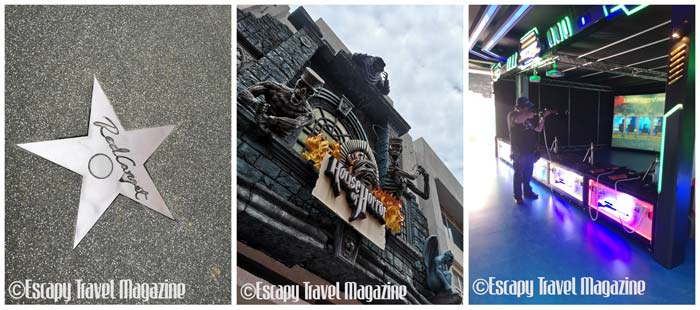 Top: The water slide at the I-City Water Park. Bottom Left: The star at the Red Carpet. Bottom center: House Of Horror. Bottom right: Shooting at some targets.
The Sum Of It All…
So, here is what I think about the Best Western Hotel I-City. I love the little things that gives me a warm fuzzy feeling such as the biscuits at the lobby, the free candies near the elevator at the floor I stayed on (candies that are from my childhood days too), and the little "teddy bear" (towel folded into a teddy bear) that was placed on the bed as a welcome gift for my child. I enjoyed my stress relieving showers, comfortable bed in the room. I enjoyed the seafood buffet and the Sunday Hi-Tea which had good amounts of food. I also enjoyed a meal from a special à la carte menu called Beyond Signature which is rather unique.
I liked many things about the hotel but what made my stay a good one are the friendly staffs that I encountered from the time I checked in at the front desk, to those at the F&B outlets and in this case; The View Cafe. Also not forgetting the friendly room service staff that brought our meal at night when we just decided to munch on something, as well as the friendly security guard at the main door who opened it for us with a smile every time we walked in and out of the hotel.
*Current promotion as at time of writing: Free entrance to the i-City Water Park for two guests per room. Do enquire at the front desk for further information.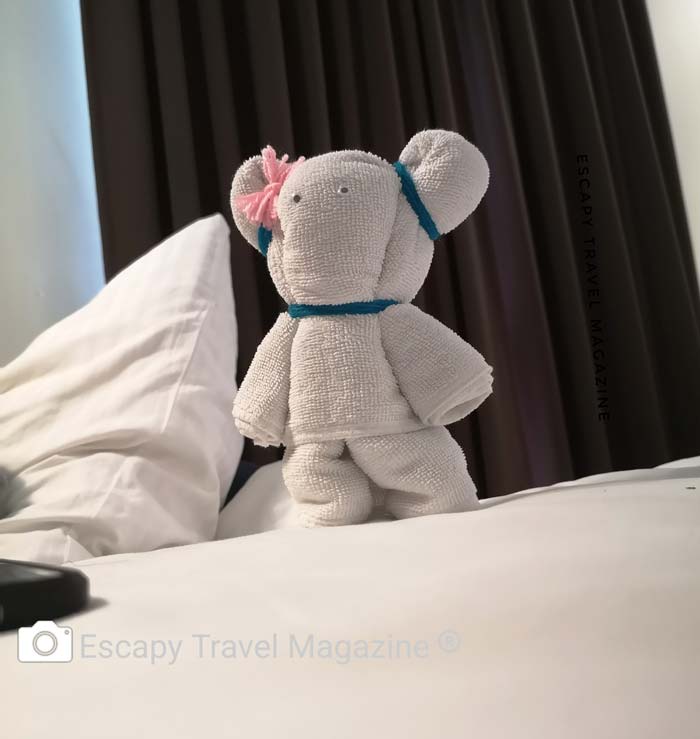 A teddy bear (made from a towel) gift from House Keeping to my child; a surprise gift.
Summary About Best Western Hotel I-City
The Best Western Hotel I-City is a city hotel that attracts business people and families. It is strategically located in Shah Alam, Selangor, Malaysia. The hotel has 214 modern rooms with 1 of them designed for the less abled. There are ample parking spaces both covered and uncovered. Parking is free for hotel guests. Hotel guests only need to have their parking ticket validated at the front desk before they leave the parking area.
The hotel allows for flexible check in and check out times depending on occupancy. This feature allows guests to check in at any time and check out based on the check in time… What I meant is that should one check in at say 3pm, one can check out at 3pm the next day too; instead of the usual 12 noon check out time. There will be a surcharge for using this feature though. Do check with the hotel on what the price of the surcharge is like.  
Around the hotel are various fun attractions where families can go to to have fun. Tokens can be purchased at Red Carpet (as at time of writing). Tickets to the Snowalk can be purchased at the Snowalk itself. As of now guests get two free tickets to the i-City Water Park. Additional tickets can be purchased at the entrance of the water park. Other places that are walking distance from the hotel are shopping malls (Central I-City Shopping Mall), cinema, and eating outlets.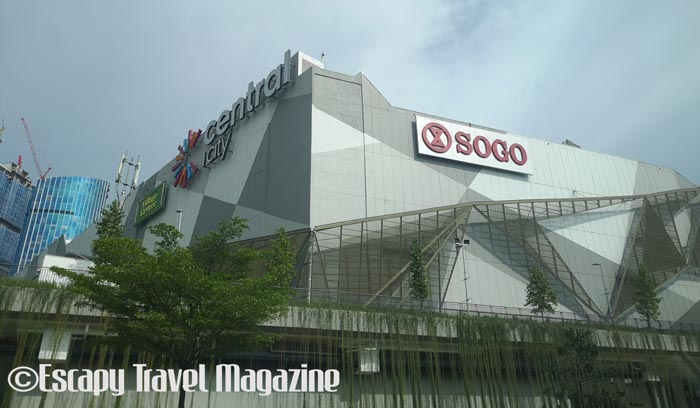 The Central i-City Mall; walking distance from the hotel.
Hotel Facilities
Luggage assistance service and storage
Concierge service
Safe deposit box
Laundry service
Physically challenged facilities
24 hours business station
Complimentary indoor / outdoor parking
Prayer room
Coffee Lamb from the special à la carte menu called Beyond Signature.
Room Amenities
Complimentary WiFi
Work desk
Armchair
Cable & Pay per view TV channels
Flat-screen cable TV
Wake up calls
Alarm clock
In room safe
Mini refrigerator
Bottled water
Tea & coffee making facilities
Hairdryer
Bathroom amenities
Baby cot (upon request)
Extra bed (upon request, charges apply)
Adjoining rooms (upon request)
Iron & ironing board (upon request)
Prayer mat (upon request)
The i-Coffee at the lobby.
Google Maps to Best Western Hotel I-City Shah Alam.
Articles Related To Urban Adventures In Selangor Issue.
Click articles below to read more articles on Urban Adventures in Selangor, Malaysia.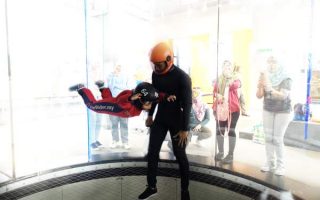 1 Utama a huge and successful mall in Bandar Utama, Selangor (Malaysia) where visitors can go there to experience activities such as skydiving, surfing, rock climbing, etc.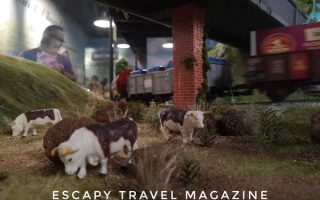 A fun place to learn about the history of chocolates and some of the brands; the Chocolate Museum Kota Damansara is a delightful place to visit especially for chocolate lovers.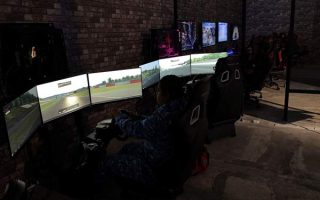 The Pantheon is a gamers hangout that offers everything gamers need and want including high spec gaming computers, VR stations, driving simulators, game consoles, and even a gaming arena.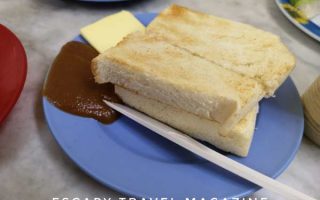 Chong Kok Kopitiam; born in 1940, and is a old coffee shop in Klang, Selangor, where the locals go to to have their fill of their favourite nasi lemak, toast, and well known coffee.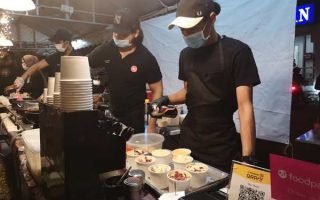 Boomtown, an outdoor dining place with a good variety of stalls to choose from and is one of the food places that pulls a crowd every night; located in USJ 11, Subang Jaya.
Urban Adventures In Selangor Magazine Issue
For more articles on Urban Adventures In Selangor, click on the issue tab below. For more issues of Escapy Travel Magazine please click on the Magazine Issues tab.
Do Not Miss Another Issue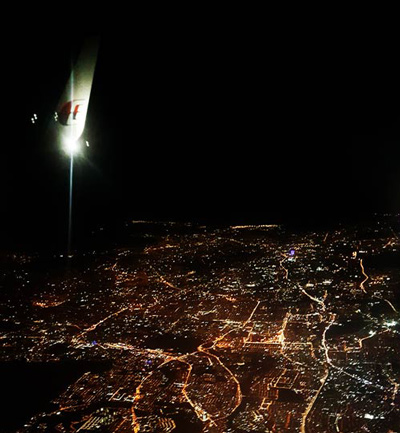 Should you have any enquiries do contact us please...
Do Not Miss Another Issue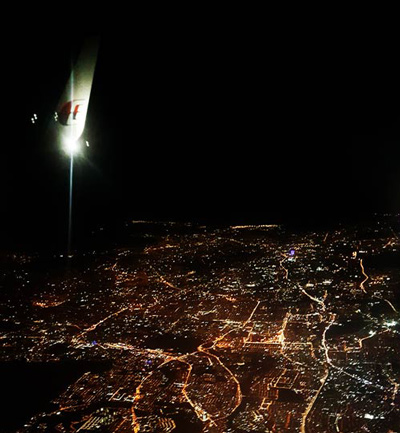 Should you have any enquiries do contact us please...