Malacca Butterfly And Reptile Sanctuary
For those who love butterflies and reptiles, the Malacca Butterfly and Reptile Sanctuary is a place not to be missed. The Malacca Butterfly and Reptile Sanctuary first opened its doors to the public on the 1st of February 1991 covering some 11 acres of jungle land.
When they first started, they only showcased butterflies. They have since become a sanctuary for reptiles such as snakes and crocodiles, birds, and insects like the rhinoceros beetles, various species of grasshoppers and stick insects.
A butterfly sitting on a leaf.
Reptile Walk
At the reptile walk one will see snakes, frogs, iguanas, etc. One reptile that is uniquely cute is the smiling frog. Yes, this frog has a face that is always smiling. These frogs are tree frogs. They look fat and can grow to about 5 inches in length.
But amongst all the reptiles, one that has always gotten my attention are the crocodiles (and alligators too). These close relatives of the dinosaurs are fearsome predators and I like watching them. The Malacca Butterfly and Reptile Sanctuary allows visitors to observe them from a safe area.
It may be a juvenile but still, do not mess with it.
Birds
I like birds and I love photographing them. There are lots of birds here from a white peacock to various types of parrots or macaws to pigeons. One of the birds that caught my attention was this "crazy haired" pigeon known as the Southern Crowned pigoen (Goura Scheepmakeri). It has this trojan like crown on its head.
During my visit I had the opportunity to befriend a blue and yellow macaw, and got to feel what it is like being a pirate with a bird sitting on one's shoulder. This friendly and very trained macaw leaned its head on mine and posed for the camera. I was telepathically sending it one very important message; "don't poop now big birdie."  
Blue and yellow macaw that took a liking to me.
Insects And Beetles
The insects section here is not big but the insects are big and healthy. There are large stick insects, a few cool gangster looking grasshoppers, and of course butterflies and moths. Amongst them the coolest looking ones are the big rhinoceros beetles; well, to me at least. The look menacing and tough.
An armored grasshopper; the stuff of nightmares. It is quite big in size.
Home Of Butterflies
This title may very well be true in the not so far away future. One thing I learnt during my visit here is that butterflies are a stickler to certain flowers. This means that a certain species of butterfly will only feed from one type of flower. They will not feed on other types of flowers.
Having such feeding habits poses one problem. When we remove certain plants and flowers, the butterflies lose their food source at that particular area. When that happens they have to fly further in search of their one and only type of flower before they die.
A beautiful paper kite butterfly.
As more and more forests are being cleared to make way for development, certain species of butterflies will go extinct (some already have) without a food source to support them. One species in particular is the Paper Kite Butterfly (Ideo leuconoe) of which are now really low in numbers out in the wild.
The Paper Kite Butterflies here have been taught to feed on artificial nectar as its natural food source which used to be in abundance, is now hard to come by. The good folks at the Malacca Butterfly and Reptile Sanctuary together with a local university invented a way to feed these butterflies as well as other species, artificially.
A Euploea mulciber mulciber sitting on ferns.
Most Memorable
To me the most memorable part of the trip was to bring home or adopt two butterfly pupas. I took my two little ones home and secured them to one of my plants. After about 4 days they hatched and out came 2 butterflies known as the great eggfly (Hypolimnas bolina); a male and a female. Now I can say that I have helped put more butterflies in my garden and surrounding gardens.
The great egg fly butterfly that hatched in the garden of my home.
More Information
Address:
Malacca Butterfly & Reptile Sanctuary
(Taman Rama-rama & Reptilia Melaka)
Education Department
Lebuh Ayer Keroh,
75450 Melaka, Malaysia.
Contact:  +606 232 0033
Email: antenna@butterflyreptile.com
Open Daily
Operating hours: 8.30am to 5.30pm
Entrance fees: Adult RM22.00* per person
Child (3 – 12 years old) RM16.00* per person
Note: information provided is accurate at time of writing. Do call them to confirm.
Google Maps to Malacca Butterfly And Reptile Sanctuary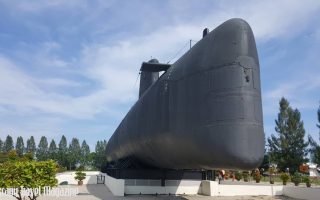 Malacca used to be a very important maritime hub and thus maritime museums are a must visit. The Submarine Museum in Malacca gives one the opportunity to see what the inside of an old submarine looks and feels like.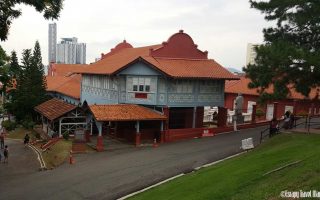 The Historical and Ethnography Museum displays a brief history of Malacca showcasing Malacca under different rules.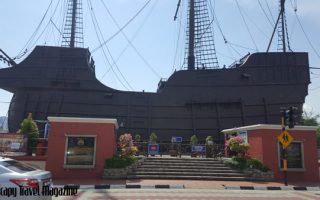 The Malacca Maritime Museum tells of the illustrious past of Malacca and how the sea helped her flourish as well as put her through war.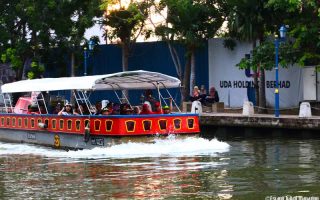 A cruise on the Melaka River is a relaxing experience. Melaka River snakes through a part of Malacca's historical city making it a relaxing way to enjoy the sights.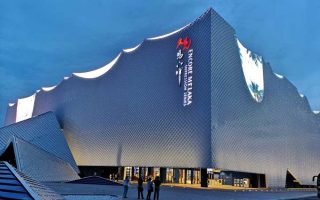 Directed by Wang Chaoge, the more well known for the opening ceremony of the 2008 Olympic Games in Beijing (co-director); Encore Melaka tells a story about Malacca and its history as well as a story of its people.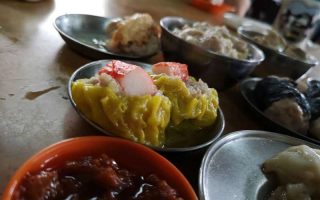 Restaurants are plenty but hidden gems are a rarity. Here is one of them; Tong Lang Sing Restaurant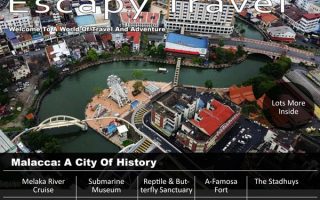 Click here to read more articles in this issue of Escapy Travel Magazine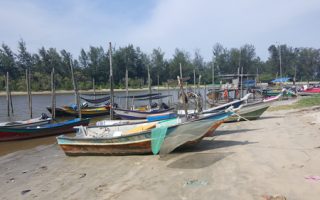 Return to the main page of Escapy Travel Magazine
Do Not Miss Another Issue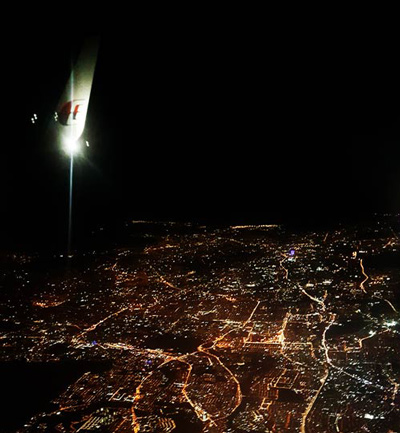 Should you have any enquiries do contact us please...