Hotels are essential to travellers. Hotels are not just places to lay one's head on and recharge for the next day. Hotels are part of every journey, holiday, and business trip. They make up a part of the experience of any one trip. When it comes to Malacca, hotels are a plenty. One of the more established hotels in Malacca is the Hotel Equatorial Melaka, a 5 star hotel with a grand character.
Grand staircases gives the place a grand look and feel.
Hotel Equatorial Melaka reminds me of the old colonial mansions with their wide and large spiral staircases leading up to various floors within a huge open space. The Hotel Equatorial Melaka is a grand mansion within a 22 storey building. Its interior is a sight of grandeur. From the lobby looking up at the first floor, one can imagine royalties and guests standing around mingling during a cocktail party, perhaps awaiting the arrival of the king and queen.
A baby grand adds more grandeur to the place.
A Delightful Temporary Abode
Apart from good service at the front desk, the journey to the room is delightful. One gets to see the grand staircase, a baby grand piano, and even this huge teddy bear sitting on one of the sofas. I am not sure if this huge and very cute teddy bear sits there all the time. I hope it does. It gives the grand place a cute and playful personality.
Such a cute teddy bear sitting at the lobby.
The room that we stayed in was a delight. It had a lovely area with large windows on three sides. In this area lies a day bed, a perfect place for children to sleep at. I know this because I was drawn to it but my child called dips and I gave in. Well, I really didn't mind because the beds and pillows are comfortable and they provided me with a relaxing sleep. Another important factor when it comes to hotel rooms is their ability to put one in a relaxed state. This room certainly did.
Very comfortable bed and pillows.
The day bed that sits snugly in a space created just for it; adorned by three windows. Draw the curtains together and it turns into a private space.
The Way To A Man's Heart Is Through His Tummy
Another essential part of a traveller's trip is food; a "gastronomical" adventure. Malacca is indeed a fabulous place for "food hunters." But sometimes we just want to relax and experience the hotel. The Hotel Equatorial Melaka is great for this. It has got 5 dining places plus 1 for those lucky and privileged few; the crème de la crème.
Delightful dining experiences at Hotel Equatorial Melaka.
Resthouse Cafe
This restaurant or dining outlet is perhaps where most of the guests at the Hotel Equatorial Melaka dine at. Here one can either fill up on the buffet or enjoy an à la carte meal from a choice of Western and Asian cuisines. Should one visit during the holiday season, one had better come early to score a table or one will be left waiting. Of course there are other dining places to choose from should this place be full and you just cannot wait.
The dining area at the Resthouse Cafe. The place gets really crowded during the main meal times.
K5 Street Bistro
Should one prefer to dine by the street or in a more romantic sounding term; al fresco dining, one can do so here at K5 Street Bistro. No air conditioning. Just fans and the atmosphere of one of Malacca's sidewalks. Why K5? K5 is a creative play on the words "kaki lima." "Kaki lima" is a term in the Malay language that means sidewalk in English. So, you get the name Kaki Lima Street Bistro, but K5 Street Bistro sounds way cooler.
A delicious pizza drowned with cheese. Yummy is a modest word to describe it.
Here at K5 Street Bistro we enjoyed delicious curry laksa that came with large prawns (a local styled noodle with spicy soup), delicious pizzas that were pretty much drowned in cheese; just the way I like it, a bowl of Nyonya Laksa, etc. Of course without air conditioning the Malacca weather can get a little warm especially with all these chili and spicy food. This is where a cold bowl of delicious "ice kacang" also called ABC (short for Ais Batu Campur) provides some cooling down of the body system.
Large prawns in a bowl of curry laksa.
A tasty bowl of ice kacang to keep one cool when things get a little hot.
Seri Nyonya Peranakan Restaurant
When in Malacca; Nyonya and Peranakan cuisine is a must. If one visits Malacca and does not try these cuisines, it is like going all the way to Paris and not visit the Eifel Tower or the Arc de Triomphe de l'Étoile. That said, Seri Nyonya Peranakan Restaurant serves delicious Nyonya and Peranakan cuisine. One more delight not to miss here is the delicious cendol. 
etc…
Should the "sweet tooth fairy" pay you a visit while you're holidaying at the Hotel Equatorial Melaka and you feel like having something delightfully sweet, just head on down to etc… etc… is a coffee outlet that serves tasty cakes and other sweet desserts. We enjoyed cakes, macaroons, and of course delicious coffee here during our stay.   
Delicious strawberry log cake.
Oasis On The Fourth
We did not dine here during our visits. But this is where the swimming pool is. This will be a lovely place to do a poolside party or a poolside event; perhaps a fashion show. Well, if it can be done around swimming pools in Paris, why not here? The area is big enough and the pool does have a bridge that crosses over a section of it. So, you high fashion designers reading this, go checkout Hotel Equatorial Melaka and maybe do one (fashion show) there.
A fashion show can be done here on these slabs that make up a bridge. 
Equator Club Lounge
Remember, I mentioned earlier that the Hotel Equatorial Melaka has 5 + 1 dining places? This here is the + 1 and also my favourite. I love dining here at the Equator Club Lounge. The ambience is that of a higher end club, a members only club kind of place. This is where only those staying at the Equator Club Rooms get to dine at. Such exclusivity makes one feel special. It is nice to feel like a crème de la crème and to dine with all the other crème de la crèmes.
Sunset shot from the Equator Club Lounge.
Such feeling of exclusivity and being part of the exclusive "club" is only one of the delightful experiences that one can enjoy here. The Equator Club Lounge is on the 21st floor and it has an outdoor deck. This deck is one of the best places in this historical city to experience the Malaccan sunset. I am lucky enough to have witness and experience the beautiful setting of the orange sun here. 
Location, Location, Location
Hotel Equatorial Melaka is located in a place that is walking distance to shopping malls, food places, and historical landmarks as well as places of interest such as the famous A'Famosa, St. Paul's Hill, St. Paul's Church, the Stadhuys, Christ Church Melaka, Samudera Maritime Museum (and the Flor de la Mar), Melaka River, Jonker Walk, etc. (do read about them in this issue).
Left: The Taming Sari Tower. Center: Clock Tower. Right: A heavily decorated trishaw.
Here is a tip for a comfortable walk from the hotel to these places. Cross the road at K5 Street Bistro and you will be at the entrance of a mall. Walk into the mall and make your way to the other end of the mall. Exit the mall and you are close to the foot of St. Paul's Hill. You should be able to see an old train engine with a carriage around the area. This is where the A'Famosa, St. Paul's Hill, the Stadhuys (and museums), Christ Church Melaka, Clock Tower, and other museums are located.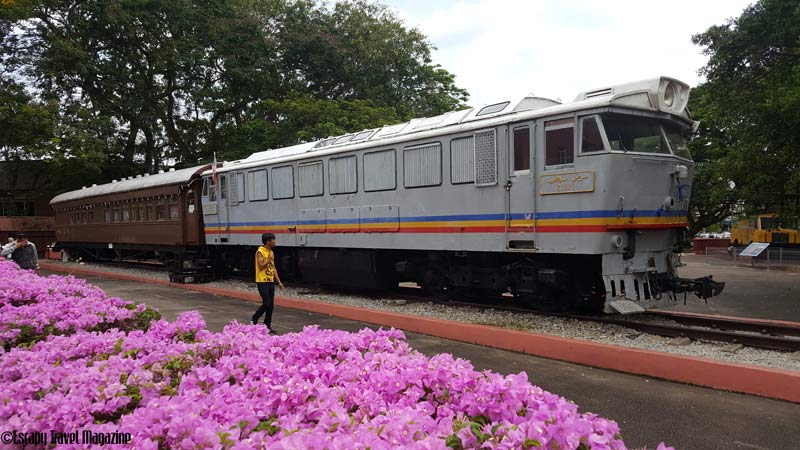 Cross the road at the clock tower and you will be at the Melaka River. Crossing the bridge is  Jonker Walk. Not crossing the bridge and walking left will lead you to the Samudera Maritime Museum (and the Flor de la Mar). Walking further around the bend brings you to the Taming Sari Tower where visitors can get a "higher" vantage point of the city from a rotating platform. Past the tower and you'll be at the shopping mall (Pahlawan Mall) again.
This was my itinerary; a one day itinerary. The car got to rest for a day while I chalked up plenty of steps on my fitness monitoring watch hitting my daily goals more than twice. The walk is comfortable but do take care when crossing the busy roads. Oh yes, one other thing that can be experienced here is a ride on a heavily decorated trishaw.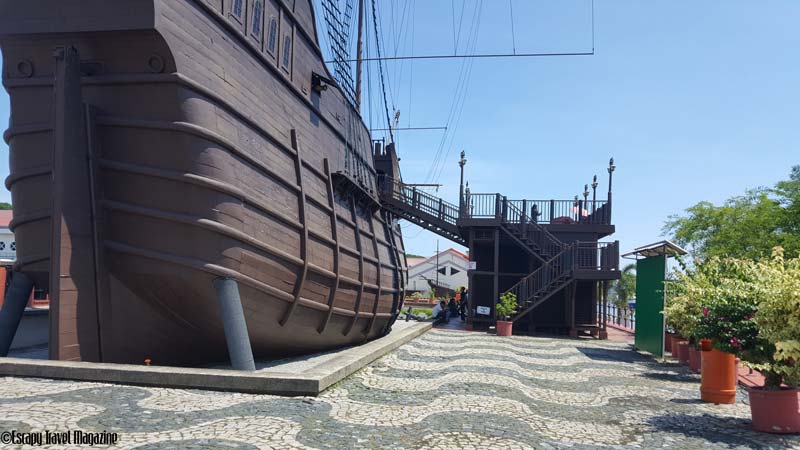 Fun In The Hotel
There are things to do in the hotel that will keep children and adults occupied. There is the swimming pool, and most people love to spend some time in swimming pools. There is a gymnasium or fitness centre for believers that resting the muscles is not a privilege but a sin. One can also have a fun game of tennis on the 4th floor where the pool is.
The tennis court near the swimming pool.
Time To Book Your Stay      
Some hotels like to call themselves "a home away from home." Personally I want to experience something unlike home. If I wanted to just feel at home I should then just stay at home. When I travel to a place such as Malacca (a city), I want to feel pampered. I want to experience warm hospitality. I want a room that awakes my senses and yet helps me relax, keeping me in a zen and comfortable place. I found all these here at the Hotel Equatorial Melaka. So, if you want such an experience you know what you've got to do.
Google Maps to Hotel Equatorial Melaka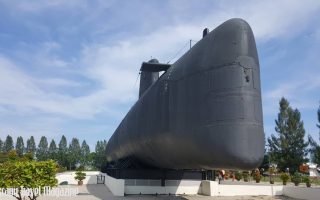 Malacca used to be a very important maritime hub and thus maritime museums are a must visit. The Submarine Museum in Malacca gives one the opportunity to see what the inside of an old submarine looks and feels like.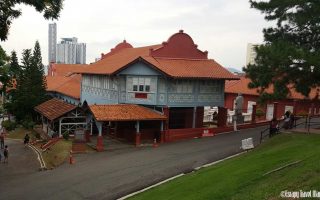 The Historical and Ethnography Museum displays a brief history of Malacca showcasing Malacca under different rules.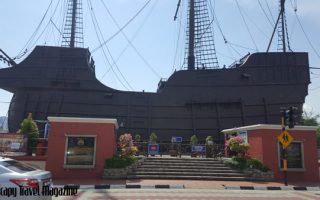 The Malacca Maritime Museum tells of the illustrious past of Malacca and how the sea helped her flourish as well as put her through war.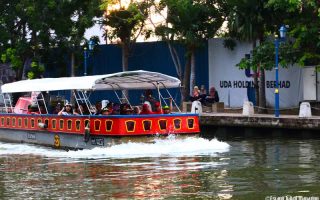 A cruise on the Melaka River is a relaxing experience. Melaka River snakes through a part of Malacca's historical city making it a relaxing way to enjoy the sights.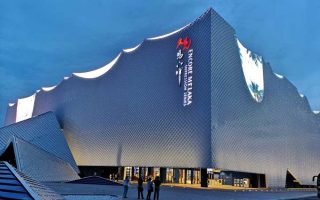 Directed by Wang Chaoge, the more well known for the opening ceremony of the 2008 Olympic Games in Beijing (co-director); Encore Melaka tells a story about Malacca and its history as well as a story of its people.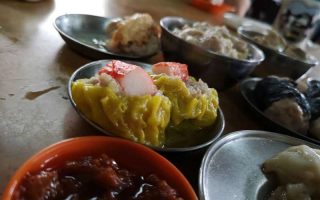 Restaurants are plenty but hidden gems are a rarity. Here is one of them; Tong Lang Sing Restaurant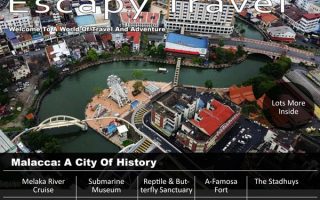 Click here to read more articles in this issue of Escapy Travel Magazine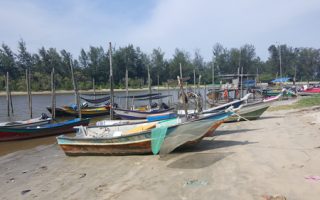 Return to the main page of Escapy Travel Magazine
Do Not Miss Another Issue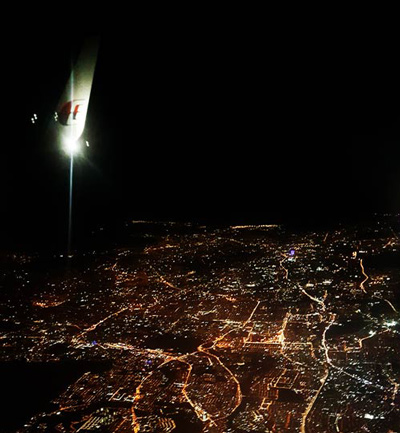 Should you have any enquiries do contact us please...