Family Fun In Johor, Malaysia Part I - Legoland Malaysia
Checkout Johor's three fun parks for some family bonding fun. But don't just go blindly. Knowing what to expect on your visit will help you plan better and to get the best value. Read on to find out… 
Going for a holiday is always fun and healthy especially with family. But sometimes the activities available may not suit all in the family. Kids for example may not like visiting historical sites or a cruise down a sleepy river. But one activity that usually ticks all boxes are theme parks and the likes. When in Johor with your family, do check out these places.
The wave pool at Legoland Malaysia.
Many of us grew up playing with Lego blocks. Even those who don't play with Lego blocks would probably have heard about Lego. These blocks have been the "building blocks" of many creative minds not just here in Malaysia but also the world over. Needless to say, a Lego themed park is certainly a "must visit."
Legoland Malaysia is said to be Malaysia's first international theme park. Legoland Malaysia opened its doors in 15th November 2012. Since then plenty of plastic block building fans and fun seekers have walked through its doors.
Legoland Malaysia is in Iskandar Puteri (also known as Nusajaya), Johor, Malaysia. It is some 20 to 30 minutes away from Senai Airport, and 30 to 40 minutes away from Johor's main city; Johor Bahru. It is about 15 minutes drive from Singapore.
Fire truck race at the Lego City's Rescue Academy.
Legoland Malaysia has a total of 8 fun sections (7 dry park + 1 wet park) and over 70 hands-on rides, slides, shows, and attractions for fun seekers of all ages. There is The Beginning, LEGO® Technic, LEGO Kingdoms, Imagination, Land of Adventure, LEGO City, MINILAND, and Legoland Water Park.
Click HERE to Legoland Malaysia Special Issue for more information on Legoland Malaysia's various sections.
Planning Your Fun Holiday Here
Should you be planning a visit to Legoland Malaysia do set aside a day at least to be spent in Legoland itself. One day is not enough. In fact I recommend two days; one for the dry park and another full day for the water park. Well, that is just me.
The Great Lego Race roller coaster (virtual reality type ride) which is super fun; at Lego Technic.
If you live a few hours away from Johor (say in Selangor), it is crucial to plan your visit well. Ideally it is best to include it into your Johor holiday plans; meaning that you will be spending a few days in Johor with a full day or two to be spent in Legoland Malaysia.
But should you decide to only spend a fun filled day in Legoland Malaysia, my recommendation is to plan at least a 2 days 1 night trip in Johor. This way your holiday will not be a tiring one and you get the most out of your money spent. Do note that Legoland Malaysia opens its doors at 10am to 6pm. So you want to be there early with energy to have fun.
With that in mind it is advisable to spend a night in Johor and go to Legoland Malaysia the next day, after breakfast. This ensures that you will get to spend a full 8 hours there. You will need all the time you can get for a more satisfying visit. This should also allow you enough energy to drive back home after your day of fun.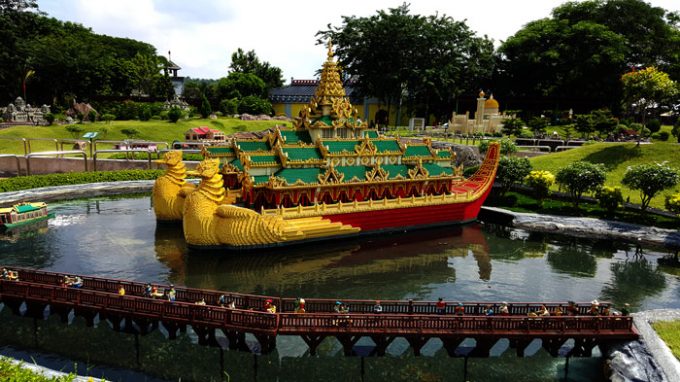 Karaweik Hall (Palace), Myanmar; one of the many replicas of famous places in Asia, built using Lego bricks.
Wet Park Or Dry Park
Before you head to Legoland, decide first if you want to be spending the day in the wet park or the dry park. Both parks are chargeable with separate entrance fees. If you have paid for the dry park and decide to go have fun in the wet park, you will have to purchase another ticket for the wet park, and vice versa.
Making this decision is also important and helps with your packing. There is no point lugging all that swim wear and toys around when you are only going to hang out in the dry park. The park is big and you will be doing a lot of walking. So plan well.
The Red Rush slide at Legoland Malaysia's waterpark.
Where To Stay
Accommodations are a plenty here in Johor. The best play to stay at will be at the Legoland Resort. The rooms are super fun and the resort is a playground on its own. The rooms are themed with elements of fun thrown in (treasure hunt).
Should you decide to not splurge on accommodation there are a few day rentals around. There are lots of budget hotels as well as boutique hotels in Johor Bahru to choose from. Staying in Johor Bahru also gives you more food options.
Lego themed room at the Legoland Malaysia Resort. The rooms are super fun. I definitely recommend them.
Things To Bring
What you bring will very much depends on which of the two parks you will be spending time in, hence the importance of deciding which park to visit. The essentials to bring are really quite different for each of these parks.
The Build-A-Raft-River at the Legoland Malaysia's waterpark.
Wet Park
Should you decide to spend the day at the wet park, do note that you will do some walking and will be spending most of the day in water. Comfortable non slip slippers and wet clothing or clothing made for swimming is highly recommended.
Here are some things to bring on your visit to the wet park:-
Suntan lotion
Dry bag
Towels
Waterproof camera
At least RM250 spending money
There are a few places to purchase food and snacks. You will not go hungry but do bring enough cash.
Dry Park
Note that this park requires a lot of walking and some rides can get you wet (although not drenched). It can also get really hot but there are air conditioned areas that offer some respite. With these in mind I recommend wearing comfortable walking shoes or sandals and comfortable clothing.
Here are some things to bring along on your visit here:-
Suntan lotion
Battery operated fan
Camera
Hat or cap
Sunglasses 
Dry bag or pouch
At least RM250 spending money
My favourite dish there is the lamb shank at the Market Restaurant. This is what I never miss whenever I am at Legoland Malaysia.
Things To Note
Legoland Malaysia has a "no outside food and drinks" policy. This means that you will be spending money in the park for food as well as other optional stuffs like blow drying yourself at one of the "blow-dry" machines in the wet park. The minimum RM250 spending money should cover spending within the park for a family of four (not including entrance fees, parking charges, and buying of toys).
A replica of Perdana Putra Building build using Lego bricks. 
Miscellaneous Information
Parking
Zone 1 & 2 Parking
Parking fee is RM10 per entry (Car parks are available next to LEGOLAND® Malaysia Resort).
Park in Legoland Malaysia Resort should you be staying there. If you are not staying there than park there only if you are willing to fork out a good deal of money. At least your car will not be baking under the sun.
Address: 7, Jalan Legoland, Medini, 79250 Nusajaya, Johor, Malaysia.
Contact: +607 597 8888
Tickets can be purchased at discounts online:
This here is part 1 of Family Fun in Johor. Do read part II where we give you an introduction to Sanrio Hello Kitty Town; a place for Hello Kitty fans, not too far away from Legoland Malaysia.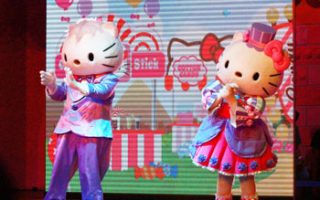 Follow up on the next part of this article; Family Fun In Johor – Sanrio Hello Kitty Town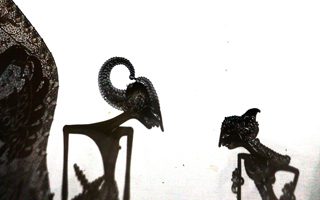 Click here to read more articles in this issue of Escapy Travel Magazine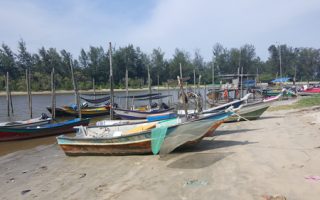 Return to the main page of Escapy Travel Magazine
Should you have any enquiries do contact us please...