When it comes to stage plays Encore Melaka is one of the latest venues to go to. Launched in July 2018, Encore Melaka is one of the most modern theatres in Malaysia (at time of writing) with a 360 degrees rotating auditorium, multiple stages, Holographic projections, a combination of powerful audio and LED lighting used to create special effects, etc. It is also large with a sitting capacity of 2007.
Special effects and a uniquely engineered stage.
The Encore Melaka project is from China. Encore Melaka is the 10th project and the first one outside China; by Yong Tai Berhad. Encore Melaka currently houses a delightful stage performance that tells a brief story of Malacca and its people. It starts with a brief introduction of Malacca, how it was founded, some of the battles it has seen, and what it has grown into today (modern day Malacca). All these are done with the amazing use of special lighting and sound effects together with well planned stage dynamics to create illusions in a spectacular manner.
Spectacular stage show for those who enjoy theater.
This story of Malacca is curated and directed by Wang Chaoge who has directed quite a few stage shows such as Another Glance at Pingyao (China) that shares Pingyao county's history (she received a title; Honorary Citizen of Pingyao County for her work), a fashion show in London called Eve de Cina, and the more well known for the opening ceremony of the 2008 Olympic Games in Beijing (co-director).
Special lighting effects makes for an interesting scene.
Local talents are employed to make the show whole; playing various characters for various parts. These talents include talented dancers, actors, singers, and not forgetting the unseen hands behind the scenes that control all the technology used to create such a wonderful show. There are over 200 talents involved in making the show a success.
The show employs talented local performers. Here these two performers a Baba Nyonya scene.
The Show
The delightful story of Malacca is performed in abstracts making it entertaining. It starts with an introduction of Melaka depicting scenes of how Melaka came to be. Using lighting effects, a wonderful scene of how Parameswara; a prince from Palembang, founded Malacca.
Parameswara and his men in action.
There is also a spectacular drumming performance with  plenty of drums and drummers beating heart pounding beats depicting the arrival of Admiral Cheng Ho a mariner from China's early Ming Dynasty in Malacca. It then highlights the local cultures such as Baba Nyonya and Peranakan culture through songs and dances with colourful costumes, various highly entertaining scenes including scenes from a wedding, and a very entertaining dance by a row of ladies dancing on chairs.
One of the more memorable performances (to me personally) are the performances where water falls from the top over the dancers depicting rain. The lighting and smoke effects create an awesome scene as the dancers or chorographers play their parts. The colours and the atmosphere created is simply amazing and mesmerizing.
Water from the "sky" depicting rain. 
The stage is actually really huge and it surrounds us (the spectators or audience). As the show goes on, the area where we are seated at rotates but the rotation is hardly felt especially when one is engrossed in the show. I believe that it (where we sit) also rises up and comes back down at certain sections of the performance.
A row of ladies in a local Baba Nyonya setting. 
If you enjoy theatre, Encore Melaka is certainly one to checkout. Encore Melaka is located at a new area along Malacca's water front. The area is currently being developed and getting there can be a little bit tricky. As of current there are two shows daily.
Mondays to Saturdays: 5.30pm and 8.30pm
Sundays: 2.30pm and 5.30pm
Website: https://encore-melaka.com/
Google Maps to Encore Melaka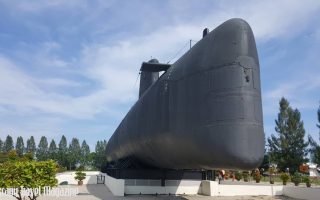 Malacca used to be a very important maritime hub and thus maritime museums are a must visit. The Submarine Museum in Malacca gives one the opportunity to see what the inside of an old submarine looks and feels like.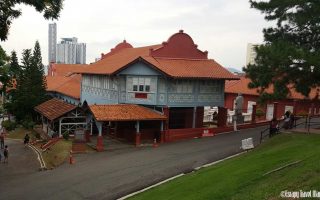 The Historical and Ethnography Museum displays a brief history of Malacca showcasing Malacca under different rules.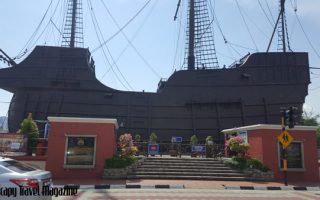 The Malacca Maritime Museum tells of the illustrious past of Malacca and how the sea helped her flourish as well as put her through war.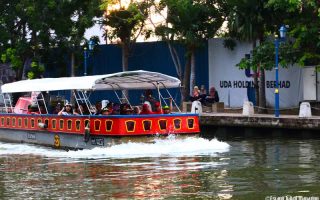 A cruise on the Melaka River is a relaxing experience. Melaka River snakes through a part of Malacca's historical city making it a relaxing way to enjoy the sights.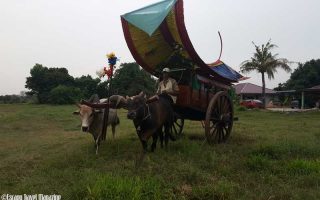 Bullock Carts used to be the main form of transport in Malacca. As they time flew by they became an attraction, but are now hardly seen. Bullock cart rides certainly is an experience not to miss. Find out more here.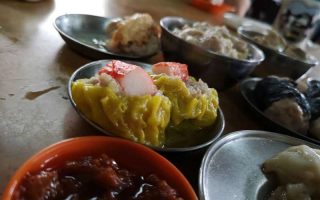 Restaurants are plenty but hidden gems are a rarity. Here is one of them; Tong Lang Sing Restaurant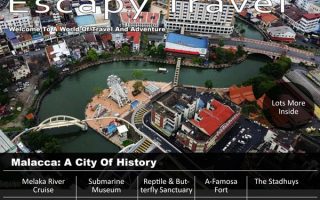 Click here to read more articles in this issue of Escapy Travel Magazine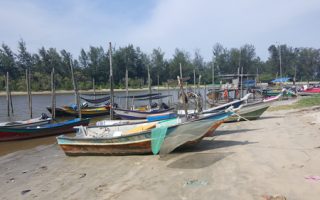 Return to the main page of Escapy Travel Magazine
Do Not Miss Another Issue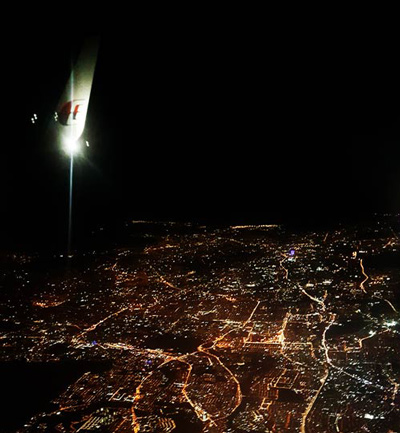 Should you have any enquiries do contact us please...