Playing With Shadows – Wayang Kulit
[  Shadow Play; an ancient form of theatrical storytelling entertainment that is performed in many countries. Here in Malaysia it is called 'Wayang Kulit.'  ]
Everyone seeks some form of entertainment. These days entertainment is easily available. At a touch of a screen we are bombarded by videos, music, songs, comedies, etc. and we can watch them our phones, television screens, etc. In days of old, entertainment comes in simpler forms. One of them is called Shadow Play, an ancient form of theatrical storytelling that is performed in many countries. Here in Malaysia it is called 'Wayang Kulit.'
Wayang Kulit is an old traditional performance where a puppeteer (called Tok Dalang) uses flat cut-out puppets of various designs, made of leather or hyde; to tell a story. All these happens behind a piece of white cloth where the puppeteer tells stories using shadows (cast onto the said white cloth screen) with the help of a light source such as an oil lamp or a carbide lamp.
Tok Dalang telling a story using puppets behind a piece of white cloth.
Control Of Feelings
In modern movies and shows, music and beats are used to create feelings such as suspense, sadness, fear, etc. Just like in these movies, music and beats are used to create similar feelings using an ensemble of seven main percussion instruments like gongs, cymbals, xylophones, etc. played by a team of musicians. This ensemble is called the Gamelan.
Gamelan players creating the mood of the play.
The Performance
The Wayang Kulit performance begins when it is dark enough. Behind a white cloth is where the puppeteer sits. One may very well consider this place is stage. In front of him lies a banana tree trunk. The banana tree trunk gives these puppets some footing, allowing them to stand on their own. This is possible as these puppets come with a stick built into them. This stick is jabbed into the trunk of the banana tree. Lo and behold the puppets are now standing on stage awaiting the "call" of their puppet master (Tok Dalang).
Puppets with their main stick jabbed into the trunk of banana trees.
Shadow of puppets against a white cloth screen.
The show begins with the introduction of the characters, as well as an overview of the story that is about to play out before the audience. This introduction is done by the puppeteer with the accompaniment of beats by the Gamelan band. The show usually evolves around stories of battles, politics, etc. inspired by history, various events that etched a mark in the minds of those who lived back in the day. The performance can go on for hours and sometimes till dawn.
It is said that the main (or original) stories have roots that go back to two Hindu tales being the Ramayana and Mahabharata; two major Sanskrit epics of ancient India. Although the plays have roots leading back to these two epics, they have been modified to suit the current community.    
Here is a sample of what Wayang Kulit looks like both from the view of the audience and that of the musicians.
Where In Malaysia
In Malaysia, Wayang Kulit is mainly performed in Kelantan, a state on the east coast of peninsular Malaysia. I was lucky enough watch it in Selangor at a place called Homestay Haji Dorani in Sungai Besar, Selangor. Unfortunately, Wayang Kulit is seldom seen and is a dying art here in Malaysia. To watch Wayang Kulit Performances, prior arrangements will have to be made as these performances are done only by requests.
Contact Information
To experience Wayang Kulit, contact:
Abdul Rahman Daud
Tel: +6013 607 7025
Address:
Homestay Haji Dorani, Parit 1 Sungai Haji Dorani, 45300 Sungai Besar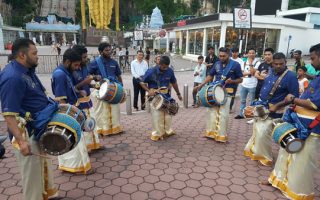 If you liked the above article, you may also enjoy this; Calling of Spirits – Urumee Melam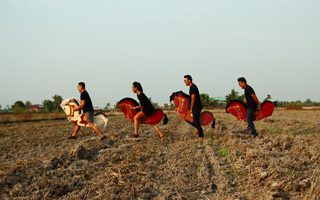 Click here to return to Wild Beats & Fun Issue content page. More articles here.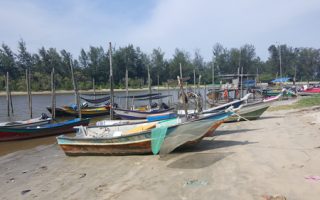 Return to the main page of Escapy Travel Magazine
Should you have any enquiries do contact us please...