The Calling Of Spirits – Urumee Melam
[Urumee Melam is a drumming method that comes from Tamil Nadu, South India. It is used to call spirits to possess devotees and put them in a trance during Thaipusam.]
Batu Caves & The Calling Of Spirits
Batu Caves is a temple cave; a shrine dedicated to Murugan, the Hindu god of war. Batu Caves is not just a shrine but one of the most popular Hindu shrines outside India attracting millions of visitors both local and foreign especially during the Thaipusam festival, some of whom climb the 272 steps to reach the main chamber.
(Want to know more about Batu Caves? Click Here to read article on Batu Caves)
The entrance to Batu Caves with the tallest statue of Murugan in the entire world standing on its right.
Thaipusam
Thaipusam is a festival dedicated to Murugan (Lord Murugan); celebrated by the Tamil communities in many countries including here in Malaysia. Thaipusam is celebrated in a few temples here in Malaysia but in Batu Caves, it is celebrated at a grand scale.  
During the celebrations (Thaipusam) devotees perform a ceremonial sacrifice after preparing for 48 days, going through a sort of soul cleansing; by piercing themselves and carrying what is called a kavadi. This is also known as the "Burden Dance."
The Chinna Rasa Urumee Melam Masana Kali; an Urumee Melam band preparing for the demonstration at Batu Caves.
Urumee Melam
To help these devotees on their journey of pain as they make their way up the 272 steps, spirits of deities are called, and devotees go into a trance. Urumee Melam is performed to call these spirits and to put devotees into a trance. 
Urumee Melam is a method of drumming, brought over by the Indian community that migrated over to Malaysia from South India and is usually played during religious ceremonies and processions such as Thaipusam; a Hindu festival celebrated mostly by the Tamil community here in Malaysia.
Urumee Melam got its name from a type of drum called the Urumee, that comes from Tamil Nadu, South India. It is designed in an hourglass shape made up of wood, usually jack wood. The heads are usually made of cow hide. The whole assembly is fastened together using ropes and metal coils.
World famous Urumee Melam band; the Chinna Rasa Urumee Melam Masana Kali showing us how its done. They have improvised to add a more modern twist to Urumee Melam's traditional beats. They now also play song from Michael Jackson, and other singers.
The Calling Of Spirits
Urumee Melam is played typically by drummers called "Dalits" or the oppressed, to call up spirits; inducing spirit possessions and putting devotees into a trance. The Urumee Melam drums up various sounds other than the usual beat. These sounds include sounds of moaning.
One of the worlds more famous Urumee Melam band is the Chinna Rasa Urumee Melam Masana Kali, a Malaysian Urumee Melam band. They not only perform ceremonial drum beats but also more familiar modern beats from various pop songs.
Should you be interested in watching an actual Urumee Melam performance, do a search for the next Thaipusam festival celebrations here in Batu Cave, Selangor, Malaysia; and plan for your trip here.
Additional Information
Address: Batu Caves, 68100 Batu Caves, Selangor, Malaysia
Phone: +60 1-300-88-5050
*Event organized by Gaya Travel, Tourism Selangor, Unit Perancang Ekonomi Negeri Selangor (UPEN), and Pusaka (pusaka.org)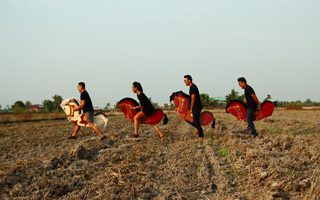 If you like the above article; perhaps you will like Dancing With Spirits – Kuda Kepang.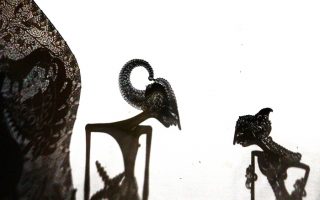 Click here to read more articles in this issue of Escapy Travel Magazine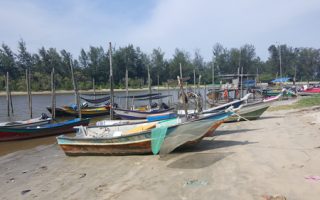 Return to the main page of Escapy Travel Magazine
Should you have any enquiries do contact us please...