Some people collect stamps and some people collect antiques. We each have our own passions. Being different is the most normal thing about being human. When it comes to collecting stuffs, how crazy or extreme can one get? I like crazy (I don't mean mentally ill). I like people who divert from the norms of society and do something extra ordinary out of passion such as this man in Kampung Pauh, Kuala Berang, Terengganu; Tuan Ahmad Tuan Abdullah. You see, Tuan Ahmad collects houses. Not just houses but old houses. And not just any old house but those that once belonged to legendary warriors I used to read about in my history books whilst at school. Warriors such as Mat Kilau, Tok Gajah, etc. who lived back in the 1800s to the 1900s.
Carved out signage at the Warisan Pahlawan Resort.
It all started from a love of wood, crafts, and heritage. Tuan Ahmad Tuan Abdullah loved the designs of old Malay houses; a heritage that he wants to keep alive. He started buying them and restoring them. He kept and used as much of the original wood as possible, using new wood only when needed. Some of the houses that he purchased have been left in a dilapidated state; so bad that not much of it can be used. He would then match the house with another, building one house that look like old palaces.
The main entrance to Warisan Pahlawan Resort.
Restoring old houses is easier with modern tools but Tuan Ahmad Tuan Abdullah tries to keep as much of the house building heritage as possible too. As such, most part of the houses that he has restored were rebuilt without the use of nails except for the main structures to ensure that the strength of these structures are not compromised. The type of wood used is also very important and hence only quality hard wood is used such as chengal wood.
Nails are only used on main structures. The rest of the house is put together without nails.
Old houses are made of wood but it is the carvings that give them special character. As air-conditioning was not available back then, the walls of these houses have holes carved into them. This method of carving called 'ukiran tebuk' (carving with holes or carved out holes) is also replicated in the houses restored with new wood. This is done to keep as much as possible the design integrity of the houses restored.
A house with special character.
Amongst the houses restored here are rumah (house) Mat Kilau, Tok Pauh, Tok Kenali, Tok Gajah, and Tok Ku Pulau Manis; a mix of legendary warriors and religious figures. The oldest house he has restored is the 'rumah Mat Kilau,' or Mat Kilau's house.
For those interested in owning a replica of a traditional Malay house; Tuan Ahmad Tuan Abdullah builds them too. One of the houses that he has built and sell is the rumah Tok Kenali. Tok Kenali (1868 – 1933) was an important Islamic religious figure here in Malaysia. The house is built using chengal wood. The design of the roof is called 'peleh' roof which is built using flat clay slabs called 'atap senggora.' To keep the house looking authentic, wood used are not treated with chemicals. As wood is alive, they maintain them by waxing them with bees wax.
One of the old houses restored at Warisan Pahlawan Resort.
The Resort
To date there are eleven houses with thirty five rooms in total; that one can stay at. They are Mat Kilau, Tok Pauh, Tok Gajah, Tok Kenali, Tok Pulau Manis, Hj. Abdul Rahman Limbong, Tok Kawah 1, Tok Kawah 2, Pok Tun, Hj Tun Abdullah, and Tok Ku Paloh. They are furnished with furniture replicated from those used back in the day to keep the experience as authentic as possible. For those who prefer to sleep in air-conditioned rooms, there are a few rooms with air-conditioning but needless to say, the experience is different. But then again, the weather now and back then is not the same. It does get really hot these days.
Rumah Tok Kenali (Tok Kenali's House) restored and ready for guests.
Things To Do
There is a swimming pool in the resort for those who enjoy swimming. It is also a good respite from the sun. Other than swimming and playing in the pool, guests can also pluck fruits at the fruit trees (not many of them), take photos with the old houses, and observe wood works being done. Of course it is best to ask permission before plucking fruits and heading to the wood workshop.
Walkway to the swimming pool made using cut logs.
The swimming pool, a lovely place to cool down.
Other activities that can be organized include kayaking, rafting, etc. at a beautiful nearby river. The more adventurous can also do some jungle trekking. To experience what life was like back in the day there is a fantastic place to go to called Warisan Jenagor (Jenagor Heritage Village). This entire village was created to help people with issues such as drug addicts. The area soon turned into a village and is now a heritage village offering visitors an authentic experience of life back in the days of old. Visitors will also be dressed in traditional Malay costumes before visiting the village which is only accessible by boat (read more about the village at the link below).
Plucking mangosteen from the mangosteen tree.
Kayaking in a nearby river.
Traditional Malay Food @Selera Warisan
One of the highlights of the Warisan Pahlawan Resort is the food served. The tasty food served here include:
Lampam berlada / berlado (tin foil barb fried with chilli) a tasty and spicy dish.
Tilapia paeh tempoyak (tilapia fish in tempoyak gravy) a dish cooked with fermented durian and various spices.
Ikan tawar panggang (baked freshwater fish).
Fried river fish.
Fried chicken.
Sayur lemak kulit rambai (Baccaurea motleyana fruit also known as rambai fruit) a milky dish cooked with the skin of the rambai fruit and various herbs.
Kerabu pucuk paku (edible jungle ferns).
Brinjal curry.
Fresh vegetables.
The Selera Warisan offers tasty local Malay cuisine such as these.
Delicious fried freshwater river fish.
I personally enjoyed all the dishes served here; my hats off and thumbs up to the chef for dishing out such superb home cooked dishes. The fresh fruits here made my day. Imagine eating fruits right from the trees. We had rambutans, mangosteens, duku langsat (Lansium parasiticum), buah ngeke or tampoi (Baccaurea macrocarpa), and durians. Simply delicious.
Buah ngeke also called buah tampoi depending on which state you are in. Here in Terengganu it is called buah ngeke.
Sweet juicy rambutans straight off the rambutan tree.
Should you decide to visit Terengganu and want to experience an authentic Malay lifestyle, Warisan Pahlawan Resort is certainly one of the best if not, the best place to go to. You not only get to experience an authentic Malay lifestyle, you also get to do it in genuine Malay houses that used to belonged to legendary warriors or / and religious figures. How much more authentic can this experience get? Head on down to Jenagor Heritage Village and you've got the experience covered. To know more about Jenagor Heritage Village, click the link below to the article.
Workshop at the Warisan Pahlawan Resort. This is where the wood work is done.
A worker working on a block of wood at the workshop.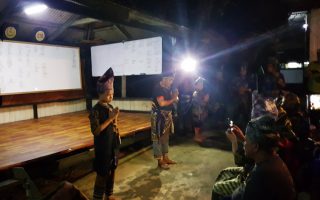 Go back in time to a Malay heritage village and experience life the way it used to be.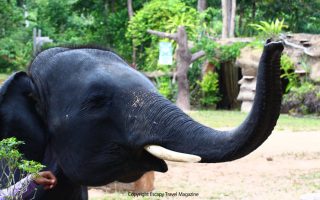 Click here to read more articles in this issue of Escapy Travel Magazine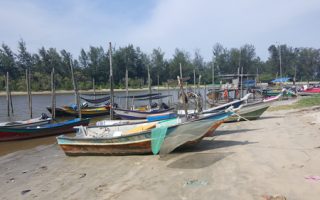 Return to the main page of Escapy Travel Magazine
Do Not Miss Another Issue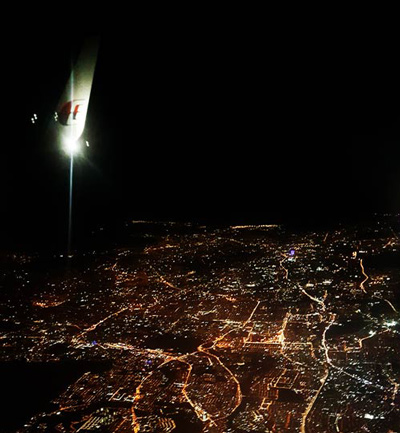 Should you have any enquiries do contact us please...