Going Back In Time
Warisan Jenagor (Jenagor Heritage Village) – Terengganu
Given the opportunity would you go back in time?  So far the only DeLorean (in reference to the Back To The Future movie series) available to take us back in time sits "hidden" inside some store in Hollywood. The replicas made by fans of Back To The Future don't seem to work. Maybe it is the flux capacitor that has gone bonkus and no one in this day and age has the ability and knowledge to fix it. Doc Brown and Marty McFly have both moved on, and those who have tried are still trying. There are other time machines too such as Dr Who's Tardis but it's too busy making it's rounds in Hollywood.
[Jenagor Heritage Village; Malaysia's answer to New Zealand's Maori cultural villages.]
An old wooden house in Warisan Pahlawan Resort.
Here in Terengganu, Malaysia; we've found a time machine while on tour with. This time in the shape of a boat. It all started when we visited a place called Warisan Pahlawan Resort (Warriors Heritage Resort) in Kuala Berang, Terengganu. This place is special especially for those who are into history. In Malaysian history there are few notable warriors such as Tok Gajah, Mat Kilau, and Tok Kenali that made "headlines" back in the 1800s.
The owner of this resort, Tuan Ahmad Tuan Abdullah, is a collector of antiques and he is especially attracted to antiques that are made of wood. He went on to purchase old wooden houses including those that were once owned by famous warriors. He would buy them, disassemble them, bring them back to his house, and restore them. Being in these houses certainly feels like one has stepped back in time. But this is just the tip of the iceberg.
Putting on traditional Malay costumes for our trip back in time.
After spending a few hours here at the Warisan Pahlawan Resort, we gathered in a classroom and were briefed on traditional clothing. We have been invited to an island few knew existed. For that we have to put on traditional Malay clothing (costumes) that consisted of a tengkolok (traditional Malay male headgear), baju layang (a traditional shirt with only one button at the top front), samping, etc. So we did. We were dressed as Malay noblemen and women from a time long gone.
A life vest is a must when going on a boat ride. 
Our time machines (motorboats) waited for us at a jetty in Kampung Jenagor Luar (Jenagor Luar Village). We departed at about 8pm and headed towards the island. We cruised the Terengganu River in total darkness. Before we knew it we saw lights flickering, and like a moth drawn to light; our boatman headed towards them. Upon arriving on the island the first thing I noticed is that everyone here on the island dresses and lives as if they were in the 1800s. It felt like we cruised through a time portal and returned to a time long forgotten. There are warriors, royalties, normal citizens, etc. The whole scene is really mind-blowing. I have seen folks dressed like they come from a different era but those were actors. This here is an island village of over 200 people dressed in 1800s Malay clothing. They don't just dress that way. They even live without much technology. There are no phone lines on the island. Electricity comes from generators and batteries. Food and water are cooked using wood fire.
*For your info., generators and batteries were indeed invented in the 1800s.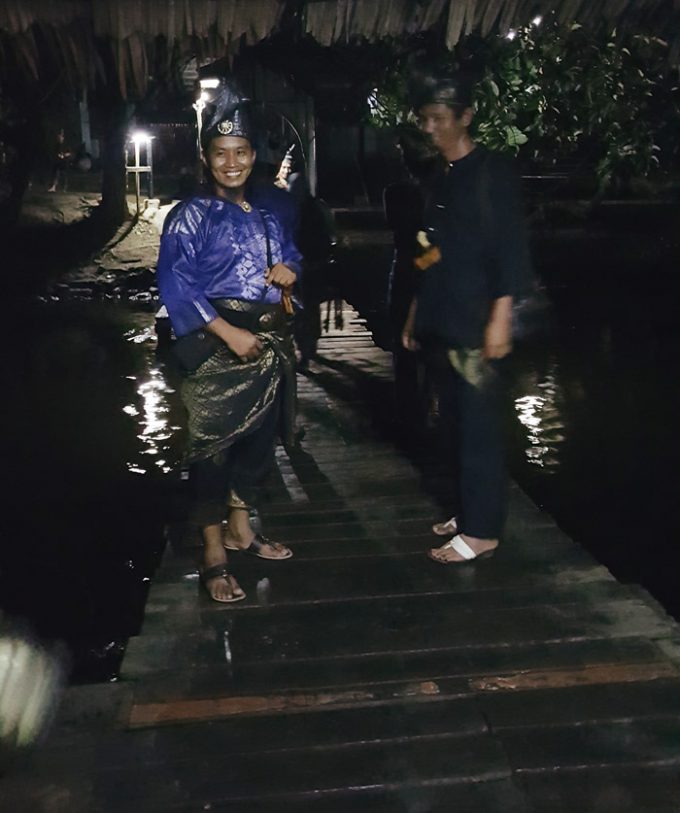 Folks from a time long passed welcomes us at the jetty of the island. The guy on the right may look fuzzy but be assured that he is no ghost.
This place is called Warisan Jenagor or Jenagor Heritage (hence the name of this village – Jenagor Heritage Vailage); Malaysia's answer to New Zealand's Maori cultural villages. This island is said to house the first Malay Palace in Malaysia, a palace that predates the Malay civilization in historical Malacca. When the current villages first step foot on the island, they found artifacts and proof of an olden civilization. There is also a tomb here. This tomb belongs to Sharif Muhammad Al Baghdad, the person who wrote the Batu Bersurat Terengganu (Terengganu Inscription Stone), a rock carrying Classical Malay inscriptions in Jawi. This rock is dated back to 702 AH and is the oldest testimony of Islam as a religion in Malaysia.
Here on the island are some things that are said to be artifacts from a bygone era. Amongst them are a very long keris (Malay dagger) and a weapon made of human bones. These items are said to possess spirits that protects their owners, especially during fights and battles.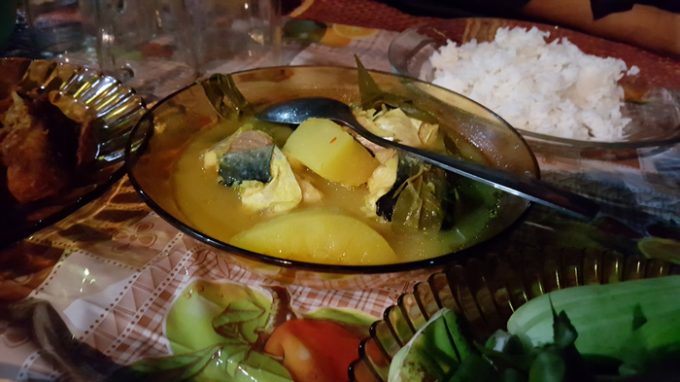 Tasty Malay dishes were served during our visit. This here is tempoyak ikan patin. 
The cultural show begins.
Being guests of honour we were ushered by spear wielding warriors to a pavilion where a silat (Malay martial arts form) performance performed by silat practitioners, started off this magical night. We then shared a meal with the noblemen of the village. The dishes served here are basic and simple Malay dishes. We had fish caught off the river cooked in tempoyak (fermented durian dish),  fried chicken, fresh raw vegetables, and delicious assam limau chilli dip (a dip made of tamarind, lime, and chilies).
A talented singer and a talented Nusantara band belting out Nusantara songs.
After a hefty meal we made our way up a hill to another pavilion called Panggung Raja Sakti or the Pavilion of the Magical King. Here we sat opposite a stage where a very talented musical group played music and songs from the era (1800s), before Malaysia was called Malaysia; a time when the area was simply called Malay Archipelago or Nusantara. Dancers performed traditional dances that tells stories from various Malay legends such as Puteri Gunung Ledang (Princess of Ledang Mountain), Ulek Mayang – a ritualistic dance that was once performed to appease the spirits of the sea (the true form of Ulek Mayang has been banned), etc. The performances went on till about 1am. After the performance we had light snacks with the local noblemen, before bidding them farewell and setting setting sail back to our own world and time.
Ulek Mayang, a ritualistic performance that appeases the spirit (princess) of the seas.
The presentation of "artifacts" from days of old that includes a very long keris (dagger), a tengkolok (head gear), and books.
A performance called 'Janji Malam Keramat' that translates to "Night Of Sacred Promises."
The island and village is indeed real. Even the people living there are real (not wondering spirits stuck in a time loop from a different dimension, although that would make a heck of a cooler story). They have their own day jobs but every Friday night they put on a huge show, turning back the hands of time; returning to an era long gone. Should you be interested in visiting the island, do contact Go Nature Travel for further information.
"Time travelers" and citizens of the island.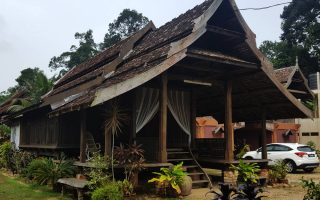 Go back in time to a Malay heritage Resort that features houses that once belonged to legendary warriors and religious figures.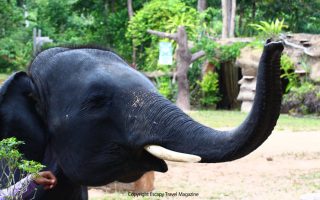 Click here to read more articles in this issue of Escapy Travel Magazine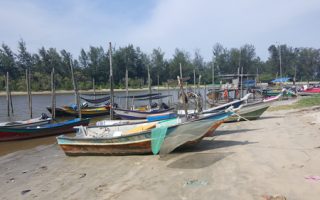 Return to the main page of Escapy Travel Magazine
Do Not Miss Another Issue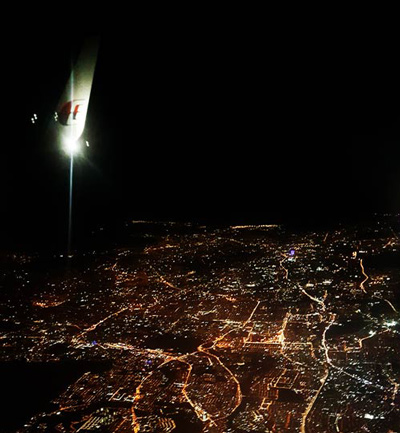 Should you have any enquiries do contact us please...