Teluk Sengat Crocodile Farm:
Southern Home Of The Crocs
The largest third generation crocodile farm in Peninsular Malaysia.
Crocodiles are walking living dinosaurs that roam our planet till this very day. These giant lizards strike fear in the eyes of some and to others are a magnificent sight. They indeed are magnificent and deadly creatures not to be toyed with unless own a crocodile farm, grew up with them, and understand them well. Here is a lady who owns over a thousand crocodiles; Ms Cecilia Ng.
Menacing looking crocodile hanging out at the pond.
Plenty Of Crocs
The Teluk Sengat Crocodile Farm is now under the care of its third generation owner; Ms Cecilia Ng. The farm has been passed down from her grandfather, to her father, and now to her. Some of the crocodiles have been with the family from the time her grandfather started the farm. Now there are over a thousand crocodiles that call this place home.
The main crocodile species here is the saltwater crocodile (Crocodylus Porosus). It is said that a few of the crocodiles here are over 150 years old and they are huge. There are a few crocodiles without tails. The farm also cares for crocodiles that are disabled and cannot fend for themselves such as a toothless crocodile that is over 130 years old. This toothless croc is one of the beasts that has been here since the farm's early days.
This crocodile prefers to be in the shade.
The farm is claimed to be the largest crocodile farm in peninsular Malaysia or largest 3rd generation crocodile farm in peninsular Malaysia. While I cannot ascertain for sure if it is the largest; the place certainly is quite large. It houses a few ponds including one large pond, and a few enclosures where some of the crocodiles live in.
Crocodile in their natural habitat. Well, man-made natural habitat.
The largest lake in the farm mimics the muddy watery natural habitat of crocodiles. Here one gets to see them hangout in the muddy banks sunbathing or swimming about in the water. Some play submarine too, going underwater and emerging someplace else. This lake certainly is a place to spend time at observing these amazing creatures.
A crocodile playing submarine at the muddy pond.
Crocodiles hanging out at the muddy pond.
Crocodile Shows
To entertain visitors, crocodile shows have been scheduled where caretakers go into some of the enclosures and play with these ferocious beasts. Needless to say that these caretakers know well what they are doing and thus visitors must refrain from copying these acts. They have learnt over the years to read the crocodiles actions and reactions. This allows them to do what they do rather safely.
Another interesting thing to watch is crocodile feeding where chicken carcasses are fed to the crocodiles. During the feeding one gets to see just how ferocious these beasts are and why one should not toy around with them. They certainly are dangerous animals that ought to be respected.
Crocodile feeding. Just look at how ferocious they are.
Touching Crocodiles
I personally find these prehistoric creatures to be admirable and am lucky enough to be given the opportunity to hold one. Of course a small juvenile one. Playing with an adult croc will be suicidal since I am not trained to handle them. Visitors get to touch a juvenile crocodile here under the observing eye of Ms Cecilia.
Ms Cecilia certainly knows crocodiles well having grown up with them. She is like a walking crocodile encyclopaedia and is more than happy to share information on the crocodiles with anyone who cares to ask.
Holding a juvenile crocodile. These little fellas can run really fast and must be handled with care. A bit of tape around its snout helps ensure that we remain injury safe.
More Information
Address: Lot 1289 & 1290, Jalan Sembilan, Kampung Belading, Teluk Sengat, 81940 Kota Tinggi, Johor, Malaysia.
Opens daily: 9am to 6pm
Entrance Fee: RM8 (adult), RM4 (child)
Note: Entrance fees is accurate as at time of writing and may change.
Contact:
Cecilia Ng: +6019 791 5116
Ng Kok Ting: +6013 777 5508
Erin Ng: +6016 716 2727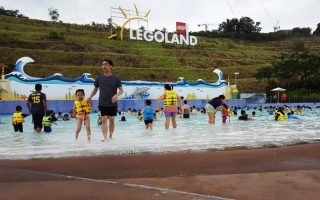 If you liked the above article, you may also enjoy; Family Fun In Johor. We visited three theme parks in Johor that is great for families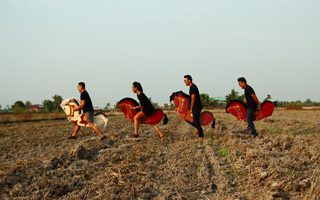 Click here to read more articles in this issue of Escapy Travel Magazine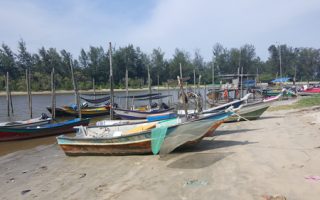 Return to the main page of Escapy Travel Magazine
Should you have any enquiries do contact us please...