Fishing is a fun and adventurous sport but fishes are not always the target. Squid is another target of anglers and is a lot of fun to catch too. In Malaysia, the coast off Pekan is a good place to fish for squids especially the hard fighting green eyed squid; my favourite kind of squid.
We recently packed a couple of rods and Penn reels; the new Penn Spinfisher VI and Penn Pursuit III for the purpose of field testing them to see how they would do in saltwater environment against hard fighting fishes such as the hard fighting diamond trevallies and mackerels, as well as the green eyed squids that fight hard.
The awesome Penn Spinfisher VI.
Rough Weather
It was a hazy morning with air that smelled of burning forest, and the sky was dark although not in a threatening way. We headed to the jetty where our boat was waiting. Our boatman warned us that the sea will be very rough today with strong winds. However, we can still go out but not to our intended fishing spots as it will be dangerous and no live is worth risking for our favourite sport. So, we went with our boat man's advise and gladly so. We were rocking harder than rockstars at the river mouth (harder than usual) and the rocking continued until we reached our fishing spot.
At the jetty waiting to board our boat.
Our targeted fishes were nowhere in sight despite all the jigging we did. Jigs were changed, plastic lures were cast, and live baits were finally used; yet everything was left untouched. Here is the thing about fishing. When there is no current the fishes tend not to bite. We were fishing in conditions where the surface of the sea is rough pushing our boat about, but the waters below had not much movement. Fishing was slow and all we caught were a few small fishes on apollo rig, and a table size red snapper. To cut a long story short, fishing was bad. So, we decided to change to lighter gears (Penn Spinfisher VI size 2500) and go for the green eyed squids.
Rough sea but it is about to get even rougher. 
A red snapper caught nearer towards Kuantan, north of Pekan.
Egging
This method of fishing for squid is called 'egging,' a word coined in Japan by Japanese squid anglers. This is where squid jigs or lures are used together with egging rods and small reels. To entice squid to take our jigs we sprayed Berkley Gulp Scent (herring) on our jigs. This scent spreads in the water attracting squids to our jigs.
Some of the squid jigs (or lures) that was used on our trip.
Method
There is a unique squid fishing method in Pekan that the local boatmen and deckhand uses. Instead of bouncing the jigs at the bottom on the seabed, they use a jig and stop method. The jig is dropped to the bottom until it reaches the seabed. They then jig and retrieve fast about five turns of the handle followed by a pause of about 10 to 30 seconds before jigging and retrieving again followed by another pause. If there are no takers, the jig is reeled in and cast out a again.
A green eyed squid caught off Pekan.
We caught a good amount of green eyed squids on this trip. Not a lot but plenty for a few night's dinner with friends. These hard fighting squids gave good amounts of resistance but the Penn Spinfisher VI reels were simply too powerful for them. The reel performed well having lots of power providing consistent pressure during the retrieve ensuring that the squids do not have the opportunity to drop our jigs. However, we did lose some squids too. You win some, you lose some. That is just how fishing goes.
One of the green eyed squids caught during our trip.
The Penn Spinfisher VI is made for fishing in saltwater environment and did well on our trip. It has a sealed drag providing consistent drag pressure throughout our fishing. The Spinfisher VI did not meet its match during this trip of ours despite having caught good amounts of hard fighting green eyed squids. Even the size 2500 reels found the squids too easy an opponent. Further tests are needed and on the way.
The Penn Spinfisher VI reel by Penn, one of the world's most famous saltwater fishing brands.
Anyhow, if you would like to do some squid jigging, the seas surrounding Malaysia will provide you with lots of squid fishing fun. There are different types of squid species too. Squid fishing is seasonal. They can be caught throughout the year but during the squid mating season catches are a lot more; perhaps to the point of boredom. Like the saying goes, "too much of a good thing…"
Our boat captain and his catch.
For more information on fishing in Malaysia do contact us via the tab below.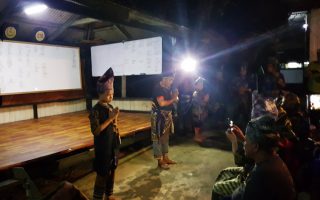 Go back in time to a Malay heritage village and experience life the way it used to be.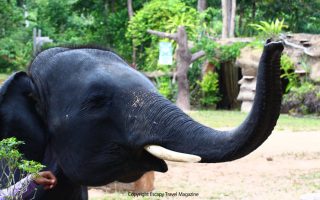 Click here to read more articles in this issue of Escapy Travel Magazine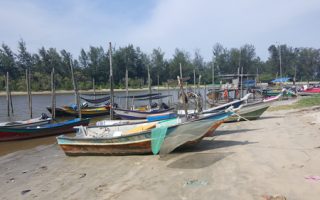 Return to the main page of Escapy Travel Magazine
Should you have any enquiries do contact us please...