Selat Mendana Floating Chalet
Should you be looking to go for a fishing holiday with your fishing buddies or your family and not sure where to go to, one place you can think of in Johor is the Selat Mendana Floating Chalet where one can go fishing and have a relaxing holiday.
The Selat Mendana Floating Chalet floats on the waters of Selat Mendana or Straits of Mendana off Kampung Kong Kong (Kong Kong Village). It is about a 10 minutes boat ride from the jetty at Kong Kong Village.
To get to the Selat Mendana Floating Chalets, one will have to go by boat.
Things To Do
There are quite a few things that one can do here such as island cruise with a bit of snorkelling at a rocky outcrop type of island, jetski rental, karaoke, and even a swimming pool. One of the unique things to do here is to hunt for dog conchs (locally known as siput gong gong) a species of edible sea snail.
The main highlight here is fishing. You can bring your own fishing tackle of you could rent one here. It is said that fishing is pretty good. The normal catches are various catfish species such as estuarine catfish (ikan duri) and eel tail catfish or ikan sembilang (Plotosus canius). But the bonus catch here is barramundi (ikan siakap).  
A swimming / dipping pool at the floating chalets.
One of the activities here is to look for dog conchs. 
Fishing equipment can be rented here.
Rooms are basic with air-conditioning, refrigerator, built in toilets, and television.
Basic Rooms
Rooms are basic with a nice bed, air-conditioned, and with built in bathroom. The normal rooms go for RM200.00 per night for 2 pax with meals and return boat transfer. RM35 for additional pax. There is one VIP room at RM280 per night for 2 pax with meals and return boat transfer (RM35 for additional pax).
Additional Information
Contact: +6013 480 6300 (Harry / Que)
Email: aay.selatmendana@gmail.com
For directions to jetty please click on Google Maps icon.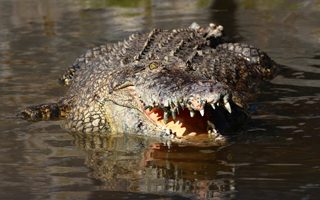 If you liked the above article, you may also enjoy this; Teluk Sengat Crocodile Farm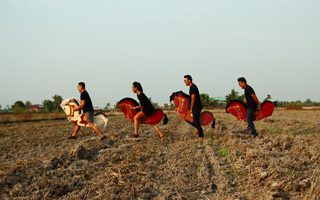 Click here to read more article in this issue of Escapy Travel Magazine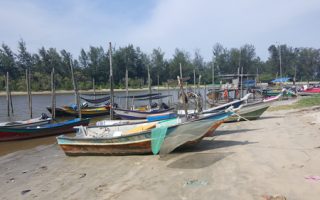 Return to the main page of Escapy Travel Magazine
Should you have any enquiries do contact us please...