Restoran Lembah Bernam (Lembah Bernam Restaurant)
Game meat in Malaysia is not something common. Few restaurants offer such meats on their menu. One of these restaurants is the Restoran Lembah Bernam or Lembah Bernam Restaurant in Sekinchan, Selangor.
The Lembah Bernam Restaurant is situated in a quaint little place amongst oil palm trees and other crops. It sits alone in a somewhat rural area away from town; yet it gets packed with diners especially on weekends. This says something about the food offered there. 
Restoran Lembah Berna is packed on weekends. Go early as certain meats are limited in quantity.
The Exotic
Meats like chicken, large river prawns, and river catfish can be had in many places, and yes, they are available here. But this place also offers porcupine, mouse deer, deer meat, and rabbit (although sold as satay at some satay restaurants) of which are hardly seen elsewhere.
While most restaurants offer a good variety of fishes on their menu, seldom will one find fishes like gouramy (ikan sepat), and climbing perch (ikan puyu) on the menu; but are available here. While I have tasted most of the dishes here, the two that stood out are…
Tasty gouramy fish fried and served in gulai.
Porcupine Rendang
Have you eaten porcupine meat before? Well, I have not eaten porcupine meat prior to my visit and did not know what to expect. Being adventurous with food we ordered Porcupine Rendang and I found the meat to taste somewhat like beef with the exception of the bones being small. It is not only a unique and exotic dish but a tasty one too.
Tasty porcupine rendang, a type of spicy flavourful dish. Taste like beef.
Fried Rabbit Meat
While some may find eating rabbits to be an act of cruelty as rabbits are cute and are usually thought of as pets especially here in Malaysia (I have a pet rabbit too); in many countries they are actually food. They are actually healthy and lean. The fried rabbit meat here is tasty and tender when eaten hot. The meat seems to toughen when it has cooled.
Should you order rabbit meat ensure to eat them hot. 
Part of what we had; free range chicken, climbing perch (fish), gouramy fish, porcupine, and rabbit. What's not in the picture is river catfish and more. 
Give This Place A Try
Should you visit Sekinchan, do give Lembah Bernam Restaurant a try; especially if you are adventurous when it comes to food.
Address: Jalan Main Canal, Tali Air 9, Sekinchan, Pasir Panjang, Selangor.
Contact: +6017 285 8603
Opens Daily: 11am to 5pm
Closes on Fridays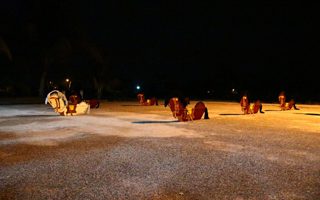 If you liked the above article, you may also enjoy this; Dancing With Spirits;  Kuda Kepang -What To Observe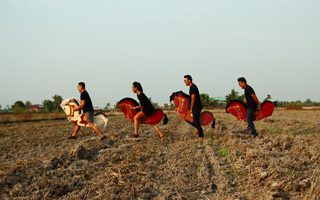 Click here to read more article in this issue of Escapy Travel Magazine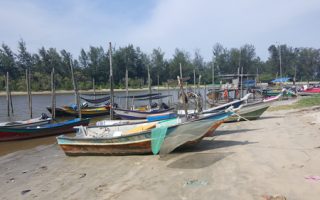 Return to the main page of Escapy Travel Magazine
Should you have any enquiries do contact us please...