Dancing With Spirits; Kuda Kepang Part II:
Things To Observe
In an earlier article I wrote about my experience watching a Kuda Kepang Performance. I returned a second time to watch it again and decided to share some of the things one should observe when watching Kuda Kepang and Barongan; a dance that accompanies it.
Having fun recreating a Beatles album cover – Abby Road – Kuda Kepang style.
Kuda Kepang & Barongan are a form of traditional dances that took root in Indonesia and was brought over to Malaysia by Javanese migrants that migrated here many years ago. These traditional dances are no ordinary dances. These dances involves spirits of deities and animals that are called to possess the performers.
I wrote about my experience watching the performance in an earlier article that will give you better insights into these performances. In this article I will list down some of things to observe (dos and don'ts) when watching Kuda Kepang and Barongan.
Click HERE to read article on Kuda Kepang and Barongan.
Flat wooden horses (Kuda Kepang) awaiting their dance partners.
This article is a recommendation of certain things to observe while watching these performances. Whether one believes in the supernatural or not is one thing but personally I believe that it is better to be safe than sorry. So here goes…
Fights do breakout between the dancers and sometimes they get too near the audience.
Stay Out Of Harm's Way
These performances can get somewhat rowdy and scary. They may look absurd to some. Do note that the performers are not in full control of their mental facilities during the performance as they have been possessed by spirits. They roam about and sometimes get a little violent. It is best to get out of the way should you see them coming your way.
Participants from the media learning the moves. Dull coloured clothing is a must.
Dull Colours
Certain colours seem to attract these spirits and not in a good way. Bright colours such as red, orange, and yellow seems to be a colour that the spirits are attracted to. This may cause the possessed performers to snatch items in such colours especially if it really stands out.
It is best to wear dark coloured or dull coloured clothing including caps and hats to avoid being disturbed or attacked by the performers.
The tiger roams about making loud snapping noises with its mouth. Photos are dark as flash is not allowed.
No Flash Photography
While photography is permitted, the use of flash is not recommended. This makes photographing and video shooting the performance difficult since these performances are usually performed at night. Flash from cameras could anger the spirits and cause disturbances to the performance. Possessed performers could attack too.
The shaman possessed by some spirit. 
Do Not Disturb 
It is best to watch these performances without disturbing or poking fun at the performers. During one of these performances I witnessed  an incident where a member of the audience was attacked or possessed by one of the spirits. She suddenly started screaming in fear and cried. One of the local shamans came to her aid.
I asked her panicking friends what happened. They said that she was poking fun at one of the performers and suddenly she started screaming and fell to the ground shivering. She had to be carried away kicking and screaming.
Volunteer participants have having whatever spirit that possessed them removed.
Participate At Your Own Risk
Members of the audience are invited to participate in the performance (dance). However, do note that should you decide to do so, you do it at your own risk. During these shows, members of my group were invited to join the dance and some of them did. They too were possessed. One of them was possessed by a spirit that was difficult to remove and had to be done twice by the shaman. Even after that he did not feel like himself for some time. When he tried to sleep at night he would here the beats and music of the dance.
Another member of our group who took part in the dance returned to the organizer's office a few days after our trip to complain about being haunted by the wooden horses. When he tried to sleep at night, these horses would come to him and he would feel like dancing.
One of the dancers is down and out cold after the spirit was removed from him.
Stay Out Of The Zone
Before the start of the performance, the shaman will create a boundary between us, the audience, and them, the performers. We are then told not to enter this invisible boundary as it is within this boundary that a realm between our world and that of the spirits is connected and he will do his best to contain the spirits and performers within the boundary.   
The performance can go on for many hours. The dancers do not feel tired until the spirit that were possessing them has left.
Bring Water & Snacks
These performances can drag on for hours. It is best to bring along a bottle of water to stay hydrated and snacks to eat should you get hungry during the performance. It is best to walk away from the show to have your snacks lest it be snatched by the possessed performers.
The shaman was too weak to stand after the spirit left him and needed help.
Take Note
Whether one believes in the supernatural is one thing but it is always best to stay safe. The first time I watched these performances, I was sceptical too. But when friends in my group experienced disturbing effects from the performances, I cannot help but take precaution during these performances.
Such performances have been banned in certain states here in Malaysia as they mess with spirits and deities of which is not allowed in Islam (Malaysia's official religion). Doing so has turned Kuda Kepang & Barongan into a dying traditional art form.
The tiger and the mask of the monkey; stuff of nightmares.
To Watch
To watch and experience Kuda Kepang & Barongan, prior arrangements will have to be made as these performances are done only by requests.
To experience Wayang Kulit, contact Abdul Rahman Daud
Tel: +6013 607 7025
Address:
Homestay Haji Dorani
 Parit 1 Sungai Haji Dorani, 45300 Sungai Besar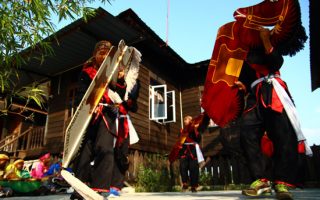 This here is to the first article or Dancing With Spirits Part 1.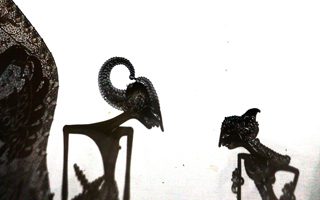 Click here to read more articles in this issue of Escapy Travel Magazine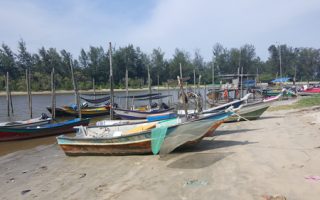 Return to the main page of Escapy Travel Magazine
Should you have any enquiries do contact us please...