Kenyir Elephant Conservation Village
Elephants, the gentle giants that roam our earth. It is easy to see why some stare at them in awe. These huge mammals with large fanning ears have played a major part in the development of some countries. They have been involved in many activities from construction to warfare. They have help built railway tracks that link countries, fought wars that created legends, and are held in high esteem in some cultures. Thus the greatness of elephants. 
A smaller elephant walking about the grounds of the Kenyir Elephant Conservation Village.
When it comes to visiting an elephant village or an elephant sanctuary, Thailand springs to mind like jack the clown who springs up from within his box. How many would have thought that such sanctuaries are available in Malaysia. Right off the hat I know of two. This here is one of them; the Kenyir Elephant Conservation Village in Terengganu. The other one is Kuala Gandah Elephant Conservation Centre in Kuala Ganda, Pahang,
An elephant hiding amongst the trees. The elephants here are rescued elephants.
Kenyir Elephant Conservation Village opened its doors to the public in May 2014 occupying a land size measuring 256 hectares. During the construction of the elephant Conservation "village" many of the original trees are left untouched to preserve the natural resources of the place. A huge structure containing hanging bridges, watch towers, shops, amenities, etc. was built in such a way as to maintain as many natural structures as possible.  Although the land size it sits on is 256 hectares, only about 20% of it has been developed. The rest is left untouched, keeping the area wild; a very important factor to preserving the nature of the area.
A long hanging bridge that links one tower to another.
When one wants to see elephants one can visit the zoo. But to learn more about elephants one can visit a place like Kenyir Elephant Conservation Village. One of the objectives here is to educate the public about their habitat as well as the behaviour of elephants. While zoos do provide some information, here one gets a lot more.
One of the tall observation towers.
Kenyir is home to wild elephants. Being an angler I have seen them on a few occasions in the wild. Unfortunately, these majestic wild elephants do face some dangers out here in the wild. They are poached illegally by greedy poachers for their valuable ivory tusks. Local villages poison them as these elephants have been known to destroy crops. When such activities take place, calves are left orphaned with no parent to care for them and to protect them. Before long they too will succumb from hunger and the stress that no child should have to face alone. The good folks at Kenyir Elephant Conservation Village played a positive role here by adopting them and giving them not just a home but an entire village to keep them safe, and to care for them.
Me walking on one of the hanging bridges.
Apart from learning about elephants and getting intimate with them; one gets a superb workout here too by climbing up towers and walking on the canopy walk. The canopy walk is a large structure made up of suspension bridges and towers. The bridges link the towers together allowing visitors to walk and explore the grounds from above. This allows one to observe the elephants as they go about their day with their trainers (mahouts) without disturbing them. I personally enjoyed the scenery and took many photos along the walk. Trying to get a clear shot on a shaking suspension bridge is a challenge but heck, it is a worthwhile one.
The pavilion where the elephants are the stars of the show.
Elephants are smart and like humans, have their own talents. The elephants put on a show here at the outdoor theatre amazing visitors with their acting skills and ability to learn. As elephants have been used in the logging industry, some of the elephants here acted such a scene. They carried logs, climb over obstacles, and even did a little acting; a heart breaking scene played by a calf and a larger elephant. This scene is one depicting an incident where the elephant's mother was killed and he or she was found beside his or her mother trying in vain to wake her up. A very touching scene that brought about some teary eyes.
An elephant playing the part of a dead mother elephant that was poisoned by villages. 
Elephants showing how they share the load.
Some of the elephants showing us how they cross obstacles.
One thing that visitors must do especially if one loves elephants is to feed them. After the show visitors get to purchase food for the elephants; a small contribution to these fabulous creatures. Bags of small baskets of sugarcane can be purchased and given to the elephants. Sugarcanes are like sweet candies to these elephants. Note that the staple diets of the elephants here apart from fruits are bamboo and leaves.
Elephant feeding is a good way to support them. This is what I recommend animal rights group preach instead of "stop visiting these places."
One thing that visitors must do especially if one loves elephants is to feed them. After the show visitors get to purchase food for the elephants; a small contribution to these fabulous creatures. Bags of small baskets of sugarcane can be purchased and given to the elephants. Sugarcanes are like sweet candies to these elephants. Note that the staple diets of the elephants here apart from fruits are bamboo and leaves.
An elephant enjoying in the river.
Elephants enjoy cooling down in mud and water. The elephants here get to enjoy themselves in a nearby river. They most certainly love playing about in the river. After the show the elephants make their way to the river where they hangout with their mahouts and bath. Visitors have the option of hanging out with them too at the river (Telemong River); playing around in the water splashing each other with their trunks. This is an experience worth getting wet for.
An elephant having fun and spraying us with water.
Now, here is a can of worms and I am about to open it. Before I continue, I acknowledge the bad rep that elephant riding has gotten thanks or no thanks (depending on which side of the fence you are on) to eco warriors or animal rights groups. So please read on with an open mind.
I for one am an animal lover but I have to acknowledge here that I am no judge nor do I have the right to judge. It pains me a lot to see animals get hurt including elephants. So, here goes. Elephant rides are offered here and if you do not buy into the ideology of these eco warriors and animal rights groups, and still would want to ride an elephant, it is up to you. But if you feel that it is ethically and morally wrong to do so, perhaps you could purchase more goodies (food) and feed the elephants. Just purchase food with the same amount (cash value) you would pay to ride an elephant and feed it to the elephants. They certainly enjoy such treats and will appreciate you more than having no visitors to support them.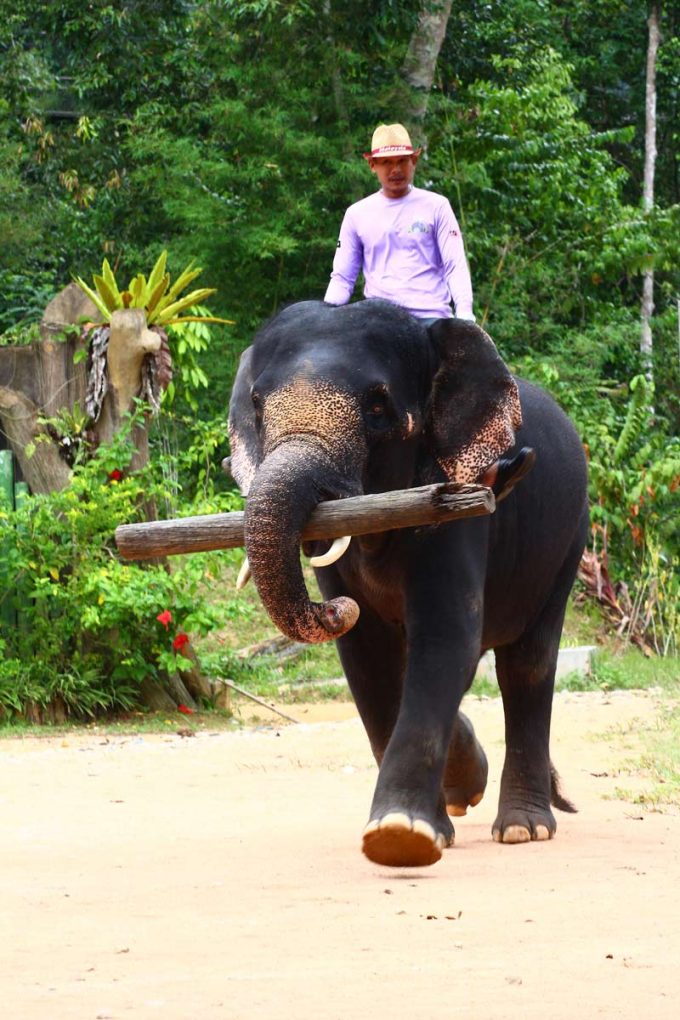 An elephant  showing how logs are carried.
Without visitors places of such will have to let the elephants go. These elephants will not be able to fend for themselves as they are used to having been fed and taken care of by people. They may not survive back in the wild. Another reason to support such places is that without these places the elephants are still vulnerable to poachers (who are the real criminal here). These places have in a way played a role in saving those elephants that would have died should they not be rescued in time. Of course not all elephant camps put in the same amount of care as the Kenyir Elephant Conservation Village gives to its elephants and staffs. Those should be the camps that one not support but crowding all elephant camps, sanctuaries, etc. together and labelling them evil is doing more harm than good for the elephants. So, let us give this a little bit more thought before "pulling the trigger." Well, at least for now this is what I believe we can do to help the elephants.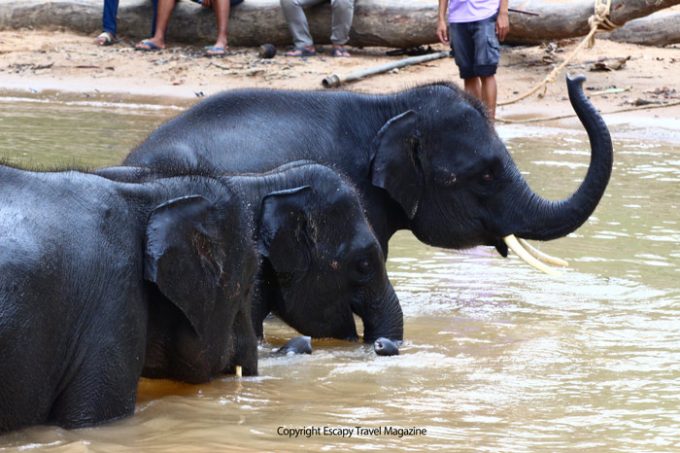 Elephants enjoying themselves at the river. Nice to see them doing so.
All said, the Kenyir Elephant Conservation Village is certainly worth a visit. Visiting the village not only helps with the welfare of these elephants. It is certainly an educational experience that helps instil into the minds of children and adults alike the need to care for our natural environment as well as the habitats, not just of the elephants but that of all other animals.
Should you decide to visit Kenyir Elephant Conservation Village below are some things that I recommend bringing along with you:
– Hat                                                     
– Comfortable walking shoes     
– Sunglasses
– Camera                                             
– Drinking water
– Sturdy tripod                  
– Change of clothes should you want to play in the river
Elephants and their mahouts by the river.
Writing this article conjures up a memory of a story I once heard of a young city boy who for the first time in his life visited a village. He saw chickens running about and shouted excitedly to his mom, "mommy, these chickens here wear clothes." The only chickens he had ever seen prior to this are those packed frozen in the supermarket. Educating children on wildlife is certainly important.
An elephant smiling for the camera.
Kenyir Elephant Conservation Village was established under the authority of the Department of Wildlife and National Parks, the Central Terengganu Development Authority (KETENGAH), and the Terengganu State Government. It is managed by S Bina Management Sdn. Bhd.
For more information:
Tickets Prices: http://www.kecv.com.my/ticket/ 
Telephone: +609 858 5588
Email: enquiry@kecv.com.my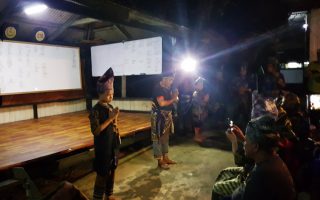 Go back in time to a Malay heritage village and experience life the way it used to be.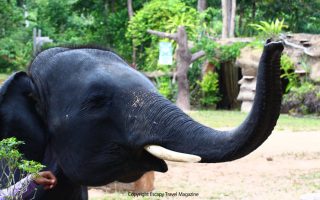 Click here to read more articles in this issue of Escapy Travel Magazine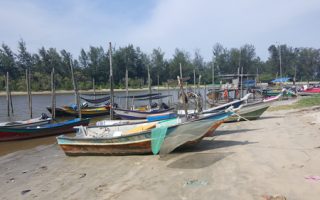 Return to the main page of Escapy Travel Magazine
Do Not Miss Another Issue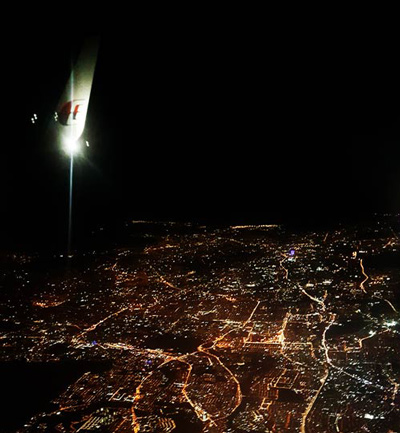 Should you have any enquiries do contact us please...