What Hotels Are Doing to Ensure Guests Of A Safe And Enjoyable  Stay
Prima Hotel Melaka, Malaysia
A Little Information On Prima Hotel Melaka
Located just a stone's throw away from Jonker Walk, Prima Hotel Melaka is your perfect place to rest and indulge in the charms of Melaka! Other nearby attractions include: Stadthuys, Melaka River Cruises, Christ Church and Little India.
We boast a total of 80 guest rooms ranging from queen bedrooms, twin bedrooms to family (double) bedrooms to fulfil your needs. Plush pillows aside, we also offer a carefully curated selection of breakfast serving local cuisines. For those who drive, we have parking lots for you to enjoy a no-hassle experience.
Be it a solo traveller or a family outing group, you are sure to find top notch hospitality in Prima Hotel Melaka.
Interview Between Escapy Travel Magazine (ETM) & Alexandria Lee, Hotel Consultant and S&M Manager of Prima Hotel Melaka
Date (or target date) resort restarts operations: Has always remained open (Not a quarantined hotel)
ETM: What safety measures have been put in place to ensure staffs (team members), third party suppliers, etc. are healthy or virus free (since members of staffs as well as suppliers will inevitably meet at one point in time or another and could spread the virus)?
Alexandria Lee: Temperature checks and washing and sanitizing of hands after each contact (staff with suppliers). Delivery date by supplier is cross checked for similarity of date on invoice for attendance record. Any staff not feeling well is advised to take leave of absence.
ETM:What safety measures have been put in place for guests to ensure their safety in areas where there usually are crowds such as the lobby, F&B outlets, entertainment areas, activity areas (gym, sauna, pool, games room, etc.), etc?
Alexandria Lee: Non-hotel guests are not permitted to utilize lobby washrooms, prayer rooms and the restaurant (social distancing sitting of minimum 1meter apart in the restaurant will apply to hotel guests). Although health and safety signages have been placed at designated areas, the receptionist or Operation Manager will also advise guests on social distancing when and if the lobby is crowded.
ETM: What safety measures have been put in place for guests to ensure their safety in confined small spaces such as lifts for example; since guests (as well as staff) use them all the time?
Alexandria Lee: Health safety signages regarding social distancing have been placed in the guest lift (max 4 pax) and staff do not utilise the lift together with the hotel guests.
The front facade of the Prima Hotel Melaka.
ETM: What safety measures have been put in place for guests to ensure their safety in rooms? Rooms are constantly used by different people (guests) and we do not know if one of them is a carrier of the virus.
Alexandria Lee: Guest rooms are only cleaned by Housekeeping the day after departure day (24 hours after departure) to ensure safety for Housekeeping staff who will clean the room with hard surface sanitizers. For stay-overs, rooms are cleaned upon request (Housekeeping attired in mask and gloves) or provisions will be sent to the room if guests prefer privacy and safety.
ETM: What has your team prepared (hotel or resort) or done to ensure the safety of your guests in general?
Alexandria Lee: Public areas such as the prayer room/surau, lobby washrooms and restaurant are off limits to non-hotel guests. Rooms are cleaned with hard surface sanitizers instead of only tap water.
Health and safety signages have been placed in strategic locations in public areas. Lobby area (especially the main glass door) is regularly wiped and hand sanitizers have been placed at the reception counter for general use.
ETM: Are there any new SOPs (Standard Operating Procedures) that have been or that will be applied for the current situation as well as going forward?
Alexandria Lee: Hand washing or sanitizing after contact with guests or suppliers. Regular wiping of reception counter, guest lift buttons, and main entrance glass door with disinfectant.
ETM: Are there any new policies in place with the Corona Virus pandemic around? For example; cancellation policies, booking policies, etc.
Alexandria Lee: We have allowed free cancellation for guests with OTA (Online Travel Agents) bookings who have had to be quarantined. This practise will continue on a case to case basis.
Scenario1: If one person in the family is unhealthy (may or may not be due to the virus), will the whole group be turned away?
Temperature checks will be done on all members of the family or groups, and they will be required to quarantine themselves in their rooms, and not allowed to linger in hotel public areas. Unhealthy
person will be required to have a medical check immediately as a precaution. Upon their check out,
room(s) will remain vacant for 24 hours before thorough cleaning by Housekeeping team in mask and gloves, using hard surface sanitizers.
Scenario 2: What if guests of the hotel bring guests who are not registered into the hotel?
Our Receptionist will advise hotel guests to ensure their unregistered guests do not linger in hotel public area for the safety of other guests.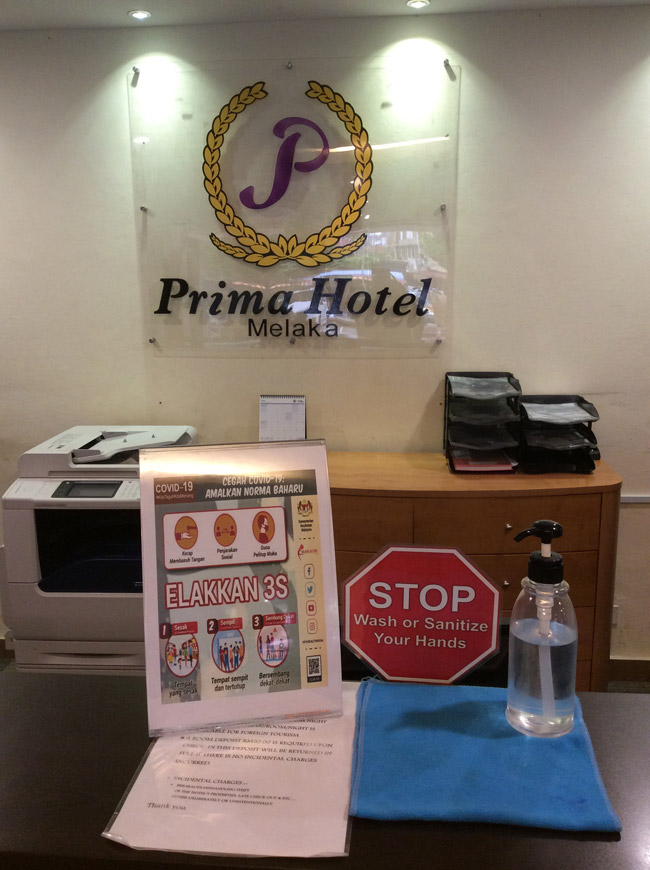 Some of the items such as reminders, hand sanitizers, etc. at the Front Desk.
ETM: What current measures are in place once a positive case is detected and confirmed?
Alexandria Lee: Guests will be advised to check out and admit him/herself into a hospital. Balance will be refunded. Guest room will remain vacant for 24hours before thorough cleaning by Housekeeping in mask and gloves using hard surface sanitizer.
ETM: Who checks and verifies that the hotel has been regularly sanitised? Any authorities to monitor andwhat are the procedures?
Alexandria Lee: The Senior Operation Manager, and the Operation Manager will liaise with the Housekeeping Supervisor to do checks, and monitor conformation of new procedures.
ETM: What can guests look forward to when staying at your hotel or resort in times like this?
Alexandria Lee: Sanitized cleanliness, better health safety as only registered hotel guests are allowed to use facilities, heighten cleanliness, etc. Our rooms are at affordable rates, and exclusivity as occupancy might remain low and only peak at the end of 2020.
-End-
Prima Hotel Melaka
Address: Lot 364 & 365, Jalan Kee Ann, Off Jalan Munsyi Abdullah, Malacca City 75100
email: enquiry@primahotel.my
Google Maps to Prima Hotel Melaka.
Do Not Miss Another Issue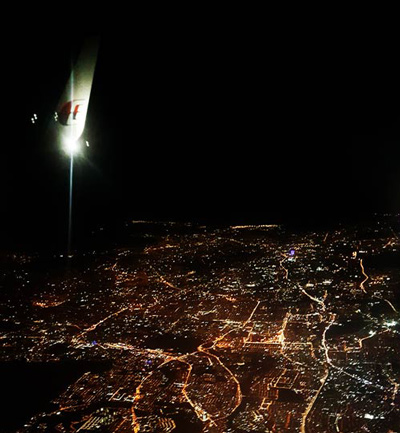 Should you have any enquiries do contact us please...