Most people know Genting Highlands as a fun city up in the mountains. After all, Genting Highlands is well known as the City Of Entertainment with its casinos and theme parks. Few would recommend Genting Highlands to people wanting to observe nature unless it is to observe the nature of gamblers and adults rekindling childhood.
Allow me to divert your attention from the roullete tables, slot machines, stage shows, Snow World, rides, shopping, eating, etc. to the beautiful montane nature this mountain top city is blessed with.
Night shot of some of the hotels at Genting Highlands.
Genting Highlands is a place that I frequent to escape the heat of Selangor weather. Selangor is the amazing state that I call home and it is not far from Genting Highlands. It is so close that Genting Highlands sits in both, the state of Selangor and the state of Pahang. I must admit that the thought of observing nature up here in Genting Highlands is as far away from my mind as going to the Sahara desert with the thought of catching a trophy fish. Who knows what swims in those mirages. Mermaids perhaps.
It is often cooling and misty up here in Genting Highlands. This here is the Chin Swee Cave Temple.
But on a recent trip I was introduced to some really amazing nature at Awana Resort World Genting Highlands, one of the oldest resorts up here on the hills. This resort is known for its 18-hole championship golf course designed by Ronald Fream. Little did I know that even on the green, the beauty of Mother Nature can be observed.
The golf course at Awana Resort World Genting highlands.
The first thing pointed out to me are some of the birds that flew about and perched themselves on nearby trees. I cannot remember what all of them are. I remember one called the Ferruginous Flycatcher though. Maybe because I am not a fan of flies and it is nice to know that some bird is flying about catching them. So, much for memory.
I managed to photograph one of the Ferruginous Flycatchers.
As we were walking on the golf course a squirrel caught my eye as it ran towards something that fell off a palm tree. I stopped and snapped some photos as I find them cute. I often see them, even at home running about the bushes in my garden. But seldom do I have my camera in hand with a lens capable enough to zoom in close. Mobile phone cameras are quite rubbish when it comes to shooting them from a distance. Even my capable P20 Pro shoots really good pixelated images of these little animals from such a distance; perfect for Minecraft (if you're a gamer you'll know what I am talking about). Too close and they dash for cover.
An Asian Red-Cheeked squirrel eating something that fell from a palm tree.
Further down the course a pig tailed macaque climbed down a tree and dashed out of sight. It probably saw us and decided to make a dash for safety. Pig tailed macaques are macaques with a curly tail that looks like the tail of a pig. Pig tailed macaques are a species of monkey that are found throughout the jungles and forests in Malaysia. They can get aggressive and thus why I do not recommend feeding them and playing with them.
A curly tailed macaque climbing a tree at the golf course.
All these animals were seen within a short span of time whilst walking about the golf course here in Awana Resort World Genting. This is not even the area designated for observing nature. Perhaps Mother Nature served us some starters before the main meal. These got me excited and eagerly looking forward to the real thing.
Wonderful nature surrounds Genting Highlands.
At the Awana Resort World Genting Highlands there is a piece of montane forest called Awana Bio Park. One special thing about this 130 million years old nature rich forest is that it has internet connection throughout (Bio Park area). This allows technology to be applied in the designing of the Bio Park. Eddie Chang and Pat Ang, two nature enthusiasts who founded Treks, took us on a walk at the Awana Bio Park and gave us brief introductions on some of the flora and fauna that have lived in this forest. They showed us how they intend to use NFC (Near Field Communication) technology and QR Codes to introduce the various flora and fauna that call the Awana Bio Park, home.
Eddie Chang demonstrating how NFC or Near Field Communication works by playing a song from Santana. 
They have been monitoring the forest here for some time and during the course of monitoring the area they amassed  videos, photos, and information on the plants, trees, animals etc. of which they hope to share with as much people as possible. All these have been uploaded to cyberspace. With the tap of a modern mobile phone on an NFC device or a scan of a QR Code, all these information can be viewed. As such, a guide is no longer necessary when walking the trails. Of course a nature guide is still recommended for safety reasons.
QR Codes can be scanned to learn about the wild life in the area should one's phone not have NFC capabilities.
Just How Naturally Rich Is Genting?
Genting Highlands is indeed very rich in nature. It is a mountain with four stages of forests, each with their own biodiversities. These forests are Dipterocarp Forests (low land forest), Montane Oak Forest (also known as lower montane forest), Montane Ericaceous Forest, and Skyride Forest of which is above the clouds.  
Genting Highlands is certainly rich in nature. The cable car (Skyway) travels on top of a rich montane forest.
Walking about the Bio Park I noticed a variety of flora such as pitcher plants, red coral mushrooms that look like corals on land, bamboo, rattan (there are 15 species of rattan trees within a range of 100 metres), fig trees, and the rare bat orchid. We were lucky to be able to see one bloom.
The rare bat orchid in bloom.
There are also lots of fauna or animals that call the area home such as gibbons, lizards, birds, etc. Five species of hornbills fly about the area and amongst them are the great hornbill and the funny sounding helmeted hornbill. This place is a bird watcher's paradise with over 250 species of resident and migratory birds. One of the raptors we saw that day was a black eagle that circled the area probably on a hunt for food.
Red coral mushrooms along the track.
Watching Birds
Together with us during our visit was Henry Goh of Malaysian Nature Society who gave us an introduction to bird watching. During our walk on the trail at the Awana Bio Park he pointed to some birds and photographed them before sharing with us some information on these birds. Being somewhat short-sighted I could not really see the birds but his camera did the trick. His bank account puncturing Canon full frame camera and giant size Canon L series lens managed to capture the details of these birds in full colour. Being a photography enthusiast myself, I too whipped out my not so pocket damaging Canon camera fitted with 75-300mm Tamron lens to shoot these birds. It took a heck of a lot more effort but at least I managed to get some decent shots.
Another bird I managed to photograph is this Verditer Flycatcher.
I have always liked photographing birds and have been doing so for a few years without going deeper into it. After spending time with Henry Goh, I am on the brink of opening the doors and stepping into the world of bird watching and photography; with a level of seriousness higher than where I'm currently on. It certainly is an interesting and good hobby to take up.
A beautiful Grey Chinned Minivet that was flying about on one of the trees. Took a lot of effort to get a decent shot of it.
Drop By And Enjoy Nature
Genting Highland is not all about throwing chips on a table with hopes of winning more chips and going loony riding gravity defying rides at the theme parks. There is more that this mountain has to offer. The next time you visit Genting Highlands, spend some time with the wonderful nature here. Drop by Awana Bio Park, contact Eddie Chang and Pat Ang of Treks, and take a walk with Mother Nature. 
A caterpillar at the trail.
Additional Information
Awana Resort World Genting Highlands
Address: Awana Hotel Resorts World Genting, 69000 Genting Highlands, Pahang
Treks
Eddie Chan
Email: info@treks.events
Google Maps to Awana Resort World Genting Highlands.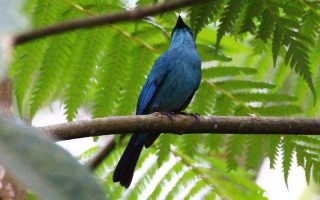 Designed with nature consultancy Treks, the trails highlight the astounding diversity of Mount Ulu Kali's ancient rainforest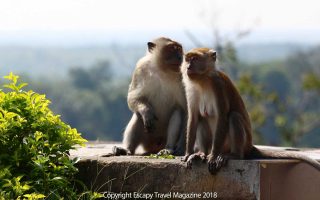 Melawati Hill in Kuala Selangor is a historical place to add to one's places to visit list.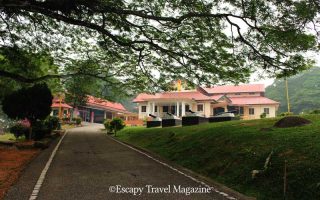 A visit to the Kuala Selangor District Historical Museum is a must when one visits Melawati Hill. This is where the history of the place is showcased for all to see.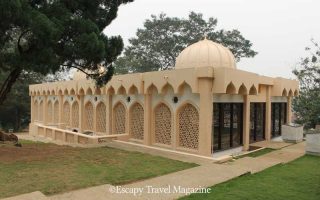 From this hill the rulers of early days played an important role in the building and shaping of Selangor. It is also on this hill that they rest for eternity.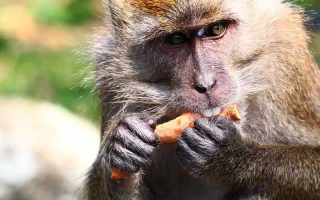 The Silver Leaf Monkey and the macaques call Melawati Hill home. They roam around in good numbers and are somewhat used to humans. Here one can get up close.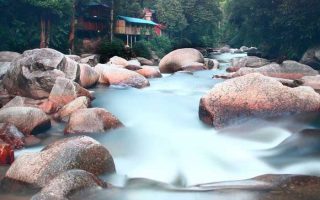 Click here to read more articles in this issue of Escapy Travel Magazine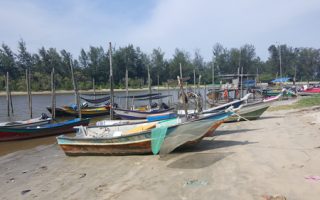 Return to the main page of Escapy Travel Magazine
Do Not Miss Another Issue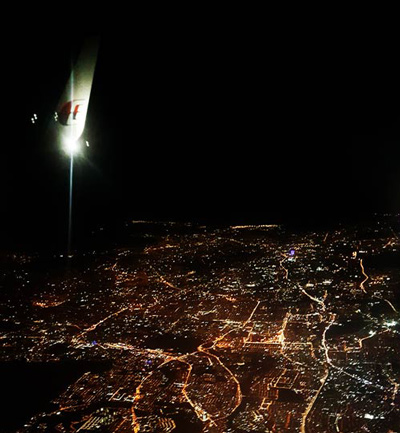 Should you have any enquiries do contact us please...