Sunway Velocity Hotel Kuala Lumpur Packages
Sunway Velocity Hotel Kuala Lumpur's Stay And Shop, And Stay, Screen And Shop Brings "Stay-cationers" Into Kuala Lumpur City
With the Movement Control Order eased; Sunway Velocity Hotel launched the Stay & Shop, and the Stay, Screen & Shop packages, a collaboration between Sunway Velocity Mall and Sunway Medical Centre Velocity, providing "holidayers," vacationers, travellers, etc. with attractive packages to make booking a "staycation" at the Sunway Velocity Kuala Lumpur (Hotel) worth every Ringgit. Packages are valid for stays from now until 31 December 2020.
Two attractive packages to choose from.
The STAY & SHOP package includes a 2D1N stay in a Superior room and guest will receive a minimum RM50.00 worth of shopping and dining cash vouchers at Sunway Velocity Mall. The Stay & Shop package room rates start from RM168.00 nett per night for two (2) persons.
Should you be interested in a health check; the STAY, SCREEN & SHOP package brings together hotel stay, general basic screening at the medical centre, and shopping privileges at the mall. Room rates start from RM338.00 nett and this includes a 2D1N stay in a Superior room for two (2) persons, a minimum RM50.00 worth of shopping and dining cash vouchers, and a General Basic Screening at Sunway Medical Centre Velocity for one (1) person.
The General Basic Screening includes Weight, Height, Body Mass Index (BMI), Vision Test, Blood Pressure Screening, Resting ECG, Blood Investigation (which includes Full Blood Count, Erythrocyte Sedimentation Rate (ESR), Blood Grouping (ABO & Rh), Liver Function Profile, Kidney Function Profile, Lipid Profile, Venereal Disease Research, Laboratory (VDRL), Hepatitis B Screening, Thyroid Function Test (Free T3 and Free T4) and Thyroid Stimulating Hormone), Chest X-Ray and Urine FEME. Consultation, report review and complimentary refreshment will also be provided.
The STAY & SHOP and the STAY, SCREEN & SHOP packages are available for stays from 1st July 2020 to 31st December 2020. Booking can be made directly with the hotel at:
Website: https://www.sunwayhotels.com/sunway-velocity
WhatsApp (hotel): +6019 920 0745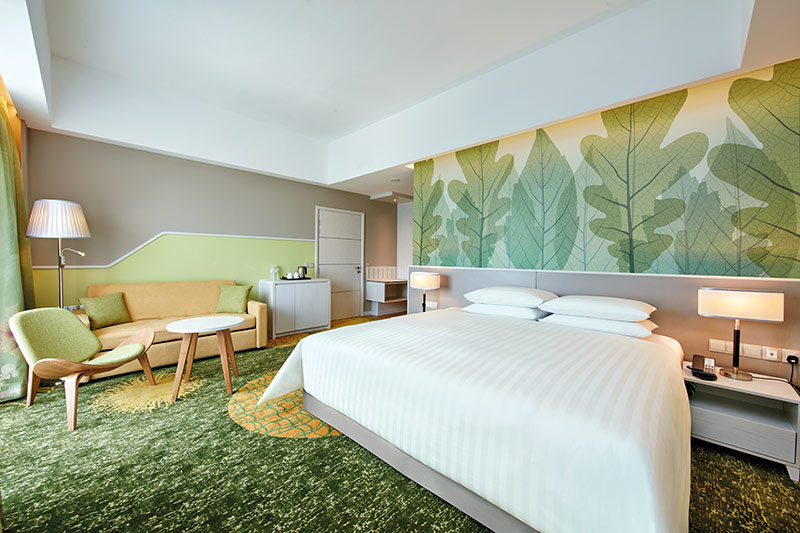 The Superior Premier King Room.
Other Room Offers
Should you be just interested in booking a room without shopping and / or a health screening, Sunway Velocity Hotel offers a special 50% OFF BEST AVAILABLE RATE (BAR) on all room categories; ranging from Superior, Superior Plus and Superior Premier with attractive rates starting from as low as RM150.00 nett per room per night (room only) for bookings made directly via the hotel's website.
Guests also get to enjoy benefits like complimentary Wi-Fi access, the flexibility of free cancellation with unlimited change of dates, and exclusive Book Direct & Save benefits. The special 50% Off BAR is available for booking and stays until 31 December 2020.
Street Food at the Sunway Velocity Mall.
Dining Options
Since 1st August 2020, Sunway Velocity Hotel introduced Kaffenaite Express; a "Grab & Go" counter located at the hotel's main lobby. The Kaffenaite Express opens daily from 6.30am to 9.00pm serving a range of light snacks and refreshments, most ideal for takeaways.
Should you prefer to dine outside the hotel, Sunway Velocity Hotel is directly connected to Sunway Velocity Mall via the Hotel's main lobby, and at level 5 that goes to the Sunway Velocity Mall's Commune Floor. The hotel's direct link to the Sunway Velocity Mall provides guests with access to over 500 retail stores, 160 food and beverage outlets, a host of entertainment centres and recreational facilities.
Just steps from the hotel and popularly known as Malaysia's very first "Hotpot Town" is Nanjing Street, Sunway Velocity's answer to a growing trend for authentic Chinese mala hotpots ("mala" translates to numbing spiciness), and specialty stores selling food, and imported goods from China, catering to the growing expatriate community in Kuala Lumpur. Located at Sunway Velocity's al fresco dining enclave at the V Boulevard (level 1), Nanjing Street features Kuala Lumpur's largest concentration of authentic China hotpot options with over 70 food and beverage outlets.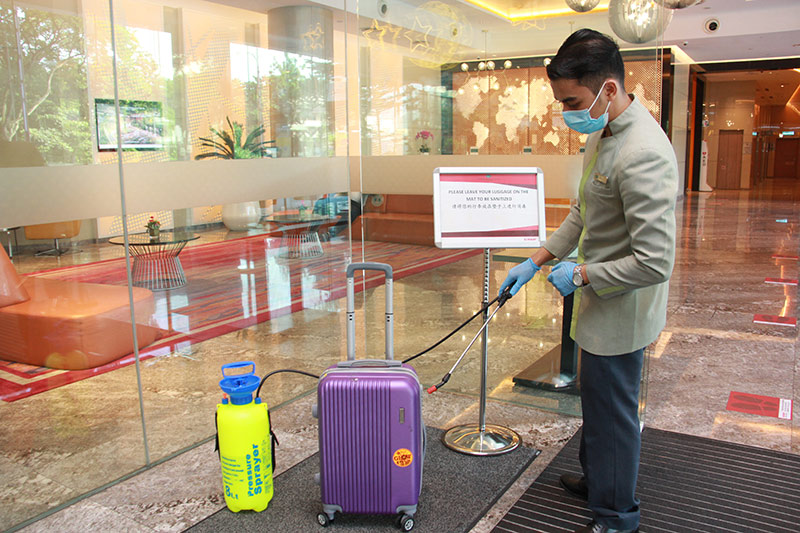 Sanitizing of bags is a must at the hotel.
Safety Concerns
With the pandemic looming Sunway Hotels (including Sunway Velocity Kuala Lumpur) has safety procedures put in place to ensure the safety and well-being of guests. This program is called the Sunway Safe Stay which incorporates five pillars of safety and hygiene measures with over 30 protocols of enhanced cleaning practices, assurance and well-being standards; providing every guest with a peace of mind whenever they choose to stay with Sunway Hotels including Sunway Velocity Hotel Kuala Lumpur.
Stay with a peace of mind.
Getting There Is Easy
The Sunway Velocity Hotel Kuala Lumpur is well connected to public transportations. The hotel is linked directly to the Light Rapid Transit (LRT), and two underground Mass Rapid Transit (MRT) stations; Maluri and Cochrane. Through the MRT, guests will have convenient access to areas like Tun Razak Exchange, Bukit Bintang shopping district, as well as other attractions nearby. For those arriving or heading to Kuala Lumpur International Airport (KLIA), the Express Rail Link (ERL) at KL Sentral is the fastest choice; all linked via the LRT / MRT stations.
Income Tax Relief For Travel
With interstate travel within Malaysia has allowed, all Malaysians will be able to take advantage of the personal income tax relief of up to RM1,000.00 on expenditure related to domestic tourism (i.e. domestic hotel accommodation); an initiative by the government to encourage Malaysians to travel domestically and to see more of the beauty and attractions that are available within Malaysia. The period for claiming income tax relief of RM1,000.00 incurred on domestic travelling expenses has been extended to 31 December 2021.
Also announced as part of the National Economic Recovery Plan by the Government of Malaysia in June 2020, service tax exemption on accommodation and related services has been extended to 30 June 2021. Hotel rates are now quoted nett in Ringgit Malaysia (RM) inclusive of 0% service tax. In addition to that, an exemption of Tourism Tax (TTx) will be given to all foreign tourists staying at any accommodation premises in Malaysia until 30 June 2021.
Book Yourself And Your Family A "Staycation"
Tel: +603 2726 3991 (Reservations)
Email: svkl.reservations@sunwayhotels.com
Website at https://www.sunwayhotels.com/sunway-velocity
For more information on the hotel's room offers, visit https://www.sunwayhotels.com/sunway-velocity/offers/room-offers
To learn more about Sunway Safe Stay, visit Sunway Hotels & Resorts' website at https://www.sunwayhotels.com/sunway-safe-stay
Additional Information
Sunway Velocity Hotel Kuala Lumpur
Lingkaran SV, Sunway Velocity, 55100 Kuala Lumpur, Malaysia 
Google Maps to Sunway Velocity Hotel Kuala Lumpur.
Do Not Miss Another Issue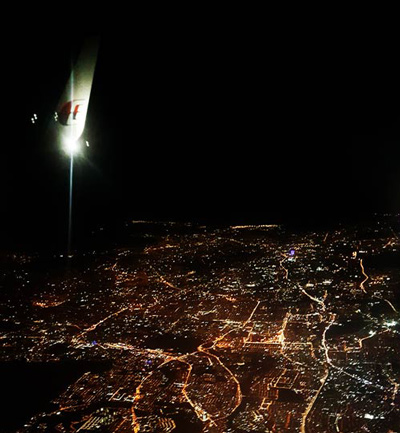 Should you have any enquiries do contact us please...