Selera Anggerik D'Nanding
There are quite a few Malay ethnicities here in Malaysia. One of them is the Minang or Minangkabau. The Minang first migrated to Malaysia many years ago from West Sumatra in Indonesia mainly to Negeri Sembilan on the west coast of Peninsular Malaysia. While most of them live in Negeri Sembilan there are many who live in other parts of Malaysia as well.
Recently on a trip called Eat, Travel, Write 8.0 – Will Travel For Food organized by Gaya Travel and the Selangor Economic Planning Unit (UPEN – Unit Perancang Ekonomi Selangor), we visited Hulu Langat; one of the districts in the state of Selangor. As the theme suggests, we were on a hunt for food, not just any food but those that are different and of course tasty. One of the food places we visited is Selera Anggerik D'Nanding.
Minang Food
Selera Anggerik D'Nanding serves Minang food. The restaurant is currently owned by Encik (Mr) Ali and was handed down to him from his father. In total, Selera Anggerik D'Nanding has been in operations for seven years (2013), starting at a different nearby location but moved to their current location recently due to some building works (water works) that will take up to ten months.
Here at Selera Anggerik D'Nanding, the owners do the cooking themselves and all dishes cooked are placed at a counter where diners can go pick their own favourites. The variety of dishes available is quite good too from various types of vegetable dishes to curry dishes, to fried meat, etc.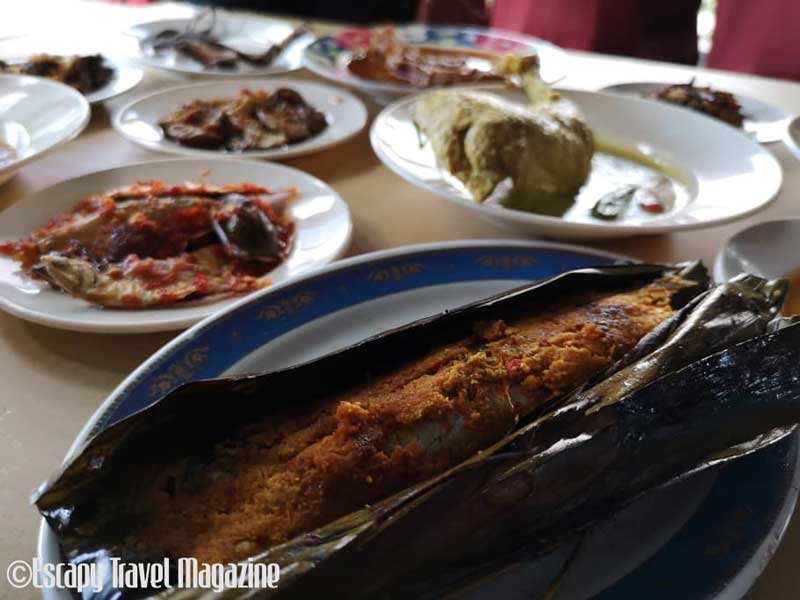 Ikan Pais; a fish dish cooked with herbs, coconut, and chili.
Highlights
Some of the highlights here at Selera Anggerik D'Nanding are fried eel, ikan pais (a fish dish), fried chicken, chili salted fish, four types of sambal (chili paste), etc. One of the good things that they do here is that they use little processed items. Even the coconut milk is squeezed by them instead of using those that come ready packed.
Fried Eel
Unlike the unagi served in Japanese restaurants; the eel used here are local species of eels that do not grow long. They grow to slightly below a foot in length. These eels are marinated and then deep fried. They emerge crunchy. They may look scary to some, but when eaten with sambal (chili paste) they are tasty.
Ikan Pais
Ikan is fish in the local Malay language. Ikan Pais is a dish where the fish is covered with various herbs and spices, and then wrapped in leaves (banana leaves). It is then steamed until cooked. This dish is bursting with flavours. They use kembung fish (Indian Mackerel) which is sweet when cooked and served fresh.
The fried chicken here is so tasty even the eel couldn't resist and just had to take a bite.
Chicken Dishes
Here at Selera Anggerik D'Nanding they do use ayam kampung (free range chicken). These chicken dishes include curry chicken, chicken cooked and coconut gravy, and fried chicken. I tried the fried chicken and I loved it. The fried chicken is tasty and crispy on the outside, and juicy on the inside. This is one of the must have dishes on my future visits to this place.
Some of the dishes available here.
Masak Jering Berlado
One of the more intriguing dishes (to me) is the Chili Jering Berlado. Jering (Archidendron pauciflorum) is a type of seed belonging to a tree in the pea family. The dish, Masak Jering Berlado is spicy and those that do not take chili well or cannot handle spiciness are recommended to prepare a glass of milk to quench the heat after taking a bite of this dish.
Avocado And Chocolate Drink
One thing not to miss here at Selera Anggerik D'Nanding is the avocado and chocolate drink. The avocado and chocolate drink is creamy, cooling, and tasty. The one thing I like about it is that it is refreshing and healthy (not too sweet). This is a good drink to end one's meal here with.
Delicious avocado with chocolate drink.
More Information
Selera Anggerik D'Nanding
Taman Desa Pelangi, 43200 Hulu Langat, Selangor
Note: This restaurant will move to a new place some time in 2020-2021.
Google Maps to Selera Anggerik D'Nanding.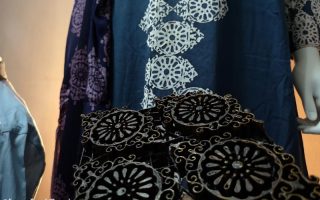 Hafiz Hassan specialises in block batik prints where he uses metal blocks of various designs to create beautiful batik designs for his clothing.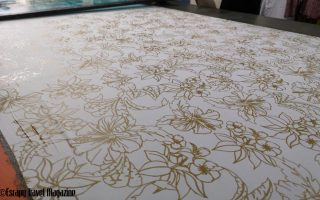 A new method if creating batik is the use of cold wax. This method is much faster removing the need to draw with hot wax or to use metal blocks to create prints on fabric.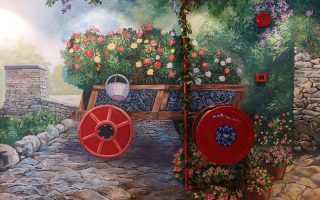 Hotel De Art will certainly appeal to those that love art. Unlike the usual hotels, Hotel De Art explodes with colours, pictures, and creatively designed interiors.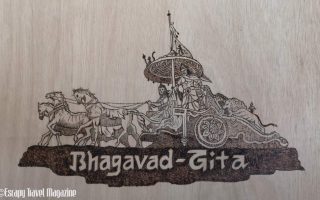 Pyrography is the use of heat to create art by burning wood using controlled heat. Heat and fire may not be what someone will associate with art, but the art created is beautiful.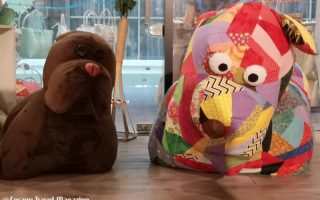 Sewing World Gallery has on display plenty of artwork by various people. These works of art include bags, quilts, furniture cover, stuffed toys, sofa, wall art, clothing, tools of the trade, etc.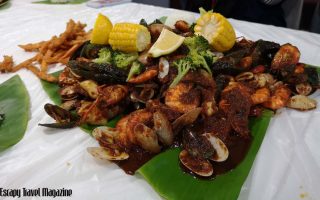 "Shell out" has been around for a couple of years here in Malaysia but it did not become mainstream like other more generic forms. Anyhow, shell Out By D'Klang Mix Seafood is pretty good.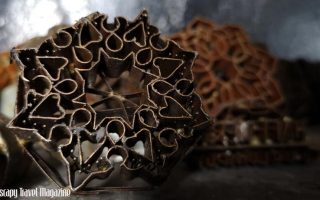 Click here to read more articles in this issue of Escapy Travel Magazine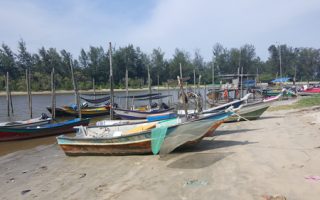 Return to the main page of Escapy Travel Magazine
Do Not Miss Another Issue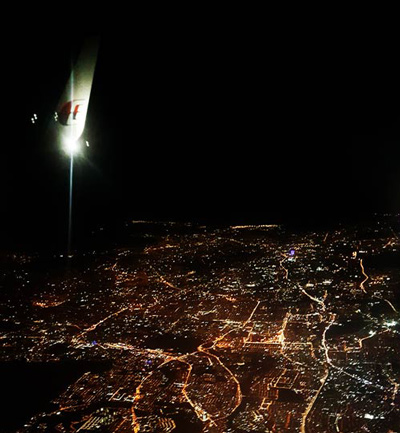 Should you have any enquiries do contact us please...