In Hulu Langat, Selangor lies a very nice looking wooden restaurants built on stilts with ponds all over the place giving it an illusion of a restaurant built on top of water. Some of the "rooms" have intricately carved wooden walls. The restaurant is rather big with various buildings being linked together by wooden walkways.
The Terra Pong Restaurant looks like it is built on water.
The layout of Terra Pong Restaurant is actually rather large; a large wooden structure perhaps one of the largest in its segment (restaurants). They serve seafood, Thai and local cuisine. What's more interesting is that they serve fish that are swimming from their tanks of which is claimed to be raised by them (the restaurant operator), feeding only on special pellets. They have a variety of fishes to choose from such as tilapia, river catfish, and mahseer.
River fishes in an aquarium.
During my visit I had the fried calamari, fried barramundi cooked "tiga rasa" (3 taste being sweet, salty, and spicy), seafood tom yam, butter prawns, fried omelette with onions, a chicken dish with herbs and spices cooked in soy sauce, Thai papaya salad, and fried vegetables.
Personally, I found the food served to be decent with three dishes standing out from the rest. I love the tom yam; a sweet, sour, and spicy Thai dish. The soup here is on the sweeter side and I personally prefer my tom yam to be on the sweeter side. For those who love spicy food the tom yam here is one to try.
Tasty tomyam that is more on the sweet side.
Another dish that I really liked is the fried calamari. The fried calamari is tasty being fried with a super tasty batter that is more on the salty side with a hint of sweetness. The fried calamari is crispy on the outside and tasty on the inside. The dish comes with chili sauce but I personally preferred it without.
The other dish that I enjoyed is the soy sauce chicken dish that is cooked with various spices. It is on the sweet and salty but on the sweeter side. The dish also has a burst of flavours from the herbs used. The gravy goes very well with rice.
Terra Pong Restaurant is a good place to go to should you be entertaining people, having family or company events such as lunch meetings or annual dinners etc. The ambience of the place is good and one can reserve a section that is more private or away from the crowd.
More Information
Restoran Terra Pong
Lot 679, Pekan Batu Lapan Belas, 43100 Hulu Langat, Selangor
Google Maps to Terra Pong Restaurant.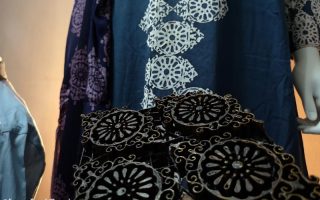 Hafiz Hassan specialises in block batik prints where he uses metal blocks of various designs to create beautiful batik designs for his clothing.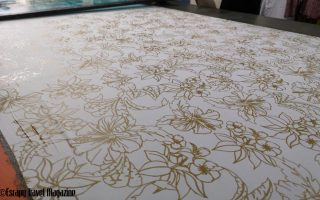 A new method if creating batik is the use of cold wax. This method is much faster removing the need to draw with hot wax or to use metal blocks to create prints on fabric.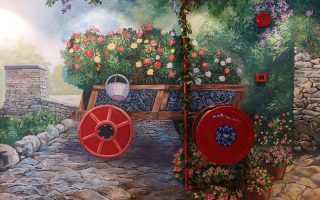 Hotel De Art will certainly appeal to those that love art. Unlike the usual hotels, Hotel De Art explodes with colours, pictures, and creatively designed interiors.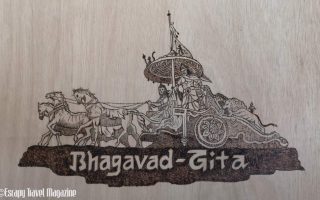 Pyrography is the use of heat to create art by burning wood using controlled heat. Heat and fire may not be what someone will associate with art, but the art created is beautiful.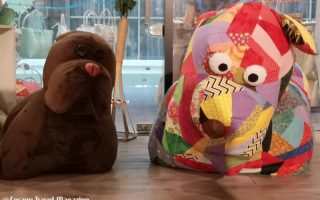 Sewing World Gallery has on display plenty of artwork by various people. These works of art include bags, quilts, furniture cover, stuffed toys, sofa, wall art, clothing, tools of the trade, etc.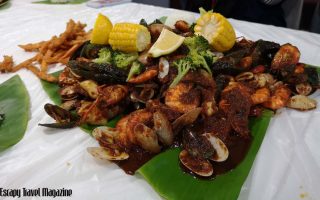 "Shell out" has been around for a couple of years here in Malaysia but it did not become mainstream like other more generic forms. Anyhow, shell Out By D'Klang Mix Seafood is pretty good.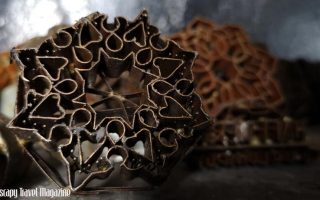 Click here to read more articles in this issue of Escapy Travel Magazine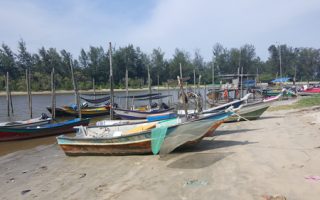 Return to the main page of Escapy Travel Magazine
Do Not Miss Another Issue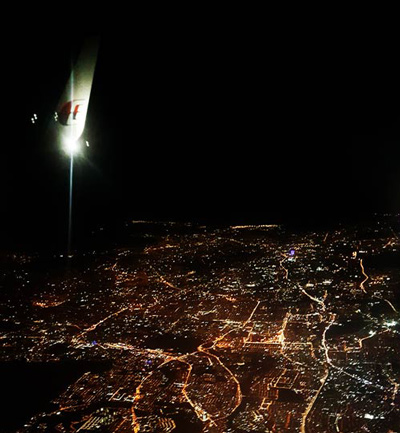 Should you have any enquiries do contact us please...