Pyrography Art: Art By Fire
Pyro comes from the Greek word "pyr" which means fire. Pyrography must then be the use of fire or heat to do something and in this case; art. Pyrography is the use of heat to create art by burning wood using controlled heat. Interesting isn't it? Pyrography is not something new nor is it a new form of art. It has been done by artist from ancient times in Egypt, China, Africa, etc. But here in Malaysia it is something new. To date there are very few known pyrography artist in Malaysia and one of them is Maznan bin Othman from Cheras, Selangor.
Artworks create using heat.
Recently we visited Maznan to learn a bit about pyrography and to see some of his works. Maznan has been an artist all his life. Since young he has been creating art with pencil, colours, and canvas. "I was born to be an artist," according to Maznan. After drawing and painting on canvas for so many years he started looking for new challenges. He discovered pyrography and decided to give it a try and he has stuck to it ever since.
Maznan and his portrait of Tun Mahathir, the current Prime Minister of Malaysia.
Being an artist with God given talents to draw freehand, creating masterpieces with heat was still a challenge but at least he already has the drawing part ingrained. All he needed to do was to learn and perfect the use and control of a heating element or pyrography tools. During our visit, Maznan was in the midst of drawing an art piece that was commissioned by one of his clients. He did so with the use of a soldering iron expertly creating darken tones on a piece of wood using only the heat from the soldering iron and timing.
Maznan at work creating another masterpiece.
Looking at some of his artwork, one would think that Maznan has been doing this for years. But in reality, Maznan has only recently stepped into the world of pyrography. Well, not too recent; slightly over a year ago. Slightly over a year ago is still considered recent considering that he has been involved in art for over 40 years. His artwork is amazing. The attention to detail is amazing and he brings a certain form of life into his art pieces.
Malaysia is certainly a land with plenty of creative artists and Maznan is certainly a gifted one in a unique space of a very few. Should you be interested in his artwork or would like to commission him to create a piece for you, you can certainly do so. He charges based on the size of the work as well as the difficulty or complexity of the work needed.
More lovely artwork by Maznan: Left – Bruce Lee, Middle – Guru Nanak, Right – Islamic art.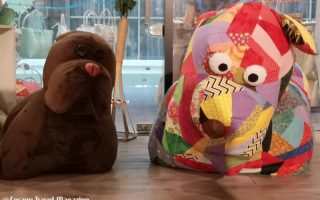 Sewing World Gallery has on display plenty of artwork by various people. These works of art include bags, quilts, furniture cover, stuffed toys, sofa, wall art, clothing, tools of the trade, etc.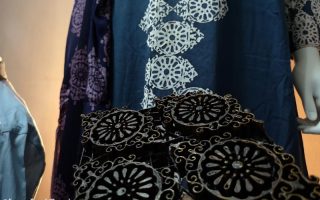 Hafiz Hassan specialises in block batik prints where he uses metal blocks of various designs to create beautiful batik designs for his clothing.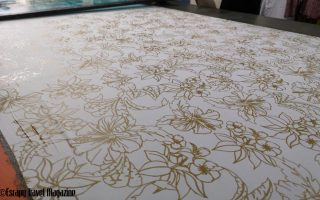 A new method if creating batik is the use of cold wax. This method is much faster removing the need to draw with hot wax or to use metal blocks to create prints on fabric.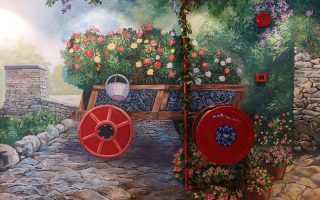 Hotel De Art will certainly appeal to those that love art. Unlike the usual hotels, Hotel De Art explodes with colours, pictures, and creatively designed interiors.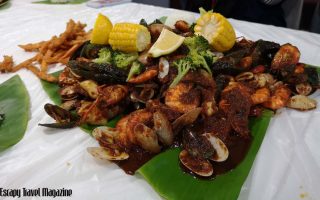 "Shell out" has been around for a couple of years here in Malaysia but it did not become mainstream like other more generic forms. Anyhow, shell Out By D'Klang Mix Seafood is pretty good.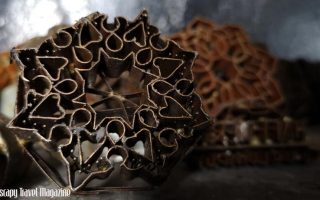 Click here to read more articles in this issue of Escapy Travel Magazine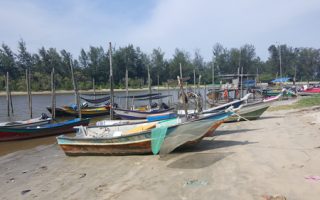 Return to the main page of Escapy Travel Magazine
Do Not Miss Another Issue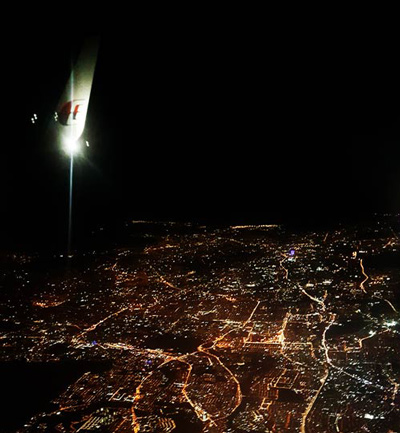 Should you have any enquiries do contact us please...