Themed hotels are fun places to stay at. They make for an interesting stay especially when the hotel has various themes. Hotel De Art is certainly a boutique hotel chain with very interesting themes and artwork. Hotel De Art will certainly appeal to those that love art. Unlike the usual hotels, Hotel De Art explodes with colours, pictures, and creatively designed interiors.
I stayed at Hotel De Art Subang Jaya, Selangor, about 40 minutes drive from Kuala Lumpur International Airport and some 30 minutes drive from Kuala Lumpur. Even before walking through the white front doors of the hotel, I knew that I will be in for a treat. The facade of the hotel is so colourful, covered with flowers on a dark blue background. A family of green sheep (no idea why they were coloured green) that looked like those in Shawn The Sheep or Timmy Time (cartoons) greeted me as I walked towards the doors.
Sheeps greeting visitors at the hotel.
Inside is even more impressive with art painted walls of various outdoor scenes. There is a tree with a hanging nest kind of a chair that stands in the middle of the meadow… I meant lobby. There is even a fire place with fire burning to keep the inside warm as it was a cold snowy winters day… No it wasn't. Malaysia is hot 365 days yearly including the 1 additional day on leap years. It does get cooler when the cool winds blow our way from China but then again, not cool enough to warrant the use of a fire place. Other than that it is sun and rain. Anyhow, the fire place added some character to the place and it is nice.    
The fire place in the lobby with "burning fire."
The loveliness carries on all the way to the rooms. I stayed in a queen deluxe room. It had flowers drawn (painted) over a black background covering an entire wall where the "royal" headboard of the bed leans on. The bed and the side table look good with a design of grandeur as if having been carved out of a giant pearl (the bed headboard). That could be because it is painted in pearl white which is slightly off white giving it that lovely look. The table and chair looked good although they do not flow with the theme of the room.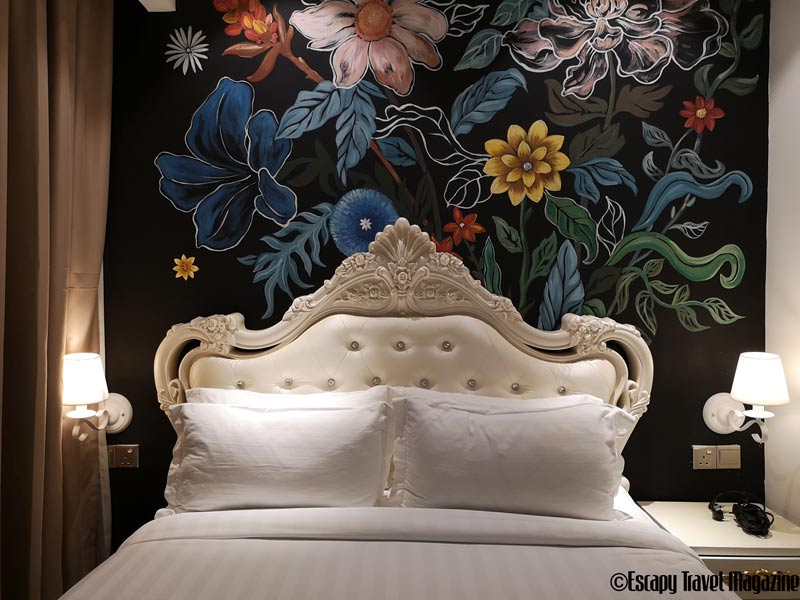 Another plus are the plug points in the room. There are plenty of plug points and they are placed in strategic places. There is a plug point on the wall where the writing table is at and it is not used by the television (as is done in some hotels). The tele has its own plug point. There is one plug point on right as well as on the left side of the bed which is really very clever. Many people like to have their digital devices by their sides all the time and having these plug points here is simply great. I for one use a machine to help me sleep and having a plug point by the side of the bed is exactly what I need. Oh, before I forget. The rooms have names depending on the artwork. They are:
Where Have All The Flowers Gone? (The room I stayed in)  – 1 queen bed
Bed Of Roses – family room with 2 queen beds
Serene – 2 single beds
The Tree Of Life – 2 single beds
The Scottish Highlands – 1 queen bed
The English Cottage – 1 queen bed
Basket Of Daisies – 1 queen bed
Black And White – 1 queen bed
*Note that some rooms do not have windows.
All rooms come with air-conditioning, hot water shower, electric kettle, television, and free high speed WIFI.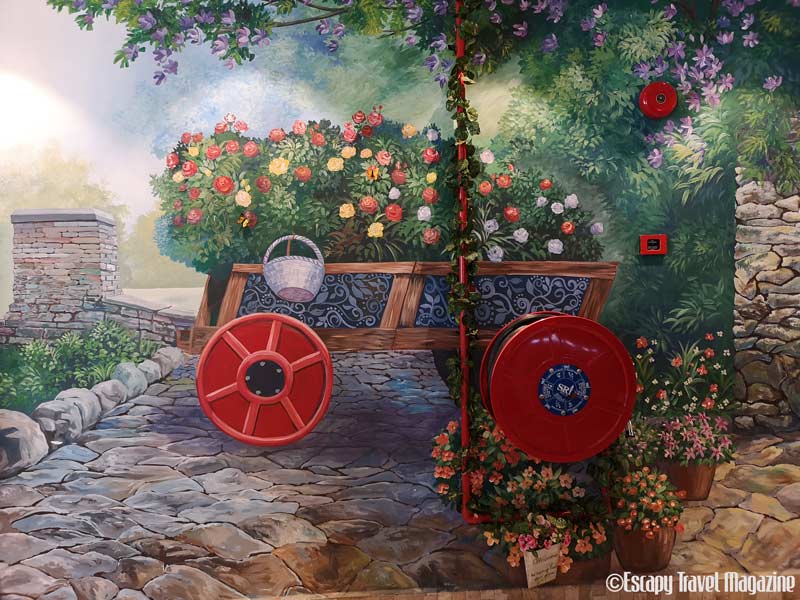 A cart in the lobby disguises a fire hose roller as a wheel.
There are no restaurants or cafes at the hotel but there is a place at the ground floor where one can make a hot cup of coffee, prepare cup noodles, etc. There is a hot and cold water dispenser here. Anyway, one can simply walk to the restaurants that are only a few minutes' walk from the hotel. There even is a mall nearby. Main Place Mall, a neighbourhood mall is about 5 minutes walk away from the hotel. There are plenty of food to eat there. There's Mc Donald's, Starbucks, and a host of other types of food from local delights to Japanese food.    
Artsy chairs at the elevator area.
Another plus is that Hotel De Art has facilities for the less-abled. There are parking spaces for the less-abled that are located in front of the hotel. There are rams in place that allows wheelchairs to be pushed from the car right into the room. There is a small ram in the room (room with facilities for the less-abled) that allows for easy access into the bathroom and toilet. The hotel also has a toilet for the less-abled at its lobby. 
Facilities for the less-abled are available.
I personally am impressed by Hotel De Art. It is a boutique hotel with a warm and cosy atmosphere that is very affordable and conveniently located. About 10 to 15 minutes walk from the hotel is the USJ 21 LRT station. From here one can get to so many places from airports to down town Kuala Lumpur, and many more.
This Hotel De Art in USJ 21, Subang Jaya is one of five Hotel De Art branches. The other four branches are in Shah Alam (accurate as at time of writing). I have also been to the one in I-City Shah Alam that is said to be the main one (HQ). And if you think that this one here in USJ 21 is interesting, the one in I-City Shah Alam will blow your mind. Well, more on that in another article.
Google Maps to Hotel De Art Subang Jaya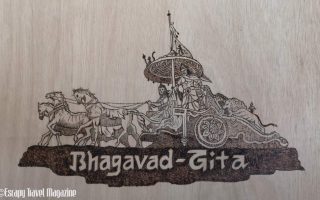 Pyrography is the use of heat to create art by burning wood using controlled heat. Heat and fire may not be what someone will associate with art, but the art created is beautiful.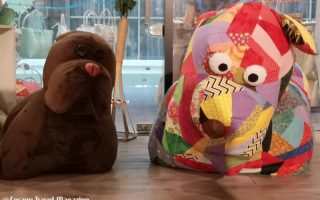 Sewing World Gallery has on display plenty of artwork by various people. These works of art include bags, quilts, furniture cover, stuffed toys, sofa, wall art, clothing, tools of the trade, etc.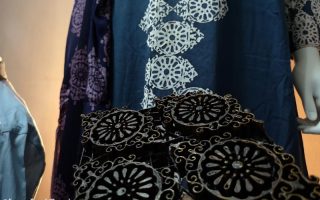 Hafiz Hassan specialises in block batik prints where he uses metal blocks of various designs to create beautiful batik designs for his clothing.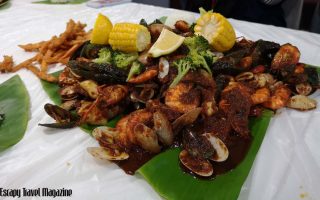 "Shell out" has been around for a couple of years here in Malaysia but it did not become mainstream like other more generic forms. Anyhow, shell Out By D'Klang Mix Seafood is pretty good.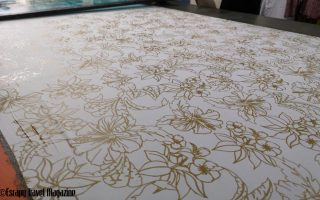 A new method if creating batik is the use of cold wax. This method is much faster removing the need to draw with hot wax or to use metal blocks to create prints on fabric.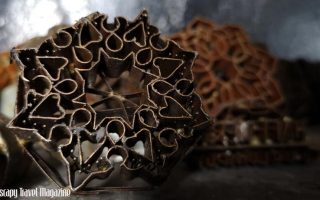 Click here to read more articles in this issue of Escapy Travel Magazine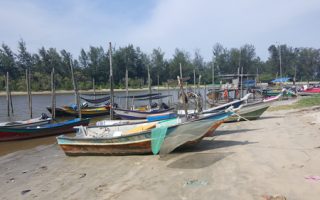 Return to the main page of Escapy Travel Magazine
Do Not Miss Another Issue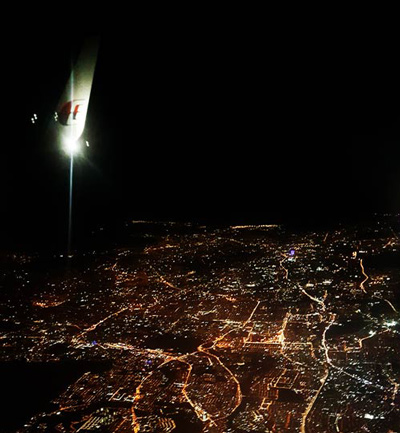 Should you have any enquiries do contact us please...