Every now and then it is nice and wise to get away from the madness of city living. It certainly is needed as it is good for one's health. Some call it taking a break. Here as Escapy Travel we call it Escaping life. Look at it this way. We spend lots of time running the rat race to put food on the table and have money to do some of the things we want to do and buy some of the things we want to buy. It is also a commitment to the people who pay our salaries to get the job done. But too much of it is bad and we need to escape life and relax for a while. So my fellow Escapist, here is a place not far away from Kuala Lumpur city that you can escape to and get a dose of nature; the Eco Murai Rimba in Batang Kali, Hulu Selangor. The area is named Kawasan Rekreasi Air Terjun Sungai Pinang (Pinang Falls Recreation Area).
The entrance to Eco Murai Rimba.
Sitting at the side of Sungai Batang Kali (Batang Kali River) is a quaint little place with beautiful little chalets to stay at. The chalets are basic with a mattress, fan, and lights. There is no need for air-conditioning as the place is cooling but gets really cold at night. I am not sure if the weather is cool throughout the year or only during the rainy season. As for toilets and bathrooms there are a few common toilets and bathrooms to be shared by guests staying here. But these are only chalets to rest one's head on. The fun is actually at the river below.
Colourful chalets at Eco Murai Rimba.
With the beautiful river providing for a relaxing and calming atmosphere, Eco Murai Rimba has a relaxation area; a patio that is built outwards bringing guests nearer to the river. One is surrounded by trees and get to relax with the sound of the flowing river below. Those who enjoy reading will find this patio a lovely place to sit back and be magically transported into the book or books that one is reading. I love this area.
The chalets at night. The garden area is where we had our dinner.
Batang Kali River
Batang Kali River is a jungle river that flows all the way down to the Selangor River. It's cool waters with large shallow stretches makes it an ideal place to relax at and have some fun. The trees along its banks provide ample shade to those enjoying the river. The fast flowing waters at certain sections creates coolness in the atmosphere and Eco Murai Rimba enjoys some of this natural freshness. Some say that the river generates a lot of negative ions which is good for the body. I do not know how that works but what I can say is that the place is refreshing perhaps because of the river. Maybe the river and tree provides lots of oxygen and coolness thus refreshing the body.
The lovely and beautiful Batang Kali River. The building on the left is another chalet by a different operator.
The Batang Kali River has good amounts of flora and fauna should you be interested to do some exploring. Personally, I saw shrimps, fishes, various insects, and this large frog that leaped into the river as I approached it. With fish swimming about, it is also a nice place to do some recreational fishing. But do remember to practise conservation by releasing your catch to sustain fish stocks that are dwindling in our river. Catch, photograph, and release is the new cool thing to do.
A deck built towards the river. This place is nice to sit back and relax at.
Batang Kali River is ideal for families but do note that the river has certain deep sections with fast flowing currents. It is best to pay attention to the safety of children as they could very easily be swept away by the fast currents. My advice is to look for a spot that has mainly shallow areas to go play at especially when you have younger children with you.
Steps that lead down to the river.
Should you decided to visit Eco Murai Rimba, take note that you will have to bring your own toiletries and towels as they are not provided. What's available is a kitchen to make coffee and tea. I did not see any stove to cook on and as such I am not sure if cooking is allowed. Anyway, food can be arranged by the operators of the place.
Looking into the chalets from outside.
Things To Bring
Towels
Wet clothing
Torchlights (should you decide to go to the river at night)
Camera
Rubber shoes or outdoor sandals
Toiletries
Very basic. A mattress, fan, and lights; all that one needs and nothing more.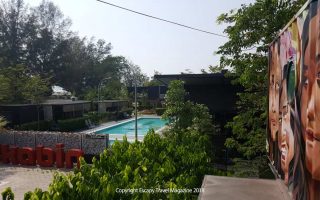 Old discarded shipping containers never looked better. The Kabin is a resort made of shipping containers and they look really good. Click to learn more.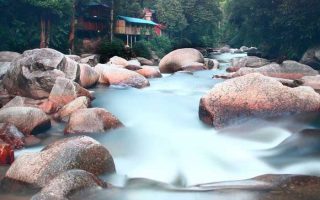 Click here to read more articles in this issue of Escapy Travel Magazine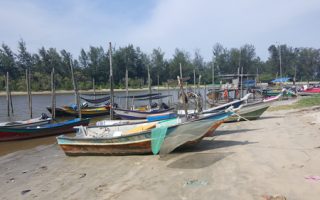 Return to the main page of Escapy Travel Magazine
Do Not Miss Another Issue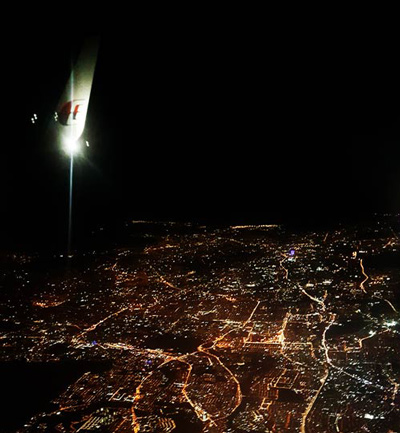 Should you have any enquiries do contact us please...