Ever wanted to stay in a hotel or a resort that is completely out of the norm? Brick and mortar buildings, as well as wood; have been the norm of hotels and resorts for many years. Not long ago we started seeing a hotels and resorts being made of other things such as unsued cargo containers repurposed into hotel rooms or chalets. The Kabin in Kuala Selangor is one such place.
The Kabin in Kuala Selangor is one of the better places to stay at in the area.
Out Of The Norm
Although using shipping containers as rooms for people to sleep in is nothing new, it is not often that hotels, resorts, or even inns use them. The first one stayed in was at a place in Perak where I used to go fishing at. That place reminded me of scenes from old war movies. The container rooms were creaky and rusty. It got freaking hot in the afternoon. There was no insulation.
The Kabin is very different. Their shipping container rooms are well built, well insulated, and looks really nice. When it comes to making shipping containers look good and stylish; The Kabin has certainly succeeded.
Shipping containers re-purposed into rooms. 
Shipping container themed resort; all rooms are given names of shipping ports around the world.
Good Sense
Building hotels and resorts is not a cheap endeavor, but using refurbished shipping containers certainly brings the cost down. There is more. It make sense too. Think about the environment. What happens to old shipping containers? They get discarded, left to rot somewhere not seen by many. Refurbishing and re-purposing them is one way that is both good for business and for the environment. The Kabin has done just so creating a lovely, artsy, looking abode for travelers who want to experience a different type of accommodation.
Nice designs and arrangements of containers gives the place a western outback feel.
Good Looking
The Kabin does look good. While shipping containers may not look all that big on the outside, I was surprised to see that the container or "Kabin" assigned to me, actually fits four persons comfortably. Yes, the walking spaces may not be all that big but overall it is very comfortable. There are four very comfortable single beds, shelves, drawers, television with cable, etc. Oh yes, there is also a built-in bathroom and toilet. My favourite thing is the air-conditioning. It is so cold I managed to simulate winter minus the snow.
Note: do check their website for cabin configurations.
My room at The Kabin. Sleeps four comfortably. The place does not feel tight or small. It is quite comfortable actually.
Swimming Pool
The Kabin has a swimming pool… two swimming pools in fact. One for adults and a wading pool for children. These swimming pool are lovely places to relax especially when the sun is hot. The adult pool may not be an Olympic size pool but is certainly is big enough to do a few good laps. But what's more important is the fun that can be had in them. Do note however that there are no lifeguards on duty. So swim and enjoy with care.
The swimming pool at The Kabin.
The swimming pool, a good respite from the afternoon sun.
Riding Fun

For those who want to do some exploration there are electric bikes, bicycles, and All Terrain Vehicles or ATVs for rent. I had a go on the electric bicycle that looked something like a kiddy Harley Davidson minus the engine, exhausts pipes, etc. and it was fun. The "born to ride" rebel feel without the rebel image. But even more fun is the ATV. I had a go on it around the grounds of the resort and going outside to the dirt a little but unfortunately I did not ride it to the beach due to time. That is where the full on fun can be had. On my next visit I will surely do so.
Riding on the electric bike is fun. 
Riding the ATV is fun. I only wish I had more time to take it to the beach for a spin.
Other Activities
For "song birds" The Kabin has a karaoke room that will allow singers, those who can and those who think that they can, to exercise their vocal "muscles." But should you not be the singing type and prefer something quieter or a few decibels lower, there is foosball, board games, card games, etc. Children can slide about and have fun at the children's playground.
The Karaoke room at The Kabin Kuala Selangor.
Not into singing? Perhaps a little fun at the foosball table.
Food Wise
The Kabin does serve some really delicious local delights. During my stay there I got to enjoy some of the best Lontong, a delicious local dish cooked with spices, coconut milk, etc. that gives it that superb fragrance. Adding squid sambal (squid cooked in chilli paste) gives it that extra explosiveness that awakens every lazy taste bud in my mouth. To stop indulging took a lot of effort. 
Breakfast at The Kabin consists of delicious local foods as well as the normal toast and bread, fruits, etc. that are available in most hotels and resorts.
Delicious lontong with sambal sotong. 
The Kabin does have a cafe too where one can sit back with a book and enjoy ice cream, cold drinks, coffee and tea, etc. If you're visiting in a group, Barbeque can also be arranged with advanced notice. But of course if you prefer to try out the local food apart from those served at the resort, there are places to eat nearby should but you will have to drive there.
The cafe is a relaxing place to sit down with a book.
Book A Stay?
Should you be visiting Kuala Selangor and prefer to stay in a unique place, The Kabin certainly is a place to consider. As for anglers, there is a beach (Remis Beach) that is walking distance from The Kabin. This beach is also a good place to take sunset shots. Unfortunately, it is not a good beach to swim at.
Attractions around the area are Melawati Hill (historical fort), fire fly watching, eagle watching, photography, a visit to Sky Mirror, etc.
The setting sun turned the beach golden brown. A bird searches for food during the sunset.
The setting sun shot from within our bus. We ran to the beach as fast as we could but by then the sun dove below the horizon.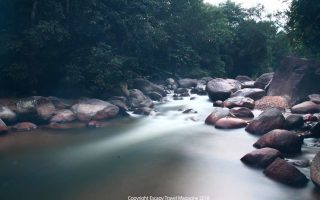 Staying with nature is fun and educational. Eco Murai Rimba is a nature "resort" that is right next to a cool river. Anglers take note.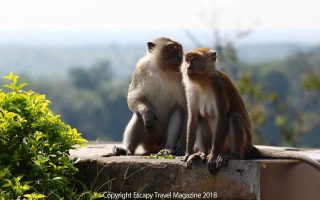 Selangor is a large state with many places to visit. Let us go off the beaten track and see what Selangor has to offer.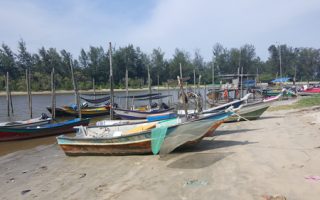 Return to the main page of Escapy Travel Magazine
Do Not Miss Another Issue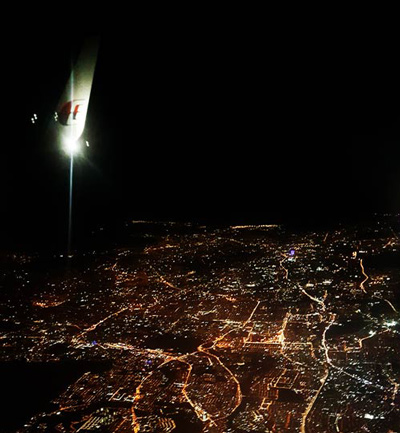 Should you have any enquiries do contact us please...