Bikers or bikies depending on the part of the world you are from, more often than not are seen as a dark force to be feared especially those that ride Harley Davidson motorcycles. The funny thing is that those who ride big Japanese bikes like Yamaha, Honda, Kawasaki, etc. are seen in a different sort of light; bright like the sun in summer. European bikers like those on BMWs and Ducatis too managed to stay out of that dark force.  Personally, I have always been drawn to the dark side be it Star Wars, cameras (some may know what I mean), and bikes. But are Harley Davidson riders really all that bad?
The Kingz MG (Motorcycle Group) group photo at KL Tower before taking on the road.
Recently, I went on a road trip with Kingz MG (short for Motorcycle Group), a Harley Davidson motorcycle owners club that started in Malaysia and have since grown into Singapore. This is my second road trip with them. This year's Kingz Annual Ride (KAR) is jointly organised together with Gaya Travel, and Tourism Terengganu (Beautiful Terengganu), and is called Eat, Travel, Ride International 2.0; starting in Kuala Lumpur to Pahang, on to Terengganu, and returning to Kuala Lumpur.
The Kingz's are very organized and professional on the road. They do their best to ensure the safety of their riders as well as other road users. They have got their own marshals who work closely with our police escorts to ensure no unforeseen incidents happen as our trip is a pretty long one with lots of time spent on the road.
KL Tower at the wee hours of the morning.
Meet And Greet
We met at the iconic KL Tower in Kuala Lumpur at about 7am. Breakfast and a briefing was done to let everyone know what the rules are, formation on the road to follow, various stops of the day, etc. After a short prayer, all riders got on their bikes and organized themselves into the formation that was mentioned during the briefing.
The formation is quite simple actually. Sportsters of which are the smaller, lighter, and more nimble bikes; at the front. Behind them (about 10 metres gap) are the baggers or the big and longer bikes. Right up front are our police escorts. Right and left are the marshals.
Google Maps to KL Tower, Kuala Lumpur.
Our police escorts taking position just before the flag off.
The Ride Begins
From KL Tower we thundered to the National Museum in Kuala Lumpur for a short photo session. This must be a sight to  behold especially for the guards Manning the parking area of the museum. All of a sudden this parking area was swarmed by 150 thundering Harley Davidson motorcycles. They (museum staffs) quickly helped get us organized for a photo session.
From here we headed towards Harley Davidson Motorcycles Petaling Jaya and The Gasket Alley in Petaling Jaya, Selangor for a courtesy visit.
A short stop at the National Museum.
Riding The Snake
The convoy of loud thundering bikes then headed towards Kuantan via the Karak Highway and then on to the East Coast Expressway. Karak Highway is one highway that is liked by bikers and motor heads (those that take their fun cars out for a spin during their free time). I believe that this is due to its curvy character thus why I call it the "snake." Anyway, the convoy of Harleys thundered through this snake of a highway before taming the straighter and less interesting East Coast Expressway.
Thundering on the snakey Karak Highway.
Second Stop, Cherating
Cherating is a coastal town in the state of Pahang. It is well known for its long golden sandy beaches and bays. During the east coast monsoon, Cherating turns into a surfer's paradise where surfers bring out their surfboards that have been hybernating for about 9 months at a corner somewhere, and congregate at one of the beaches here. As the monsoon is near but not quite here yet, our second stop was the Suria Resort Cherating; a resort that is located right at Cherating Beach.
Beach in Cherating (shot during an earlier trip).
Straight To Kuala Terengganu
From Cherating we headed straight to Hotel Seri Malaysia in Kuala Terengganu, Terengganu. This is where we stayed during our road trip.
The Hotel Seri Malaysia is located right at the exit of Kampung Tiong (Chinatown). It is also not far from the town centre. Other famous places nearby include a Buddhist temple that is said to be the oldest one here, a well known market called Pasar Payang, and Shah Bandar Jetty where Island lovers take ferries to Redang Island.
Google Maps to Hotel Seri Malaysia Kuala Terengganu.
The arch at Chinatown Kuala Terengganu that is right outside Hotel Seri Malaysia.
Day 2
Day 2 we met up with more Harley owners from Iron Head Motorcycle Group and HOG (Harley Owners Group) Terengganu. We thundered our way to Crystal Mosque, perhaps the most famous mosque in Kuala Terengganu. Crystal Mosque was built in 2008 at the Taman Tamadun Islam or the Islamic Heritage Park. It sits on an island called Wan Man Island. Should you decided to photograph this mosque, I recommend shooting it from the river. The Crystal Mosque sparkles as it reflects the sun's rays earning it it's name.
Google Maps to Crystal Mosque at the Islamic Heritage Park, Kuala Terengganu.
The Crystal Mosque is a must visit especially if you like photographing architecture.
Kingzmen group photo session at the Crystal Mosque.
After a photo session we headed to Pantai Penarik, one of the more beautiful beaches in Terengganu. Here we visited one very impressive place called Terrapuri Heritage Village. Terrapuri Heritage Village is a collection of old houses and palaces, a collection by a private owner who wants to keep the heritage of Terengganu alive. Here had enjoyed a simple but delicious meal and learn a bit about the old buildings.
Note: find out more about Terrapuri Heritage Village by clicking the link below.
Google Maps to Terrapuri Heritage Village in Terengganu.
The marvelous Terrapuri Heritage Village.
From here we headed back to Kuala Terengganu where we visited an orphanage called Taman Sinar Harapan. While bikers generally look menacing especially with leather vests on featuring club decals; here the menacing looks melted away and soon the children were having fun with us. Rides were given to the children who wanted to ride on these wild machines. The faces of the children were brighter than the sun. A collection was also done. Over RM5,000.00 was collected and donated to the orphanage.
Giving one of the children a ride on a Harley Davidson around the grounds of the orphanage. 
Kingz MG Annual Dinner
Back at the hotel, Kingz MG held their annual dinner and when the Kingz party, they really party. They brought their own rock band. The Kingz MG is made up of people from all walks of life including radio DJ and TV personality DJ Ninie who was the MC for the night. After the welcoming ceremony of new members from Malaysia and Singapore, guest artiste rocker Aweera belted out some of his songs rocking the night away. The night went on with best dressed contests, lucky draws, etc.
When you cannot get front row seats to Aweera's concert, you get him to perform at your party. Aweera rocking the night away.
Rocker Aweera; guest artiste for the night.
Day 3 – Heading Back
Day 3 is the day we return to Kuala Lumpur. We checked out early in the morning and off we went on our way for the long ride back. We stopped at a beach for a tea break and bid farewell to bikers from Iron Head MG and HOG Terengganu.
After the customary group photography session we went on our way to Temerloh, a town famous for a type of fish called ikan patin or patin fish. Patin is a type of freshwater catfish that is found in rivers around Malaysia as well as other countries in Asia. It is so famous here in Temerloh that Temerloh is called "Temerloh Bandar Ikan Patin" or "Temerloh, City of Patin fish." We stopped at a floating restaurant called D'Mukmin Floating Restaurant for late lunch. Read more about D'Mukmin Floating Restaurant by clicking the link below.
Google Maps to D'Mukmin Floating Restaurant, Temerloh, Pahang.
D'Mukmin Floating Restaurant in Temerloh.
We then continued our journey back to KL for dinner at Craven Cafe, a cafe that belongs to a member of Kingz MG; before bidding farewell to the group.
Google Maps to Craven Cafe.
A Harley Davidson Sportster. Photo credit: Emily Lowe of Emily2U.com 
The Kingz MG is a motorcycle group made up of Harley Davidson owners from all walks of life. There are business people, engineers, doctors, and other professionals. They certainly are a fun group and during our three days trip; there was a lot of fun and laughter as well as joyous camaraderie.
Kingz MG, Ride And Respect, To The Bone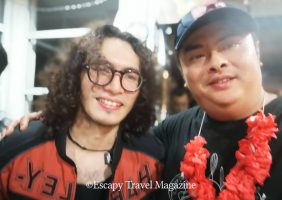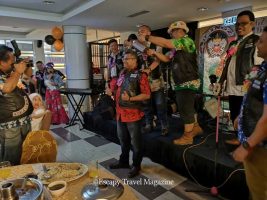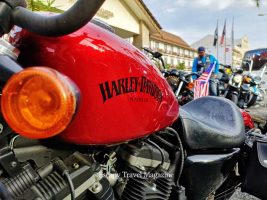 Click below to read other articles.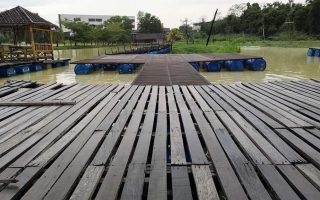 The ikan patin or patin fish is a famous fish in Temerloh. One of the places to savour this fish is at D'Mukmin Floating Restaurant.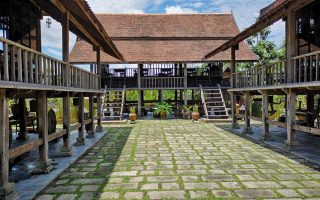 Terrapuri Heritage Village is a resort in the state of Terengganu that is by the beautiful Penarik beach. It is one of the must visit places in Terengganu,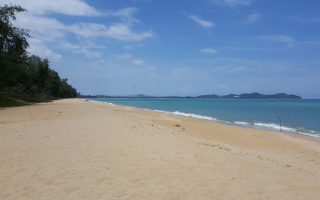 Click here to read more articles in this issue of Escapy Travel Magazine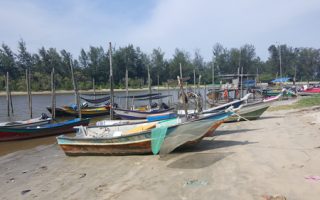 Return to the main page of Escapy Travel Magazine
Do Not Miss Another Issue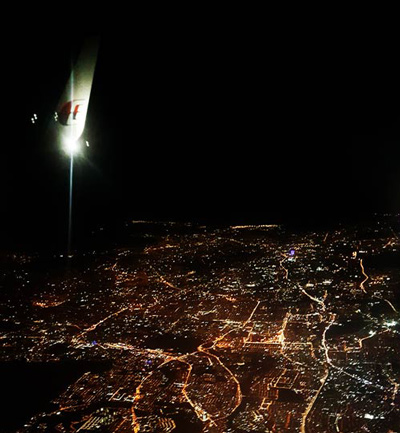 Should you have any enquiries do contact us please...