What Hotels Are Doing to Ensure Guests Of A Safe And Enjoyable  Stay
The Danna Langkawi Resort, Malaysia
A Little Information On The Danna Langkawi Resort
The Danna Langkawi is a 5-star luxury hotel built with Colonial-Mediterranean inspired architecture. Located just 15 minutes from Langkawi International Airport, it has its own secluded stretch of beach and is close to attractions like the Langkawi Cable Car and Sky Bridge.
The resort's spacious 135 rooms, suites and villas start from 60sqm to 1,080sqm.  All rooms come with balconies attached with different views be it the sea, marina bay, lush hills or courtyard. Facilities include a three-tiered infinity pool, the island's largest, a fitness centre, The Danna Spa and Kids Club. The luxury beachfront villas have its own infinity pool, direct access to the beach and villa host services. Dining options include breakfast at Planter's, Italian at the Terrace and a well-stocked gin bar at Verandah Lounge.
The Danna Langkawi is the multiple award winner of TripAdvisor Travellers Choice. It was named the No. 1 Luxury Hotel in Malaysia for 4 consecutive years since 2015.
Interview Between Escapy Travel Magazine (ETM) & Aamir Khan, General Manager of The Danna Langkawi Resort, Malaysia
Date (or target date) resort restarts operations: 1st June 2020
ETM: What safety measures have been put in place to ensure staffs (team members), third party suppliers, etc. are healthy or virus free (since members of staffs as well as suppliers will inevitably meet at one point in time or another and could spread the virus)?
Aamir Khan: Safety measures to ensure staffs & third party suppliers are virus free…..
Code of Conduct for Suppliers
All suppliers must wear all protective gears like mask and gloves before being allowed into hotel.
No cash transaction shall take place with vendors and only use e-money modes.
Social distancing and queue system shall be strictly imposed on suppliers.
We ensure workplaces are clean and hygienic to prevent cross contamination
Safety officer will conduct checks to ensure surfaces (e.g. desks and tables) and objects (e.g. telephones, keyboards) are wiped with disinfectant regularly.
We promote regular and thorough hand-washing by employees & suppliers
Sanitizing hand rub dispensers are available in prominent places around the workplace.
Posters promoting hand-washing are notably displayed.
Briefings by security officers to suppliers to promote hand-washing and physical distancing when suppliers are collecting their visit pass at security control room.
Briefings by Heads of Department to employees to promote hand-washing and physical distancing when employees attend their daily briefing.
We ensure staff and suppliers are briefed on access to places where they can wash their hands with soap and water.
We promote good respiratory hygiene in the workplace
Display posters promoting respiratory hygiene.
Employees and suppliers will be required to wear mask and gloves in hotel premise.
Face masks and paper tissues are readily available at the workplaces along with closed bins to hygienically dispose of them.
Security procedures at entry gates
Compulsory screening of all employees or supplier entering through security gate with hand- held infrared digital thermometers. Stoppage of any employees or supplier found with fever and cough with breathing problem from entering hotel.
Hand sanitizers shall be kept ready in the entrances. Employees and suppliers shall sanitize their hands before being allowed in the hotel.
All suppliers must wear all protective gears like Mask and Gloves
Any parcel /courier person would be stopped at gate. Parcels will be stored in designated storage area for 1 day before handover to guest / employees.
ETM: What safety measures have been put in place for guests to ensure their safety in areas where there usually are crowds such as the lobby, F&B outlets, entertainment areas, activity areas (gym, sauna, pool, games room, etc.), etc?
Aamir Khan:  In all areas, we do provide medical masks and gloves for our guests upon request, subject to availability.
Crowd Safety Measures – Lobby
Restructure stanchions to provide appropriate six-foot intervals.
Staff in every other workstation.
Lobby greeter to provide guidance to arriving and departing guests to ensure physical distancing measures are followed.
Implement peak period queuing procedures, including a lobby greeter, when the number of guests exceeds the lobby capacity.
Crowd Safety Measures – Restaurants and Bars
Restaurants and bars will reduce seating capacities to allow for a minimum of six feet between each seated group/party of guests and a maximum of 4 persons to a table.
We have implemented a reservation only business model or call ahead seating to better manage business volume and space for diners.
Crowd Safety Measures – Lounging by Swimming Pools.
Pool seating will be configured to allow for at least six feet of separation between groups of guests.
Pool lounge chairs to be sanitized after each use.
Cabana guest contact surfaces to be sanitized after each use.
Cabanas to be pressure washed and sanitized each night.
The COVID-19 situation is evolving and characteristics of the virus are still being determined but at the time of writing – 7th May 2020, Malaysian Government has still not allowed the following non-essential common facilities to operate:
Any gym activity; as gyms are considered a "high risk" area because they are usually covered in sweat which causes surfaces of the gyms to be damp and create a perfect environment for the virus to spread.
Although there is no evidence to suggest that the COVID-19 can be transmitted through swimming pools, local authorities are taking strict precautionary measures. Nevertheless, when permission is granted to operate the pools, we will conduct daily testing of the pool water for pH and disinfectant levels, and maintain a regular cleansing regime to ensure that the water quality complies with the local public health requirement on swimming pools regulations at all times.
In addition to that,  we will impose pool hygiene practices such as showering before entering the pool to remove impurities typically found on bodies and prevent those unwell from using the pool.
Even though there are no specific restrictions placed on Spa, Sauna and Games room, but in line with Malaysian government directives to take an extra precautionary measure to reduce the risk of COVID- 19 transmission, these facilities will remain closed until further notice.
Note:  All the 10 outdoor private swimming pools in the Villa category are open to respective villa occupants as it is a private pool and sun lounging is also allowed by the common main pool, garden and by the beach.
ETM: What safety measures have been put in place for guests to ensure their safety in confined small spaces such as lifts for example; since guests (as well as staffs) use them all the time?
Aamir Khan:  We have stringent precautionary measures for confined small spaces. Below is the extract of our SOP for lifts……..
Hotel Guest & Staff Elevators
Lifts including the button panels shall be cleaned and sanitized at regular intervals, at least once per hour.
Signage will be posted to notify the number of persons allowed at one time to ensure that lifts are not crowded and social distancing is practiced inside lift.
No more than 4 persons will be permitted per elevator.
Hand sanitizers shall be kept in the lift always.
The beautiful beach at The Danna Langkawi Resort.
ETM: What safety measures have been put in place for guests to ensure their safety in rooms? Rooms are constantly used by different people (guests) and we do not know if one of them is carrier of the virus.
Aamir Khan:  New cleaning regimen designed to set  even higher standards are being applied with all check-out rooms to be deep cleaned and disinfected with particular focus on high touch areas. The room will then be sealed off for a minimum of 1 day as part of the decontamination process of neutralizing any hazardous substances.  In addition, to be consistent with social distancing guidelines, all to be occupied rooms will be spaced apart with one empty room interval from another occupied room.
Safety in Rooms Procedure
Carts, trolleys and equipment to be sanitized at the start and end of each shift.
Guest linen will be delivered and removed from guest rooms in single-use sealed bags
Pillow protectors on the guest room beds are to be changed daily.
Physical distancing protocol is practiced to minimize contact with guests.
Cleaning of guest room will only be carried out during guest's absence and maids will offer to return at an alternate time for any occupied rooms.
All maids to wear re-usable face mask and surgical glove at all times while performing their duties cleaning guest rooms.
Reusable collateral to be removed from rooms; critical information to be placed on single use collateral and/or electronically posted (in coordination with IRD).
Disposable collateral to be disposed and changed after each guest.
Extra pillows and blankets stored in the guest room closets will be removed and available upon guest request.
All guest amenities to be packaged before being placed in room.
Priority for sanitation of the following areas in the guest room:
Desks, counter tops, tables and chairs
Phones, tablets and remotes
Thermostats
Cabinetry, pulls and hardware
Doors and doorknobs
Bathroom vanities and accessories
Bathroom fixtures and hardware
Windows, mirrors and frames
Lights and lighting controls
Closets, hangers and other amenities
ETM: What has your team prepared (resort) or done to ensure the safety of your guests in general?
Aamir Khan:  To ensure the safety of our guests in general, we have made sufficient human and economic resources available that include the provision of equipment needed to ensure our new SOP and procedures developed in collaboration with industry experts can be implemented rapidly and effectively, which include additional social distancing and cleaning, specific protocols to ensure employees safety and the safety of our guests, providing guidance ánd training about the manageable, practical steps employees can take such as proper hand hygiene to significantly boost workplace hygiene compliance, and offer personal protection equipment to our team freely  and readily available.
ETM: Are there any new SOPs (Standard Operating Procedures) that has been or that will be applied for the current situation as well as going forward?
Aamir Khan:  To meet the health and safety challenges presented by COVID-19, new health and sanitation SOPs have been created from up-to-date information found on the website of  the Centers for Disease Control and Prevention, World Health Organization, and Malaysian government that sets the general guidelines for the entire hotel on what needs to be done including modifications to associate-guest protocols developed to be consistent with recommended social distancing guidelines to keep our guests and employees safe and healthy.
Each operating department in the hotel has adapted and customised the guidelines into their SOP according to their operational requirements.  We will continue to refine and update the SOP as information and knowledge evolve.
ETM: Are there any new policies in place with the Corona Virus pandemic around? For example, cancelation policies, booking policies, etc.
Aamir Khan:  We have flexible cancellation policies and in valid cases, we are even refunding the advance payments.
Scenario1: If one person in the family is unhealthy (may or may not be due to the virus), will the whole group be turned away?
We take the utmost care to ensure every stay of our guests with us is safe, clean and comfortable. With the safety and comfort of our guests remaining as our highest priority, we have stepped up precautionary measures in the hotel. Part of the policy is to turn away any guests being a suspected case which includes all those travelling with the suspected case.
Scenario 2: What if guests of the hotel bring guests who are not registered into the hotel?
It is our hotel policy that registered guests are prohibited from allowing non-registered guests from staying in their room or to be brought to their room.  All other facilities of the hotel are also off limit to non-in-house guests, however we do consider house guests bringing guests for dining in our restaurants but subject to certain pre-condition such as divulging their recent travel history, providing their personal information, contact details and current place of residence. However, this is subject on a case to case consideration.
ETM: What current measures are in place once a positive case is detected and confirmed?
Aamir Khan:  
The suspected case will be provided appropriate PPE and isolated right away and we will immediately report to State Health authority as obligated by law and coordinate with health authorities on how best to evacuate the suspected case to a health care facility by ambulance in order to minimise the risk of contaminating other guests or our employees.
While at the hospital, the suspected case with the confirmed COVID-19 will undergo detailed interviews by authorities for activity mapping to guide contact tracing and cluster investigations. Identified close contacts will be placed in quarantine either at home or government quarantine facilities while casual contacts will be placed on phone surveillance. 
At the hotel,
An internal contact tracing will be conducted that is assisted by reviewing security camera closed circuit tapes and the report submitted to authorities for further course of action.
A thorough disinfection and sanitization procedure in accordance with industry standard protocol will be carried out to decontaminate all possible contact areas by the infected person.
If it is a house guest, then the room which the suspected case stayed in, will be blocked off from entry and not permitted for access until proper medical clearance is given after the room is properly cleaned and disinfected.
Hotel will issue a statement to notify all guests about the incident and to inform any precautionary measures as advice by local health authorities.
ETM: Who checks and verifies that the hotel has been regularly sanitised? Any authorities to monitor and what are the procedures?
Aamir Khan:  
Internally:
A dedicated safety manager has been appointed to champion and drive compliance of our hygiene, sanitation and safety standards, norms and behaviours by placing great value on training and education to ensure a safe and clean hotel environment.
Externally:
The Malaysian government has formed a multi-agency task force on compliance to check if businesses adhere to the standard operating procedure and technical guidance issued by the Malaysia health ministry and the department of occupational safety and health (DOSH).
In addition, the following government agencies – National Security Council (MKN), the International Trade and Industry Ministry (MITI), the Domestic Trade and Consumer Affairs Ministry (KPDNHEP), State Health Department and district offices are empowered to conduct unannounced surprise audits and checks on all economic sectors that are allowed to operate. Their inspection will cover all government mandated SOPs involving social distancing, using hand sanitizers and face masks, carrying out sanitation activities and body temperature checks. Those who do not comply with the procedures will be shut down immediately.
COVID-19 testing for workers is implemented under the Prihatin Screening Programme (PSP Perkeso), which is conducted by the Social Security Organisation (Socso) to provide reassurances for workers that They are working in a safe and healthy work environment, free of COVID-19.
ETM: What can guests look forward to when staying at your hotel or resort in times like this?
Aamir Khan:  
Stringent precautionary measures have been implemented including the highest standards of preventive hygiene, sanitation and disinfection procedures to safeguard the wellbeing of all guests and employees.
To operate safely, we have in payroll a full time safety officer assigned not only to ensure strict implementation of our preventive hygiene, sanitation and disinfection procedures, but to also continuously identify opportunities to improve and to integrate the strict guidelines provided by the local state and Federal Government into the guest's journey to ensure the safety integrity of every touch point.
Every effort will be made to uphold the health and welfare of our guests and employees which include observing the highest standards of safe distancing, strict compliance in the usage of personal protecting equipment, employees' health screening and preventive measures required by the Malaysian Government.
Our food & beverage operation applies the Food Safety Management Systems (FSMS) standards to manage food safety risks and prevent food contamination that lays a solid foundation for good hygiene practices, cleaning and sanitation which are all the conditions and activities necessary to maintain a hygienic food processing environment.
At the time of writing – 7th May 2020, Langkawi in the state of Kedah has achieved the green zone status which specifies it is cleared of active or positive COVID-19 cases.
To raise our demanding standards to an even higher level with new protocols for the current health and safety challenges presented by COVID-19, we are working in collaboration with Ecolab to advise us on new generation of global hospitality cleanliness standards, norms and behaviours.
Note: Ecolab (ECL), headquartered in St. Paul, Minnesota, is an American global provider of water, hygiene and energy technologies and services to the food, energy, healthcare, industrial and hospitality markets. 
-End-
Google Maps to The Danna Langkawi Resort
Do Not Miss Another Issue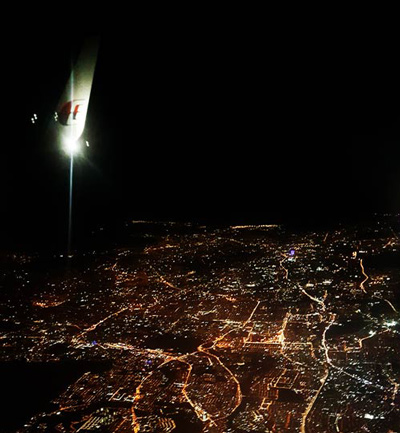 Should you have any enquiries do contact us please...