What Hotels Are Doing to Ensure Guests Of A Safe And Enjoyable  Stay
Hotel Jay Suites, Kathmandu, Nepal
A Little Information On Hotel Jay Suites, Kathmandu, Nepal
Hotel Jay Suites is a Deluxe Hotel enriched with service experience. The Hotel is conveniently located at the street of Thamel, Kathmandu within easy access to all shopping areas and the local eateries. The Airport and Major Highways are within 15 minutes Drive. Location of Hotel Jay Suite is ideal for business and leisure travellers.
Whether you are joining us for business or pleasure, or perhaps a bit of both, we have designed our intimate boutique hotel from top to bottom with thoughtful comforts and touches for you to enjoy. In addition to exceptional personalized service we offer elegant and luxurious designed rooms with first class amenities while giving our guests a touch of our cultural tradition. Our service oriented Well-Trained employees will serve your needs with near perfection. Hence, experience the joy of your stay at Hotel Jay Suites. We look forward to welcome you.
Interview Between Escapy Travel Magazine (ETM) & Bijaya Neupane, General Manager of Hotel Jay Suites, Kathmandu, Nepal.
ETM: What safety measures have been put in place to ensure staffs (team members), third party suppliers, etc. are healthy or virus free (since members of staffs as well as suppliers will inevitably meet at one point in time or another and could spread the virus)?
Bijaya Neupane : Our staffs have been trained to manage the day to day operations of the hotel in a safe manner ensuring that our guests, staffs, as well as our suppliers are safe and protected from the virus. We have added new policies to our daily operations of which includes the employment of thorough hand waching, social distancing (distance of at least 1 meter between persons to persons), use of Personal Protective Equipment (PPE), monitoring equipment, medicines, in accordance to the procedures and guidelines from our government.
We ensure that all areas in our hotel such as work stations, outlets, lobby, rooms, etc. are clean and hygienic. Extra care is also put into the preparation of food, cleaning or rooms, etc.
ETM: What safety measures have been put in place for guests to ensure their safety in areas where there usually are crowds such as the lobby, F&B outlets, entertainment areas, activity areas (gym, sauna, pool, games room, etc.), etc?
Bijaya Neupane: For the added protection of our guests and staffs, we use Personal Protective Equipment including N95 respirator masks, goggles, disposable gloves, and we have cleaning supplies as well as disinfectant solution on hand. All areas and surfaces that are regularly touched such as the front desk counters, doors, door handles, elevator buttons, and any commonly used areas within the hotel are regularly cleaned and disinfected throughout the day. Windows and doors too are opened as much as possible to encourage air flow.
ETM: What safety measures have been put in place for guests to ensure their safety in confined small spaces such as lifts for example; since guests (as well as staffs) use them all the time?
Bijaya Neupane: As for areas that are usually crowded and confined such as food and beverage outlets, lifts, etc. We do frequent cleaning and disinfecting, and we impose a time limit on guests at these high traffic areas. As for the usage of lifts (elevators), we recommend that guests use the stairs rather than the elevators; unless the elevator is empty or when there is no crowd. Guests with special needs will be given priority when it comes to the usage of the elevators. Guests too are reminded to practise proper safety measures that are recommended by the hotel. 
One of the rooms at Hotel Jay Suite, Kathmandu, Nepal.
ETM: What safety measures have been put in place for guests to ensure their safety in rooms? Rooms are constantly used by different people (guests) and we do not know if one of them is carrier of the virus.
Bijaya Neupane: We have enhanced our room cleaning procedures and employed an entirely new safety protocol to prevent the spread of infection in guests rooms, and to ensure the safety of our guests and everyone in the hotel. We have implemented the use of strong cleaning products for deep cleaning of our rooms. Housekeeping teams are now wearing gloves while they work. Room amenities have temporarily been put aside and replaced with hand sanitizers.
ETM: What has your team prepared (hotel or resort) or done to ensure the safety of your guests in general?
Bijaya Neupane: We are doing all we can to protect our surroundings from the virus with all mentioned procedures such as the wearing of N95 respirator masks, goggles, implementing and practising the 'no contact' rule between, staffs, guests, and suppliers. We implement a social distancing protocol of minimum 1 meter between person to person. We have also reduced the capacity at our food and beverage outlets. Staffs are practising regular hand washing (every half an hour or less). Regular cleaning and consistent sanitizing of regularly touch surfaces such as doors, door handles, lift buttons, etc. Hand sanitizers are placed in all common areas for guests and staffs to use.
We have also created a space at the front desk to manage the checking of temperature of guests and staffs. Should anyone be found to have an increased temperature, they will not be allowed in public areas, while special care is taken to ensure they get the needed care. Their rooms too will be cleaned and disinfected properly.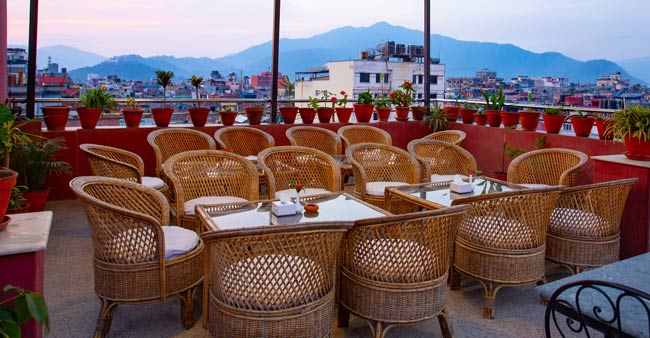 The outdoor lounge of the Hotel Jay Suites.
ETM: Are there any new SOPs (Standard Operating Procedures) that has been or that will be applied for the current situation as well as going forward?
Bijaya Neupane: Yes, we have applied new SOPs (Standard Operating Procedures) at our hotel to ensure that guests and staffs are protected and safe from the virus. Staffs have been trained and ongoing training and education will continue to keep everyone up-to-date with information on the virus, as well as federal and local guidelines, and mandates; as the situation here evolves daily.
As we gain new understanding of the virus and its parameters such as how it spreads, how long it survives on different surfaces, etc.; we in-turn educate all our staffs to ensure that they stay up-to-date with safety measures put in place.
Additional SOPs in place include social distancing, avoid shaking hands and hugging (no contact), usage of respiratory etiquette when sneezing or coughing, personal hygiene such as frequent hand washing, etc.
ETM: What current measures are in place once a positive case is detected and confirmed?
Bijaya Neupane: Should such a situation happen; the first thing to do is to remain calm (not to panic). While the outbreak is a serious public health concern, the majority of those who contracted the virus do not become seriously ill. Only a small percentage require intensive care. To prevent such a situation from happening, we have placed visual reminders for personal hygiene best practices in our hotel. We also employ best practices such as pre-packaging or pre-packed food options.
Should this happen, the hotel will go through an enhanced deep cleaning and sanitizing process of all areas. We will adhere to the procedures and protocols put forth by our government.   
ETM: Who checks and verifies that the hotel has been regularly sanitised? Any authorities to monitor and what are the procedures?
Bijaya Neupane: Checking and verification is done by the management team of the hotel. We maintain fast and efficient communications between all levels of staffs to ensure that fast actions are taken when needed. Rapid dissemination of information such as between the hotel and guests are also important to ensure safety.
ETM: What can guests look forward to when staying at your hotel or resort in times like this?
Bijaya Neupane: Our guests can be ensured of a safe and virus free environment during their stay with us. Health and safety of our guests and our staffs is of high priority to us as we want to keep everyone safe.
-End-
Google Maps to Hotel Jay Suites, Kathmandu, Nepal
Do Not Miss Another Issue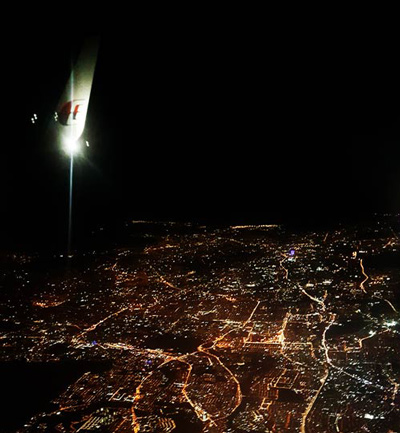 Should you have any enquiries do contact us please...