TT5 Dredge No. 5 – Tanjung Tualang, Perak
The Last Remaining Tin Dredge That Is Safe For A Visit
By Phil Foo
Perak is known as the silver state, with Ipoh being once called "The City of Millionaires." Ipoh was once where the riches people of Malaysia called home. This is when tin mining brought in riches to the city. In 1883, Malaysia was the largest producer of tin in the world. The Kinta Valley was the biggest tin mining area in the world. Hence why, many millionaires called this place home.
During its heyday, tin miners wanted more effective and efficient ways of mining and collecting tin. Tin dredges were then brought in to increase the production of tin. Unfortunately, the price of tin headed south in the 1980s. This drove many tin mines out of business leaving behind unused tin dredges. Many of this abandoned dredges deteriorated over time and were dismantled.
[  Should you visit TT5 Tin Dredge, do go on the guided tour. You will learn a good deal…    ]
As at time of writing there are currently only two "standing" tin dredges in Malaysia. One of them sits on a lake in Dengkil, Selangor. The one in Dengkil is off limits to the public, or even people in general as it poses a danger to anyone who decides to step in. The other is TT5 in Tanjung Tualang, Perak.
A Bit Of History
With tin mining drawing in lots of money, this tin dredging machine was commissioned and built in England by F.W. Payne & Sons in 1938. It was then upgraded in 1963 and had continued its operation for 44 years. It stopped work in August 1982 and was left unused until 1997. In 1997 it was donated to the Perak state government by Malaysian Mining Corporation (MMC).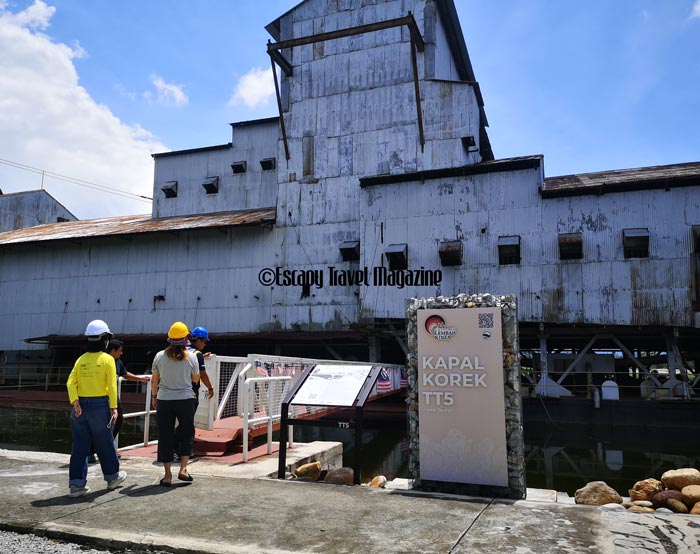 Entering the TT5 Dredge No. 5.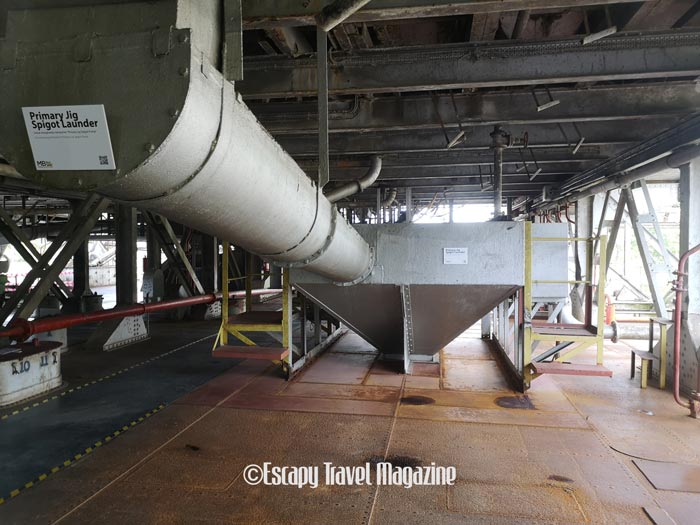 Inside the TT5 Dredge No. 5. Here is the Primary Jig Spigot Lauder.
The TT5 Tin Dredge has since gone through a restoration process; not to its original state, but to a state where it is safe for visitors to walk in and visit. Not the entire dredge is open for visitors to explore. Certain places are closed to public, probably due to safety concerns. But the general areas are safe to explore.
Should you visit TT5 Tin Dredge, do go on the guided tour. You will learn a good deal about tin mining here in Perak, and also learn how the dredge works. It is really interesting especially if you have a curios mind that is always searching for knowledge. You will get to walkthrough and learn the processes of how tin used to be mined, and the process that is goes through before making it to the processing plants. The entire tour within the dredge take about 45 minutes to an hour.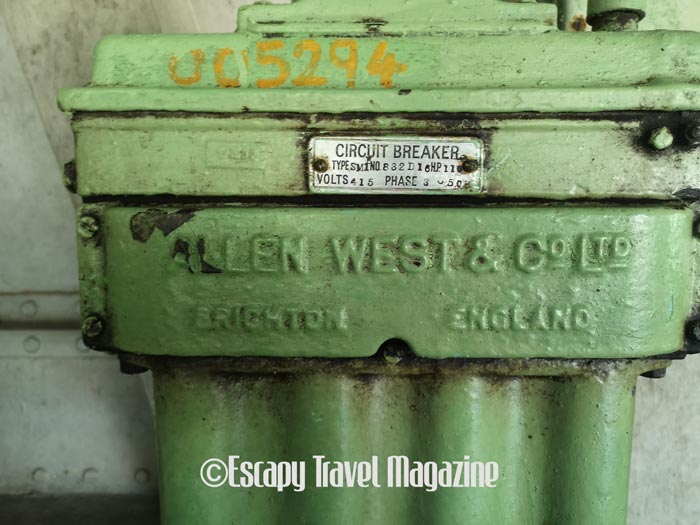 A circuit Breaker built in England.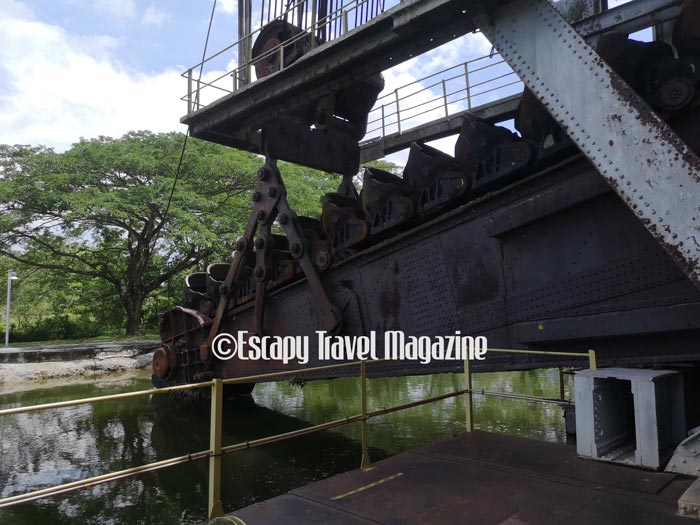 The bucket that were once used to dig the bottom and carry sand, stones, and tin ore from the bottom, further into the dredge.
TT5 Maze Park
After visit the dredge, you can visit the TT5 Maze Park. The area is beautiful with wildlife such as goats and various birds roaming about its plant covered lake. During my visit I saw a few herons flying about probably looking for a meal. There are also kingfishers flying about the area. Those who enjoy photographing birds will have fun here photographing them.
The maze itself is a fun experience. Of course like all mazes, it can be somewhat disorienting. There are a few hidden secrets to search fun in the maze. One is that of a hidden miner. The other is a postbox. A postcard is given to every visitor to write a message, with their name and address on it; just like how sends postcards. The postcard is then placed in the letter box. TT5 Maze Park management will then have the postcard posted to you.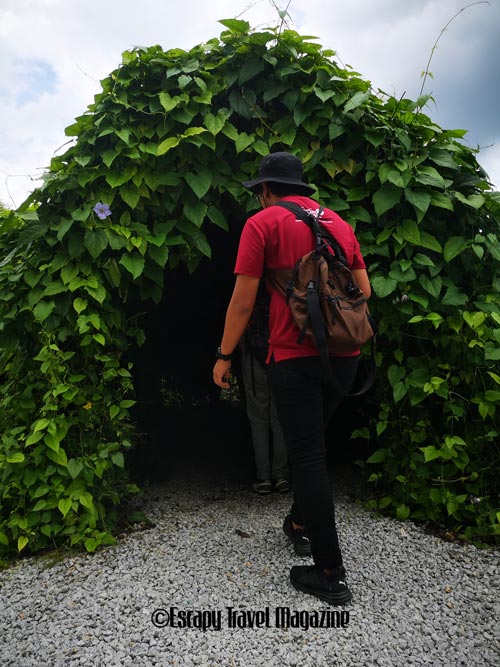 Entering a section of the maze.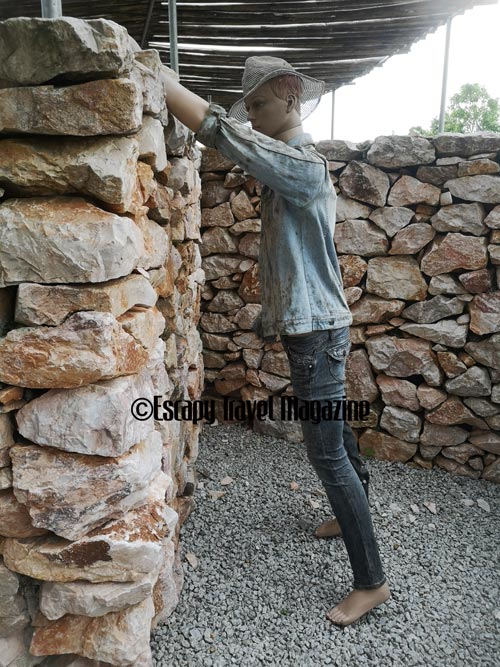 Hey, what are you doing there Mr. Miner?
More On The Maze
The maze is designed to educate visitors on tin mining. It is the first heart-shaped maze in Malaysia, offering some 750 meters of exploration space made up of 8 elements. These elements are:
Stone Maze
Stone Gallery – a place to learn about the different stones in the area.
Bengal Tunnel
Bamboo Maze
Art Gallery – where tin mining is interpreted into art. Here one can learn about the history of tin mining.
Bunny Maze
Recycle Maze – a place with a wall made up of glass bottle, and shoes used as flower pots.
Muraya Maze
The maze is certainly interesting and a wonderful place for those who like to take photos and place them on social media. The photo opportunities are a plenty at each of these elements. Should the weather be hot, certain sections of the maze offers a cooling respite from the heat. When I say cooling, I really meant cooling. The section of the maze has plants that block away the heat and keeps the inside cool.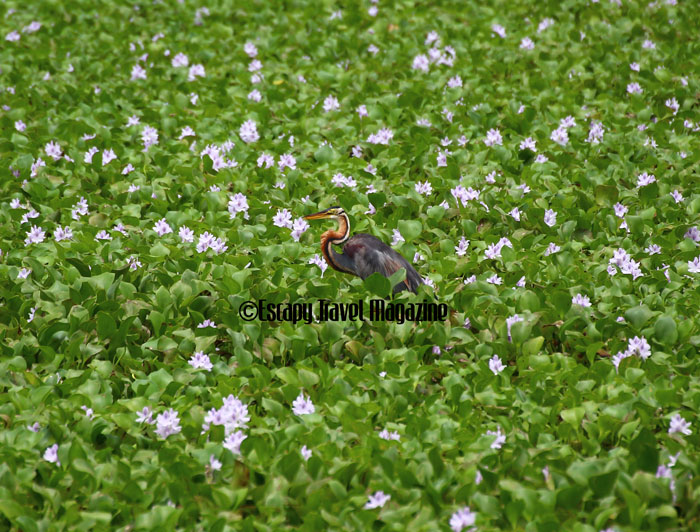 A purple heron (Ardea purpurea) hanging out amongst the water plants at a lake in TT5.
Definitely A Must Visit
Should you be visiting Ipoh, do pay TT5 Tin Dredge a visit. There is a small entrance fee that goes to the restoration and maintenance of the dredge. After all, it is the last remaining tin mining dredge in Malaysia that you can actually go in and explore safely. Below is more information.
Additional Information
Tanjung Tualang Tin Dredge No. 5
Address: 9th KM, Jln Tanjung Tualang, 31000 Batu Gajah
Contact: +6014-904 3255
Google Maps to TT5 Tin Dredge – Tanjung Tualang, Perak.
Do Not Miss Another Issue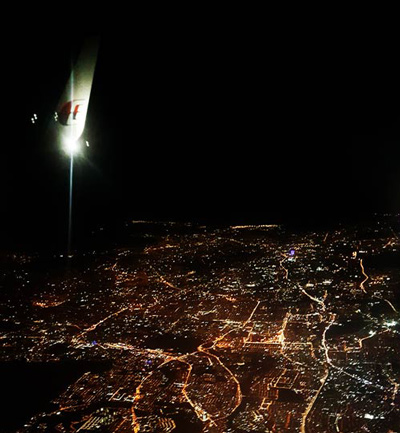 Should you have any enquiries do contact us please...