Rumah Ayah An – Lenggong, Perak, Malaysia
Hangout With Deer And Stingless Bees
By Phil Foo
Some people have an ingrained love for animals. I happened to be one. I love animals from small critters like hamsters to huge earth stompers such as elephants. Well, elephants may be big but they rarely stomp the earth when they walk. They are really quiet. Anyway, I love deer too. Big cute eyes, cute nose, cute ears, and they have things called antlers growing out of their heads. So awesome.
Rumah Ayah An in Lenggong, Perak, is one of the places in Malaysia where one can spent time with deer. The deer that call these place home are used to spending time with human beings, just like those in wildlife sanctuaries. I cannot confirm how the deer got here to Rumah Ayah An, but they seem happy.
[    With my zoom lens I can see that even the deer that are furthest away from me has an eye on me. As a walked to the left or right, that eye moves with me…    ]
My experience with the few deer here can only be explained in one word; fun. I tried very hard to get a selfie (or is it wefie since it is me and a deer). The deer followed me around when I had on to food pellets in my hand. But when my phone raises for the picture, they put their head down or they just walk away.
With the help of my fellow travelers and friends I managed to get a selfie (or wefie) with a deer. Photos aside, it is fun just feeding them. It is nice also to pat then with a loving pats on their head. These deer also seem to have a smile on their faces which makes them not only cute, but also adorable. They make for awesome photos.
Do They Truly Feel Safe?
This here is where I constantly have an internal conflict. While I love animals and like hanging out with them, the question that always lingers in my head is if they are comfortable and if they feel safe hanging out with me. Do they feel safe with me just being in their area? I know in the wild, deer will not like us human beings in their area. What about here in Rumah Ayah An?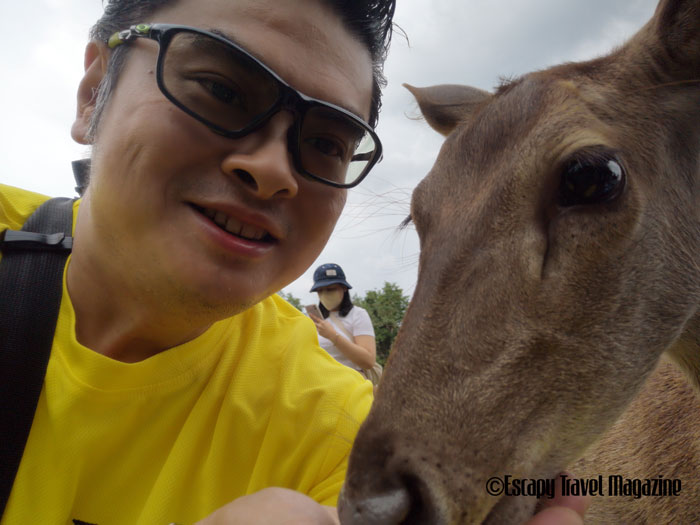 Yay, I managed to get a wefie (or selfie) with a deer.
Usually when dealing with animals I pay attention to a few things. One is their demeanour. If there is a sudden change in their demeanour I know something is not right. Or something has caught their attention. The other thing is their eyes. Being a photographer, I pay a lot of attention to the eyes. One thing I noticed about most of the deer here is that they have an eye on those who come into their area.
With my zoom lens I can see that even the deer that are furthest away from me has an eye on me. As a walked to the left or right, that eye moves with me. So, are they truly comfortable with us being around? I cannot answer this question. But what I do know is that they don't seem to mind as they are used to humans. My take is that they are comfortable to a certain level that is way over those that are out in the wild, but they are still cautious; which is good.
So, if you are in Lenggong, Perak, and would like to spend some time with deer, and also support Rumah Ayah An in feeding and keeping them; do visit. As for the stingless bees, well, I didn't spend time with them. I saw a few flying around but that is all. So, if you do not like bees or have a phobia of bees, don't worry. These bees do not sting. They are also hardly around if you do not go to where they are.
Additional Information
Rumah Ayah An    
Address: LOT 10952 Kampung Bukit Sapi, 33400 Lenggong, Perak, Malaysia.
Contact: +6019 415 5148
Opening Hours: 8.30am to 6.30pm (except on Tuesdays 8am to 6.30pm)
Google Maps to Rumah Ayah An.
Do Not Miss Another Issue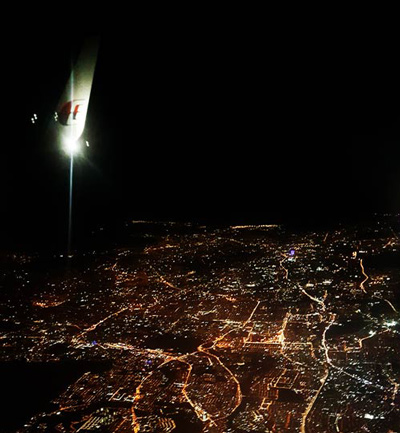 Should you have any enquiries do contact us please...