Pulau Misa Malay Cultural & Heritage Village, Perak, Malaysia
By Phil Foo
I love visiting cultural villages and have visited a few in a number of countries in Asia, the Pacific, and also the Americas. With that I must say that one of the best I have been to is the Malay Cultural & Heritage Village in Kampung Jenaga Dalam in Terengganu, Malaysia. I have often boast that it is better than any Maori Cultural Village in New Zealand and Polynesian Cultural Centre in Hawaii.
Pulau Misa Melayu Cultural & Heritage Village in Bota, Perak, Malaysia is an offspring of the one in Terengganu. During my visit, the village was open but because it wasn't holiday season, and most of those that create life in the village, actually have day jobs; the village was quiet without much going on. That said, I still had a lot of fun and enjoyed my visit.
[    There are some fun activities to do here at Pulau Misa Melayu Cultural & Heritage Village. I enjoyed horse riding, traditional archery (archery with traditional bow), spending time with goats…    ]
The Experience
The experience in Pulau Misa Melayu Cultural & Heritage Village is supposed to be one where visitors get transported back in time, into an era of the old Malay rulers. Visitors will normally come in clothing based on the style of that time. This makes the experience here a lot more authentic, fitting perfectly into the theme of the place; a Malay Cultural and Heritage Village.
That said, during our visit, we did not come dressed for the occasion given the time of our visit, and the village not operating in full force. But it was an awesome experience nonetheless. I enjoyed my time here in the village. The music is awesome, the activities are fun, the people are friendly, and the food served was really good.
Awesome Musicians
I enjoy all sorts of music from classical to very heavy and grungy Death Metal. I enjoy music from all over the world and one particular genre that I enjoy listening to is Nusantara music. Nusantara music is music from this archipelago. They have got a unique rhythm and beat, that when accompanied with modern musical instruments sound simply awesome, or for the lack of a better phrase; these music rocks my boat.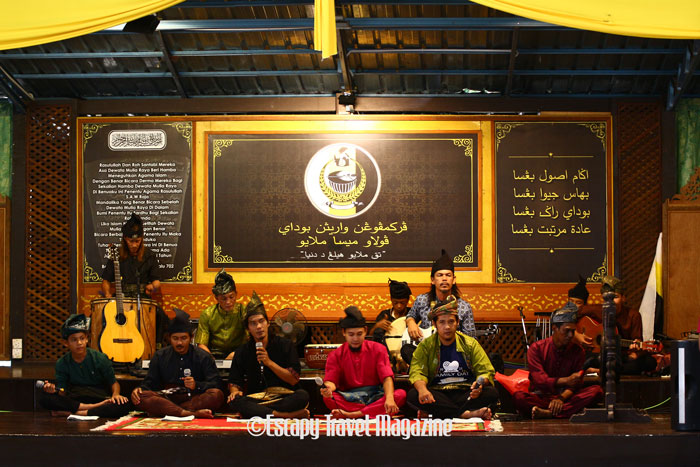 The awesome musicians of Pulau Misa Malay Cultural and Heritage Village.
Despite having less than half of the band present during our visit, they still played awesomely good. Every musician has mastered his instrument (no female musicians hence why I use the word his). The singer sings really well despite his young age. The guitarists, bassist, various percussionists, keyboardist, etc. all played really well.
While there are those who will claim that many bands sound better in CD, Vinyl, etc. (recording) and sound quite rubbish live; I have seen quite a few live bands including Bonjovi which was good, The Scorpions which was ok, the late Michael Jackson which was awesome, and a good number more. These guys here in Pulau Misa Melayu Cultural & Heritage Village (and more so the band in Terengganu) will definitely give these bands a run for their money playing live.
Fun Activities
There are some fun activities to do here at Pulau Misa Melayu Cultural & Heritage Village. I enjoyed horse riding, traditional archery (archery with traditional bow), spending time with goats, and just watching the band play. Other activities included a motorised dragon-boat ride and traditional Malay head gear (tengkolok) making. I missed these two activities.
Horse Riding
I love horses and I love riding horses. I used to own a horse and rode every chance I got. That said, the horses that I rode are mainly retired polo horses who are well trained, and take well to command. Errr, I had a stubborn horse but still manageable. No accident with him. The horses here at Pulau Misa Melayu Cultural & Heritage Village are said to be worse. They are smaller horses but more rebellious.
Here one gets to ride the horse but not left to one's own devices. No trotting, cantering, and galloping. Even experienced riders do not get to ride on their own (I was told) and will be led by one of the horse trainers (or stable hands). Given that the horses are more rebellious, and being told that even the horse trainer has issues with the horses; I recommend following what they say (as you should always do). After all, they know their horses better. Anyway, it was plenty of fun.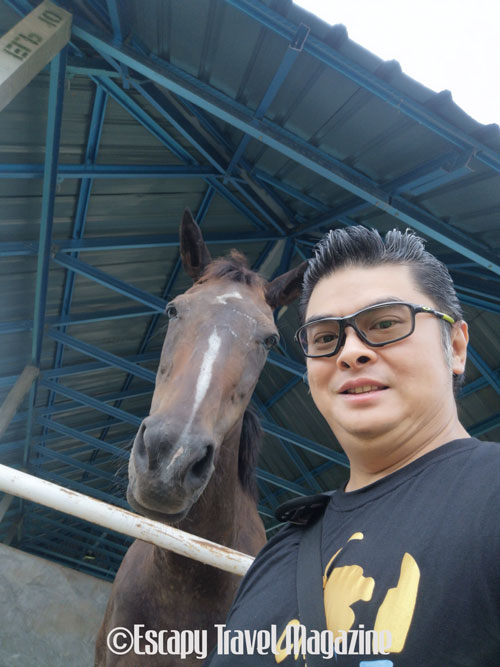 Posing with one of the horses.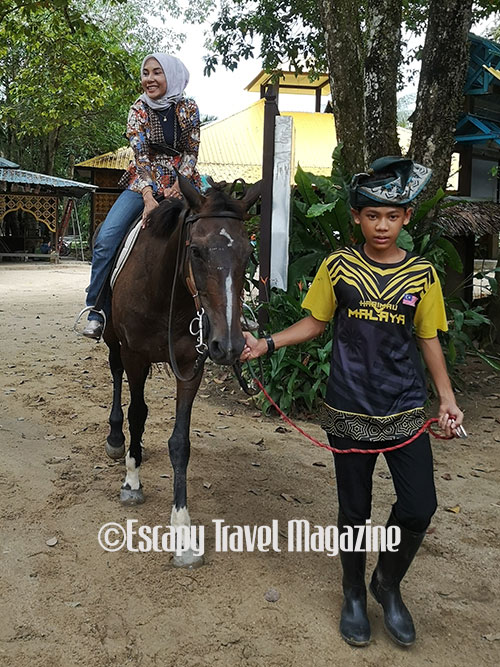 Horse riding around the village.
Traditional Archery
Well, not one hundred percent traditional archery. They use traditional bows with modern carbon fibre arrows. Makes sense since most of those who are doing the activities are visitors, many of whom are new to archery. Wooden arrows can warp and can be hard to shoot straight. Good that they use modern arrows.
My only little remark is that the people managing this activity must be trained to teach people who have not shot an arrow before, let alone one that is traditional; to use these weapons. I noticed that the person responsible of teaching us how to shoot often times gave wrong instructions, and then left the shooter to his or her own device. Even when the shooter placed the arrow wrongly, the person didn't say a word and just let things be. This can be dangerous.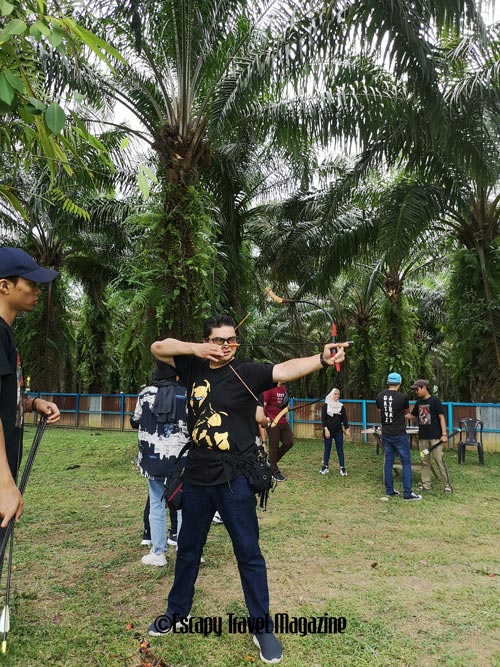 Traditional archery, not as easy as one thinks.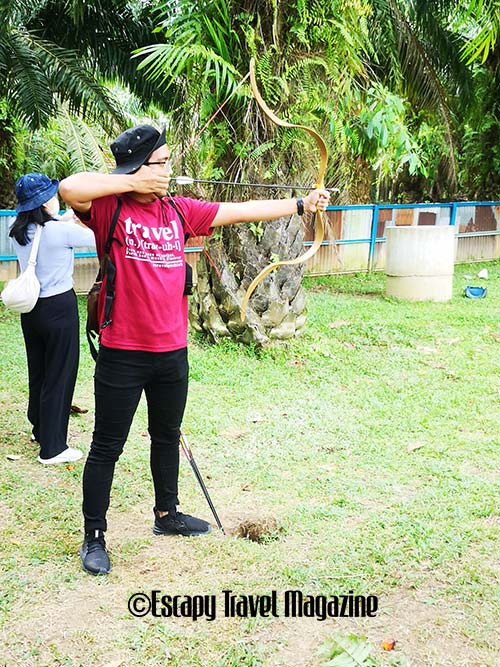 Arrows placed in a hole on the ground.
Delicious Food
The food served here are all traditional food that are seldom cooked in the fashion that they were prepared for us. Three traditional dishes where served. One of them is ketupat (rice cubes) served with sambal ikan biils (anchovies cooked with chilli paste), Chicken feet soup, and steamed tapioca served with sugar.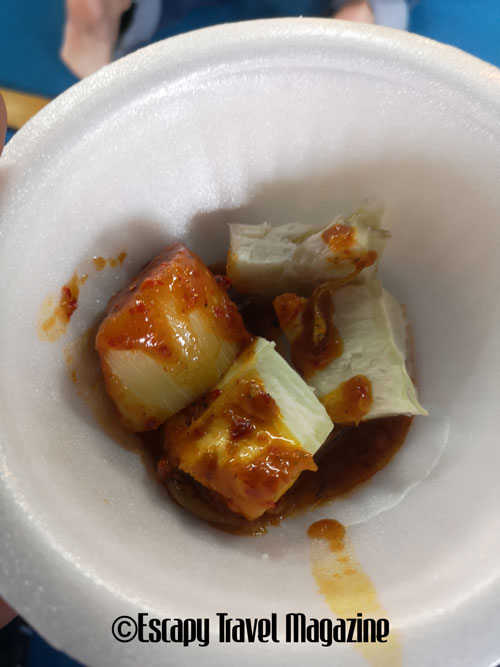 Super delicious tapioca with chili paste.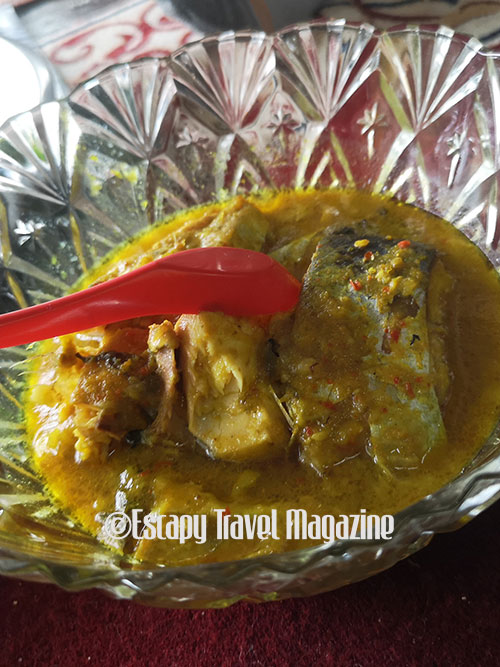 A fish dish cooked Malaysian style.
Emphasis On Islam
Unlike the other cultural villages or centres in most parts of the world, Pulau Misa Melayu Cultural & Heritage Village emphasises a lot on Islam and Islamic principles. This does not mean that the place is open only to Muslims. Non-Muslims are welcome to. One will just follow the rules of etiquette set. This means that one must be fully covered and modestly dressed. Also, there are places that are off limits to female visitors. Of course certain places are off limits to all visitors.  
Recital of the Quran goes on without ceasing here in the house of worship, called surau here in the local language. One of the reasons why this is so, is because Pulau Misa Melayu Cultural & Heritage Village is also a reformation centre for Muslims who want to make a change; turn over a new leaf for the better; such as ex-drug addicts, ex-criminals, etc.
Should You Visit?
Yes, I do recommend paying Pulau Misa Melayu Cultural & Heritage Village a visit. Be prepared to spend at least half a day here. For those of you who do not want to visit the village because you disagree with some of their rules; well, my recommendation is that when you travel, travel with a clean slate and not bring your standards or rules with you. That way you get to experience the culture and even enjoy your visit.
I am not saying that you should leave all your values and believes at home. You can bring them along but realize that people of different countries and cultures, have different values and believes. Hence, to experience these cultures thoroughly and enjoy it, your values and believes can be the thing hampering your experience. So, if your objective is to explore, experience, and enjoy your trip; put them aside and just immerse in the experience. After all, is not that why we travel?
Additional Information
Pulau Misa Malay Cultural and Heritage Village
Address: Kampung Teluk Kepayang, 32600 Bota, Perak, Malaysia.
Google Maps to Pulau Misa Malay Cultural and Heritage Village.
Do Not Miss Another Issue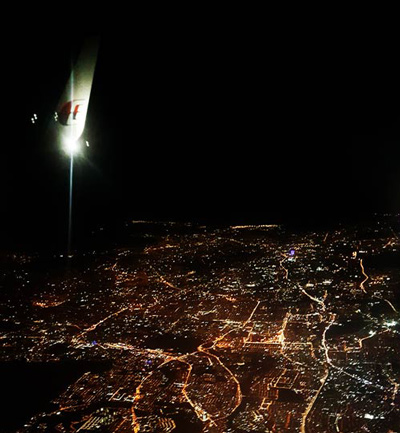 Should you have any enquiries do contact us please...