Universiti Teknologi PETRONAS – Seri Iskandar, Perak
(PETRONAS University of Technology)
By Phil Foo
I have been to a few universities for various reasons, including to teach. Before I toot my horn any further, please allow me to clarify. I taught fishing at a local but internationally linked university. Not as an academic subject, but to members of their fishing club. Well, recently I had the opportunity to visit the Universiti Teknologi PETRONAS, a local university here in Perak, Malaysia. Not to teach but as part of a media group.
Visiting the Universiti Teknologi PETRONAS was an awesome experience. The one thing that piqued my interest is their Geological Rock Garden that is still being built as at time of writing. I like nature and things like geology awakens my mental awareness. When our bus stopped at the "foyer," I happily marched to the university excited to see the Geological Rock Garden, and dinosaurs. Yes, dinosaurs.
[    We boarded our bus and headed to the Geological Rock Garden. The first thing that caught my eyes were two roaming mammoths…    ]
But before I got to see the rock garden, the dinosaurs, or anything natural; my attention and focused was distracted by the awesome library. Apart from nature, I love books too. I actually have my own library at home. But this one in Universiti Teknologi PETRONAS is huge. The ceilings are really high up, with bookshelves going up really high. Tower of books, that is how I will term them. It is actually designed in the shape of an oil rig. Super awesome.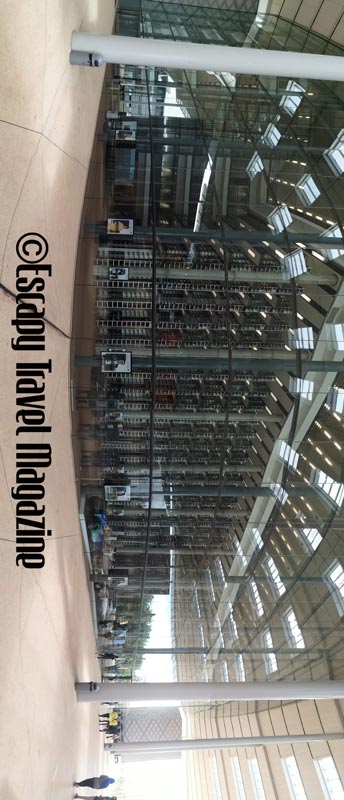 The awesome library. Tilt phone to see picture.
What's more awesome are the Petronas F1 cars on display inside the library. These are actual F1 cars and not toys or scaled models. Freaking actual F1 cars. Oh yes, by the way, I love cars too. German marques in particular. Well, my late dad used to collect Mercedes Benz cars. And who is Petronas F1's partner? Mercedes AMG. Yes, I love a lot of things.
Anyway, my mind was totally blown and we were not even 5 minutes into our visit. We met with the university's marketing team and were ushered to what looked like a lecture hall. A small lecture hall. The presentation started with the introduction of Universiti Teknologi PETRONAS and the facilities that they have. Here we learn that the Universiti Teknologi Petronas is an open university but they don't get much visitors. Perhaps not many know about this.
Then the presentation went on to the Geological Rock Garden by Dr Khairul Arifin, Chair of the university's Geoscience Department. Here we learn that Universiti Teknologi PETRONAS is building a geological garden to help people learn about our planet from prehistoric times till now. This idea came about as a means to bring education out of classrooms and into the outdoors where nature is. Personally I like the idea.
A Visit To The Library
After the introductions, we visited the library. With my mind in a state of constant explosion, I walked about the library in awe of all the knowledge stacked up high. There are currently some 200,000 (two hundred thousand) physical books here. The library is design to accommodate up to 500,000 (five hundred thousand) physical books. Apart from these books there are about 10,000 (ten thousand) e-journals and e-books.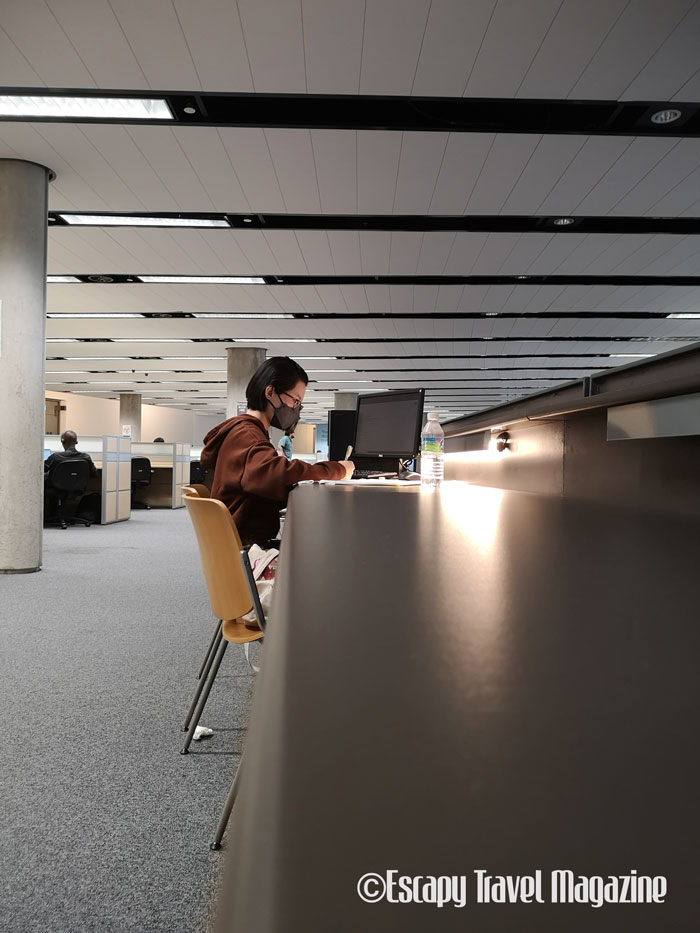 A student hard at work. Photo taken with her permission.
The library really is huge. I am not sure if the library in Hogwarts is bigger. It could be because they are experts of magic. But one thing they do not have are the awesome F1 cars that are on display here. Anyway, I went round taking photos and looking at books, pulling a few out to read the back covers for an idea of what's inside.
A few books stood out and caught my attention. Amongst them are 100 Banned Books – Censorship Histories of World Literature (Wow, hot), and How To Make Money Publishing From Home (seriously? Hahaha). One other book is Green Profits – Pollution Engineering (interesting). There were a lot of other books but I don't have time to read them during my visit. The reason for our visit is to check out the Geological Rock Garden.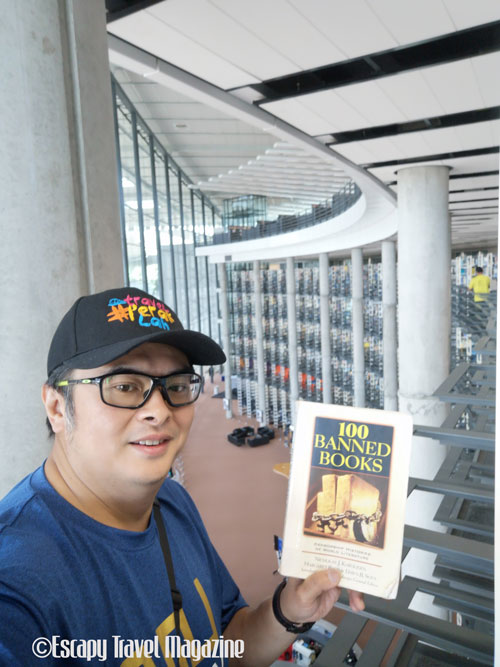 100 Banned Books, sounds like fun.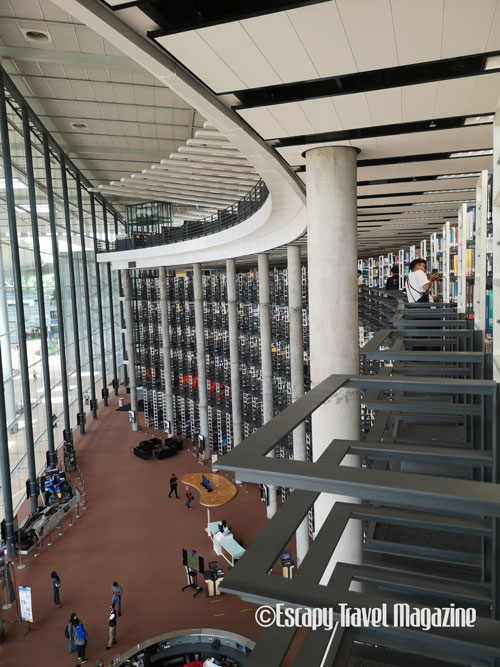 View from a higher vantage point.
Geological Rock Garden
We boarded our bus and headed to the Geological Rock Garden. The first thing that caught my eyes were two roaming mammoths. My heart started racing again and my photographer mind kicked into gear. Even before disembarking the bus, I was planning my shots. When the bus stopped I duly marched out with camera and mobile phones in hand. I marched towards the mammoth and allowed my fingers to do their job.
Looking up, I saw more dinosaurs in the distance. A brontosaurus eating leaves at the other side of the park. The garden is quite big. Some 44,550 square meters big. And it has got a few lakes in it. When in photographer mode, I am drawn to lakes in search of what's in them, and the reflections on the surface. Before heading to the brontosaurus, I checked out the lakes and took some shots. These lakes are really beautiful. They have fishes in them; I saw a few tilapias.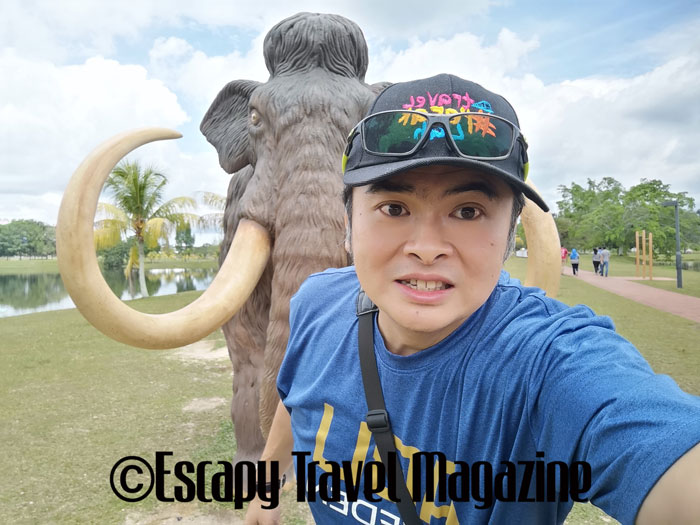 Time to run from angry mammoth. Adults can have some fun too, be it in a university, or anywhere else.
Before arriving at the plant eating brontosaurus, Dr Khairul Arifin called our attention to a few rocks that are on display. He then explained the rocks, what the layers of the rock tells us, and the different periods that these layers represent. Rocks are like time capsules. This is why I find geology fascinating.
In Universiti Teknologi Petronas, Dr Khairul Arifin is definitely the 'rock god,' pun intended. His knowledge on rocks, earth, the history of our planet, etc. is awesome. While he was explaining granite, my photographer mind kicked in again when I saw this naturally occurring white line on the rock. I got into position and waited for the time to shoot my intended picture. Yes, I waited and it happened. Dr Khairul Arifin pointed and touched the white line. "Rock god" photo captured.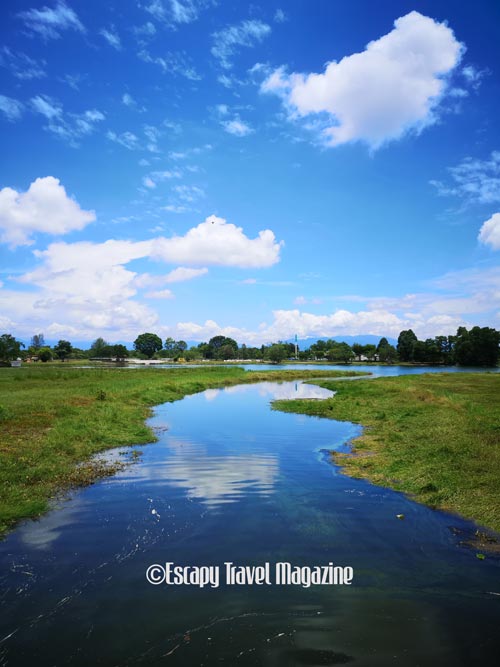 A beautiful "river" that flows to one of the lakes.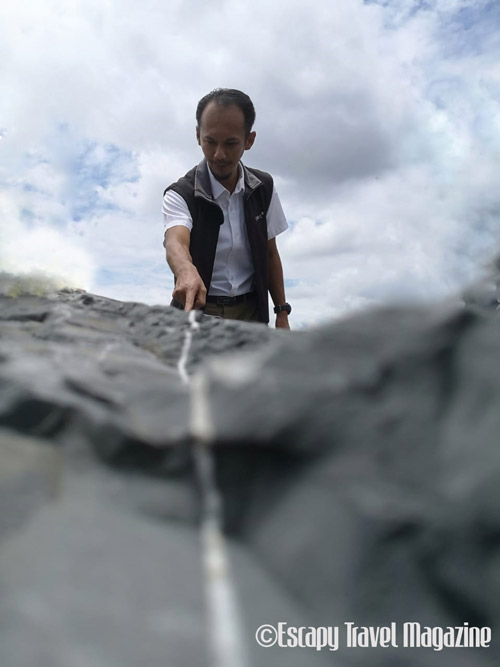 Dr Khairul Arifin, "Rock god" photo captured.
Finally, after more walking we arrived at the brontosaurus. The walk was quite long. In fact, the Geological Rock Garden has a walking pathway that is some 1,100 metres long. Walking is good exercise anyway. Remember this saying, "kill two birds with one stone." The Geological Rock Garden educates visitors about our planet, while secretly providing better health.
Hiding behind some plants nearby is another winged dinosaur. I think it is called a Pterosaurs. I really cannot remember. Anyway, here is a challenge. Pronounce Pterosaurs correctly, and say Pterosaurs fast ten times. Good tongue and mind exercise as you read this article. Again, killing two birds with one stone. You are welcome.
Just think about this for a while. These dinosaurs used to roam the Earth. I believe they are a lot bigger than these ones here. What would Earth be like if these giants still roamed the Earth? How would it be like to live together with them? Intriguing.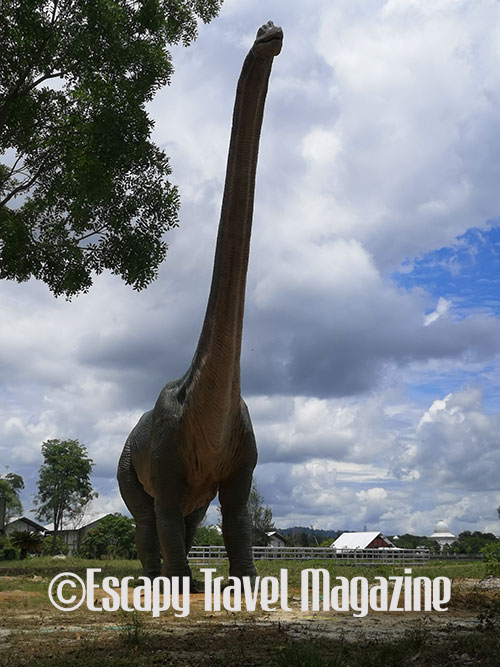 A brontosaurus on university grounds.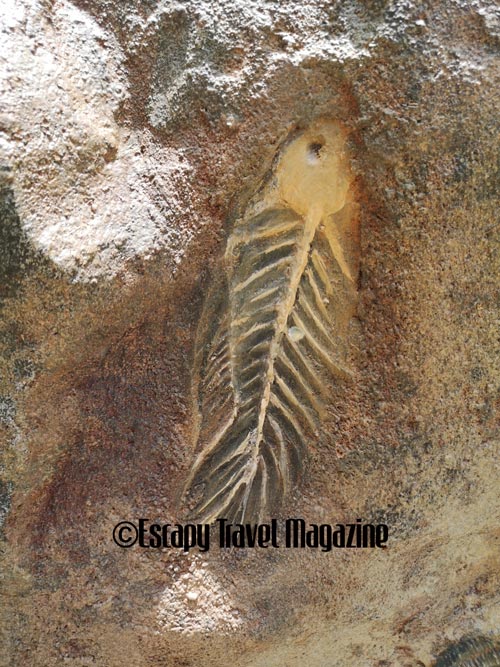 A fossil of a fish. How interesting.
Geological Rock Garden Thoroughfare  
I just cannot wait for the Geological Rock Garden to be launched with everything planned, in full operations. This is not just because of my fascination with geology, Earth, nature, etc. I am eagerly awaiting here just like how a kid is awaiting permission to eat that lollipop siting right in front of him, but he has been told to wait until permission is given, because I know what is to come in the rock garden.
So what awesomeness is to come? I shall not suffer waiting alone. If you are into geology, have a crazy interest about planet Earth, and love learning; but you do not want to suffer waiting patiently for the rock park to be open; stop reading right now. Go read something else. Perak has got other interesting things to offer. But if you are curious and don't mind waiting; read on. You have been warned.
The Geological Rock Garden will have a prehistoric landscape. How awesome is that! I just cannot wait. My hope is that there will plenty of prehistoric plants and trees as well as insect. Of course they don't have to be real. But if they are, that would be even better. Maybe not the prehistoric insects. Plants and trees will be awesome.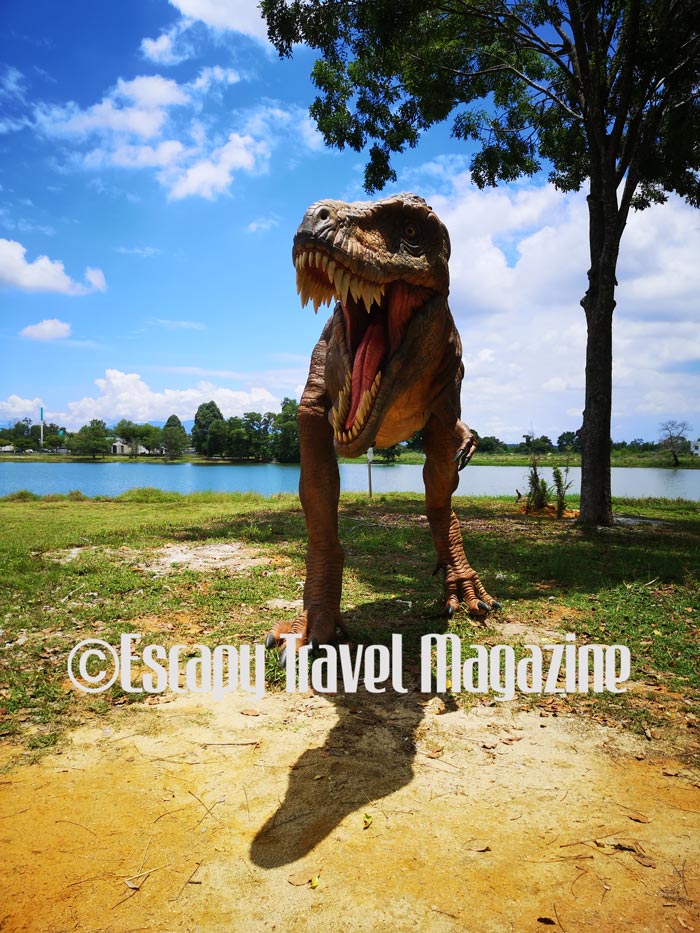 Tyrannosaurus rex, the angriest and scariest of all dinosaurs.
Apart from the prehistoric landscape there will also be rock boulders, fossils, dinosaur models, and actual petroleum production equipment. Yes, visitors will get to see what an actual wellhead, drilling rig and planform looks like. I just cannot wait. I would like to visit an actual working drilling rig and platform out at sea. Petronas, if you are reading this; can you arrange please?
More Fascination At Universiti Teknologi PETRONAS
I am sure not many knows this. Universiti Teknologi PETRONAS has the largest capacity solar panel for a single roof top installed on it roof. Bird flying over will likely be wondering when a spaceship landed here. This installation is something to see especially if you are into technology, engineering, and architecture.
There is one issue though. The solar panel is on the roof and it is really large. Really, really, really large. One will need to get really high up in the sky to be able to see it and appreciate it. It really is a work of art, functional engineering art. Climbing up a viewing tower will not really do it justice as one will not be able to go over it, or above it.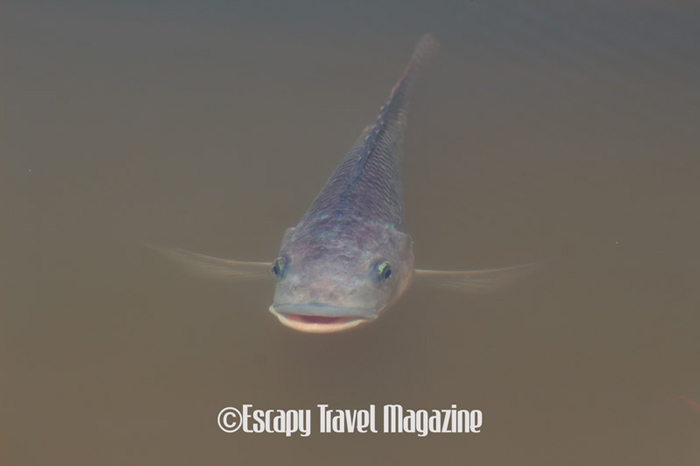 A tilapia hanging out in one of the lakes.
During our meeting, I have recommended that they use a hot air balloon to bring visitors up into the sky for a better view. I am not sure if they will go with my idea, but if they do; another opportunity to kill two birds with one stone, especially for those who have not been in a hot air balloon. To see this awesome installation and experience what it is like to fly in a hot air balloon.
Do Visit
Whether you are a student, academician, someone who lives in the area, someone who lives quite far away, or a tourist from a foreign land; Universiti Teknologi PETRONAS is definitely one place that I recommend you to visit. Below are some important information to note should you decide to visit.
Additional Information
Address: Universiti Teknologi PETRONAS, 32610 Seri Iskandar, Perak Darul Ridzuan, Malaysia
Tel: 1-300-22-8887
Website: https://www.utp.edu.my/
Google Maps to Universiti Teknologi PETRONAS.
Do Not Miss Another Issue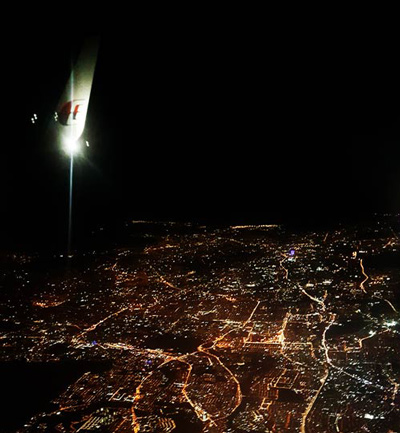 Should you have any enquiries do contact us please...