My Nature Leisure Farm
By Phil Foo
As a previous hotelier, entrepreneur, publisher, avid traveller, angler, and trainer; my mind plays all sorts of scenarios when I visit places; especially hotels, resorts, bed and breakfast places, homestays, etc. I look from all of these angles to see how many of the buttons get hit. My Nature Leisure Farm is one interesting place that I recently stayed at. I won't call it gold and will tell you why soon enough.
My Nature Leisure Farm is indeed a farm. They are a dragon fruit farm. For those of you wondering what the heck a dragon fruit is, it has got nothing to do with dragons. It is the fruit of a cactus plant. They are called pitaya or pitahaya officially, but has for a long time been called 'dragon fruit' by countries that cultivate them.
[    in fact, the room is so clean that it could put many a hotels' cleanliness standards to shame…    ]
Countries that cultivate them include countries in Southeast Asia, South Asia, East Asia, Peru, Mexico, Australia, USA, etc. Sungai Pelek or Pelek River in English, is a place in Selangor, Malaysia with a high concentration of dragon fruit farms. My Nature Leisure Farm is one of them. The one thing that My Nature Leisure Farm does that makes them stand out is that they provide accommodation to visitors, at a price of course.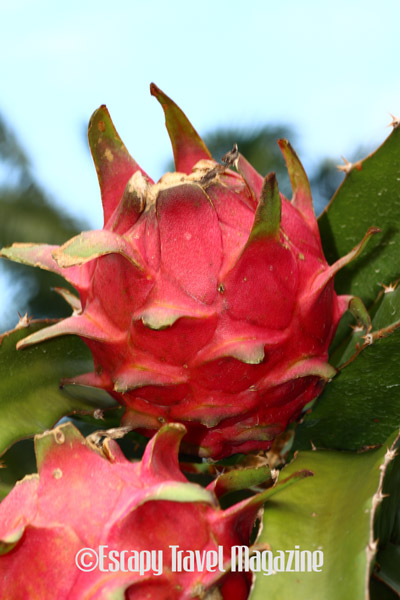 Dragon fruits still yet to be harvested.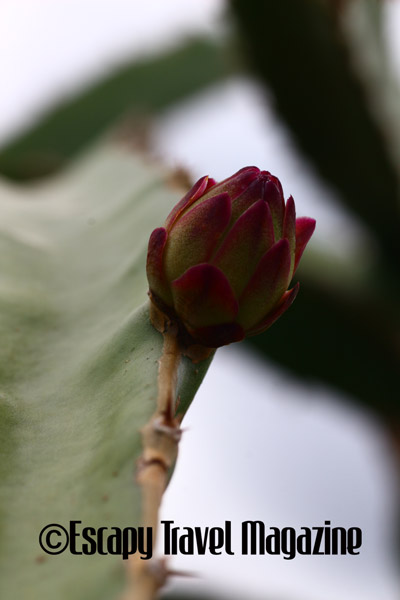 A cute little dragon fruit growing. Such a beauty.
Container Rooms
Containers are usually linked to shipping. Many years ago some genius came up with the idea of reusing them, or upcycling them into homes, storage, and rooms. I like the idea and have stayed in a few container type "hotels" and most are done well. My Nature Leisure Farm uses repurposed containers as rooms too and they have done a good job here.
The rooms come in two configurations or room types; Deluxe Rooms for two persons, and Quad Rooms for four. I stayed in one of the Quad Rooms and had the whole room to myself. I found the room to be clean; in fact, the room is so clean that it could put many a hotels' cleanliness standards to shame. Again I still won't call it gold and will tell you why soon.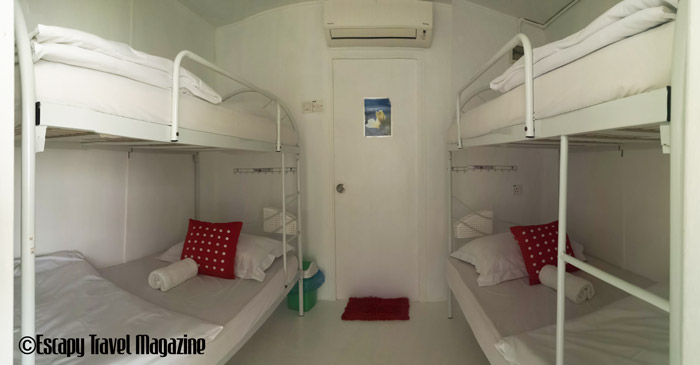 Very clean room. This here is a Quad Room that has two bunk beds.
The rooms are basic which is quite normal for accommodations within this genre. What I like about the room other than its cleanliness standards is that it comes with air-conditioning, en suite bathroom and toilet, fan, and water heater. The bathroom and toilet too is really clean, although basic, and does not come with toothbrushes, combs, cotton buds, etc. There is shower gel or shampoo in a dispenser. Nice and cosy.
A Field
This is a good place for training that involves the use of a field; tele matches for example. As luck would have it; during our stay, a company was having their training done here. They used the field for the tele match part which was fun to watch. The Harry Porter themed tele match had participants go on various missions. One of them was to search for Dumbledore.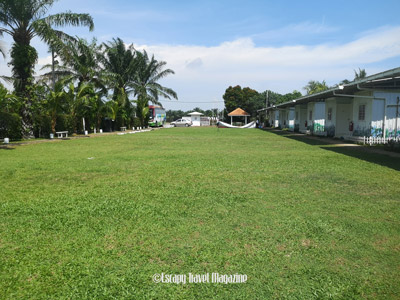 A field; good for team building and other trainings.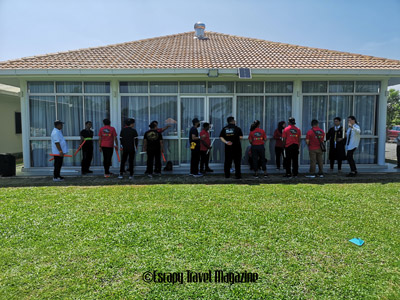 A company holding their training here. Notice Harry Porter dressed facilitators on the right.
From my room I could hear clearly a funny rhyme repeated over and over again by one of the training facilitators (I believe). It goes like this; "group two, group four. Cepat cari Dumbledore." In English it goes "group two, group four. Quickly look for Dumbledore." This was playing in my mind for quite some time. So, to my fellow trainers out there, this place is good for training.
Function Rooms And A Hall
My Nature Leisure Farm has got four function rooms and an event hall. This makes it great for training, events, meetings, etc. One of the things that come to mind is weddings. With the walls of the place and the rooms being predominantly painted white offering a feel of the English countryside; this place certainly is good for white weddings. With a field and a seminar hall; romantic fairy tales can begin here.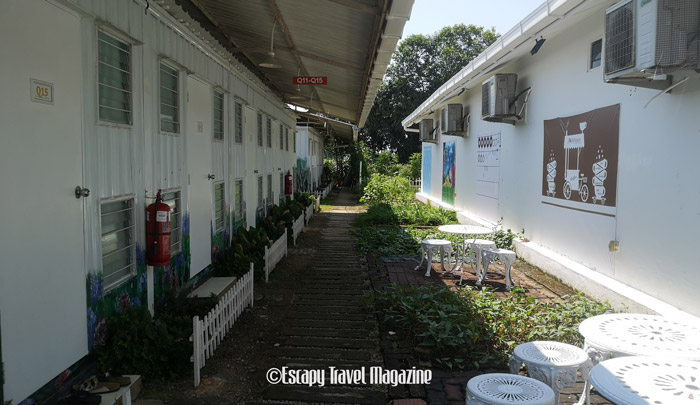 English countryside themed.
Tiny Orchard
Other than the large dragon fruit farm, My Nature Leisure Farm has a tiny orchard with fruit trees including jackfruit and passionfruit (plant). There are other herbs as well at the orchard that is used by the owner of the place to prepare meals. We chanced upon the owner here as he collected curry leaves to prepare dinner.
Dragon Fruit Inspired Meals
Being a dragon fruit farm; the meals here are heavily inspired by dragon fruits. We had chicken marinated in dragon fruit juice and other spices. We also had rice and noodles cooked in dragon fruit juice. For breakfast we had dragon fruit puree (used as jam) and margarine, with toast. Also for breakfast we had nasi lemak with sambal cooked using dragon fruit puree.
Note: Nasi lemak is a Malaysian favourite. It is fragrant rice – usually cooked with pandan leaves and coconut milk, served with chili paste (sambal).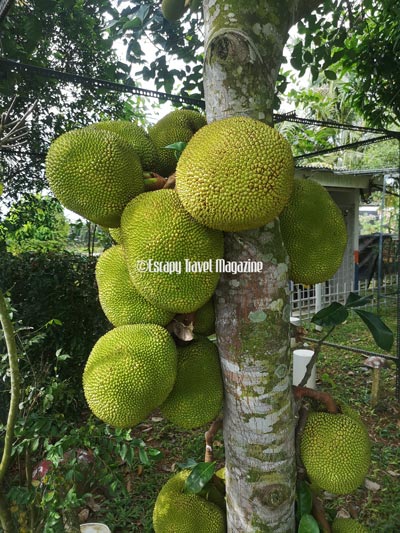 Jackfruits at the tiny orchard..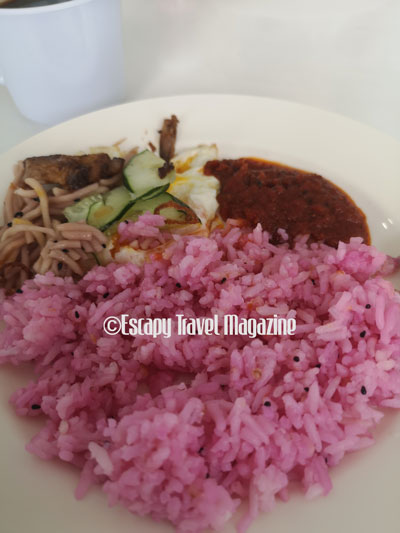 Dragon fruit inspired nasi lemak. Delicious sambal that is not too spicy, and rice infused with dragon fruit juice.
Other than the above main meals; we had dragon fruit jelly, dragon fruit jelly mooncake, dragon fruit cream cupcakes, dragon fruit cookies, dragon fruit and oats yogurt, dragon fruit smoothie, and of course dragon fruit slices. Here is my personal opinion on the dragon fruit inspired food that I had the good fortune of savouring. While most are delicious, there are those that did not sit well with me.
The dragon fruit rice and noodles are not bad. They come with the pink colour from the juice of the red dragon fruit. There is a tiny hint of dragon fruit taste in them. The rice goes well with the dragon fruit sambal. I like the sambal and ate a good amount of it despite my inability to handle the burn from the chemicals emitted by the chilies used to make it.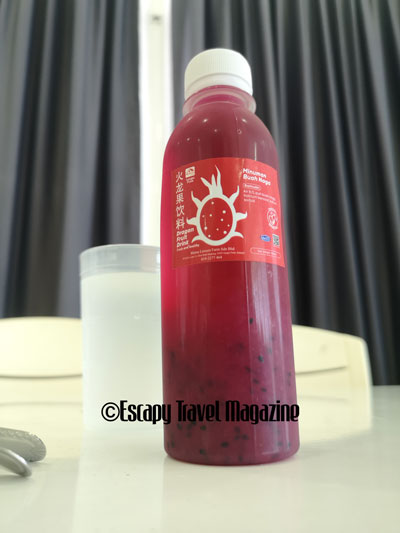 Dragon fruit drink; delicious.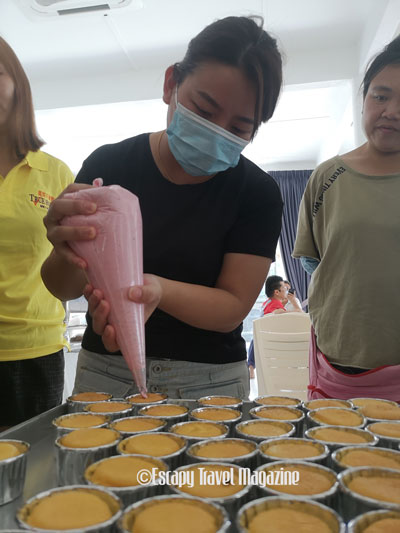 Class in session… making dragon fruit cupcakes.
The dragon fruit fried chicken is average. The aroma is mainly from the other spices used of which included curry leaves (I believe). The dragon fruit gave the fried chicken pieces some sweetness. This chicken dish goes well with white rice as well as the dragon fruit juice rice. Not a super delicious dish but it is not bad. One will have to get use to the pink colour to enjoy this dish.
I like the dragon fruit cream cupcakes which is basically cream mixed with dragon fruit puree, placed on cupcakes. The cream is sweet and nice. No dragon fruit taste, but it is nice. The other foods that I like are the dragon fruit smoothie, dragon fruit cookies, and dragon fruit oats yogurt. Oh yes, there is also a dragon fruit juice that I love.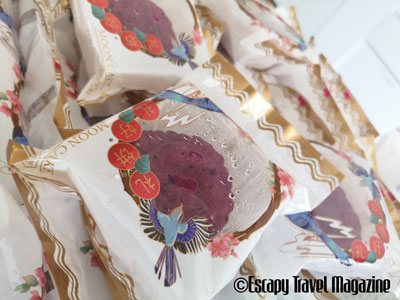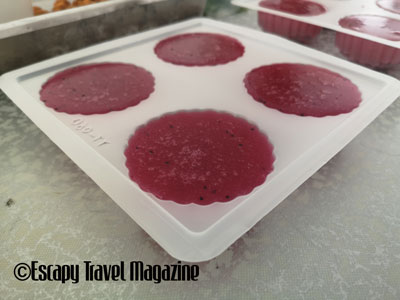 Dragon fruit mooncakes in mold.
The Food That Did Not Cut It
Some of the food need some tweaking, and some I found really hard to eat. I found the dragon fruit jelly to be a bit hard. I believe that too much agar-agar was used during the making of the jelly. This gave the jelly a rougher and harder texture. What I personally liked about the dragon fruit jelly is that it is not overly sweet. Some may not find it sweet enough though. Some tweaking is needed in its recipe.            
The one thing I found really hard to eat is the dragon fruit puree and margarine on toast. The dragon fruit puree has a weird slimy texture that creates some sort of a sugary thin "link bridge" between the section of toast that one has bitten off, and the main part. When that thin "link bridge" breaks, it gets onto one's chin. Messy eating experience.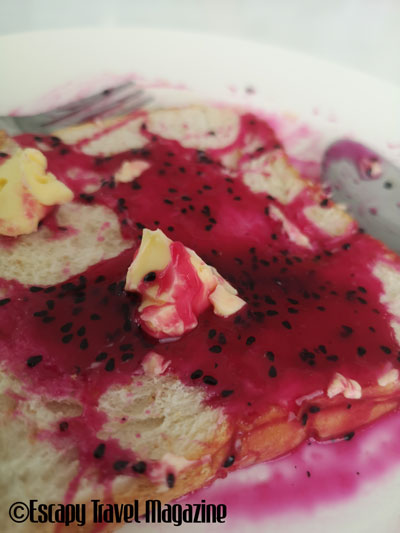 Dragon fruit puree and margarine on toast; something I found very hard to eat.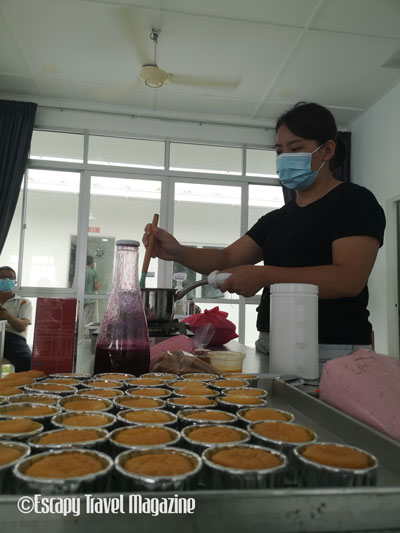 Cooking demonstration, with dragon fruits. Here, dragon fruit is being boiled to make into puree. 
Also, the margarine does not go well with the puree. Perhaps the margarine and puree were meant to be eaten on their own with toast, and not mixed. I did think that too and decided to try the dragon fruit puree alone with toast. I did not like it either.
The next time I come here for a holiday here, I will be looking forward to the delicious nasi lemak with the dragon fruit sambal, dragon fruit juice, and freeze my brains off with the awesome dragon fruit smoothie. The dragon fruit smoothie is not sweet. It has a hint of sweetness; the way I like it.
For those who prefer it sweeter, perhaps you could add some of the dragon fruit puree onto the smoothie as topping. The puree will definitely make for a delicious topping. I believe that it will go well with ice cream too. Imagine Mc Donald's sundae with dragon fruit puree instead of strawberry syrup.     
Less Than Golden
First off, let me rant a bit about the room that I stayed in. The room is certainly very clean and cozy. The downsides are the bed, and the electricity supply during the day. Staying in a Quad Room; my room has got two double decker beds that are made of metal. I now weigh about 90kg. The bed squeaks with almost every movement I make.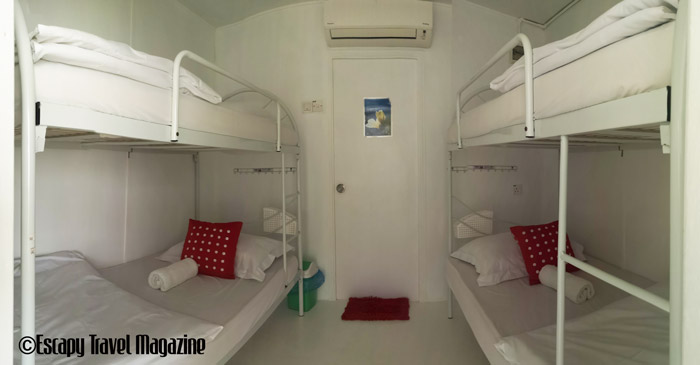 Squeak, squeak goes the bed.
I slept with earbuds on, playing hours of rain sound. That helped me drown out the squeaks and any other noises that may come from outside. Good that I had the room all to myself. Should I be sharing the room with someone else; just imagine the racket we would be creating. Now multiply that by two as this is a Quad Room. I shall leave that to your imaginations.
The other irritant I have with the room is the electricity supply to the air conditioning. The electricity seems to be unstable. This makes the air conditioning unit run at the setting I set it to at first, and then dip down to a low setting as if it has turned itself off for a few minutes, before going back to the set settings for a few minutes; repeating that pattern.
This up, down, up, down pattern only happens during the day hampering its ability to keep the room cool. I like cold. Cool is not enough. This is because I have an allergy to heat. My sinuses flare up and my skin starts to itch when I get hot (which I did from the activity we had before arriving here). Anyway, the air conditioning runs great at night. The room is at a temperature that I like at night.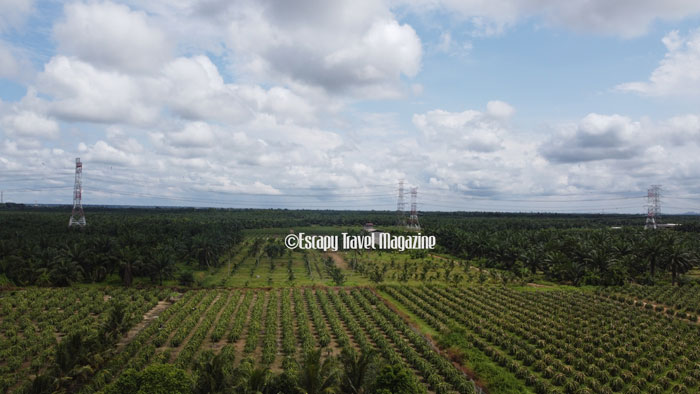 Dragon fruit plants are a plenty here. Aerial view of dragon fruit farms in the area.
Dragon Fruit Farm Tour
Should one decide on learning more about planting dragon fruits, one can request for a tour of the dragon fruit farm. I am not sure how many farms they own, but the one we visited is said to be 5 acres large. We had to walk to the farm, passing by a few other farms. The walk offered me the opportunity to take some pretty photos of the area.
At the farm, the owner explained to us how dragon fruits are planted. We were lucky to see the flowers of the dragon fruit plant be in full bloom. These flowers usually close up during the day and only "wake up" at night. We visited the farm at about 10am and they waited up for us. The weather is one of the factors that determines if the flowers remain open or close up during the day.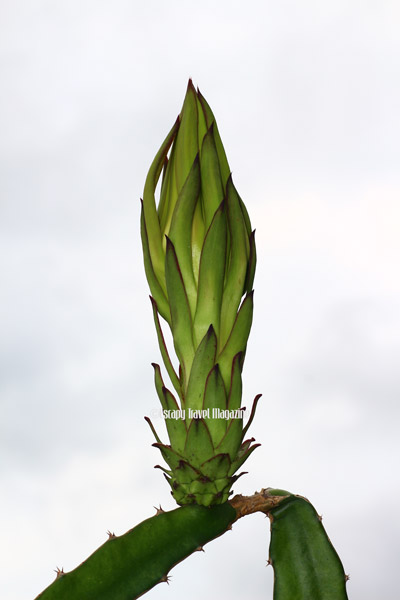 A dragon fruit flower that will bloom soon.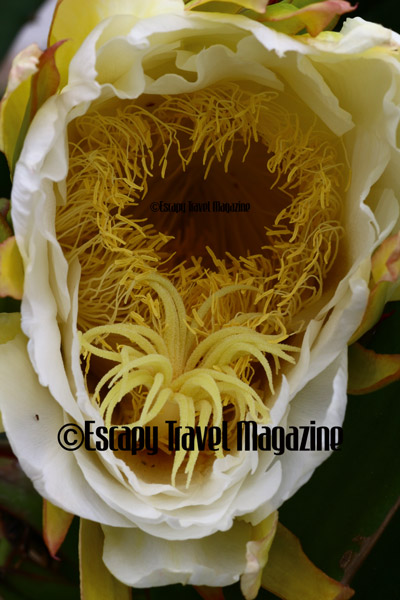 Lucky us to be able to see dragon fruit flowers such as this, in bloom. Flowers within a flower.
The dragon fruit here are planted organically. The owner gave us a short briefing on how the organic "fertilizer" is made. These organic "fertilizer" is then fed to the dragon fruit plants (also other plants in the tiny orchard). Being organically grown, the dragon fruits from their farm is said to taste better. The sliced dragon fruits definitely tasted good to me.
There are three species of dragon fruits currently available in the market. There is the one with the white flesh. There is the red variety that has a sweeter flesh. There is also a less known species that is yellow in colour. The yellow one is said to be less savoury but I have not tasted one before, so I can only share hearsay. My Nature Leisure Farm only plants the white and red species.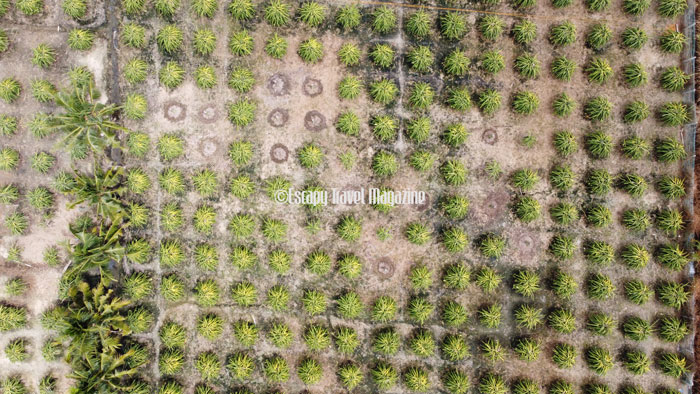 Aerial view of dragon fruit plants in a farm.
Do Visit
Should you be looking for a place to for a holiday, My Nature Leisure Farm is a nice place to go to. Yes, I have ranted about the air-conditioning, the bed, etc. etc. and it certainly is not "gold." Show me a hotel or resort which is perfect and I will show you a flying elephant. All said, it definitely is worth a trip to as what they have to offer is certainly good for a relaxing holiday. Also, one can do trainings and company outings here.
In Brief
My Nature Leisure Farm can take up 120 guests (as at time of writing).
-Room types: Deluxe Rooms (2 pax) & Quad Rooms (4 pax)
-En suite bathroom and toilet
-Air-conditioner, fan, and water heater
Facilities
-Seminar hall
-4 function rooms
-Dining hall
-Grass field
-Mini vegetable garden
Activities And Attractions
-Dragon fruit farm Tour
-Barbecue and steamboat
– Group cooking sessions
-Sepang Gold Coast Beach (Bagan Lalang Beach)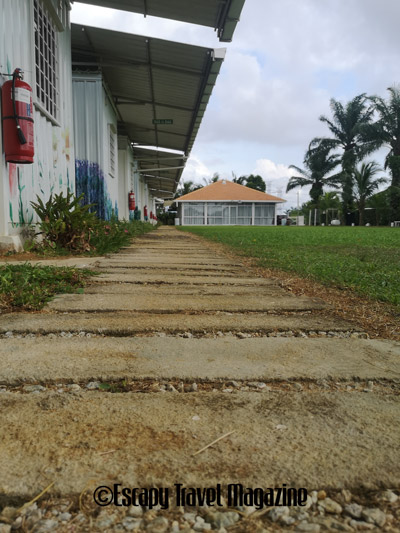 A walkway along some of the rooms that leads to the seminar hall and dining area.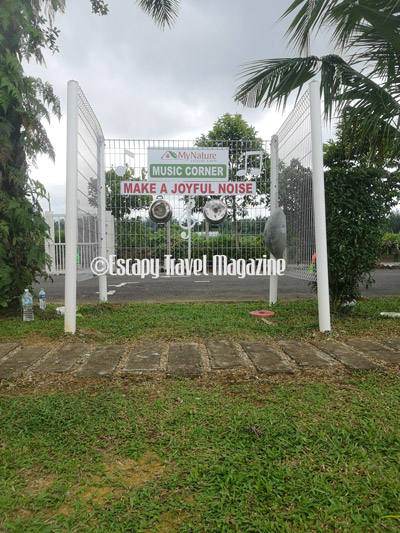 Pots, pans, etc. stuffs to make music with at the music corner.
Google Maps to My Nature Leisure Farm.
Do Not Miss Another Issue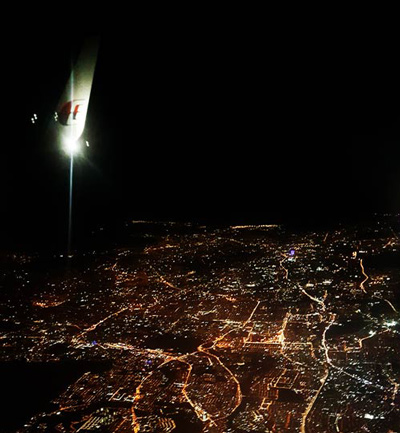 Should you have any enquiries do contact us please...