Mirror Lake – Ipoh, Perak
By Phil Foo
As a travelling photographer, lakes are fascinating places. What I, and many of my fellow photographer lookout for when it comes to lakes are the many reflections that appear on the surface of these lakes. When it comes to reflections on the surface of lakes, need I say more about the fascination that Mirror Lake in Ipoh, Perak, has to offer for a photographer like me?
Mirror Lake is a lake that sits within limestone hills. Imagine a bowl of water that is filled like a quarter way to the top. That is what Mirror Lake is like. Being surrounded by limestone hills, wind seldom gets in. This gives the lake a mirror like surface. Still and without ripples, the waters of Mirror Lake offer an almost perfect reflection of the surroundings.
[    Other than photography, one can hop on a motorboat and go explore the lake…    ]
But I Am Not Into Photography
Well, Mirror Lake is an awesome attraction whether you are a photographer or not. The lake is just a splendor to be at and to observe. The place is really quite magical. Since we are used to lakes that are usually in open spaces, a lake within limestone hills certainly gives off a different vibe. Being here sets off a different type of emotions to some; me included.
The adventure starts at the entrance where the carpark is. People who have not been to Mirror Lake before will be wondering where the lake is since all they will see at first are limestone hills. One then walks through a somewhat dark tunnel that goes through the limestone hill. As one starts to walk, one sees the other end of the tunnel where there is light.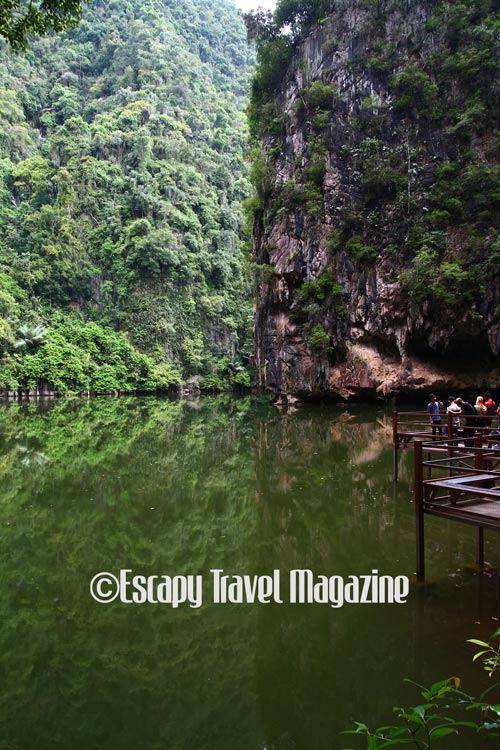 The beautiful Mirror Lake – Many come here to take photos from the jetty.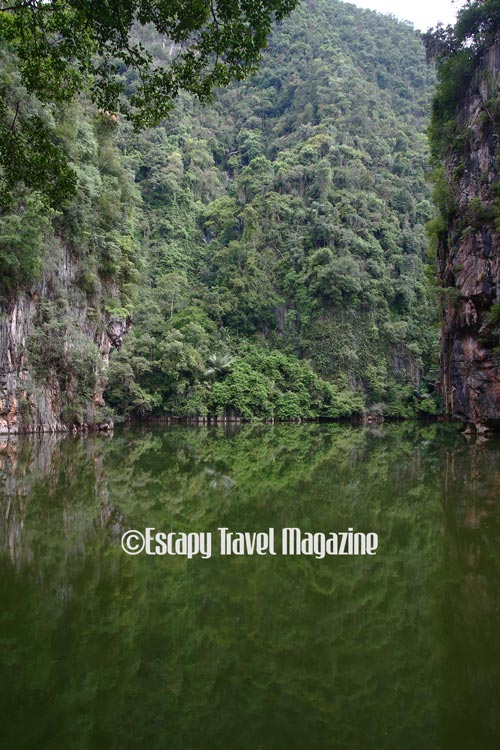 Reflections of the surrounding on the water's surface.
The short walk from the entrance to the end of the tunnel takes about 3 minutes, before one sees the splendor of the place. The tunnel opens up into what can only be described as a scene from the movie Avatar, or Jurassic Park; The Lost World. During the weekends, this place can get really crowded. I was lucky to visit on a weekday.
Things To Do Here
Other than photography, one can hop on a motorboat and go explore the lake. One will have to buy tickets. A boatman who I believe is also a guide will then take you on a tour of the lake on boat. I did not get on the boat but I believe that it will be an intriguing adventure in itself. One will get to explore the limestone "walls" that surround Mirror Lake.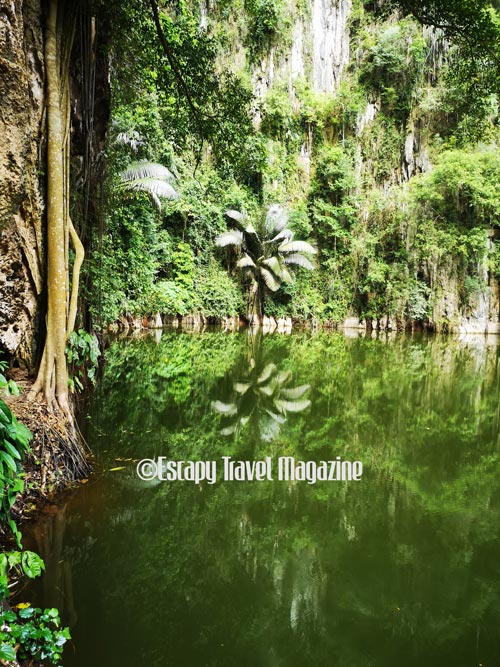 Lovely reflections – depending on weather too.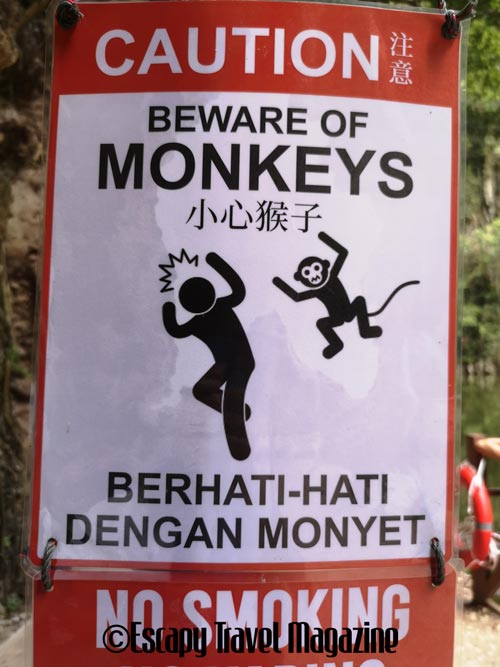 Humans are not the only one who visit Mirror Lake.
The Issue With Air Or Lack Of
Why is this an issue? When sharing my experience at Mirror Lake with a friend, he shared that he found the place stuffy. It was like not having enough oxygen to go around. During his visit there was a lot of people. It was crazy hot. He felt like he was going to faint because of the lack of oxygen. I did not quite get what he was saying. Then I remembered what one of the caretakers of the place said.
We were talking about the opening of another hidden Lake that they have recently discovered. This lake will be called Mirror Lake 2. Then he mentioned that Mirror Lake 2 will draw in more crown because the air there will be fresh. I asked him what he meant by fresh. He then said that the air here in this Mirror Lake has become stale over the years. I wanted to ask more but did not have time as it was starting to rain and we had to board the bus.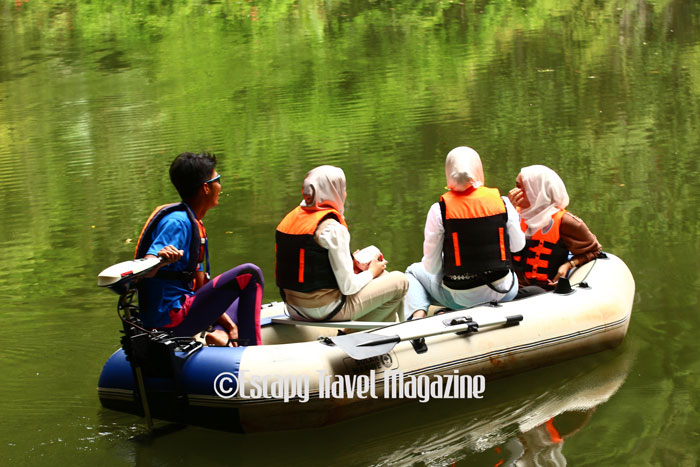 A journey around Mirror Lake.
Giving some thought to what my friend said and what that caretaker mentioned, I think I finally understand the situation with the air at Mirror Lake. Sitting deep inside these limestone hills and having little air coming in, the movement and exchange of air is much slower than at open spaces. This means that the air people breathe out which is made up of 78% nitrogen, 17% oxygen, 4% carbon dioxide, and 1% other gasses lingers a lot longer.
When the volume of people increases, the volume of all these gases increases; with the exception of oxygen as we breathe in more oxygen than we exhale. This brings about lower levels of oxygen within the area, hence the reason why my friend felt like he was not getting enough oxygen and was going to faint. Of course this is just my hypothesis.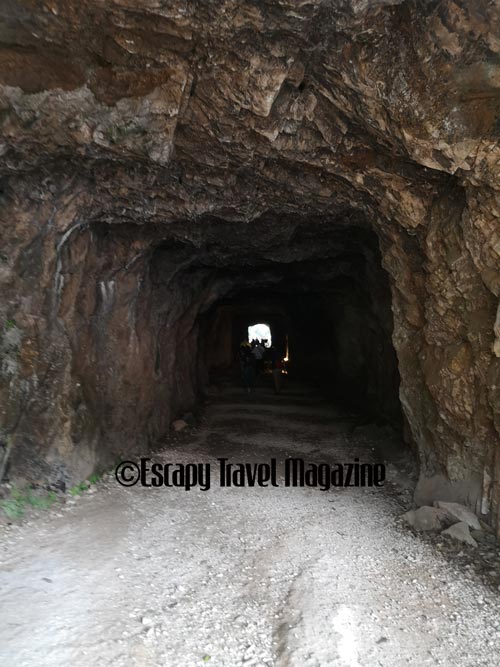 The entrance to Mirror Lake.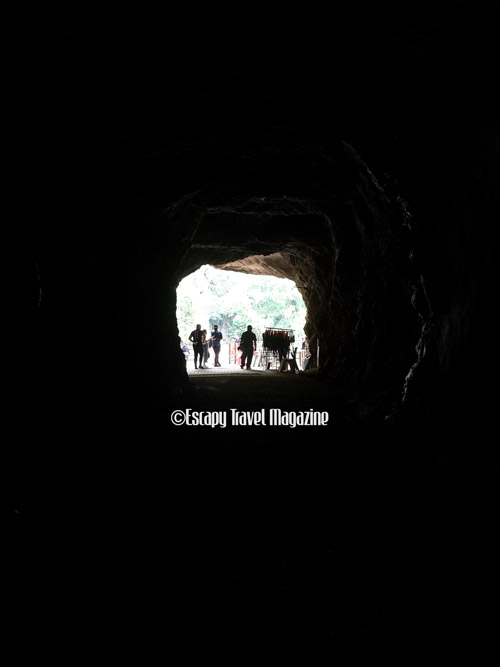 Mirror Lake at the end of the tunnel.
But the mention of stale air by the care taker does make it to the equation too. With hardly any wind coming in, and with the limited trees on the lower levels; it certainly makes sense that the renewing of air happens too slowly. This in turn makes the air in the area stale. It is like the stale odour of cigarette smoke in a bar that allows smoking, even after the bar has been close for a few days.
Anyway, Mirror Lake is still a fascinating place to visit. My recommendation is to visit on a weekday or non-peak periods. It certainly is worth visiting. One caution though, don't jump into the lake. You may be a good swimmer but your do not know what live in lakes of such. You also do not know if the water is toxic. You could get really sick.
Additional Information
Should you plan to visit, take note that Mirror Lake is opened from 9am to 6pm. An entrance fee is charged. Do contact them at the number below to find out more.
Contact: +6012 268 4116
Email: info.tasikcermin@gmail.com
Google Maps to Mirror Lake, Ipoh, Perak.
Do Not Miss Another Issue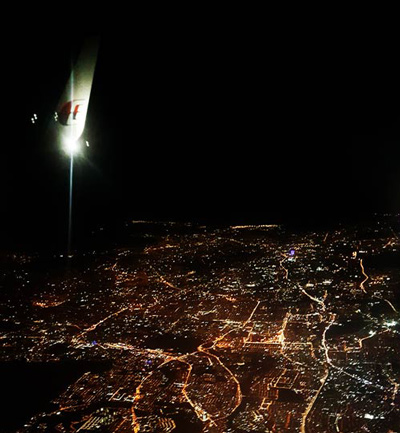 Should you have any enquiries do contact us please...