Mantin Forest Art Farmstay
By Phil Foo
Taking a break and going away for a holiday is good for the body, mind, and soul. This is especially needed as the added stress brought on by the pandemic created chaos in the order of things on Earth. This doubles and probably even triples the amount of stress that one stores within. I don't know about you, but I certainly felt like a pressure cooker about to burst.
Feeling like an over pressured pressure cooker I definitely needed to get away from all the madness, uncertainties, and half-witted people who blatantly break SOPs, etc. and just let go. We had a few holiday places in mind. Amongst the many choices we (my family and I) decided on Mantin Forest Art Farmstay and proceeded to book our stay.
[    After making our way through orchards and various animals, we arrived at Mantin Forest Art Farmstay…    ]
Away From The City
Mantin Forest Art Farmstay is located in Mantin, Negeri Sembilan. Mantin is a quaint little town that sits in a valley surrounded by hills. Mantin Forest Art Farmstay is some 20 to 25 minutes away by car from the closest township, Taman Mantin Baharu. It is situated within what I would call "plantation land" beside a hill. "Plantation land," there is a word for this. It's just not coming to mind now.
The drive from the township to Mantin Forest Art Farmstay is in itself an adventure. The road is narrow, snaking through various fruits plantations. Orchards, is the word I was looking for. As we drove along this narrow road we had to stop and wait for a rather large herd of cows to cross. Looking about I saw a number of beautiful birds including a raptor. What an adventure.
The drive from the township to Mantin Forest Art Farmstay is in itself an adventure. The road is narrow, snaking through various fruits plantations. Orchards, is the word I was looking for. As we drove along this narrow road we had to stop and wait for a rather large herd of cows to cross. Looking about I saw a number of beautiful birds including a raptor. What an adventure.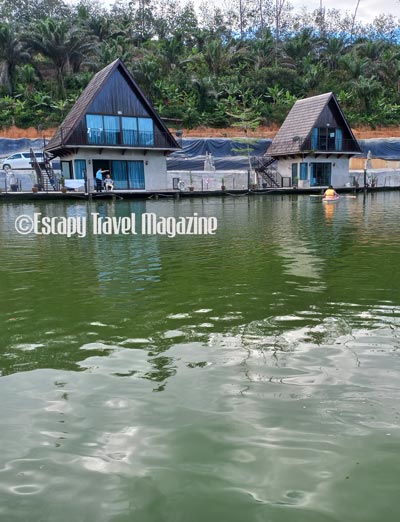 Beautiful chalets by the water.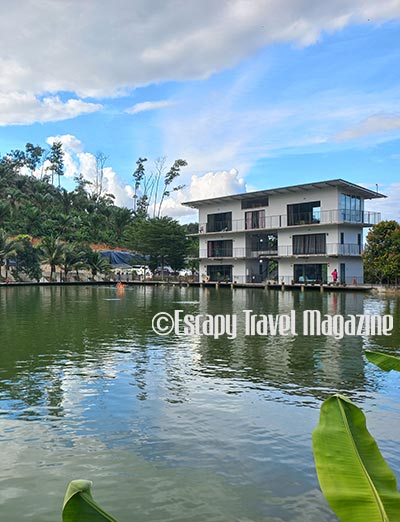 There are fishes in the water and fishing is allowed.
Farmstay?
After making our way through orchards and various animals, we arrived at Mantin Forest Art Farmstay. The first thing that came to mind is that this "farmstay" is unlike the "farmstays" that I have been to. Well, to be fair I have not been to a lot of them. I am choosy with where I stay at. If the place is not presentable, I will walk way. Mantin Forest Art Farmstay looks more like a resort than a "farmstay."
There are various chalets and villas for guests to stay at. We stayed in a two storey chalet that is located at the side of a lake (more pond than lake). The chalets look nice with a somewhat European look. The unit at the bottom is made of bricks, and the one on top made of wood. I took the top chalet while my brother took the one below. We had an awesome view of the lake.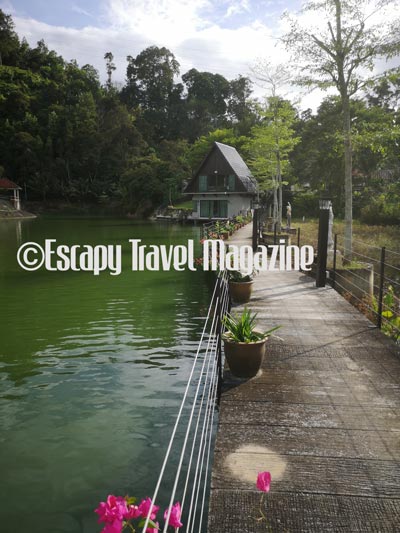 One of the chalets that we booked.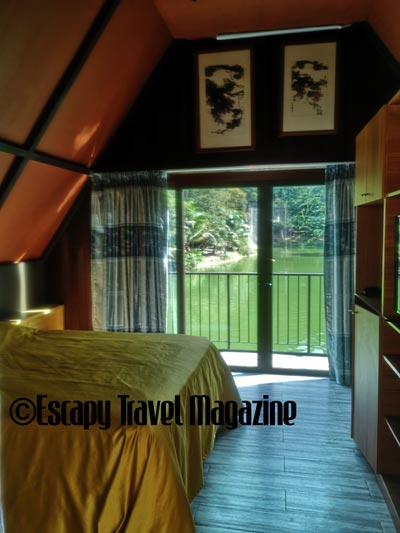 The inside of the chalet.
The chalets we booked are air-conditioned and comes with a bathroom en suite. The sliding glass doors of the front entrance allows for a view right through the chalet, to the balcony and beyond. The same type of doors opens up into the balcony that overlooks the lake. The view is really quite good. If only the balcony had space for a little outdoor table and chair. Sitting here with a cup of coffee will be nice. 
The bed in my chalet is Queen size, with a thick firm mattress. Personally, I like my mattresses firm and hence I find the mattress to be comfortable. The pillows too are comfortable. The chalet also comes with a television, and enough cabinet space to store lots of things. The air-conditioning is good too. The room is kept cold, but I noticed that the condensers are shut off at about 9am. Unfortunately, guests don't have control over this.
While the chalet is well and nice, there are some let downs. I admit that I have mild OCD (Obsessive Compulsive Disorder). I don't mind ants when I am outdoors, but not indoors. There were some ants at the cabinet area and I went into "ant killer" mode. Another let down is the bathroom door. It does not have a latch on the outside to keep it closed when not in use. The door locks with a latch only at the inside.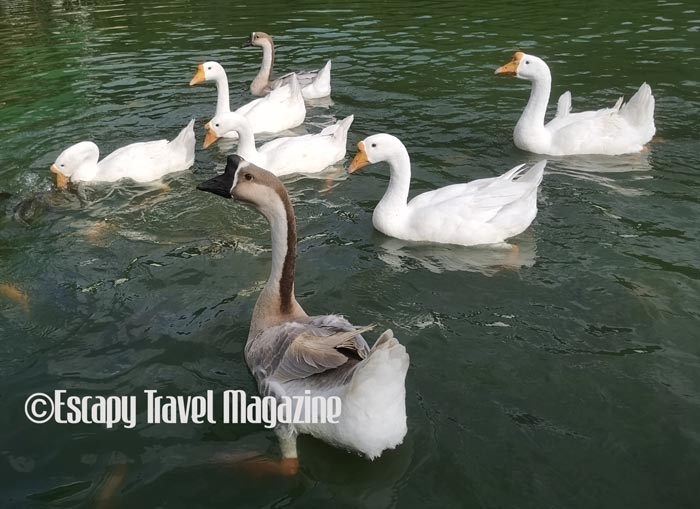 Ducks and geese wade towards anyone who stands by the side of the lake.
Walking About The Grounds
Mantin Forest Art Farmstay definitely is a good place for those who like to walk. One can walk about the lake and be entertained by (or be the one to entertain) the geese and ducks that roam about the lake. Fish food that the geese and ducks eat too, can be purchased at the "front desk." One can have some fun feeding the fishes, the geese, and the ducks.
Leaving the lake, we walked up a slope and was greeted by an ostrich in an enclosure. We stopped and took some photos with the largest bird in the world before walking over to the horse stables. I have a love for horses, and was drawn to them immediately. I used to own one in my younger years when I was stationed in Langkawi. I used to ride a few times a week back in the day.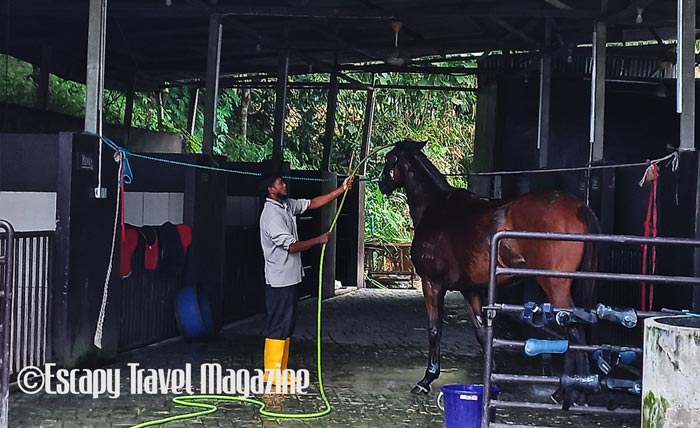 The horse stables with a member of the staff giving a horse a bath.
As we neared the stables, the familiar intense smell of horse excrements hit me right in the nostrils. Not a pleasant odour but well, it is part of owning horses. I walked in and greeted the horses there. They were in relatively good mood during my visit. The one thing I did not have with me is some food for the horses to eat. The next time I come here for a holiday I will bring a packet of carrots.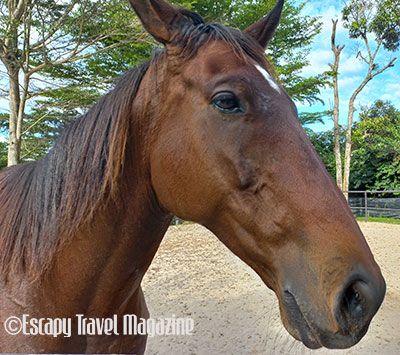 I love horses and am glad to see them here.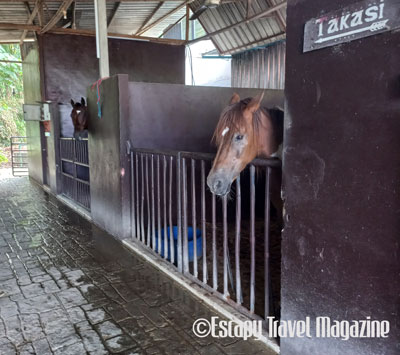 Horses in the stable. During my visit they were calm, and were happy being pat.
Walking back down towards the villas and chalets, we decided to walk all the way to where the swimming pool is. The water of the swimming pool was green in colour and does not look inviting at all. Maybe it is water from the lake (maybe). Despite the colour of the water, the swimming pool was rather crowded. With the Covid-19 pandemic still looming we decided that it is better to not use the pool, anyway.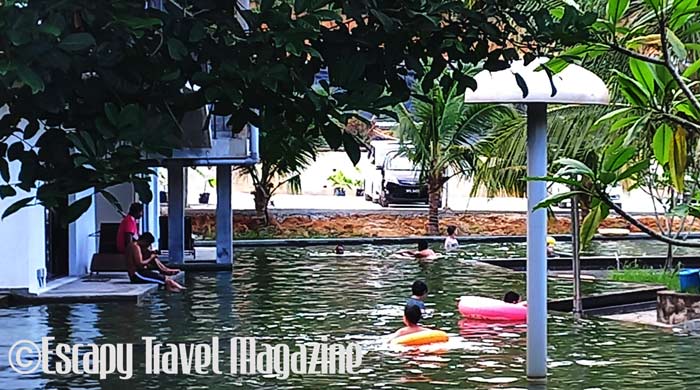 The swimming pool with green water. I think it is water from the lake.
From the swimming pool area, something caught my eye. Green coloured fruits hanging from some trees by the concrete road. I decided to walk over for a closer look. These fruits are ambarella or ambra for short (Spondias dulcis), a crunchy, sweet, and sour fruit that some find delicious, while some find them to be too sour. I find them to be delicious especially with plum powder. I asked a nearby staff if I could pluck some. He said, yes. So I did.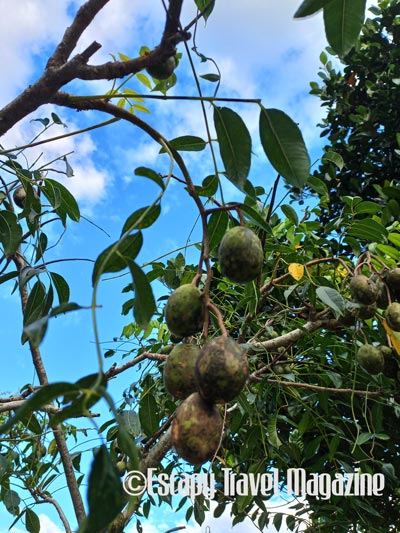 These are the green fruits hanging on the trees near the pool that caught my eye.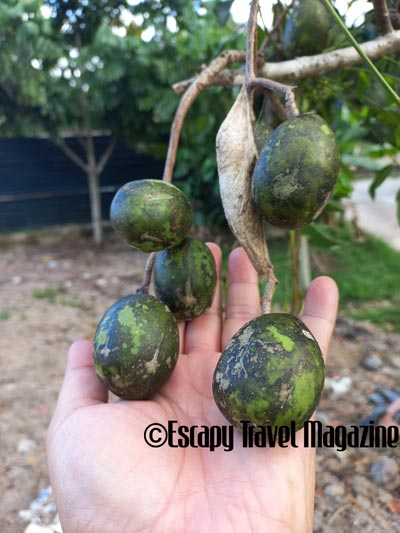 Delicious ambarella fruit that is sweet and sour.
I brought the fruits to the restaurant and gave them a wash before walking to the side of the lake where we sat and watch fellow guests enjoy an evening of kayaking. I decided to snack on some of the ambarella and just enjoy the moment of being away from my laptops, emails, and business in general. Ah, there is one other bird in the lake. I spotted a white swan.
Fun Fishing
Being an angler I brought along my fishing rods. I brought them not because I had intentions to fish here. I brought them as I wanted to stop and explore any wild streams or "fishable" places that we may stumble upon on our way here. We did not pass any. Anyway, there were a number of people fishing at the lake. So I decided to walk back to my car and get my fishing tackle.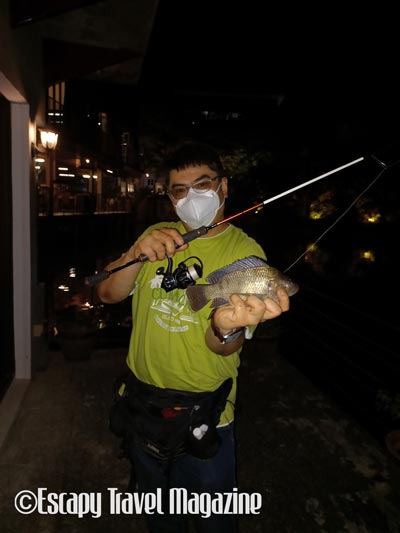 Fun fishing can be had from the chalet itself.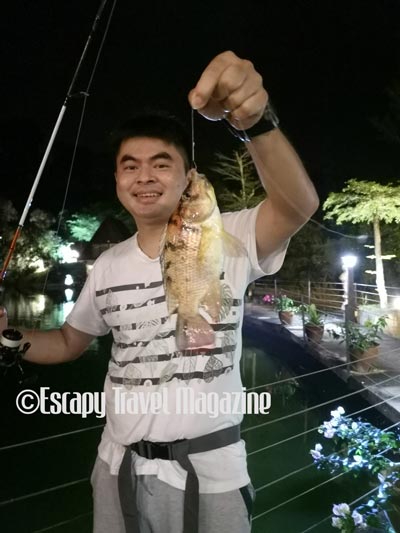 Plenty of tilapia, tinfoil barb, etc. that can easily be caught on bread.
After dinner we headed back to our chalets. I prepared my rods, and reels, and went to my brother's chalet. With Gardenia bread as bait, we cast our lines out into the lake. It did not take long for our baits to be taken; bending our rods, and sending our reels into scream mode. The fishes here are not big but they are still fun. The ones we caught averaged 800g to 1kg. Despite their size, they were still plenty of fun on our ultralight setup.
For non-anglers trying to make sense of what I just wrote in the paragraph above; it simply meant that the fishing rods, lines, and reels that we used, were made in a way as to provide some form of a handicap in favour of the fish. Such a setup makes fishing fishes of these sizes and type, a whole lot more exciting and fun. We fished for about an hour before calling it a day. All fishes caught were released back into the lake.
Available Activities
There are plenty of things to do here at Mantin Forest Art Farmstay. Below is a list of activities and facilities available including those written above:
Swimming pool
Table tennis
Snooker
Board games
Card games
Karaoke
Guided jungle Trekking (or rather forest walk)
Animal petting and safari – feeding
Fishing (chargeable if renting fishing equipment)
Horse riding (chargeable)
Kayaking
Cycling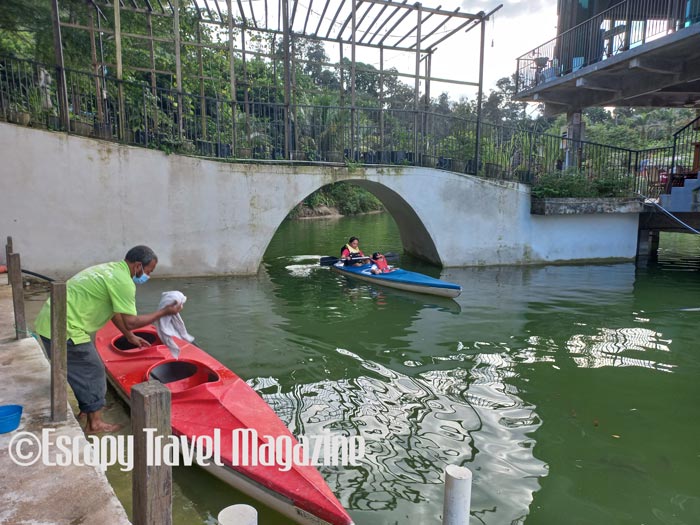 Kayaking is a popular fun activity here.
Some Tips
Should you decide to go on the guided jungle trekking walk, bring along a pair of good rubber shoes, wear appropriate attire, spray on mosquito repellent, and drinking water. While the walk comes with rewards in the form of a good exercise, a lovely vantage point of the area, and decent interaction with nature; it also comes with some less fun things such as mosquitoes (lots of them), heat from the sun and the area, and also places that can be somewhat slippery (if it rained).
Meals
Meals during the time of one's stay is included in the booking. Meals before the official check-in times and after the official check-out times are not. Should one decide to have these extra meals there, they can be had at an additional cost. Note that it takes some 20 to 25 minutes by car to get to the nearest restaurant. This also means that if you need anything from the convenient store, you will need to drive 20 to 25 minutes out and then 20 to 25 minutes back in. Something to consider.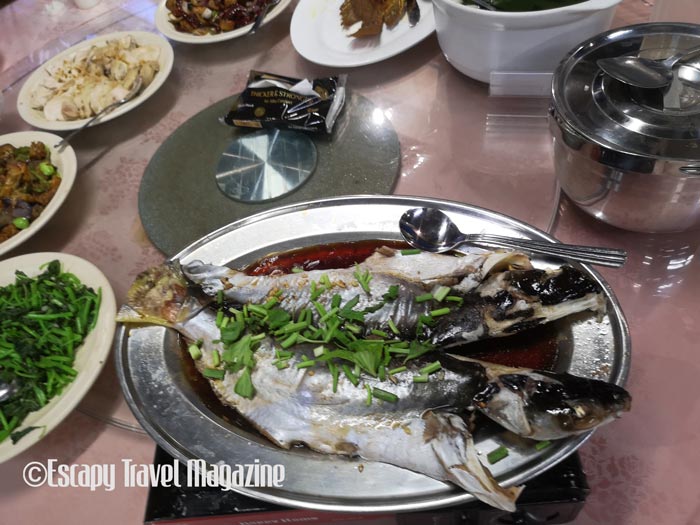 Lots of food for our family.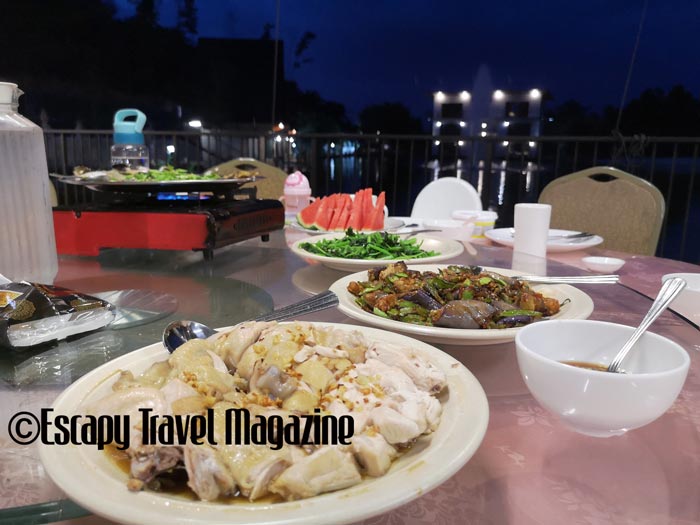 But food, although plenty; does not entertain my taste buds well enough. Okay, I am a picky foodie.
As for the deliciousness of the meals, I found them to be averagely decent at best. Note my use of the words averagely and decent in that one sentence. That said, I am a picky eater. It does take a heck of a lot to satisfy my taste buds. While most in my family found the food to be quite good, it was really average to me. I have also added pity points. The portioning is good though.
What I really enjoyed food wise is their tea time snacks. We had fried economy fried bihun (rice vermicelli) which were awesome. There was also curry puffs which had lots of air in them, but the potatoes were really good. They reminded me of the ones I used to eat in school. The winner is the fried cempedak (Artocarpus integer). The cempedak is from their own orchard and the meat is really sweet.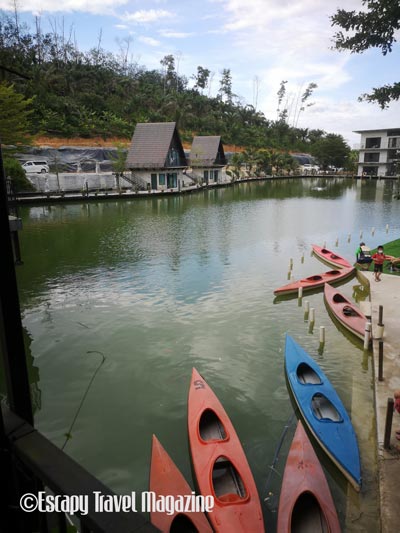 View from the restaurant, a lovely place to relax at and just stare out into the lake.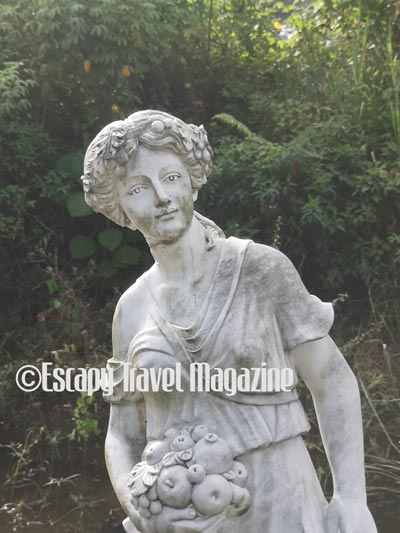 These statues tell a story. I have mine. You will have to visit to create your own should you wish.
Mantin Forest Art Farmstay is not just for holiday seekers, romantic couples, families, and friends wanting to get away from the busy urban cities. They also welcome companies or corporations looking for a temporary change of scene or setting. Conferences and meetings can be done here. They do have a conference hall that can take up to 100 pax depending on setting.
Things To Note
Should you decide to holiday here at Mantin Forest Art Farmstay, take note that they do not accept walk-in guests. You will have to make a booking prior to your trip. This is because they will have to plan for your meals. Also do note that you must present your booking voucher when you (or person whose name is used to make the booking) check-in. Check-in is at 3pm and check-out is 12pm.
For bookings and further information, you can reach them at +6013-361 6633 (Malaysian phone number). You could check them out at their Facebook page too; https://www.facebook.com/mantinfarmstay. As at time of writing, their website seems to be unavailable. Hopefully they will rebuild a website which in my opinion is a must have for any business. Mantin Forest Art Farmstay; should you be reading this article, do take note.
Over all I enjoyed my time here at Mantin Forest Art Farmstay. It was a good needed break from the madness of the city. I had a relaxing and fun time here. I had fun fishing at the lake. I got to enjoy fruits that I plucked off a tree, instead of buying them at the grocers. More importantly I had a good night's sleep. Perhaps being in a different environment, plus the comfort of the bed and pillow, created an ideal atmosphere for my wondering mind to shut off and rest. I'll be back. 
Google Maps to Mantin Forest Art Farmstay.
Do Not Miss Another Issue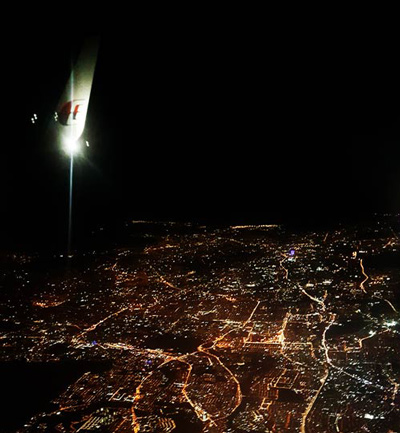 Should you have any enquiries do contact us please...