Kuantan is a busy coastal city on the east coast of peninsular Malaysia. It is the capital city of Pahang a state in Malaysia. Kuantan is blessed with lovely beaches, good fishing grounds, waterfalls, and is the largest city on the east coast of peninsular Malaysia. It also has its own shipping port.
The Natural Batik Village in Balok Beach, Kuantan.
Bits Of History
Many major cities and towns in Malaysia are located where there are rivers as well as seas nearby. Being near rivers and seas makes trading and transportation easier. Kuantan is no exception. Kuantan is situated near the river mouth of Kuantan River and enjoys a part of the South China Sea.
Kuantan is said to have been founded in the 1850s by Haji Senik and his followers. It was then known as Teruntum Village while Kuantan River was then Teruntum River. Prior to this, Kuantan was part of the Chih-Tu empire, and was taken over by the Pheng-Kheng empire, the Siamese, and in the 15th century; the Malacca empire.
Teluk Cempedak Beach in Kuantan is a lovely place to go to.
What's Kuantan Known For?
Kuantan's economy thrives on a few things and amongst them are tourism and sea produce such as fresh fish, salted fish, dried squid, dried oysters, etc. Kuantan also has some really good seafood restaurants that offer tasty food at reasonable prices. Apart from the normal seafood dishes; grilled fish is a must try here in Kuantan.
Fresh fish ready for the grill at Sara Thai Kitchen in Balok Beach, Kuantan.
Kuantan's beaches too attract visitors. Beaches such as Teluk Cempedak and nearby Cherating Beach attract lots of visitors both local and from outside Kuantan as well as from other countries. Club Med, a world renown resort brand has a lovely resort in Cherating. Other beaches include Balok Beach, Black Stone Beach, etc.
The unique Black Stone Beach in Kuantan.
Other attractions near and around Kuantan include waterfalls such as Berkelah Falls and Jerangkang Falls, firefly watching in Cherating, Turtle Sanctuary in Cherating, various parks such as the Teruntum Park which has a mini zoo that is free to visit. Those who love shopping can visit the malls as well as the shops that sell souvenirs at various places around Kuantan.
A little hatchling (green turtle) swimming about in a pool at the Turtle Sanctuary in Cherating. 
Kuantan has quite a few temples and one of them has a dragon that would put other dragons in this part of the world to shame. The Lao Zi temple has a dragon that is  823 metres long making it the longest dragon in Malaysia. Lao Zi Temple in Kuantan is certainly one place to visit.
The golden dragon at Lao Zi Temple in Kuantan. Lao Zi Temple is one of the places to visit when in Kuantan.
Surrounding Places Of Interest
Kuantan and areas surrounding it certainly has a lot to offer. Pekan, a mere 30 minutes drive away is a small town and a place for some awesome fishing with coastal game fishes such as diamond trevallies, mackerel, and sailfish.
Gambang has one of the country's largest water theme parks called the Bukit Gambang Resort City. The sleepy town of Sungai Lembing, an old mining town and is a one of those places that one must visit. There certainly are plenty more to explore.
A sailfish caught, tagged, photographed, and released.
Getting There
One can get to Kuantan by Plane, bus, or car. Kuantan has its own airport (Sultan Haji Ahmad Shah Airport) with flights from Kuala Lumpur International Airport, Subang Airport (Sultan Abdul Aziz Shah Airport). Driving is easy as Kuantan is link by the East Coast Expressway. Busses To Kuantan are available at most major cities.
Checkout the other articles in this issue to learn about some of the places to visit and eat at in and around Kuantan.
Google Maps to Berjaya Megamall in Kuantan.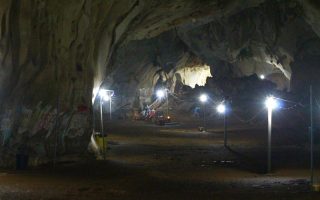 Charas Cave is a temple cave near Kuantan, Pahang, that has a deep chamber. Being a temple cave it is home to a few deities (statues). The cave is open to visitors.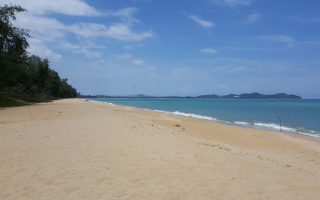 Click here to read more articles in this issue of Escapy Travel Magazine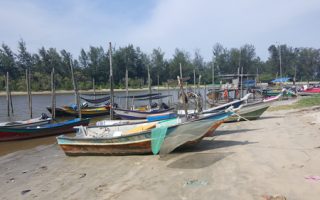 Return to the main page of Escapy Travel Magazine
Do Not Miss Another Issue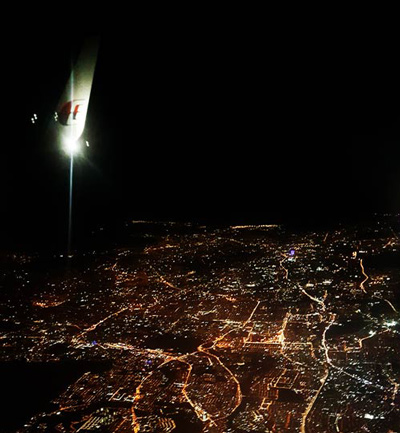 Should you have any enquiries do contact us please...